This is a gluten-free AND dairy-free cheesecake recipe! Time to put on your favorite episode of the Golden Girls and get baking!
This post may contain affiliate links. Please see my disclosure page for more information. Thanks!
In recent months, I've come to realize that I do much better without dairy.
It's a difficult thing to accept that one food group is out of your life forever (thanks for nothing, gluten!), but dairy, on the other hand, was the one thing I thought I could still hold on to. As I get older, I'm realizing how much better I feel by limiting my dairy intake.
Being an adult is hard, am I right?!
In my desire to find dairy-free alternatives, I started daydreaming of dairy-heavy desserts that I just can't eat anymore. Particularly, those sweet treats that are super rich but usually leave me regretting my decision when I'm in the bathroom an hour later (TMI? I don't think so. This is a celiac disease blog, after all!)
But then, the ultimate dairy-filled dessert popped into my head:
Cheesecake!
Cheesecake is a popular dessert item that's usually not an option for those who can't have dairy. And since so many have a crust base, it's also a dessert that those of us with celiac disease (that's me!) can't have either. But with my gluten-free and dairy-free key lime pie recipe such a success, I figured, what the heck? Let's make both a gluten and dairy free cheesecake!
I had a cheesecake recipe in my collection from my bridal shower, which I adapted to be both gluten-free and dairy-free, with a few extras.
Here's what you'll need to make gluten and dairy free cheesecake:
-gluten-free graham cracker cookies (I use Kinnikinnick graham crackers which are gluten and dairy free)
-granulated sugar
-dairy-free butter (I use Earth Balance)
-dairy-free cream cheese and sour cream, like Kite Hill
-cornstarch
-vanilla
-lemon juice
-eggs

Tips For Success When Making Cheesecake
Dairy-Free
This gluten-free dairy-free cheesecake recipe calls for Vegan butter sticks, like Earth Balance or Country Crock (both work well), as well as two dairy-free products from Kite Hill: Kite Hill cream cheese, and Kite Hill sour cream. I find them both at Whole Foods or Amazon. I've also had success just using lactose-free products. If you have another dairy-free brand you prefer, you can of course use it. However, be mindful your results could vary.

Graham Cracker Crust
The cheesecake recipe I had in my book did not call for a crust, but I like the addition of a graham cracker crust. I adapted a recipe from Sally's Baking Addiction, and used Kinnikinnick graham crackers with more Earth Balance vegan butter sticks and sugar. Find the full recipe for that here but be sure to reduce the amount of sugar to only ¼ cup, as the graham crackers are already fairly sweet. Also, please note this crust will be more soft than crisp. If you are hoping for a crispy base, you may want to leave it out!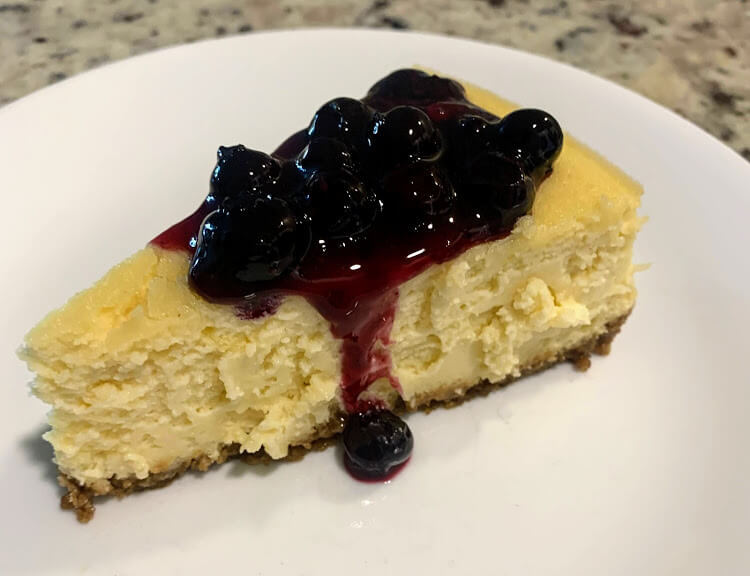 Cooking Method
Most classic cheesecake recipes recommend using a springform pan and a hot water bath, and I recommend the same for this dairy-free treat. Be sure to not overmix the batter and line the pan heavily with foil to prevent leaks from the water bath! (More details and specifics in the recipe!)

Cooling Cheesecake
When it comes to cooling the dairy-free cheesecake after it's done baking, I found that the best method was to allow the cheesecake to cool with the oven slightly cracked for 1 hour, then cool at room temperature, before moving to a refrigerator to cool overnight. You don't want to shock the cheesecake with drastic temperature changes.
If It Cracks...
Don't worry about it! It happens to me too. It's usually from overmixing. If it does happen, use it as an excuse to dollop on fresh dairy-free whipped cream, caramel sauce, or fruit compote!
Give yourself a good amount of time.
This recipe has many steps and a good amount of time required for baking and cooling the cheesecake. Don't rush!
Follow. The. Recipe.
This recipe is specifically formulated using the ingredients you see listed here. If you decide to change anything or substitute other ingredients, they may come out differently than expected and I cannot speak to your results. My experience is in gluten-free and dairy-free baking, but not allergy-free, vegan, or egg-free. You can always email me: [email protected] with any questions and I'm happy to help troubleshoot the best I can.
Pumpkin Swirl Variation: Updated October 2021
I made a pumpkin swirl version of this cheesecake with tasty success! I just followed the steps from this recipe of Sally's Baking Addiction. I added 1 cup of canned pumpkin, 1 ½ teaspoons cinnamon, and 1 ½ teaspoons pumpkin pie spice to 2 cups of the filling, and spooned the batters alternatively into the springform pan. Finally, I took a knife to swirl it around. Once it cooled, I had a big crack (dang it!) but I decided to fill it anyway with dairy-free salted caramel. Yum!
My official taste tester for this gluten and dairy-free cheesecake (Dylan) was overjoyed by this recipe. He loved cheesecake so much as a child it was his choice for birthday cake! The only difference, he noted, was that this gluten-free and dairy-free cheesecake is a little softer and smoother than traditional cheesecake, but still tastes absolutely fantastic.
This, I believe, is the result of the type of cream cheese that is available dairy-free. I have not found block cream cheese in dairy-free form, only the spread. If you've seen it, let me know in the comments!
I highly recommend you enjoy a slice of cheesecake with some homemade blueberry or strawberry compote, or even a drizzle of chocolate! But if you prefer it plain, it's just as good!
Above all, have this cheesecake while you watch an episode of the Golden Girls in homage to one of the best shows ever! Fun Fact! Did you know that over the course of seven seasons of The Golden Girls, the cast ate 100 cheesecakes?! And Bea Arthur didn't even like cheesecake. What a trooper!
Looking for more gluten and dairy free desserts?
Try these oreo cheesecake brownies. Fair warning - they are addictive.
This recipe for key lime pie has gone viral multiple times - and for good reason. No baking required!
Try these gluten and dairy free carrot muffins & zucchini muffins for a treat - or even for breakfast!
Want something cool on a hot day? You gotta make these ice cream sandwiches!
Here's how to make this scrumptious gluten-free and dairy-free cheesecake!
If you love this recipe, please leave a review! Thank you so much!
Gluten And Dairy-Free Cheesecake Recipe
Gluten-Free & Dairy-Free Cheesecake
Additional Time:
12 hours
Total Time:
13 hours
20 minutes
The most delightful gluten & dairy free cheesecake!
Ingredients
Graham Cracker Crust
1 box Kinnikinnick graham crackers or your favorite gluten & dairy-free graham crackers (about 1 ½ cups of graham cracker crumbs)
¼ cup granulated sugar
5 tablespoon vegan butter, like Earth Balance, melted
Cheesecake Filling
1 ¼ sticks of vegan butter (10 TBSP), like Earth Balance, at room temperature
16 ounces dairy-free cream cheese, like Kite Hill, at room temperature
1 cup granulated sugar
2 tablespoon cornstarch
1 teaspoon vanilla
1 teaspoon lemon juice
16 ounces dairy-free sour cream, like Kite Hill, at room temperature
5 eggs, at room temperature
Instructions
First, make the graham cracker crust. Preheat the oven to 350 degrees F and place the rack on the lower half of the oven, and remove the filling ingredients from the refrigerator that need to be room temperature.

Into a food processor, add the graham crackers and pulse about 10 times, until they form crumbs. Add the melted vegan butter and granulated sugar and pulse again, until combined. It will look like wet sand. If you don't have a food processor for this step, you can break the graham crackers in a sealed, large ziploc bag with a rolling pin, then combine the ingredients together with a spoon in a large bowl.

Into the springform pan, pour the graham cracker mixture and press down, creating the crust base evenly across the bottom of the pan and slightly up the sides, about 1 inch. Use the back of a measuring cup to help with this.

Pre-bake the crust for 8 minutes, then remove. Take a very large piece of aluminum foil and place the springform pan in the center. Wrap the base of the pan with the foil on all sides, then repeat with 2-3 additional pieces of foil. This is to ensure the water bath will not leak into your cheesecake while it bakes.

To prepare the filling, use a stand mixer or a handheld one. To the bowl, add the butter, cream cheese, and sugar, and beat on medium speed for 2 minutes. Next, add the cornstarch, vanilla, lemon juice, and sour cream, and beat at medium speed until combined, about 30 seconds to 1 minute. Finally, and this is critical: Don't overmix! Carefully, add the eggs, 1 at a time, beating at medium-low speed until just incorporated after each one. Feel free to stop beating after each one to make sure you don't overbeat - this is what can cause cheesecakes to crack! After the fifth egg is added, beat until just combined then stop!

Pour the cheescake filling into the springform pan, on top of the crust, and spread evenly with a rubber spatula. There will be a LOT of filling!

Place the springform pan into the center a large roasting pan, then add warm water (I boil water in my tea kettle for this) until it reaches ½ way up the pan. This will help the cheesecake cook evenly.

Bake for 50 minutes, then turn off the oven and crack the door. Allow the cheesecake to cool in the oven for 1 hour, then remove to a countertop to cool completely at room temperature for 2-4 hours. Then, move the cheesecake to the refrigerator to cool overnight. Patience is another ingredient needed in this recipe!

When ready to serve, unclasp the springform pan and slice. Be sure to rinse your knife in between slices to maintain a clean cut. Top with fruit compote, chocolate drizzle, caramel, or whatever you prefer! Enjoy!
Notes
Tips For Success
Dont overmix the batter! The more air that gets incorporated to the batter, especially when you add the eggs, the more likely the cheesecake can deflate or crack. Mix until just combined once you add the eggs.

If the cheesecake does crack, it means it was overmixed, or there was a drastic change in temperature. Cheesecake does best with gradual temperature change, which is why we leave it in the oven to cool, then move to room temperature, and then to the refrigerator.

If the cheesecake does crack, don't worry about it! If it happens, use it as an opportunity to add some tasty toppings, which can then just creep into the cheesecake batter.

No Crust
You can of course bake the cheesecake without the graham cracker crust. If you do, just preheat the oven to 350 degrees and skip the graham cracker crust steps. Remember to still line the springform pan with foil to prevent leaks from the water bath.


Storage
Store cheesecake covered in the refrigerator for up to 5 days, or freeze (wrap in plastic and foil) for up to 3 months. Since it is a little thinner than regular cheesecake, it can melt faster, so be sure to refrigerate when not eating.
Nutrition Information
Yield

10
Serving Size

1
Amount Per Serving
Calories

578
Total Fat

47g
Saturated Fat

29g
Trans Fat

1g
Unsaturated Fat

14g
Cholesterol

184mg
Sodium

394mg
Carbohydrates

35g
Fiber

0g
Sugar

31g
Protein

7g
The nutrition information on each recipe card is provided as a courtesy and for your convenience. The data is calculated by Nutritionix. You are encouraged to make your own calculations based on your ingredients and preferred nutritional facts calculator. While I try to make sure they are accurate, I cannot guarantee the accuracy of these calculations.
Have you tried this dairy-free and gluten-free cheesecake?
Let me know in the comments!
Pin It!