This is my favorite flatbread recipe: gluten-free naan! This recipe goes perfectly with dairy-free butter chicken - find that recipe right here.
This post may contain affiliate links. Please see my disclosure page for more information. Thanks!
About This Gluten-Free Naan Recipe
Naan is a flatbread commonly served in India. While we didn't visit India in our travels last year, it's a bread that's always intrigued me and is very similar to pita bread. Perfect with curries, this dairy-free butter chicken, or even to serve with kabobs, you can't go wrong with this gluten-free naan recipe, and that's what you'll find here.
Ingredients You Will Need
Gluten-free flour blend: (I prefer Cup4Cup multipurpose flour for best results)
Plain yogurt: I just use the store brand. You can use dairy-free if necessary, it works fine!
Instant yeast: You can check the recipe notes for how to make this with active dry yeast, but instant is easiest. Make sure it's gluten-free.
Olive oil: I use extra virgin olive oil in all of my recipes.
Salt (optional): You can always salt the gluten-free naan when it's done, but a little salt in the dough helps give it more flavor.
How To Make Gluten-Free Naan
The steps for making gluten-free naan are fairly simple. First, you'll combine the ingredients in a bowl, mix together until it becomes sticky, then switch to your hands. Knead it lightly until a smooth ball forms, and then leave it to rise in a greased bowl covered with a towel in warm place. This is when the yeast works it's magic, so don't rush this step!
After the 1 hour rise, you'll cut the dough into pieces and will clearly see the evidence of the yeast by all the little air bubbles (Which will make the naan fry up super well!) Then you divide into 8 even pieces, roll out each piece with a rolling pin to a flat disc shape, and fry them.
The naan has a crispy outer shell, but a soft inside, and when topped with melted butter sea salt, you might just want to eat it for every meal of the day! Plus, it bubbles up PERFECTLY like you expect regular naan to do!
Gluten-Free Flour Blends for Naan: Recipe Test!
I tested the naan with four different flour blends: Bob's Red Mill (blue bag), Pillsbury, Cup4Cup, and previously, King Arthur Measure for Measure flour. I also shared these results on my Instagram stories - did you catch it? Be sure to follow me so you don't miss another recipe test!
Let's see how they turned out!
The Results & Best Gluten-Free Flours For Naan
Cup4Cup produced the best naan overall. It broke apart easily, crispy on the outside, soft on the inside. It tasted the most like regular naan and is my preferred flour for this recipe and for most of my gluten-free baking experiments. Please be aware Cup4Cup contains milk powder, so this version is gluten-free, but not dairy-free.
Bob's Red Mill also produced a great naan, and when it broke in half, so soft and perfect! The underlying flavor of sorghum flour was why it didn't take the first place position. Overall, it had my favorite texture, but not flavor. Make sure to use the blue bag, not the red bag. There are two different Bob's gluten-free flour mixes!
Pillsbury didn't make great naan. While rolling it out, it broke apart, and then cracked when frying as well. It was very plain and tasted okay, but the texture was the worst of the three.
A Gluten-Free Flour Blend That Didn't Work..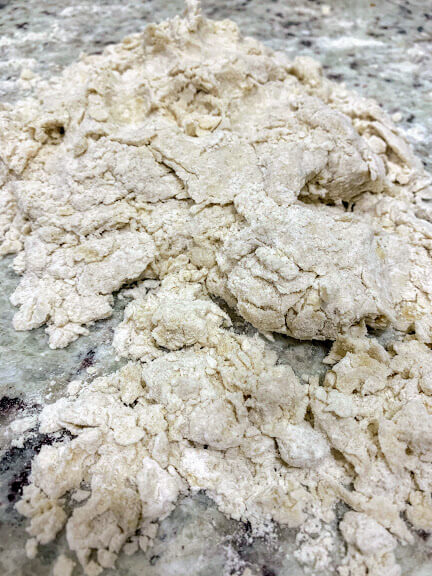 I also made this same gluten-free naan recipe with King Arthur Measure for Measure flour. I was very unhappy with the final results, and making the dough stay together was almost impossible (as seen by the photo above!).
Please don't take this post as me hating on King Arthur. I don't!
I think their Measure For Measure flour is great for muffins and quick bread, and have used it for recipes like this gluten-free pumpkin chocolate chip bread. However, the texture was far too gritty to make a solid gluten-free naan, and it tasted so poorly, we ended up throwing it out. I think their All-Purpose Gluten-Free Flour Blend would work much better here instead.
I share these results to remind you that gluten-free flour blends aren't all the same! They all react differently and can produce different end results. If you are frustrated that a recipe isn't coming out the way you hoped, try experimenting with a different flour blend to see what happens.
Can I Make This Naan Dairy-Free?
You can also make this naan recipe dairy-free. Use Bob's Red Mill Flour (Or another GF & DF flour blend), and try lactose-free yogurt from Green Valley or coconut yogurt from So Delicious. Both created excellent gluten-free and dairy-free naan flatbreads without any difference or issue in taste, texture, or quality.
Troubleshooting & Cooking Tips
Dough was too dry: If the dough seems too dry or crumbly, add the additional 1 tablespoon olive oil. If it still doesn't form, add ¼ cup more of yogurt. The dough will be ready to "rise" when it seems shiny and stays together well. When it forms into a ball easily, you are good to go. Check the recipe notes for more details. And be mindful if you are using a different gluten-free flour blend than Cup4Cup as I recommend, it may turn out differently.
Dough didn't rise: This dough should rise and expand a bit, but it will not rise anything close to regular bread dough, due to the fact there is no gluten. If you don't get a rise at all, double-check your yeast as it may be expired. Also, did you place the dough in a warm enough place to rise? Yeast is finicky and needs the right elements to work properly. Check this article for more troubleshooting with yeast.
There is further information in the recipe card below to help you make your own gluten-free naan bread. Please let me know if you have any questions or need help troubleshooting!
How To Serve Gluten-Free Naan
Personally, this is my favorite recipe to have alongside my travel-inspired dish of gluten and dairy free butter chicken. It goes perfectly with the butter chicken and some rice and you can scoop up that yummy sauce with the naan. So good!
You can also use this naan to make Mediterranean inspired flatbreads with chicken, bell peppers, goat cheese, and a little tzatziki, or use them for your favorite Greek-inspired pitas, gyros, or even some gluten-free falafel. (Did you know Trader Joe's has a GF mix for this?)
No matter how you enjoy them, they rip apart just like the naan I remember eating at Indian restaurants when I was younger, and taste so good, the gluten will be forgotten. And that's my goal for all of the recipes on my website: for you to enjoy scrumptious, delicious, drool-worthy foods that have people saying, "This is gluten-free?"
I hope you love this naan recipe!
More Gluten-Free Recipes
Feel like an easy quickbread? This banana bread with walnuts hits the spot.
Looking for a scones recipe? Bake a savory version with bacon, cheddar, and chives.
Want to practice your pie making skills? Check out this gluten-free peach pie with lattice design.
Ready to take your baking skills to the next level? Try these delightful, buttery, and flaky gluten-free croissants.
Discover all the gluten-free baking recipes on the blog right here.
Here's how to make gluten-free naan!
If you love this recipe, please leave a comment! Thank you so much!
Gluten-Free Naan Recipe
Gluten-Free Naan
Prep Time:
1 hour
10 minutes
Total Time:
1 hour
25 minutes
This naan tastes just like the real thing - but without the gluten!
Ingredients
2 ½ cups Gluten-Free Flour blend, like Cup4Cup
2-3 tablespoon extra virgin olive oil (see notes)
1 ¾ teaspoon instant yeast - this is a little less than what's in one of the square packets (see notes if using active dry yeast)
1 cup plain yogurt (use a dairy-free alternative if needed,)
½ teaspoon kosher salt (Optional - see note)
1-2 tablespoon melted butter or olive oil, for serving
sea salt, to taste, for serving
freshly chopped parsley, for serving
Instructions
Into a small bowl, pour the gluten-free flour and salt (if using - check the notes section). Create a well in the center (essentially, a large hole). Into the hole, pour the yeast, followed by the yogurt and the 2 tablespoon olive oil.

Slowly, begin mixing together, incorporating a little bit of flour at a time, and eventually, turn the mixture out onto a clean countertop and knead for 1-2 minutes, forming the dough into a ball. If the dough does not stick together and is too crumbly, refer to the Notes section for how to troubleshoot. The dough should become smooth, form a ball, and will be a little shiny.

Cover the dough with a damp cloth in a small bowl and place it in a warm location, such as a sunny window. Let the dough rest to rise for 1 hour.

After the 1 hour rise, cut the dough into quarters, and then into eights. Roll each piece with a rolling pin into a circular disc about 6" in diameter. These pieces do not have to be perfect - just a roundish shape will be fine. Feel free to use your fingers to help form the dough into a disc shape if it starts to break apart at the edges - just keep pinching the dough together to help it stick.

In a frying pan over medium-high heat, melt 1 tablespoon olive oil. When the pan is hot, place 1 of the discs of dough into the pan. Cook for 3 minutes and then check underneath when you see bubbles appear and brown spots on the bottom of the dough - that's what we want! Flip over carefully with a spatula and cook for another 3 minutes on the other side then remove to a plate. Usually, the second or third piece of naan comes out better than the first one. That's okay!

Brush the naan with melted butter or oil, and sprinkle with sea salt or freshly chopped parsley if desired. Repeat steps 4 and 5 for the remaining discs of dough.
Notes
Gluten-Free Flour
This recipe worked best with Cup4Cup, but it might take some adjustments if using a different gluten-free flour blend. I had success making this with Bob's Red Mill 1:1 Flour (blue bag), but the dough needed extra yogurt (¼ cup) and olive oil (1 TBSP) to come together. DO NOT try this recipe with one gluten-free grain (such as almond flour, oat flour, coconut flour) and expect positive results. You need a blend of GF grains to get the job done.
If the dough seems too dry or crumbly, add the additional 1 tablespoon olive oil. If it still doesn't form, add ¼ cup more of yogurt. The dough will be ready to "rise" when it seems shiny and stays together well. When it forms into a ball easily, you are good to go. If you still have issues, you can continue adding additional olive oil and yogurt if needed, just go slowly and use the amounts listed here.

Dairy-Free
Make this naan gluten-free by using a gluten-free flour blend and substituting the plain yogurt with lactose-free yogurt or dairy-free yogurt like coconut yogurt from So Delicious. Both work well.

Yeast
I use instant yeast in this recipe to make it as easy as possible (no proofing required). If you want to convert to active dry yeast, check this chart for the proper conversions, and be sure to proof the yeast in ¼ cup of water with 1 teaspoon of sugar for 10 minutes until bubbly. Double-check your yeast is gluten-free, too, as some can be "enriched".

Salt
You can omit the salt and just sprinkle it on at the end if you like.
Nutrition Information
Yield

8
Serving Size

1
Amount Per Serving
Calories

293
Total Fat

16g
Saturated Fat

4g
Trans Fat

0g
Unsaturated Fat

11g
Cholesterol

9mg
Sodium

196mg
Carbohydrates

32g
Fiber

1g
Sugar

2g
Protein

6g
The nutrition information on each recipe card is provided as a courtesy and for your convenience. The data is calculated by Nutritionix. You are encouraged to make your own calculations based on your ingredients and preferred nutritional facts calculator. While I try to make sure they are accurate, I cannot guarantee the accuracy of these calculations.
---
What did you think of this gluten-free naan!?
Leave a comment below and let me know how this recipe worked for you!