Celebrating the release of the gluten-free oreo, I decided to make something crazy. These are gluten AND dairy-free oreo cheesecake brownies - and they are insanely good!
This post may contain affiliate links. Please see my disclosure page for more information. Thanks!
About These Gluten & Dairy-Free Oreo Cheesecake Brownies
In case you've been living under a rock since 2021 began, Nabisco released their beloved Oreo cookies in gluten-free form this January! There are two versions: regular, and double stuf. The gluten-free Oreos are certified gluten-free, and contain no dairy, which makes my heart (and my stomach) so so happy! Most grocery stores are now carrying them, and they have also been spotted at Walmart and Target.
With the arrival of these long-awaited cookies, I've been dreaming of ways to make them even more delicious. And after the success of this gluten and dairy-free cheesecake recipe, I decided to kick things up a notch after discovering this Tasty recipe. There's a layer of brownies on the bottom, followed by a layer of Oreo cookies, followed by a layer of cheesecake, and finally, crumbled Oreos on top!
Here are some of the dEats for how to make these fantastic brownies!
Ingredients You Will Need
Gluten-Free Oreos: While I use the gluten-free Oreos from Nabisco for this dessert, some people with celiac disease or gluten sensitivity/intolerance cannot eat them due to the presence of oats. I understand! Substitute whatever chocolate sandwich cookies you like. Kinnikinnick and Glutino make great oat-free options that are also gluten-free.
Dairy-Free Ingredients: The cheesecake layer is a variation of the ingredients found in my gluten & dairy-free cheesecake. You will need dairy-free cream cheese (I prefer Kite Hill almond milk plain cream cheese) and a dairy-free sour cream (I prefer Kite Hill sour cream, or Lactaid/Green Valley for a lactose-free version if your issue is lactose, and not dairy).
Brownie Mix: I use King Arthur Flour's gluten-free fudge brownie mix that is specifically labeled non-dairy. You can also substitute whatever brownie mix that you prefer, but just be mindful it may contain milk, which would make this recipe contain dairy. You will also need whatever ingredients the brownie mix calls for (water, oil, eggs, etc.)
You will also need granulated sugar, vanilla extract, and eggs.
How To Make These Oreo Cheesecake Brownies
This recipe requires 4 layers of delicious goodness!
First, you'll prep the brownie layer by making the gluten-free brownies according to package directions and pouring it into your square pan.
For the second layer, you'll place rows of gluten-free oreos to cover the entire top of the brownies. For a 8x8 square pan, this usually is about 16 oreos for me in rows of 4.
For the third layer, you'll mix together the dairy-free ingredients along with the granulated sugar, vanilla extract, and eggs, and pour that over the brownie & oreo layer.
Finally, for the top layer, you'll add crumbled gluten-free oreo cookies and sprinkle them all over. Then, it's time to bake!
You can watch me make the brownies in this Instagram reel here:
Tips For Making Gluten & Dairy Free Oreo Cheesecake Brownies
Cooling After Baking: The cheesecake layer needs to firm up in the refrigerator before you eat these. It's going to be difficult to NOT eat them as soon as they come out of the oven - trust me. But the structure of the brownies overall will be much improved if you give them time to set at room temperature for at least 1 hour.
How To Store Oreo Cheesecake Brownies
Store these covered in the refrigerator for 3-4 days, because of the cheesecake batter. I do not recommend freezing these, as I can't speak to how the cheesecake layer will do. These are best eaten fresh, and they are so good, you probably won't have many leftovers to freeze!
After making this dessert, Dylan kept getting up to grab another brownie! That's how I know I've made a real winning dish. His opinions on food are always right on point. I hope you love these oreo cheesecake brownies as much as we do!
Looking for more gluten and dairy free desserts?
This cheesecake will blow your mind! And it's perfect with fruit compote on top.
This recipe for key lime pie has gone viral multiple times - and for good reason. No baking required!
Try these gluten and dairy free carrot muffins & zucchini muffins for a treat - or even for breakfast!
Want something cool on a hot day? You gotta make these ice cream sandwiches!
Here's how to make these gluten and dairy free oreo cheesecake brownies!
If you love this recipe, please leave a comment! Thank you so much!
Gluten-Free Dairy-Free Oreo Cheesecake Brownies Recipe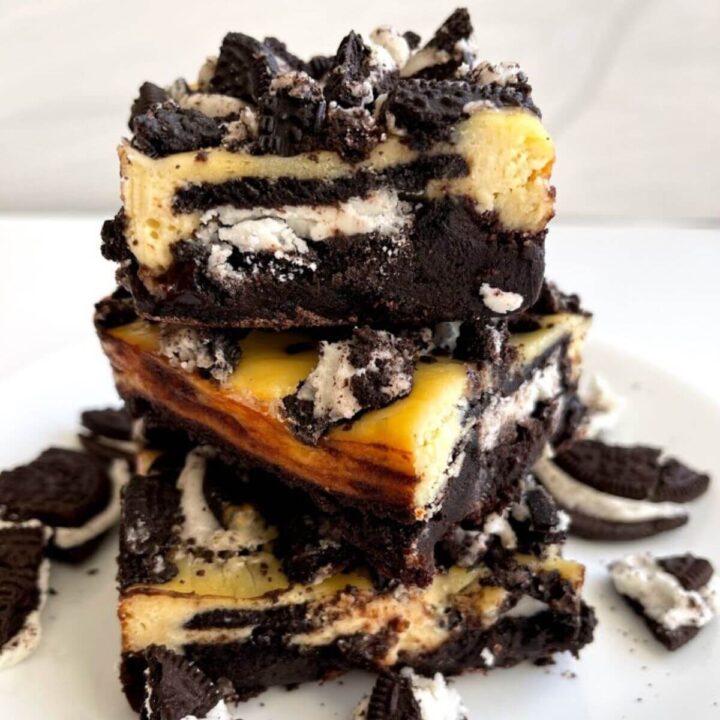 Gluten-Free and Dairy-Free Oreo Cheesecake Brownies
Cook Time:
45 minutes
40 seconds
Total Time:
3 hours
10 minutes
40 seconds
Ingredients
1 box gluten & dairy-free brownie mix, prepared according to package instructions (If using King Arthur Flour non-dairy gluten-free brownie mix, as listed in this post, you will need 2 eggs, 2 tablespoons of water, and ½ cup of oil)
1 package gluten-free oreos, or other gluten-free oreo brand (about 20 cookies total, 16 whole, 4 crumbled/chopped)
1 8 oz container of dairy-free cream cheese, like Kite Hill
¼ cup of dairy-free sour cream, like Kite Hill
¼ cup of granulated sugar
½ teaspoon of vanilla extract
2 eggs, lightly beaten (these eggs are for the cheesecake layer)
Instructions
Preheat the oven to 325 degrees Fahrenheit. Grease an 8x8 or 9x9 square pan (glass or metal) with coconut oil or spray.

Prepare the brownie mix according to the package directions in a medium bowl. Pour this into the greased pan and spread evenly with a spatula. This is the brownie layer.

On top of the brownie mixture, place a single layer of gluten-free Oreos evenly spaced (about 16 Oreos). You can also cut Oreos in half to fill in the edges. This is the oreo layer.

In a separate bowl, whisk the dairy-free cream cheese, dairy-free sour cream, sugar, and vanilla. It will be thick! Lastly, whisk in the 2 eggs and stir until everything is smooth. The mixture will thin out with the eggs. Pour this mixture over the Oreos and spread evenly with a spatula. This is the cheesecake layer.

Finally, crush the remaining 4 cookies and sprinkle them on top of the cheesecake batter.

Bake for 40-45 minutes, until the edges are slightly golden brown and the middle is slightly jiggly. Cool the brownies completely to room temperature for about 1 hour, then chill in the refrigerator for at least 2 hours before slicing and serving. Enjoy!
Notes
Please reference the notes in this blog post for brand recommendations and variations for the recipe!

Storage: These are best stored cold in the refrigerator, due to the cheesecake batter.
Nutrition Information
Yield

10
Serving Size

1
Amount Per Serving
Calories

165
Total Fat

11g
Saturated Fat

6g
Trans Fat

0g
Unsaturated Fat

4g
Cholesterol

60mg
Sodium

115mg
Carbohydrates

13g
Fiber

0g
Sugar

9g
Protein

3g
The nutrition information on each recipe card is provided as a courtesy and for your convenience. The data is calculated by Nutritionix. You are encouraged to make your own calculations based on your ingredients and preferred nutritional facts calculator. While I try to make sure they are accurate, I cannot guarantee the accuracy of these calculations.
Have you tried the new gluten-free oreos?
Do you prefer cheesecake, brownies, or both?
Tell me in the comments below!