I grew up eating New York bagels until I was diagnosed with celiac disease. I'm so happy to share this recipe for gluten-free New York-style bagels!
Note: This post may contain affiliate links. Please see my disclosure page for more information.
About This Gluten-Free Bagel Recipe
There's nothing quite like a New York bagel. If you've never had one, you are seriously missing out. I mean it. Bagels are a staple food of delis on Long Island and one of our most famously coveted foods. I'm pretty positive that if you ask any former New Yorker what foods they miss the most from their home state - bagels are usually one of them.
Part of the reason that makes New York bagels and pizza so fantastically delicious is due to the composition of our water. I can personally attest to the fact that I noticed a slight difference in the taste of these bagels and the ones from Modern Bread & Bagel, but the ones in this recipe are a very, very close second. And thanks to the tip of boiling the bagels before baking, you get a really nice crunch!
Gluten-Free Flour For Bagels
This recipe uses Cup4Cup multipurpose flour, my personal favorite and go-to flour blend from Williams-Sonoma. I've used Cup4Cup since my celiac disease diagnosis to make gluten-free naan, empanadas, gnocchi, and even pierogi, with resounding success. I continue to recommend it to everyone because it works so well for pastry and yeast-based baked goods - especially these bagels!
Please note, this recipe is specifically formulated for Cup4Cup, so if you use a different gluten-free flour blend, your results could vary. The biggest thing you'll have to adjust will be the amount of water. Be sure to check the recipe notes and scroll all the way down to the comments section to see what other users have tried with success!
NOTE: A gluten-free flour BLEND is needed for this recipe. Please do not substitute a single gluten-free grain and expect the same results.
Ingredients For Gluten-Free Bagels
Gluten-Free Flour (I prefer Cup4Cup)
Salt: Regular salt or sea salt works fine.
Active Dry Yeast (I use Red Star). Please remember to make sure that your yeast is active before baking. This is step 1 of the recipe! If your yeast does not bubble and foam, it is no longer active and should not be used.
Sugar: Granulated sugar will help us activate the yeast.
Warm Water: To form the dough!
Olive Oil: We'll use a little EVOO on the bowl and pans we use for both dough rises.
Egg: An egg mixed with water will create the eggwash to give us that nice golden-brown color on the bagels.
Baking Soda: Just one teaspoon will be added to the water we use to boil the bagels and give them that nice crunch!
Toppings of choice: poppy seeds, everything seasoning, sesame seeds, minced garlic - the possibilities are endless!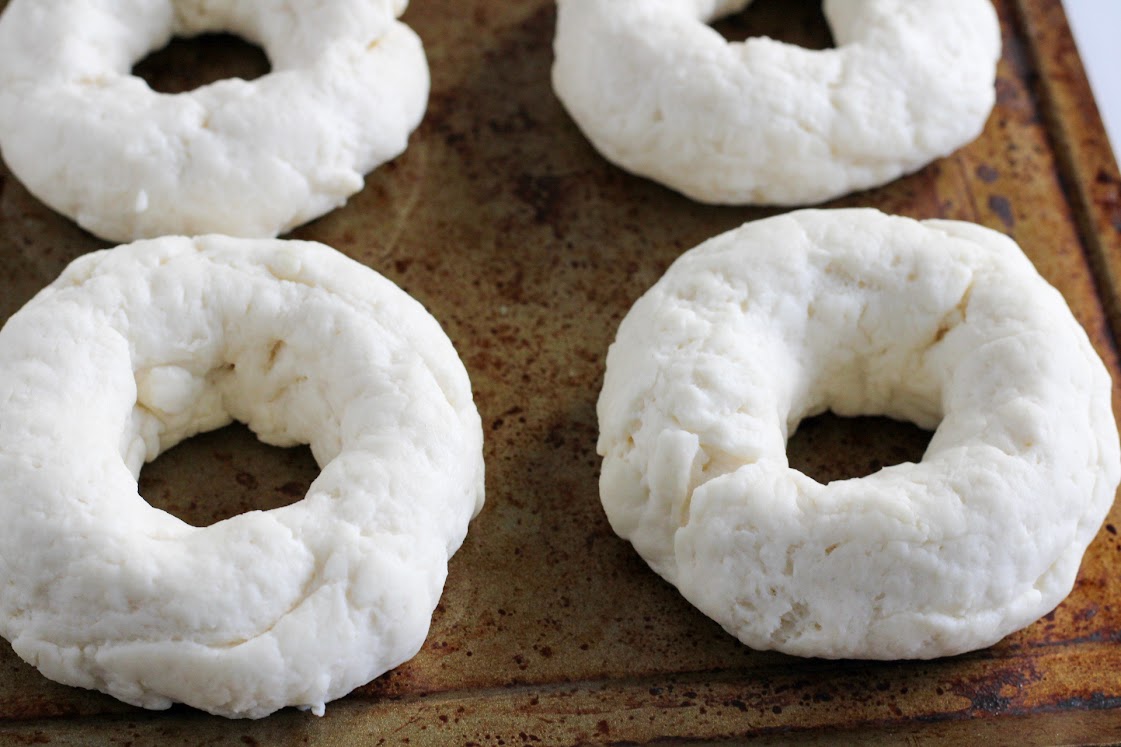 How To Make Gluten-Free New York Bagels
These delicious New York-style gluten-free bagels require a lot of steps, so give yourself time!
First, you'll make the dough so it has time to rise and rest.
Then, you'll cut the dough in into 8 equal pieces and roll out each piece into the bagel shapes and let them rest.
Next, you'll boil the bagels in a baking soda bath so they get that nice crunch!
And finally, you'll add your toppings, bake the bagels, and enjoy!
Tools For Making Gluten-Free Bagels
Stand Mixer: Not necessary (I typically use my hands), but definitely can speed up the process! KitchenAid mixers are the gold standard in baking.
Baking Sheets: Between rising, boiling, and baking, having a solid baking sheet can help. I prefer these jelly roll pans from Nordic Ware.
Silicone Baking Mats: A more green alternative to parchment paper. They are versatile for cooking or baking, wash easily, and last forever.
Tips For Making Gluten-Free Bagels
Be careful how you measure your gluten-free flour.
If you aren't measuring for weight, then be sure to spoon your flour into your measuring cup, then level off with the back of the knife. This makes sure you get an accurate amount.
Follow. The. Recipe.
This recipe is specifically formulated using Cup4Cup Multipurpose gluten-free flour. If you decide to change anything or substitute other ingredients, they may come out differently than expected and I cannot speak to your results. My experience is in gluten-free and dairy-free baking, but not allergy-free, vegan, or egg-free. You can always email me: [email protected] with any questions and I'm happy to help troubleshoot the best I can.
Troubleshooting Common Problems
My dough didn't rise: Your yeast may have been expired, or you tried baking on a very cold day. Yeast prefers warm environments to bloom best, and if it's expired, it won't rise.
My dough is too dry: If you're using a different gluten-free flour blend than Cup4Cup as written in the recipe, you will need to adjust the amount of water. Start with ⅓ cup and add water ¼ cup at a time, until the dough forms smoothly and stays together without crumbling.
My bagels are hard: Like most gluten-free baked goods, this is a common tendency and usually happens after a day or two. These bagels are best enjoyed fresh, but if you notice them hardening too much to cut into, pop them in the microwave for 10-15 seconds to soften.
Storing & Freezing Bagels
Store bagels in an airtight container for up to 2-3 days. They do best when eaten fresh, as gluten-free baked goods harden over time. Soften them in the microwave for 10-15 seconds or toast them if you like!
You definitely can freeze these bagels in an airtight container or wrap them thoroughly after cooking. Just defrost or remove when you are ready to eat. You can soften them in the microwave or oven, and then toast them up for extra tasty crunch.
Serving Gluten-Free Bagels
Whether you like them with butter, cream cheese, lox, avocado, or anything else- enjoy it! It's not often we get to enjoy gluten-free bagels, so make the most of it. You can also turn them into an egg sandwich with a fried egg and a slice of cheddar cheese, or maybe a piece of bacon too. Yum!
These bagels are a great activity for a weekend baking project. There are quite a few steps involved, but the end result is well worth it. I hope you enjoy them as much as I do!
More Gluten-Free Baking Recipes
Feel like an easy quickbread? This banana bread with walnuts hits the spot.
Looking for a scone recipe? Bake a savory version with bacon, cheddar, and chives.
Want to practice your pie making skills? Check out this gluten-free peach pie with lattice design.
Ready to take your baking skills to the next level? Try these delightful, buttery, and flaky gluten-free croissants.
Discover all the gluten-free baking recipes on the blog right here.
New York Gluten-Free Bagel Recipe
If you love this recipe, please leave a comment and review! Thank you so much!
New York Style Gluten-Free Bagels
Total Time:
2 hours
30 minutes
Ingredients
2 teaspoons active dry yeast
4 ½ teaspoons granulated sugar
½ cup warm water
3 ½ cups Cup4Cup gluten-free flour, plus more for rolling the dough
1 ½ teaspoons salt
⅓ cup + ½ cup + a few tablespoon warm water (see Notes)
olive oil, for brushing
1 egg + 1 tablespoon water, beaten together for the eggwash
1 teaspoon of baking soda, to add to the boiling water
Toppings: sea salt, minced garlic, everything seasoning, poppy seeds, or whatever you like!
Instructions
First, activate the yeast. In a small bowl, pour the yeast and sugar, then add ½ cup of warm water. Do not mix, but leave it to sit for 5-7 minutes, then stir to combine. If the yeast is good, you should see it bubbling or foaming. If your yeast does not bubble up and foam, it is stale. Discard and do not use. Otherwise, your dough will not rise properly.

In a large bowl, whisk together the gluten-free flour and salt. Create a well (a large hole) in the middle of the dough, and pour in the yeast mixture. Then, add the remaining ⅓ cup and ½ cup of warm water. Start mixing with a large spoon - it should still be a little dry/crumbly. Begin adding additional warm water, 1 tablespoon at a time, until the dough stays together well. For Cup4Cup, this is typically 2 Tablespoons. You want the dough to start forming together into a ball, moist, but not soaking wet, and also not dry.

If you prefer, you can complete this step using a stand mixer with a dough hook attached, until the dough begins to form.

When the dough begins to form in the bowl, transfer to a floured countertop and knead for 2-3 minutes. Extra kneading is not required because there is no gluten to build up and stretch! You're just combining everything together. The dough should not be sticky, but smooth. It should stay together in a ball and almost have a little shine to it.
In a medium bowl, lightly brush with 1 teaspoon of olive oil on all sides, then add the dough ball. Cover with a damp cloth and leave it to rise in a warm spot for 1 hour. (I put mine on the countertop next to my warm oven).
After the 1 hour rise, you will see evidence of the dough expanding in size thanks to the yeast - it should sit taller in the bowl and perhaps even puff up your towel a little bit. Remove the dough to a countertop (don't flour it though!), and cut it evenly into 8 equal pieces. Now you can really see the magic of the yeast inside!

From here, roll each piece into a ball, shaping it into a circular shape until smooth on all sides. Repeat with the remaining 7 pieces of dough. Finally, to create the bagel shape, roll your index finger in your gluten-free flour, then pierce the dough right through the middle, creating a hole. Carefully, as to be sure to not break the dough (without the gluten, there isn't as much binding it together, so be gentle!) begin to expand the hole, making it bigger and shaping the circle into a bagel shape. I did this entirely by eye - we all know what bagels look like! Just do so gently, then place the bagels on a lightly oiled baking sheet. Repeat with the remaining 7 pieces of dough and leave to rest, covered with the same damp cloth, for 10 minutes.

Preheat the oven to 425 degrees Fahrenheit, and bring a large pot of water to a boil. Add one teaspoon of baking soda and lower the heat to a constant simmer. Carefully, using a slotted spoon to transfer the bagels, add them to the pot, four at a time. They should float right on top! Allow them to boil for 1 minute on each side, then using the same slotted spoon, remove to a parchment-lined baking sheet. Repeat with all bagels.

On the baking sheet, arrange the bagels leaving about 1 inch of space between them. Brush the bagels with the egg wash mixture, then add toppings of your choice! Our favorites are poppyseed, everything seasoning from Trader Joe's, or minced garlic & sea salt. If you are just making plain bagels, make sure you still brush them with the egg wash, which will give them a nice shine and golden brown goodness.
Bake for 20-25 minutes which should make them perfectly golden brown. Remove from oven and leave on baking sheet for 5 minutes before removing to wire rack.
Serve with butter, cream cheese, lox, or as an egg sandwich, Enjoy!
Notes
Water
The first amount of water, (½ cup) is to be added to the yeast & sugar. The remaining amounts of water (⅓ cup + ½ cup + few TBSP) are based on the specific amounts needed to form the bagel dough with Cup4Cup flour. If you are using a different flour blend, you may need to adjust the amount of water. Start with ⅓ cup and add water ¼ cup at a time, until the dough forms smoothly and stays together without crumbling.

Storage
These bagels will keep for 2-3 days but store in an airtight container. If you need to, heat them in the microwave for 10-15 seconds as most gluten-free baked goods tend to harden. You can also freeze them for up to 6 months - just defrost when you are ready to eat and either toast them in the toaster or reheat in the microwave or oven.
Nutrition Information
Yield

8
Serving Size

1
Amount Per Serving
Calories

223
Total Fat

10g
Saturated Fat

3g
Trans Fat

0g
Unsaturated Fat

6g
Cholesterol

23mg
Sodium

644mg
Carbohydrates

30g
Fiber

1g
Sugar

2g
Protein

4g
What do you think of these gluten-free bagels?
Have you ever had a New York bagel?
Let me know in the comments!