A light & refreshing no bake dessert for summer: gluten-free and dairy-free key lime pie! And one of the most popular recipes on my website, for good reason!

This post may contain affiliate links. Please see my disclosure page for more information. Thanks! This recipe was updated for clarity and with new photos in August of 2023.
About This Key Lime Pie Recipe
This is one of the most beloved gluten-free recipes by readers here on The Nomadic Fitzpatricks! It's so easy to make (Takes about 10 minutes to put together) with no baking required. Plus it packs such delicious flavors! Light, refreshing, and perfect for any summer outing or barbecue, and guaranteed to be a crowd pleaser, even to your gluten and dairy eating friends and family!
What is Key Lime Pie?
If you haven't tried key lime pie, it's a staple dessert in Florida, especially the Florida Keys. After living in the sunshine state for ten years, I grew accustomed to spotting key lime pie on dessert menus and at family gatherings. Key lime pie is actually the official pie of the state of Florida!
While this key lime pie is gluten-free and dairy-free, you won't be able to tell. Plus, it's a no-bake pie, meaning you don't even have to turn on your hot oven in the sweltering summer heat. You can watch how quickly it comes together on my Instagram right here.
The pie filling is composed of key lime juice and three dairy-free ingredients.
Ingredients For This Key Lime Pie
Gluten-Free & Dairy-Free Graham Cracker Crust: I bought my own from Mi-Del, but you can make your own from gluten-free graham crackers from Kinnikinnick and dairy-free butter like Earth Balance vegan butter sticks.
Truthfully, a homemade crust makes this recipe even better! I recommend this one from Sally's Baking Addiction, and again, just use gluten-free & dairy-free graham crackers as well as dairy-free butter. I've also used it in making gluten and dairy free cheesecake.
Dairy-Free Cream Cheese: I use KiteHill Kite Hill plain cream cheese. It's my go-to dairy-free cream cheese, which I've also used for gluten and dairy-free oreo cheesecake brownies. You can also use a lactose-free option like Green Valley.
Dairy-Free Cool Whip: So Delicious coco whip and TruWhip both work great and are dairy-free.
Cream of Coconut: I use Goya crema de coco for this recipe but there are other choices out there! If you can't find that, sweetened condensed coconut milk, or whatever condensed milk you prefer.
Key Lime Juice: To make the best key lime pie, you need the real stuff from the Florida Keys, like Nellie & Joe's Key Lime juice. You can find bottled key lime juice in the produce section or boxed juice section of your grocery store, or buy it online.
Whipped Cream/Limes: Optional, for garnish. I like doing little dollops of whipped cream and some thinly sliced limes on top!
How To Make This Key Lime Pie
First, beat the cream of coconut and key lime juice together. Then set aside.
Next, beat the dairy-free cool whip and cream cheese together, then set aside.
Finally, pour the cream of coconut/key lime juice mixture into the cream cheese/cool whip mixture, and beat until smooth.
Then you pour the filling into your pre-made crust, cover it, and pop in the freezer to firm up for at least 8 hours or overnight.
Tools For Making Key Lime Pie
I use my KitchenAid stand mixer, but a handheld mixer works fine. If you don't have either of those, you can use a whisk, but it will be quite an arm workout. After that, let the pie freeze for at least 8 hours to set, or better, overnight. We need to give the key lime pie time to solidify so it can transform into a heavenly dessert!
You can watch me make this recipe in this Instagram Reel here:
Frequently Asked Key Lime Pie Questions
Can I just use regular lime juice? What's the difference between key lime and regular lime juice?
Key lime juice is not the same as regular lime juice. While you can juice your own limes for this recipe, I don't advise it. Key limes are smaller and more tart than regular limes, meaning you'll need to juice even more of them to get the amount you need. It's summer. You're hot and sweaty. Don't do it - just buy the lime juice and save yourself the trouble!
What are all these coconut products you're talking about?
The differences between coconut milk, coconut cream, and cream of coconut can be confusing, so here's a quick recap!
Cream of Coconut: A sweetened version of coconut cream - the thick stuff, but with added sugar. Cream of Coconut is what you need for this gluten and dairy free key lime pie recipe!
Coconut Milk: Shredded coconut meat & water.
Coconut Cream: The thick, creamy part that collects at the top of the coconut milk. So basically, coconut milk without the water.
Can I make this just gluten-free, and not dairy-free?
Yes! I've made this in all variations: gluten-free only, gluten-free and lactose-free, gluten-free and dairy-free. It always comes out amazing!
How To Serve & Store Key Lime Pie
Key lime pie needs to set in the freezer, so make sure you give it ample time to do so. The pie should freeze for at least 8 hours, or for best results, overnight.
When ready to serve, remove from freezer and let it rest for 5 minutes at room temperature. When done slicing, return to the freezer and keep covered. The pie should not be kept out at room temperature or it will melt rather quickly!
Note: You might have a little bit of extra filling that won't fit into your pre-made gluten-free crust if using Mi-Del brand. No problem. Pour the filling into a freezable container and cover. Place in the freezer for up to 8 hours. Enjoy as a refreshing dip for cookies or fruit during the summer months! Big thanks to my high school pal Chelcy, who shared this idea after making the pie!
More Gluten-Free Baking Recipes
Want to continue practicing your pie making skills? Check out this gluten-free peach pie with lattice design.
Feel like an easy quickbread? This banana bread with walnuts hits the spot.
Looking for a scones recipe? Bake a savory version with bacon, cheddar, and chives.
Ready to take your baking skills to the next level? Try these delightful, buttery, and flaky gluten-free croissants.
Discover all the gluten-free baking recipes on the blog right here.
Here's the full recipe for gluten-free and dairy-free key lime pie!
If you love this recipe, please leave a comment! Thank you so much!
Gluten-Free Dairy-Free Key Lime Pie Recipe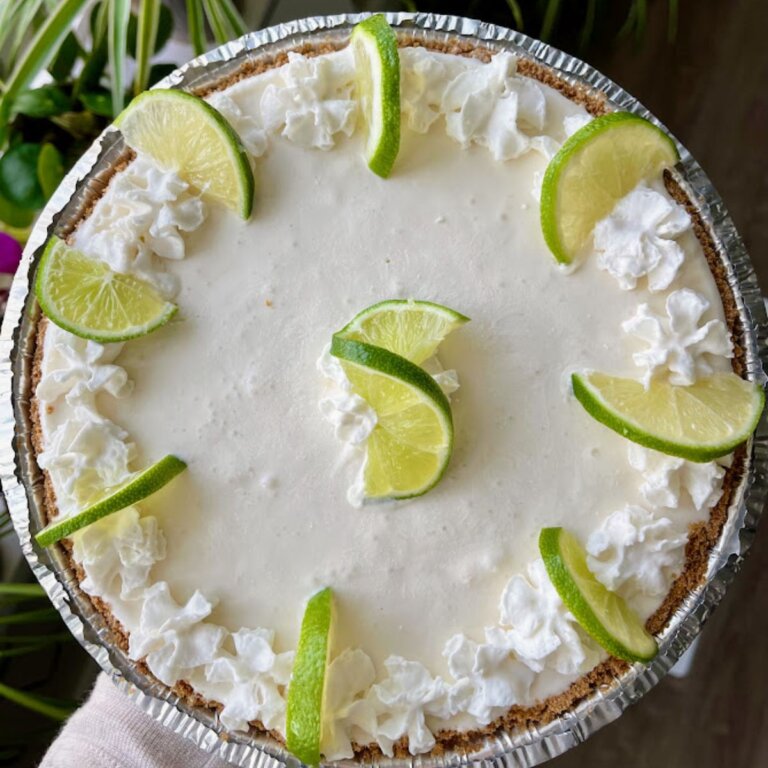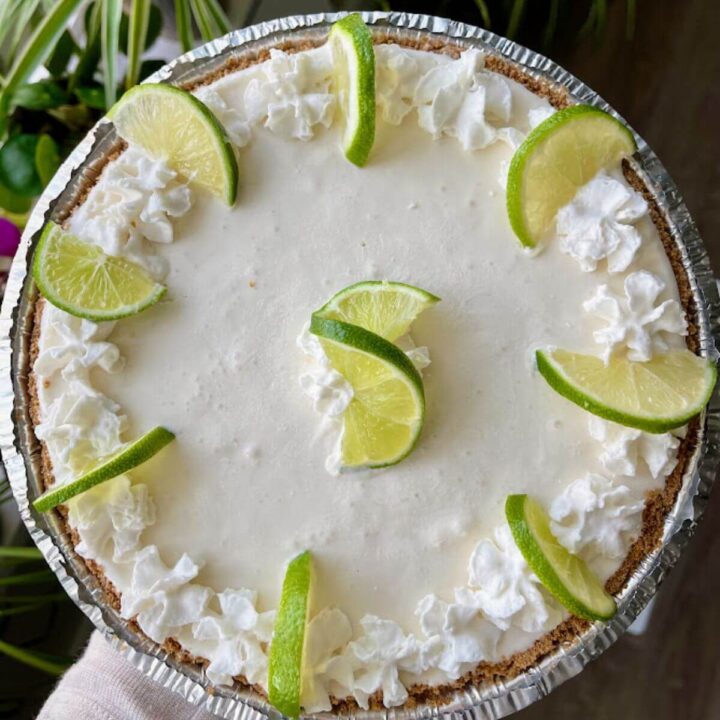 Gluten-Free Dairy-Free Key Lime Pie
Additional Time:
8 minutes
A no-bake pie that screams for summer!
Ingredients
For the Crust
1 gluten-free graham cracker crust, like Mi-Del OR 1 box gluten-free & dairy-free graham crackers, like Kinnikinnick 
7 Tablespoons dairy-free butter, like Earth Balance Vegan Butter Sticks
For the Filling
15 oz cream of coconut (or use sweetened condensed coconut milk)
8 oz dairy-free cool whip, like So Delicious or TruWhip
8 oz dairy-free cream cheese, like Kite Hill
½ cup key lime juice (I use Nellie & Joe's)
For Decoration/Garnish
Fresh lime wedges, cut into pieces
Dairy-Free whipped cream
Instructions
If you are making your own graham cracker crust:
Pulse the graham crackers in a food processor for 15-20 seconds until it resembles coarse crumbs. Pour into a separate bowl and add the melted butter. Mix until it becomes sandy, then press into a pie plate or 8 inch round pan (no need to grease it). Refrigerate for at least 2 hours before filling.

If you are using a storebought crust like MiDel:
Remove the packaging from the crust and set aside.

In medium-size bowl, using a handheld or stand mixer, beat together the cream of coconut (or sweetened condensed coconut milk) and key lime juice on medium/low speed until combined. Set aside.
In a separate large bowl, using a handheld or stand mixer, beat together the dairy-free cool whip and dairy-free cream cheese on medim/low speed until smooth. Then, pour the cream of coconut/lime juice mixture into the cream cheese & cool whip mixture and beat on medium/low speed until all ingredients are smooth and fully incorporated.

Pour the filling into the graham cracker crust. Please note you may have some extra filling so be mindful when pouring (Save this and freeze to dip cookies or fruit into!)
Place the top back on (or cover with foil) and freeze for at least 8 hours, or for best results, overnight. When ready to serve, remove from freezer and slice into pieces. Pie should be able to be cut quite easily, but will melt fast. Resturn to freezer when not eating.
Notes
Cream of Coconut
Cream of coconut, which is made from the thicker coconut meat and sweetened with sugar, works best for this recipe. It is thicker than regular coconut milk, which is the flesh of a coconut blended with water. If you can't find cream of coconut, sweetened condensed coconut milk will work well instead.

Storage
Key lime pie will keep in the freezer for a few weeks, just keep it covered. When serving, slice quickly and return to the freezer to prevent melting.
Extra Pie Filling: If you have extra pie filling, store it in a sealed freezable container and use it to dip fresh fruit or GF cookies into. Delicious!
Nutrition Information
Yield

8
Serving Size

1
Amount Per Serving
Calories

549
Total Fat

46g
Saturated Fat

29g
Trans Fat

1g
Unsaturated Fat

14g
Cholesterol

92mg
Sodium

250mg
Carbohydrates

32g
Fiber

2g
Sugar

18g
Protein

5g
The nutrition information on each recipe card is provided as a courtesy and for your convenience. The data is calculated by Nutritionix. You are encouraged to make your own calculations based on your ingredients and preferred nutritional facts calculator. While I try to make sure they are accurate, I cannot guarantee the accuracy of these calculations.
---
Do you like key lime pie?
Should I try making more no-bake pies?
Let me know in the comments if you tried this recipe!