Another travel-inspired recipe for the books - gluten-free fried rice with chicken and bacon!
This post may contain affiliate links. Please see my disclosure page for more information. Thanks!
About This Gluten-Free Fried Rice
I'm seriously convinced my husband could eat fried rice for every meal, and never get bored of it. After 2 months of backpacking through Southeast Asia in 2019, that obsession has only continued here at home. We both worked together in the kitchen to create this easy, yet filling, fried rice that was gluten-free and totally scrumptious.
Please note, as all of my recipes on the blog inspired by traveling, this is my take on this recipe, and not an authentic version!
Ingredients You Will Need For Fried Rice
White rice: We buy a massive bag of Jasmine rice and keep in our pantry.
Onion: I prefer sweet onions but a yellow onion works fine too.
Vegetable Oil: For frying the rice.
Eggs: There's a lot of protein in this fried rice. Eggs are one of our sources of protein.
Chicken Breasts: I prefer boneless skinless chicken breasts and it's what I usually buy. We'll season them with salt, pepper, and garlic powder while they cook.
Bacon: Make sure your bacon is gluten-free. We'll cook and crisp it up in the oven.
Frozen peas & carrots: You can also add whatever frozen veggies you like. We keep it simple.
Gluten-Free Sauces: Make sure to use gluten-free soy sauce and gluten-free sesame oil for this recipe. I recommend San-J, Kikkoman Gluten-Free , or La Choy for gluten-free soy sauce, and Sun Luck for gluten-free sesame oil.
How To Make Fried Rice
First, you'll pre-cook your rice so that it's ready to go. Then, you'll heat 1 Tablespoon vegetable in your pan and cook the chicken with the spices, remove when it's cooked through and cut into bite-sized pieces. You'll also cook the bacon in the oven so it's done at the same time as the chicken.
When the bacon and chicken are cooked and ready to go, into the same frying pan, you'll add more oil and add the chopped onion and frozen peas/carrots. You'll mix and saute until fork tender, then push everything to one side. Crack the eggs directly into the pan and scramble them, incorporating the veggies, then add the cooked rice, in batches, chicken bacon, and soy sauce.
Finally, you'll add more soy sauce as needed, then lower the heat to medium and cook for 8-10 minutes, until combined and crispy.
Tips For Making Fried Rice
Make the rice ahead of time. The best fried rice recipes are when the rice has had time to cool and become sticky! It makes it crisp up better, doesn't get soggy, and will have a much tastier texture. We recommend using day old rice or at least letting it cool before using. One quick way to do this is to spread the rice out on a baking dish for a few hours before you plan to make fried rice, so it has time to cool.
RINSE. Make sure you RINSE your rice before cooking it - it will be cleaner, more pure, and might even taste better (at least we think it does).
Use a Rice Cooker. We use this Hamilton Beach Rice Cooker and have been making rice with it for over five years. It makes perfect rice, every time - and makes this fried rice recipe way easier. Think of it as a cooking hack - and one that's well worth it if you eat as much rice as we do!
Customizing Fried Rice
Gluten-free fried rice can be customized to your dietary preference. If you are vegetarian, skip the meat and add more vegetables, like mushrooms. If you are dairy-free, no problem! This recipe has no dairy. If you are soy-free, use coconut aminos rather than gluten-free soy sauce. Egg-free? Leave out the eggs. Can't do grains? Use cauliflower rice.
The possibilities are ENDLESS! Fried rice is a great meal option for many diets - and please feel free to adjust this recipe to whatever you like.
How To Serve Gluten-Free Fried Rice
We serve fried rice with additional gluten-free soy sauce or some freshly chopped scallions, for color!
Fried rice is a delicious dinner or lunch, and but according to Dylan, who ate it every day for breakfast in Bali, it also makes a good morning meal. We hope you enjoy our gluten-free fried rice with chicken and bacon. It's so tasty, and a lot of fun to cook with a partner or loved one.
Looking for more gluten-free recipes inspired by travel?
This is the pad thai I learned to make right in Thailand, with a homemade sauce too!
These gluten-free empanadas have a homemade pastry filled with beef, cheese, and onion.
Butter chicken is both gluten and dairy-free, and goes perfectly with a slice of gluten-free naan.
Looking for another tasty dinner recipe? Try lomo saltado, a Peruvian stir fry!
Check out over 100+ gluten-free recipes on the blog right here.
Here's the recipe for gluten-free fried rice!
If you love this recipe, please leave a comment! Thank you so much!
Gluten-Free Fried Rice Recipe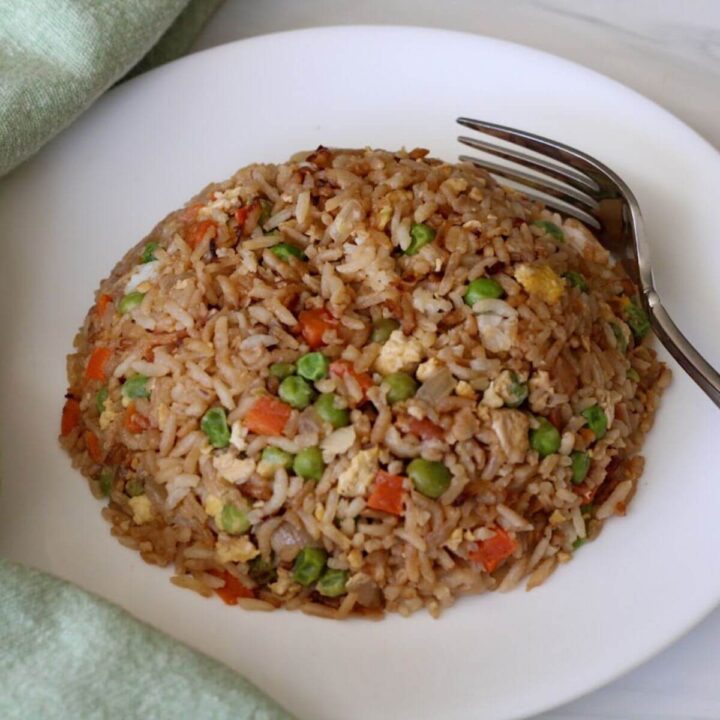 Gluten-Free Fried Rice
Total Time:
3 hours
50 minutes
Ingredients
3 cups cooked white rice
1 lb chicken breasts, cut into bite-sized pieces
1 tablespoon coconut oil or vegetable oil, for frying the chicken
Salt & pepper to taste, for the chicken
1 tablespoon garlic powder, for the chicken
3-4 tablespoon sesame oil (or more)
1 tablespoon vegetable oil (for the veggies)
1 ½ cups sweet yellow onion, diced small
1 cup frozen peas and carrots
4 eggs, scrambled
4 pieces of gluten-free bacon, cooked
5-6 tablespoon gluten-free soy sauce (or more)
4-5 garlic chives, minced small (optional, for garnish)
Instructions
Cook the rice in your rice cooker or on the stovetop according to package directions at least 3 hours before you plan to eat. This recipe works best with rice that isn't freshly cooked. Overnight works too! If you don't have that amount of time, just cook it and place in the refrigerator until ready to eat.
In a large frying pan, heat 1 tablespoon vegetable oil and fry the chicken until cooked through, adding salt, pepper, and garlic powder. Set aside.

Place bacon strips on a jelly-roll pan (a baking sheet with sides) in the oven at 400 degrees Fahrenheit for 10-12 minutes, or until crispy. Drain on paper towels and break into bite-sized pieces. Set aside.

In the same frying pan, heat 1 tablespoon vegetable oil and the sesame oil over medium-high heat. When the oil is hot, add the chopped onion and frozen peas/carrots. Mix and saute until fork-tender, then push all ingredients to one side of the pan, leaving space. In a separate bowl, whisk the eggs with a fork, then pour into the pan in the empty space. Scramble the eggs with a spatula until cooked through, incorporating the veggies as well.

Add the cooked rice, in batches, being sure to break it up any large chunks so it cooks evenly. Add the cooked chicken, bacon, and soy sauce, adding more if needed, to coat the mixture. Lower the heat to medium and cook for 8-10 minutes, until combined and crispy.

Add bean sprouts if using and garnish with chopped chives. Enjoy!
Notes
Storage: Fried rice can be stored in the refrigerator for 2-3 days. Just reheat in the microwave or on the stovetop.
Extra Sesame Oil or Soy Sauce: Feel free to use more sesame oil and gluten-free soy sauce than the recipe calls for - we always add extra!

Nutrition Information
Yield

8
Serving Size

1
Amount Per Serving
Calories

586
Total Fat

36g
Saturated Fat

8g
Trans Fat

0g
Unsaturated Fat

26g
Cholesterol

164mg
Sodium

3483mg
Carbohydrates

28g
Fiber

2g
Sugar

4g
Protein

37g
The nutrition information on each recipe card is provided as a courtesy and for your convenience. The data is calculated by Nutritionix. You are encouraged to make your own calculations based on your ingredients and preferred nutritional facts calculator. While I try to make sure they are accurate, I cannot guarantee the accuracy of these calculations.
Have you ever made fried rice?
What do you put in yours?
Let me know in the comments!