Rice is one of my go-to gluten-free grains. And this gluten-free dirty rice is better than the boxed version - with lots of spice, onions, and flavor!
This post may contain affiliate links. Please see my disclosure page for more information. Thanks!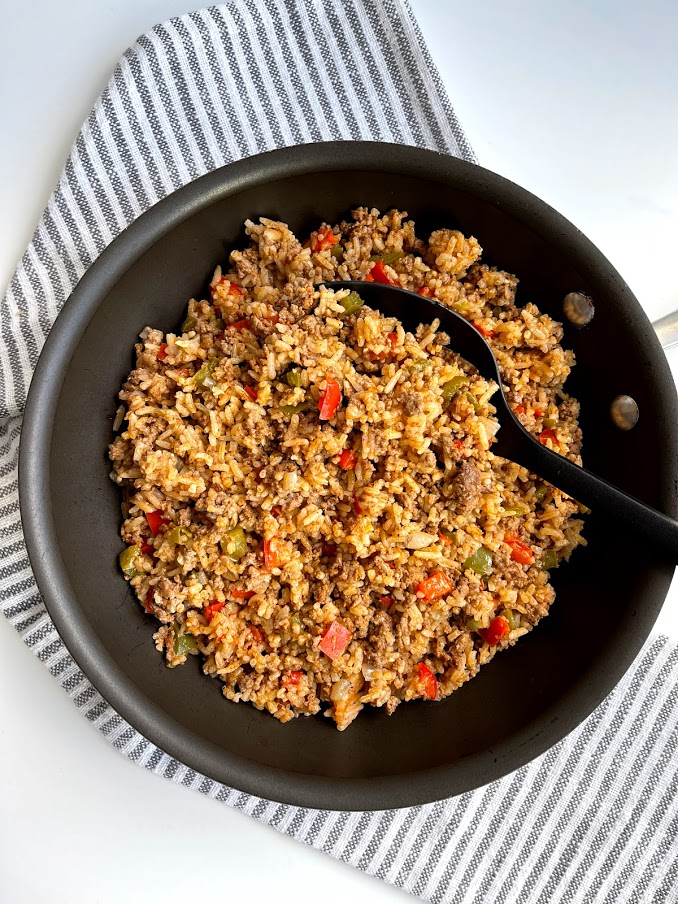 About This Dirty Rice Recipe
Years ago, Dylan made me dirty rice (a gluten-free boxed version) and I thought it was delicious. I also thought to myself, "I can probably make it from scratch and it will taste even better."
Friends, this recipe is a result of those thoughts. And I'm glad I had them! Everything always tastes better from scratch, and even Dylan agrees: this version is better. It's a one-pan dish, gluten and dairy-free, and super filling.
Dirty rice is a Creole/Cajun recipe, and this is my take on it. Not authentic, but a "travel-inspired" version of this dish. Making gluten-free recipes inspired by travel or destinations around the globe is one of my favorite ways to bring travel into our daily lives.
Ingredients You Will Need
-White or brown rice (Make sure it's cooked!)
-Ground beef or turkey (Use LEAN here, I do 95%)
-Bell peppers, red, green, yellow, orange
-Yellow or Sweet Onion
-Garlic (You can use whole cloves and mice them, or use jarred minced garlic)
-Olive oil or butter
-Spices: salt, pepper, cumin, cayenne, paprika
How To Make Gluten-Free Dirty Rice
The process is straight forward for dirty rice! First you will cook the bell peppers and onions with the garlic, salt and pepper. Then you'll add the ground beef or turkey to the veggie mixture to brown. Then, you'll bring everything together and add the cooked rice and seasonings. That's it!
Tips For Making Dirty Rice
One of the main ingredients for this dish is, of course, RICE! We love cooking rice as a gluten-free grain on a weekly basis, and it's so much easier in our trusty rice cooker. I'm not one for having lots of fancy kitchen gadgets, but this rice cooker has been our favorite accessory for over five years- and before Instant Pots were super popular. I highly recommend a rice cooker to make this process easier.
How To Serve Dirty Rice
Dirty rice tastes great with some sliced avocado, or even with tortilla chips. I also love melting some cheese on top, or even a dollop of sour cream! Please note those toppings would make the recipe gluten-free, but not dairy-free.
Looking for more gluten-free recipes?
Try this gluten-free chicken noodle soup with a secret ingredient.
Enjoy lots of veggies in this no-meat vegetarian chili - made in the crockpot.
Get cozy with this hearty gluten-free beef stew, perfect over potatoes!
Discover all 100+ gluten-free recipes on the blog right here.
Here's the full recipe for gluten-free dirty rice!
If you love this recipe, please leave a comment! Thank you so much!
Gluten-Free Dirty Rice Recipe
Gluten-Free Dirty Rice
Total Time:
1 hour
5 minutes
A yummy, filling rice dish!
Ingredients
2 cups white or brown rice, cooked
4-5 tablespoons of olive oil or unsalted butter (to make it dairy-free, use oil)
1 medium sweet or yellow onion, chopped (about 1 ½ cups)
1 red bell pepper, diced
1 green bell pepper, diced
2 heaping tablespoons of minced garlic (about 6 cloves of fresh garlic)
1 lb ground beef or turkey, lean (I use 95%)
3 teaspoons of paprika
1 teaspoon of cumin
¼ teaspoon of cayenne pepper (or more, depending on how much you like spice)
½ teaspoon garlic powder
1 teaspoon black pepper
salt, to taste (start slow, go with ½ teaspoon and go from there)
tortilla chips, cheese, sour cream, sliced avocado, for serving (if desired)
Instructions
First, put the rice on to cook while you prepare the meat and vegetables. When the rice finishes cooking, add 1-2 tablespoons of butter or olive oil, to coat. Set aside while you prepare the rest of the ingredients.

In a large frying pan over medium heat, add 1 tablespoon of butter or olive oil. When the oil is hot, add the bell peppers and onions, and sautee, until softened. Keep the heat on medium to medium-low so they soften and sweat, but don't let them brown. Once the peppers have softened, add the minced garlic and stir for 1-2 minutes. Move the vegetables to one side of the pan and add the ground beef or turkey, directly into the pan. Brown completely. Season with ½ teaspoon of salt and stir to combine all ingredients: veggies and meat.

Finally, add in the cooked rice with 1 tablespoon butter or olive oil. stirring to combine and break up any clumps of rice that may stick together. Add the paprika, cumin, garlic powder, cayenne, black pepper, and additional salt to taste. Mix thoroughly, to coat the rice, veggies, and meat. Taste and adjust seasoning as needed. Enjoy!




Notes
Storage
Store dirty rice in the fridge for up to 3 days. Reheat in the microwave or on the stovetop.
Nutrition Information
Yield

6
Serving Size

1
Amount Per Serving
Calories

538
Total Fat

36g
Saturated Fat

10g
Trans Fat

1g
Unsaturated Fat

22g
Cholesterol

99mg
Sodium

225mg
Carbohydrates

25g
Fiber

5g
Sugar

3g
Protein

30g
The nutrition information on each recipe card is provided as a courtesy and for your convenience. The data is calculated by Nutritionix. You are encouraged to make your own calculations based on your ingredients and preferred nutritional facts calculator. While I try to make sure they are accurate, I cannot guarantee the accuracy of these calculations.
Do you like rice?
Do you eat a lot of rice in your weekly diet?
Tell me in the comments below!