With travel at a standstill, these ten books are perfect for travel lovers like me!
This post may contain affiliate links. Please see my disclosure page for more information. Thanks!
It's social distancing day #...wait, what day is it? I don't even know anymore. Traveling is a far-off, distant dream; a memory of a time when we could gather in large groups, get on an airplane or wander through a museum without fearing for our health and safety. It's a weird, strange time for all of us.
Before setting out on our backpacking adventure in 2019, before the idea of a sabbatical began to form in my head, I relied on weekends and school vacations to travel. And when we weren't traveling, I was reading books about traveling. Dylan joked that I was reading like the 1800s and there was nothing else better to do except churn butter. I'll admit, he had a point.
In 2017, I read over 100 books in a calendar year.
Reading is helping me stay focused during this crazy time - it's calming, yet exciting. Books, especially books about traveling, give me a chance to escape the stress of this pandemic. I have five books on my Nook app as I type this right now!
I've read every one of the travel books on this list- some more than once. These novels have rocked me to my core, changed my worldview, and some have even given me a leap of faith I didn't know I needed. Traveling will happen again, but it will take time. Until then, these books about traveling can help you take a little vacation right from your own living room.
10 Books Great For Travel Lovers
Driving Hungry
Driving Hungry
by Layne Mosler
This memoir combines two of my favorite things - food and travel. Layne Mosler, a writer, and former restaurant worker travels to three major cities in search of authentic and delicious food. In Buenos Aires, she learns to tango and becomes obsessed with finding the best local places for Asado, pasta, and pastries. In her quest for discovering local eats, she meets people from all walks of life in Argentina, New York, and Germany, and even learns to drive a taxi in Manhattan.
My Two Cents: Don't read on an empty stomach. You'll be drooling with the exquisite detail Mosler uses to describe her food adventures.

The Geography of Bliss
The Geography of Bliss
by Eric Weiner
This was a refreshing and heartening read. Eric Weiner, a journalist, searches across the globe for the happiest places on earth. He investigates what makes the people of a particular place happy - is it their socioeconomic status? Their mindset? The climate of the country? This memoir will make you laugh, and will make you think. As the author is quickly humbled by the simplicity of what other people of the world need to be happy, you'll reevaluate your own happiness as well.
My Two Cents: This book will make you reflect on your own life and what possessions you really "need" to be happy. It helped me on my journey toward minimizing & starting a capsule wardrobe.

Sunrise In Spain
Sunrise in Spain
by Theresa Fersch
A local woman here in New England decides to hike the Camino de Santiago in Spain - all 500+ miles of it - and she's barely five feet tall. Her story of the challenging hike and struggling to keep up on the trail really hit home after we hiked just two weeks of the Camino. I strongly related to the blistered and sore feet, the sense of community, and missing the simplicity of walking every day. It's an honest reflection and well-written from someone who went from doubting her abilities to proving she belonged on the trail.
My Two Cents: Hiking the Camino de Santiago is not easy, even if you are average height. Theresa is amazing for completing the entire trail.

The 100-Year-Old Man Who Climbed Out The Window And Disappeared
The 100 Year Old Man
by Jonas Jonasson
This book is absolutely delightful. Jonasson tells the tale of Allan Karlsson, who on his one-hundredth birthday, decides he's not too old to have another adventure. The story is told in a combination of his present-day adventure and flashbacks, with references to real-life events over the 20th century. It's sort of like a Forrest Gump story with a twist - in addition to hearing the tales of Allan's adventures in both World Wars, we follow Allan and his new friends on a wild journey involving theft, murder, love, and lots of humorous misunderstandings.
My Two Cents: I loved this book and couldn't put it down. There's a sequel to it that I'm currently waiting to read through my library's online database.

A Walk in the Woods
A Walk in the Woods
by Bill Bryson
Bill Bryson's story of hiking the Appalachian Trail is filled with ups and downs but packed with lots of comedy. After returning home from living abroad, Bryson decides to hike the Appalachian Trail from Georgia to Maine. But his plans on the trail change when a buddy decides to tag along. Together they discover the beautiful and wild landscape while tackling the challenges of thru-hiking - everything from instant coffee to bug bites to incredible mountain views in the southern United States.
My Two Cents: If you enjoy hiking as we do, especially along the AT, you'll be able to either relate to this story or, gain some perspective for what thru-hiking is really like.

Eat Pray Love
Eat Pray Love
by Elizabeth Gilbert
Yes, this is also a movie with Julia Roberts, but you know the book is always better than the film!

Elizabeth Gilbert travels from Italy to India and finally, Indonesia, searching to heal herself after divorce and depression. She eats her way through endless amounts of pasta in Italy, learns to focus on forgiveness and prayer at an ashram in India, and begins to love herself- and others, while in Bali. For anyone who has recently suffered a breakup, this one is all about self-love.
My Two Cents: I have seen the movie and would argue it's a fairly accurate portrayal of the book. I loved the scenes of the rice paddies in Bali and the streets in Rome.
Outlander
Outlander
by Diana Gabaldon
If you're not a fan of time travel (or romance novels), skip this one. In my opinion, this is one of the best historical romance novels of ALL TIME! (cue Kanye West at VMAs)
Diana Gabaldon's tale of Claire Beauchamp, a World War II nurse, who finds herself in 18th century Scotland, is a masterpiece. Claire struggles with her loyalty to her husband in the present world while falling in love with Jamie in 18th century Scotland. This tale is filled with action, war, heartbreak, and passion. It will have you swept up in another world - a definite escape from your living room- but it will also have you planning a future trip to Scotland.
My Two Cents: The books in the Outlander series are massive - think Harry Potter and the Goblet of Fire thickness. They will give you something to do for a while. Showtime has made Outlander into an excellent TV series, and Sam Heughan is a dreamboat.

The Lost Girls
The Lost Girls
by Jennifer Baggett, Holly C. Corbett, & Amanda Pressner
In my quest for travel-related reading material a few years ago, I came across a travel memoir from three friends who quit their jobs and set out to travel the world together. Each of them contributes various chapters to their adventures in South America, Asia, and Africa. The women share their stories of volunteering, of love affairs, of travel fails, and even a few hikes along the way. Reading this novel was one of the best ways I prepared myself for traveling nomadically - and can give you an idea of what long term travel really looks like (Hint - it's not like the incredibly edited travel photos you see on Instagram. It's really filled with granola bars, snoring roommates in hostels, and wearing the same outfit for five days!)
My Two Cents: This book was long, and some chapters were a little wordy - but I think it only gives the reader a better picture of the scene, the people, and the adventure.

Happier Than A Billionaire
Happier Than A Billionaire
by Nadine Hays Pisani
This was one of the first books about traveling and quitting the 9-5 I read, and it was a fantastic and humorous read. Nadine and her husband decide to quit their jobs as chiropractors and move to Costa Rica. Let's just say, the journey is filled with mishaps, accidents, monkeys, and lots of laughter! Nadine's descriptions of their constant challenges in moving to Costa Rica, buying land, building a house all while trying to speak Spanish and keep wildlife out of their bedroom is refreshing, fun, and absolutely hilarious!
My Two Cents: Nadine and her husband Rob still live in Costa Rica! They also have a website and a B&B where you can visit Costa Rica and live the pura vida lifestyle and be happier than a billionaire. There's also a sequel to this first book!

Ten Years A Nomad
10 Years A Nomad
by Matt Kepnes
Nomadic Matt has been one of my favorite travel blogs since 2016. Matt's course on travel blogging and book on traveling for just $50 a day were both life-changing. When he announced he was publishing another book about traveling, the timing couldn't have been more perfect - it came out right when we got back to the USA last summer, and he did a book signing at Harvard!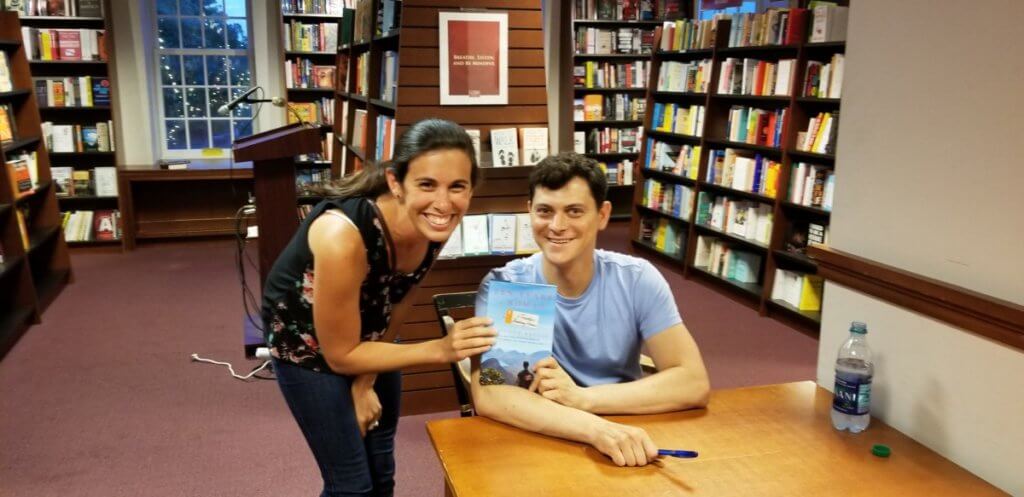 The book exemplified everything I was feeling upon returning home from six months of travel. The reverse culture shock, the lack of connecting with others, and the feeling of being at home on the road, rather than in the place that you grew up - all resonated deeply. This book is an authentic look at what it's like to call the world your home for ten years - and what "home" means to all of us.
My Two Cents: Ten Years a Nomad is special for me because I actually got to meet the author, who is someone I admire! Matt recently recovered from having the coronavirus and continues to share helpful tips and inspiration for travel lovers.

I was especially touched by the message Matt wrote in my copy of the book.
"To Jen and Dylan - here's to another trip around the world! -Matt Kepnes"
More Books To Read
If you still need further reading inspiration or other great books for travel lovers, here's a list of all the books I've read since 2016. There are plenty of reading options on my list, including adventure series, classic literature, health and wellness books, memoirs, comedies, romances, and sci-fi!
As Stephen King says, "Books are a uniquely portable magic", and I hope you can find that magic in the books listed here!