Dylan's gluten-free pulled pork recipe is finally here! And it's so easy to make in the crockpot!
This post may contain affiliate links. Please see my disclosure page for more information. Thanks!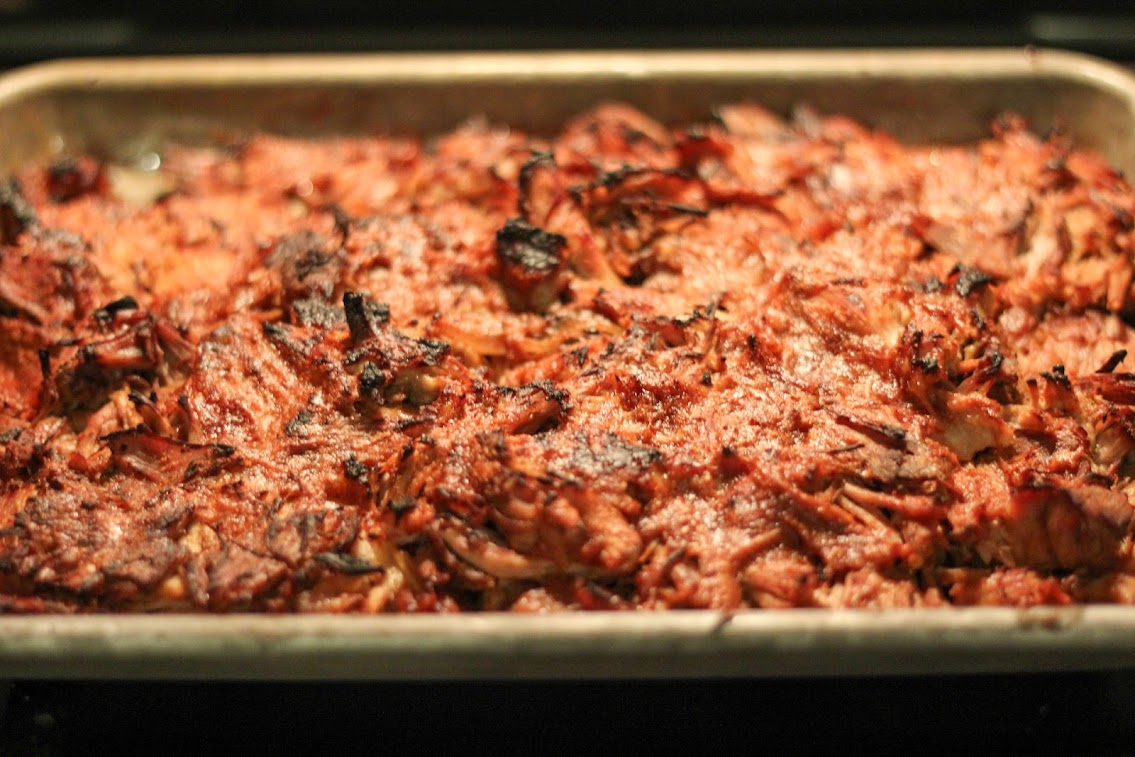 Dylan has been making this pulled pork recipe for months - but I've once and for all got the inside scoop to share with you! This pulled pork melts in your mouth is fall-apart tender and tastes so good thanks to Dylan's homemade barbecue sauce.
Without a smoker or barbecue to use, due to our small apartment space, the crockpot is a great option. You can also use an Instant Pot for this recipe, but as I'm not familiar with them, follow your Instant Pot's directions for best results. Call me old-fashioned, but I've been using the same crockpot for 8 years!!
Dylan's barbecue sauce for this recipe is ketchup or tomato-based sauce. Barbecue sauces vary depending on the region of the country. Dylan flavors the sauce with plenty of spices for heat and flavor, but also with maple syrup, for sweetness. You can take the guy out of Vermont, but you can't take Vermont out of Dylan!
Here's what you'll need to make this gluten-free pulled pork:
-Pork butt, about 2-3 lbs
-onion
-ketchup
-maple syrup
-Worcestershire sauce (make sure it's gluten-free)
-minced garlic
-a variety of spices: chili powder, garlic powder, onion powder, black pepper, cayenne pepper, cumin, and ground mustard
How To Make This Pulled Pork Recipe
This recipe is super easy as it doesn't require a lot of technique. You add the pork butt to the crockpot, spread on the sauce, and then the chopped onions on top. Everything gets added to the crockpot to cook for a few hours. Once it's done, you shred the pork with two forks and place it on a baking tray in the oven to get nice and browned, with crispy edges by broiling it, and top it with extra sauce. Yum!
How To Serve Pulled Pork
This pulled pork recipe goes great with roasted vegetables, potatoes, or rice. It would also taste delicious in tacos, burritos, or quesadillas, too, or even on a sandwich with some pickles or cheese.
Looking for more gluten-free dinner recipes?
This is the pad thai I learned to make right in Thailand, with a homemade sauce too!
This gluten-free potato leek soup is super creamy without the dairy.
Veggie chili requires minimum prep work and is packed with vegetables.
Want something easy with tons of flavor? Try chicken piccata over pasta or rice.
Check out over 100+ gluten-free recipes on the blog right here.
Here's the full recipe for gluten-free pulled pork!
If you love this recipe, please leave a review! I'll share them with Dylan.
Thank you so much!
Dylan's Gluten-Free Pulled Pork Recipe
Dylan's Crockpot Pulled Pork
Additional Time:
10 minutes
Total Time:
8 hours
25 minutes
Melt in your mouth, tender pulled pork, with a homemade BBQ sauce.
Ingredients
1 2-3 lb boneless pork butt, rinsed and dried
⅔ cup ketchup
4 teaspoons Worcestershire sauce (make sure it's gluten-free)
3 tablespoons maple syrup
2 teaspoons minced garlic (about 4 cloves)
¼ teaspoon crushed black pepper
2 teaspoons garlic powder
3 teaspoons onion powder
up to 1 teaspoon chili powder (start with ½ teaspoon, then taste & decide for heat)
1 teaspoon cumin
½ teaspoon ground mustard
⅛ teaspoon cayenne pepper
½ medium or yellow onion, sliced thin
Instructions
Rinse and dry the pork. Place in crockpot.

Make the sauce. Combine all remaining ingredients except for the sliced onions and whisk to combine. Taste and adjust seasoning as needed.

Pour ¾ of the sauce over the pork, spreading it all over with a pastry brush to coat on all sides. Top with the sliced onions all over. Reserve the ¼ cup of sauce remaining for later.
Cook on LOW for 8-10 hours or HIGH 4-6 hours. Pork is done when the meat is cooked through and falls apart with a fork.

Heat the oven to broil on HIGH. Remove meat from the crockpot and place on a jellyroll pan (baking sheet with sides). Pour the remaining ¼ cup of sauce over the top, and broil for 7-10 minutes, watching carefully. The pork will crisp and get nice and browned. When it is crisped how you like, remove it from the oven.
You can reserve the juices from the bottom of the crockpot to pour over the pork if it seems a little dry. Enjoy!
Notes
Storage
Pulled pork should be stored in the refrigerator and can be reheated in the microwave for up to 3 days after eating.

Extra Sauce
You can always double the amount of sauce! It's really really good, and you might want more of it anyway.
Nutrition Information
Yield

10
Serving Size

1
Amount Per Serving
Calories

775
Total Fat

52g
Saturated Fat

19g
Trans Fat

0g
Unsaturated Fat

27g
Cholesterol

234mg
Sodium

360mg
Carbohydrates

11g
Fiber

0g
Sugar

8g
Protein

63g
The nutrition information on each recipe card is provided as a courtesy and for your convenience. The data is calculated by Nutritionix. You are encouraged to make your own calculations based on your ingredients and preferred nutritional facts calculator. While I try to make sure they are accurate, I cannot guarantee the accuracy of these calculations.
Do you like barbecue?
Have you ever made pulled pork in the crockpot or instant pot?
Tell me in the comments below!