A chicken bacon ranch pizza that's also gluten-free? Move over, Subway!
This post may contain affiliate links. Please see my disclosure page for more information. Thanks!
About This Gluten-Free Pizza Recipe
Back in my pre-celiac days, Subway was such an easy place to grab a sandwich, especially in college. Dylan and I even had Subway subs for our first Valentine's Day together our freshman year! And a chicken bacon ranch was my all-time favorite.
Unfortunately, like most fast-food restaurants, Subway isn't a place I frequent any more with celiac disease. Thinking back on the days I could actually get a chicken bacon ranch sub, I decided to replicate the sandwich I loved so much - but in PIZZA form.
Make it Simple: Use a Pre-Made Pizza Crust!
Making homemade pizza from scratch is super fun, but it's a process. It's why I love having the convenience a gluten-free frozen pizza crust like Ugly's Gluten-Free! These crusts are gluten-free and sourdough based and have the best texture out of any pizza crusts I've tried.
Ingredients For Chicken Bacon Ranch Pizza
-Your Favorite Gluten-Free Pizza Crust
-Cooked Chicken
-Cooked Bacon
-Monterey Jack & Cheddar Cheese
-Ranch Dressing (I use Ken's as theirs are labeled GF)
-Optional: Chopped jalapeños, for a little spice!
How To Make Gluten-Free Chicken Bacon Ranch Pizza
The process for this recipe is super easy. Pre-cook your chicken and bacon so they are good to go. Then once your pizza crust is ready, add your toppings! I start with a layer of ranch dressing (I use Ken's brand which is gluten-free), two types of cheeses (Cheddar and Monterey Jack), followed by chopped bacon and chicken, and for flavor, chopped jalapeños. Yum!
How To Store Leftover Gluten-Free Pizza
Store any leftover pizza in the refrigerator. Reheat in the microwave, toaster oven, or regular oven when ready to eat.
Looking for more gluten-free dinner recipes?
This is the pad thai I learned to make right in Thailand, with a homemade sauce too!
This gluten-free potato leek soup is super creamy without the dairy.
Veggie chili requires minimum prep work and is packed with vegetables.
Want something easy with tons of flavor? Try chicken piccata over pasta or rice.
Check out over 100+ gluten-free recipes on the blog right here.
Here's the full recipe for chicken bacon ranch pizza!
If you love this recipe, please leave a comment! Thank you so much!
Gluten-Free Chicken Bacon Ranch Pizza Recipe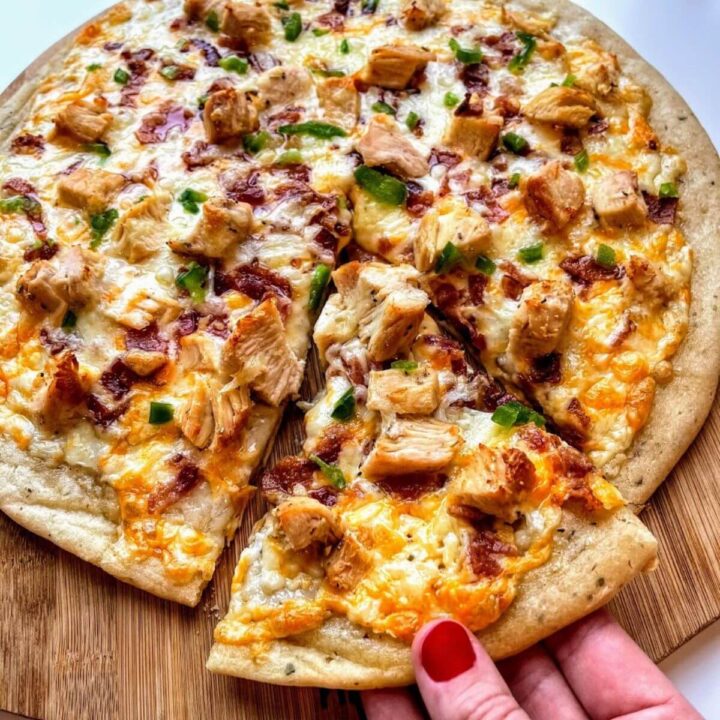 Gluten-Free Chicken Bacon Ranch Pizza
A pizza version of the chicken bacon ranch sub!
Ingredients
1 Zeia foods gluten-free pizza crust, or your favorite gluten-free pizza crust
2-3 tablespoons of ranch dressing (or more!)
1 ½ cups of cheeses, shredded by hand (don't buy pre-shredded cheese!), Cheddar, Monterey Jack, Colby, or a combination
4 pieces of gluten-free bacon, cooked and chopped
½ pound chicken breast, cooked and diced
¼ cup jalapeños, diced small
Instructions
Preheat the oven to 400 degrees Fahrenheit. Place the four pieces of bacon on a jelly roll pan (baking sheet with sides to make sure no fat spills over) and cook for 10-15 minutes. Remove from oven and pat dry. Chop and set aside.

Place the chicken breast on a baking sheet or jelly roll pan. Top with 1 tablespoon of olive oil and rub all over on both sides. Sprinkle with fresh sea salt, pepper, garlic powder, and dried rosemary. Cook for 20 miutes, or until chicken is cooked through and no longer pink. Rest for 5 minutes, then dice. Set aside.
Assemble the pizza! Place your crust on a baking sheet. Top with the ranch dressing, followed by the cheeses, chopped bacon, diced chicken, and any extra cheese on top. Sprinkle on jalapeños. Cook for 15 minutes and serve warm. Enjoy!
Notes
Store any leftover pizza in the refrigerator. Reheat in the microwave, toaster oven, or regular oven when ready to eat.
Nutrition Information
Yield

4
Serving Size

1
Amount Per Serving
Calories

754
Total Fat

47g
Saturated Fat

24g
Trans Fat

1g
Unsaturated Fat

19g
Cholesterol

159mg
Sodium

1288mg
Carbohydrates

32g
Fiber

2g
Sugar

4g
Protein

50g
Do you like pizza?
What are your favorite toppings?
Tell me in the comments below!