I'm so thrilled to share with you my experience with Zaney Travel and their gluten-free trips to Costa Rica!
This post is sponsored by Zaney Travel. I was invited as a guest on a 7-day tour of Costa Rica in November of 2021. All of my accommodations/food/excursions were included. I paid for my airfare, souvenirs, and tips for local guides. Please see my disclosure page for more information about sponsored posts. My opinions are my own.
Earlier this fall, I was contacted by Zaney Travel, a relatively new travel agency focusing on providing guided tours & trips to Costa Rica.
And the best part?
They specifically cater to gluten-free or celiac travelers, as the owner of the company has celiac disease.
As a former Spanish teacher that has always longed to visit Costa Rica, I was thrilled to spend a week exploring this beautiful country with Zaney Travel.
I was also able to plan this collaboration with my friend Tayler of Celiac Dietitian, who also came on the trip. We ate like absolute QUEENS and had zero issues with the food the entire week.
In fact, we were able to fully immerse ourselves in the travel experience and not worry about what we would eat.
What a blessing, right?
In this post, I'm diving into all the details of our 7-day gluten-free Costa Rica tour with Zaney Travel, where we stayed, what we ate, and the activities we got to try.
Because one thing's for sure - you've gotta check out the incredible service Zaney Travel can provide to their gluten-free guests!
Gluten-Free Costa Rica: Zaney Travel
About Costa Rica
Costa Rica is located in Central America, bordered by Panama to the east and Nicaragua to the west. While it's small - roughly equivalent to a state a little bit smaller than West Virginia, it's a popular destination for tourists, especially those from the USA and Canada. Costa Rica has an astounding biodiversity (over 500,000 species of wildlife), gorgeous beaches, volcanoes, waterfalls, conservation efforts, and adventure sports.
Costa Rica has been rated one of the happiest countries in the world. The country has no standing military (it was abolished in 1948), a 97% literacy rate - (20 points higher than the USA), public transportation across the country, and universal healthcare. As per safety, Costa Rica is rated #1 most peaceful country in Central America & the Caribbean.
The country's motto - "Pura Vida" - which means "pure life" is literally a lifestyle. Everyone uses this phrase to say hello, goodbye, thank you, you're welcome. Costa Ricans value their land, their country, the animals, nature, and their people. You can see why Costa Rica is such a beloved destination by tourists - and why the locals are proud of where they live.
About Zaney Travel
Zaney Travel was founded by Zane Greathouse in 2019, a traveler with celiac disease who has been visiting Costa Rica for over 20 years. He was previously a science teacher and then a butterfly farmer, which is why he began taking trips to Costa Rica in the first place. They create customized itineraries for travelers with gluten-free diets, celiac disease, or who have anxiety about traveling.
Each of their gluten-free Costa Rica tours is tailored to the needs of their guests. They take care of all the planning and organize your activities, excursions, hotels, transportation, and food - so you can sit back and relax all that Costa Rica has to offer.
Currently, they have a "Volcanoes & Beaches" group tour package that is 7 days and available to book for 2022. The itinerary may vary slightly depending on the activities you decide. This is the basic itinerary of our trip as well. We flew into San Jose, stayed in San Jose for 1 night, then drove to Arenal (volcanoes) for 2 nights, then Jaco (beaches) for 4 nights, before flying back out of San Jose.
Initial Consult Call with Zane
Before the trip, I spoke to Zane on the phone multiple times. He asked about my dietary needs, travel style, and particular experiences I wanted to get out of the trip. Zane makes sure that you feel comfortable on your trip and enjoy the experiences. So if you aren't a fan of heights, you can say "no thanks" to ziplining. But if you love horseback riding, they can make that happen for you!
Also, prior to my Costa Rica trip, I received a care package in the mail from Zane, as pictured above. It included a t-shirt, backpack, water bottle, waterproof necklace holder for my phone, and gluten-free snacks. How nice!
Getting to and from Costa Rica
Flying to Costa Rica
I booked my flights via Chase, using my airline miles points. I'm a big travel hacker and have been using points for free flights for years. If you'd like to learn my secrets (and how I also get free hotel stays) check out this post on travel hacking!
My first flight was on American Airlines from Boston to Miami, where I met up with Tayler. She and I were on the same flight (also AA) from Miami to San Jose Airport in Costa Rica. We were able to get seats together, share snacks, and talk! Unfortunately, there were no gluten-free meals or snacks, offered on either of these flights. We enjoyed some soft drinks and had our gluten-free snacks.
Things to Do Before Flying To Costa Rica
Make sure your passport is up to date. It's also wise to make sure it's not expiring within the next month or so. A good 6 months is what I stick to.
Contact the airline 48-72 hours before your flight to ask about possible gluten-free snacks or meals.
Get vaccinated. Costa Rica's vaccination policy is changing & becoming more strict as of January 2022. You can read more about their requirements here and what it means for tourism. If you chose to not get vaccinated, that is completely up to you, but you won't be able to go to Costa Rica starting in January.
Flying Back to the United States
My flight home to Boston was on Copa Airlines, which is a common airline in Central & South America. We flew Copa when going to Peru as part of our round the world trip in 2019. Copa does not offer a gluten-free meal, but they did have these great plantain chips, which I paired with a fruit cup Tayler got me at the airport. Yum!
Things to do before flying home to the USA
Check again for gluten-free meals & snacks on your flights, at least 48-72 hours ahead of time.
Visit a local gluten-free supermarket to stock up on gluten-free snacks!
Get a COVID test. Zaney Travel organized our appointments at a local clinic in time for our flights.
What To Pack
Zane will go over with you what you should pack for your week in Costa Rica. But here are a few things I brought that definitely came in handy (Many of them are in my Top Travel Accessories blog post, which you can read here.)
Poncho and raincoat. Definitely worth bringing both, especially if you are visiting during the rainy season!
Eyemask and earplugs. This will help for naps in the car on longer travel days, or in case you have trouble sleeping away from home.
Dramamine for motion sickness. The roads in Costa Rica are windy and hilly - especially for some of the excursions. If you're prone to motion sickness or getting sick in cars, definitely bring some. But rest assured, Zane travels with it too, along with an entire medicine bag of emergency supplies. He's got you covered if you forget.
Snacks that you want to have back at the room. While there's no shortage of delicious gluten-free food to be had, some granola bars, jerky, or crackers/chips are smart to bring and have on hand. There's also lots of opportunities to stop at local markets on travel days and grab something for yourself.
Sunblock & bug spray. Obvious things to bring to a tropical destination, but hey, sometimes we forget!
Comfortable clothing you don't mind getting sweaty or dirty. I pretty much lived in yoga pants and hiking gear the whole week. And don't forget a bathing suit too!
Zaney Travel Staff & Group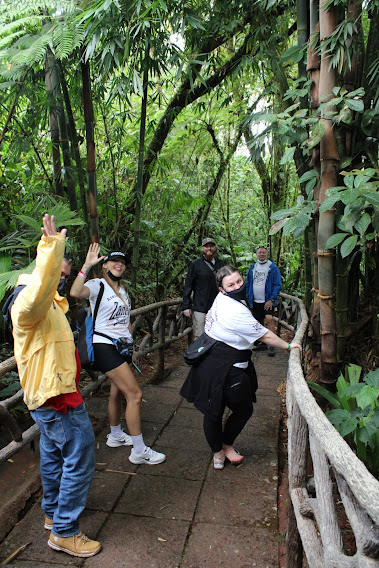 The entire week of our gluten-free Costa Rica trip, we were joined by a team from Zaney Travel that made everything easy!
Zane is the owner of Zaney Travel, former teacher and butterfly farmer, now head tour guide and fellow celiac who has been visiting Costa Rica for over twenty years.
José (not pictured here) is the go-to guy for organizing our tours and events. He speaks both English and Spanish and is very friendly and helpful. He loves telling a good story and loves a good joke!
Susy is the unofficial cheerleader of Zaney Travel, picture taker, and queen of making people laugh. She doesn't speak much English but has a huge heart and loves helping people enjoy their time in Costa Rica. ¡Pura Vida!
Rafael was our driver for the week. He did not speak any English but went above and beyond to drive slowly for us when the roads were curvy and we felt carsick. Gracias, Rafa!
We were also joined on our trip this week by Noah, who manages Zaney Travel's social media and takes great photos & videos.
And of course, Tayler was my gluten-free travel companion every day. On our second day we were also joined by the lovely Anna Leigh of the Bucket List Vagabond, who is another travel blogger!
Hotels in Costa Rica
All of our hotel stays were excellent on the tour. Zaney Travel only stays at really nice properties!
First hotel: Hampton Inn
Our first night we stayed at a Hampton Inn near the San José airport. Since we arrived in the later afternoon, and then had to wait on the immigration line for 2 hours, this was a smart choice. The room was clean, and it had a buffet breakfast the next morning.
Second hotel: Arenal Springs Resort & Spa
For the next two days, we stayed at Arenal Springs Resort & Spa. This property was stunning. Everything was so green and lush, and we had views of the Arenal Volcano from our room! Each of the rooms was a small casita with a porch, bedroom, and gorgeous bathroom. We even had special amenities when we arrived - including a welcome juice, fruit platter, wine, and a cute towel animal!
The Arenal Springs Resort has a beautiful hot springs pool which we did make use of one night. They even have a swim up bar! It was really, really neat!
Third hotel: Crocs Hotel & Casino, Jacó
The third hotel we stayed in was Crocs Hotel & Casino, which was right on the beach. The rooms just as nice as the previous two hotels, and we had a balcony overlooking the pool and beach area where the sunsets were phenomenal. This hotel has an onsite restaurant where we ate our breakfast and dinners. A very nice stay as well!
Gluten-Free Costa Rica - The FOOD
Now, what I'm sure you're curious about- the gluten-free FOOD in Costa Rica!
In general, the Costa Rican diet has many naturally gluten-free foods. They eat lots of rice, beans, plantains, corn tortillas, fresh fruits and vegetables, eggs, protein, juices, and coffee.
All of our gluten-free meals were included in our stay and were eaten either in our hotels or out at restaurants Zaney Travel has been to. For every meal, the chef, owner, or hotel staff came out to our table to speak to us about the meal and what options they could offer, along with their allergen protocols.
Gluten-Free Costa Rica: Breakfasts
Breakfasts were my favorite meal of the day. We always started with a delicious plate of tropical & fresh fruits, followed by eggs with either rice & beans (called Gallo Pinto), corn tortillas, bacon, fried plantains, or cheese. Breakfast also included tea or coffee, fresh juice, and water. Sometimes there were even sweets too!
Gluten-Free Costa Rica: Lunches
We typically had lunch out at a restaurant, so I tended to have chicken with rice in some way. Honestly, I LOVE chicken and rice, so this was not a problem. There were plenty of other options on the menu that were gluten-free or could be made gluten-free, but I was very content eating these. Typically my lunches came with pico de gallo, beans, plantains, salad, vegetables, and of course, rice!
Gluten-Free Costa Rica: Dinners
We had such variety in our dinner meals. From steaks, to custom made salads right at your table, to tacos, burgers, pastas, and more - there were no shortages of gluten-free meals available to us. The hotels where we stayed provided a lovely sit down dinner every night.
Gluten-Free Costa Rica: Drinks, Snacks & Desserts
Tropical fruits, smoothies, and juices are so popular in Costa Rica. We started ordering smoothies and juices with our breakfasts and lunch just to try as many as we could! And outside Manuel Antonio National Park, a local vendor gifted us with coconut water, from the coconuts that were growing right on the street.
There was no shortage of snacks & appetizers at our meals. We often had freshly made chips and guacamole or salsa/pico de gallo. One day I ordered a quesadilla as a snack and it wound up being lunch! And on long drive days, we'd stop at convenience stores and get snacks and drinks as needed - often times, José and Susy would run in and get them for us.
I'm not a big drinker, but the restaurants and hotels made great cocktails. They had all bottle names we have here in the USA, making it easy to determine what is gluten-free. I enjoyed one or two piña coladas at Crocs as well as a margarita on another night. Fancy!
And of course, no meal would be complete without gluten-free dessert. Often I was too full to even attempt dessert, but on the days I did, they didn't disappoint. Everything we ate was so delicious we were always stuffed!
Dedication to Celiac Disease & Eating Gluten-Free
Since Zane has celiac disease, he understands the challenges of eating gluten-free in restaurants and while traveling. The company has vetted each and every hotel & restaurants they visit - often times you'll see a Zaney Travel sticker in the building, on their door, or even hanging in their bathroom!
I did not have ANY issues with the food or gluten the entire week. Neither did Tayler.
Speaking Spanish & Language Card
With the help of Susy and José, they go above and beyond to ensure your meal is being made safely. They will translate everything for you too. This included having the server share what meals could be made gluten-free, bringing out the owner, chef, or kitchen staff to the table, double-checking and clarifying ingredients, including salsas on the table, and always confirming meals set down in front of us were gluten-free. Sometimes Susy or José were literally in the kitchen double checking things for us - something they were always happy to do!
Since I speak Spanish, I was able to follow up and double-check our meals as they arrived, as well as order my meals and explain how I'd like them prepared. But I realize that my situation is unique, and not everyone speaks Spanish. And if you'd like additional peace of mind (even though Zane's group has you covered), you can of course consider investing in a gluten-free dining card in Spanish.
As a former Spanish teacher, I can tell you that speaking with proper colloquialisms, grammar, and vocabulary makes a big difference in comprehension. A restaurant card properly translated into the local language allows your host, server, or chef to know what foods you can and cannot eat, and how the preparation of your food is critical to your health and safety.
This Spanish restaurant card from Jodi of Legal Nomads has been carefully written and translated by a local to be sure you are completely understood when eating in restaurants, cafes, or shops in Costa Rica. Additionally, another more succinct but equally effective card can be found here from Equal Eats. I recommend both of these cards wholeheartedly.

Personally, I don't think a card is needed because the team is looking out for you and Zane's team will translate on your behalf at every meal. But if you want additional backup or peace of mind, this is a great option!
Favorite Activities in Costa Rica
Every day was an adventure in Costa Rica with Zaney Travel, and we definitely had a week full of amazing activities. But these were some of my favorites!
La Paz Waterfall Gardens
La Paz Waterfall was something magical and powerful. I really enjoyed exploring the grounds and gardens here, but the waterfall was out of this world.
Chocolate Farm
On our last day, Tayler and I got to visit La Mona Golosa chocolate farm to see how chocolate is made from cacao! It was educational, fun, and delicious!
Sunsets on the Beach
People talk about the sunsets on the Pacific coast of Costa Rica to be magical, and they aren't kidding. The sunsets were some of the most beautiful I've ever seen. The only other place that even comes close in my book is Indonesia!
Nature Tour in Manuel Antonio National Park
We were given a tour of the plants and animals of Manuel Antonio National Park by Socio, a local guide, with an incredible knowledge of the biodiversity in Costa Rica. The amount of animals and plants we saw this week was astounding - especially the scarlet macaws flying in pairs above our heads! And of course, the sloths were adorable. The word for sloth in Spanish is oso perezoso, which translates to "lazy bear".
Crocodile Tour on the River Tarcoles
Another wild adventure with Zaney Travel was our tour with Jason down the River Tarcoles to learn more about the crocodiles that inhabit this water. They got really close to the boat and it was CRAZY to see them right in front you!
Zaney Travel: Final Thoughts
Thank you, Zane & Zaney Travel, for inviting me on this amazing tour!
I'm forever grateful for the opportunity to visit Costa Rica, a place that's been on my bucket list for many years. It was a breath of fresh air not having to worry about my food at all while traveling, and being able to fully enjoy my experience in Costa Rica.
And that's what Zaney Travel can offer you too.
Thank you to José, Susy, Rafael, and Noah for taking such good care of us.
Thank you Tayler, for being my gluten-free business bestie, and Anna Leigh, who I'm honored to now call a friend as well!
For more information on Zaney Travel and their upcoming tours to Costa Rica, please visit their website. You can also find them on social media via Facebook, Instagram, and YouTube.
Until next time Costa Rica - Gracias por todo. ¡PURA VIDA!