Flying with celiac disease and learning to navigate plane travel can be one of the biggest challenges gluten-free travelers face. Because no one wants to spend hours on a plane with nothing safe to eat!
But I'm going to walk you through it, step by step, so you won't go hungry (or worse, hangry) and know exactly how to fly with celiac disease no matter your destination.
This post may contain affiliate links. Please see my disclosure page for more information. Thanks!
Can You Bring Your Own Food On Airplanes?
Okay, let's start with this one because it's important. Yes, you can bring food (even meals!) on airplanes!
You are absolutely allowed to bring food on airplanes, through security (TSA), and in your suitcase.
You don't have to survive off chips at Hudson News and go hangry. This will help making flying with celiac disease a whole lot easier!
Why Listen To Me About Flying With Celiac?
I've been flying with celiac disease for almost fifteen years to over 20 countries across five continents. I'm an active traveler that travels frequently (about once a month), so I do this a lot.
I realize that traveling can be intimidating, especially if you haven't done it before, or if you were recently diagnosed with celiac disease. So this post I'm going to dive deeper into flying on airplanes and how to make sure you have something safe to eat.
We'll talk about what you can bring, what TSA allows, snacks & meals you can pack with you, how to secure gluten-free airline meals, and what to do if you get stuck in an airport.
NOTE & DISCLAIMER
Everyone's experience with celiac disease is different. My experience is not your experience. This is a guide – a list of suggestions to point you in the right direction. Airlines can change. Use your own judgment and only eat where you feel safe doing so.
Flying Gluten-Free: How To Not Go Hungry On Airplanes
What You Can & Can't Bring In Your Carry On
As you become familiar with airports and get more comfortable flying with celiac disease, the information here won't seem so overwhelming. Please note that this information is purely for domestic flights within the United States. International travel will be different, and I'll chat about that further down in this post.
This information can all be found on the TSA website, but I've summarized it here to make it easier. Basically, most foods are able to be brought on planes without issue, it's the liquids that get a little tricky depending on how you are traveling.
Okay To Carry On:
-Breads
-Baby Food (including breastmilk, formula, and juice in reasonable quantities)
-Candy, cereals, hard cheeses
-Coffee beans/grounds & Tea bags
-Fresh eggs
-Loose leaf tea
-Cooked meat, seafood, and vegetables
-Cookies & Crackers
-Dried fruit
-Fresh fruits & vegetables
-Pizza
-Pies & Cakes
-Protein powders
-Protein/energy bars
-Sandwiches & Salads
-Solid Foods
-Snacks
-Spices
Okay With LIMITS For Carry-On:
These items technically must be less than or equal to 3.4 oz/100ml
-Alcoholic Beverages (more information here.)
-Creamy Cheeses
-Liquid chocolte or coffee
-Dips/Spreads/Hummus
-Salad dressing
-Ice Cream
-Jams & Jellies
-Maple Syrup
-Peanut Butter/nut butters
-Salsa & other sauces
-Canned foods
-Soups
-Yogurts
NOT Allowed In Your Carry On:
-Fresh meat & seafood
-Frozen foods
Foods to AVOID Bringing On Planes:

-Nuts, nut butters, and peanuts. While some airlines are behind the times on this, in promoting awareness of food allergies, I try to avoid bringing plain nuts on planes. If you want to bring powdered peanut butter, keep it in your suitase.

-Meals with strong odors or smells. It might feel awkward taking out an entire meal on the plane while the person next of you is just sipping a ginger ale. But you have every right to have something to eat and not go hungry! It might, however, be a little less awkward for you aren't eating a salad with blue cheese crumbles (yikes!)
TSA Pre-Check: Why It's Worth It For Flying Gluten-Free
If I can suggest one thing to make flying with celiac disease easier, it's investing in TSA Pre-Check.
TSA Pre-Check is a security check program that allows you to save time and effort in the airport when traveling by plane. no need to
remove shoes, belts, 3-1-1 liquids, laptops, or light jackets.
It also means you don't have to take anything out of your bags, don't have to take off your shoes, your belt, any liquids, or your laptop. You can also leave on light jackets.
This also means you can avoid the hassle of having to worry about someone possibly looking through your food.
The cost is $78 and it lasts for five years. If you have a travel-based credit card (or other credit cards), they may reimburse for the cost.
Is it worth it?
When I flew recently to Florida in March of 2022, my total time was less than one minute. So far, I'd say heck yes it's worth it and I love it.
More information about TSA PreCheck can be found on their website here. You apply online, and then must attend an in-person interview for fingerprinting. There are many locations now, making this easy. The interview took about 20 minutes total for both Dylan and I.
The Most Important Rule: Be Prepared & Bring Food.
Unfortunately, while options for snacks are improving, airports and airlines are notorious for not having great MEAL options for celiacs.
It means that part of flying with celiac disease is learning to be prepared for long travel days by planning ahead.
Is this more work?
Definitely!
Does it mean you can't be as spontaneous and carefree when you're flying?
100%.
But it's better than the alternative of being stuck somewhere, or spending hours of traveling with nothing to eat.
It's important to be prepared for flights and travel days as much as possible. Having snacks and food prepared with you will allow you to listen to your body and your hunger cues, so you can eat when you need to.
ADA Protections When Flying With Celiac Disease
If you have celiac disease, you are protected by the ADA (Americans With Disabilities Act). You shouldn't have to say anything more about bringing food with you when flying on a plane other than it's for a disability or health reasons. You have every right to bring as much food as you need for your flight to eat safely.
If TSA questions you, asks "why" you are bringing so much food, you can present a doctor's note for additional leverage, or ask to speak to another agent. From fellow celiac travelers and gluten-free friends, it's a mixed bag with TSA and you may have zero issues, or you may have someone ask questions. I've never had an issue, but I know that isn't always the case. Stay calm - you have every right to bring food and it is allowed.
And if you have TSA-PreCheck, this means you'll have less problems, and shouldn't be required to remove anything from your bag.
How To Prepare For Flying With Celiac
Get a Doctor's Note
Personally, I have never had a problem with TSA and bringing food on planes. But many gluten-free travelers like to have this as a backup, and it's a smart idea.
Basically, you want your note to explain your allergy/celiac/illness and that you are permitted to bring food on the airplane for medical or health purposes. It's good to have a printed copy of this letter in your carry-on bag just in case, or a digital version on your phone.
Reserve A Gluten-Free Meal
Gluten-free meals are not a guarantee on airplanes - even if you have reserved them. Don't rely on them as a guarantee! For your best bet, contact the airline twice before your flight - once you have tickets, and then again 48 hours before your flight to confirm. More details about this can be found in the section below.
What About Keeping Food Cold?
According to the TSA website: "Frozen liquid items are allowed through the checkpoint as long as they are frozen solid when presented for screening. If frozen liquid items are partially melted, slushy, or have any liquid at the bottom of the container, they must meet 3-1-1 liquids requirements."
It's a tricky situation if you bring an frozen water bottle to keep things cold and it ends up melting on the way to the airport, or worse, melts in your bag and gets everything wet. If you decide to do this, you run the risk of it melting and having it confiscated.
Some tips to help with this:
-Avoid bringing foods that have to stay cold or they will spoil. Many items can be kept at room temperature, or refrigerated/frozen before travel and stay cold for a while.
-Get a cooler/lunchbox for easy meals on the go. Or, just have a designated bag for your food (what I do).
Packit Cool coolers & lunchboxes are freezable lunch bags meaning no ice packs required. The packs have gel built into the lining, so you don't have to bring any ice. I've seen people recommending frozen water bottles, but I don't recommend it, because if it melts, you're screwed. As long as you freeze the pack for 12-14 hours beforehand, it stays cold for 6+hours.
According to the TSA website: "Note that medically necessary gel ice packs in reasonable quantities are allowed regardless of their physical state of matter (e.g., melted or slushy). Please notify the TSA officer at the checkpoint for inspection."
Another idea for what you can bring for food are an insulated backpack, like this one, but the time on this one for items to stay cold is 2-4 hours.
How To Pack Your Gluten-Free Food
You want to make sure your food is in your carry-on and easily accessible for when you sit down on the plane, such as under your seat in front of you. I usually bring two bags - a small backpack or tote bag that zips, which will go under my seat, and a small carry-on suitcase, which will go in the overhead bin.
Inside your backpack or bag, it's a good idea to have:
reusable water bottle (empty it before security, refill after at water fountains)
Small package of wet wipes, hand sanitizer, or napkins
Reusable sporknife (3 in 1) for any foods that require utensils
Small containers/baggies with the foods/snacks you are bringing (these may also be stored inside a small cooler or lunchbox)
All of the gear I recommend for traveling gluten-free, including containers, lunchboxes, snack brands, and more can be found on my Amazon shop.
If you are worried about security touching/taking your food out of your bag: Place all of your food items in a clear, gallon-sized ziploc bag inside of whatever bag you are bringing. This is not necessary, but can be an easy way to avoid TSA hands and keep things easy if you are asked to remove your food. Make sure to LABEL this Ziploc bag with the words "FOOD ALLERGY" with a Sharpie, to avoid it being touched.
Pack an Emergency Self-Care Kit
Flying can be stressful -there's no two ways around it. And flying with celiac disease makes it even more complicated.
Make sure to bring some self-care items to help you stay calm. I like to bring an eyemask, good earplugs, bluetooth headphones, comfy pants, a book, and have some shows/meditations downloaded on my iPad to watch and listen to. You can find most of these items here. Pack any emergency supplies you may need as recommended by your doctor.
How to Reserve A Gluten-Free Airline Meal
Is a Gluten-Free Meal A Guarantee?
No. Unfortunately, even if an airline offers a gluten-free meal, and even if you reserve one, it is not a guarantee you will actually have one during your flight.
That's why you should always be prepared with your own food as backup.
Please be aware that not all airlines provide gluten-free meals. Also, the airline has to know ahead of time so they can prepare it for you. And even then, sometimes it doesn't happen.
Steps For Obtaining A Gluten-Free Airline Meal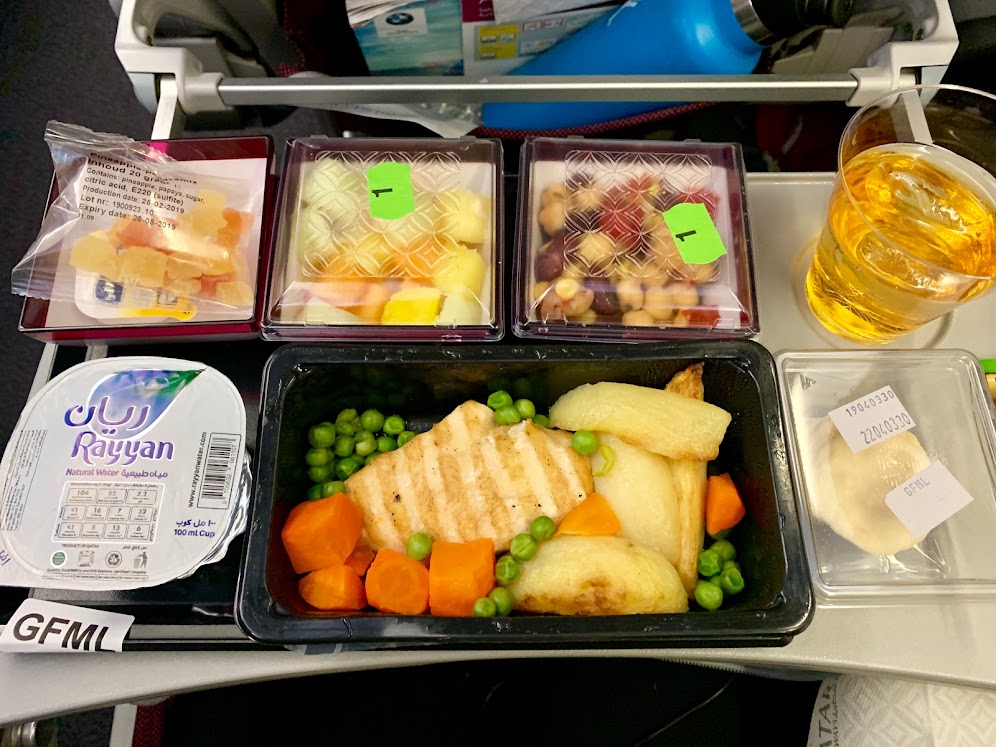 Once you have reserved your flight, call to ask about a gluten-free meal so it is flagged in the system.
24-48 hours before your flight, call again to confirm and remind them of your gluten-free meal. Airlines need adequate time to prepare meals for special diets!
Do not assume this is a definite, as things can change. Remember to pack your own snacks/meals just in case.
When you arrive to your gate, confirm your gluten-free meal with the gate attendant to see if it's listed on your reservation.
Once you are settled on the plane, confirm again with the flight attendant about your meal as they are preparing for the food service on the flight (I know it's a lot of triple checking, but the more proactive you are, the better, when it comes to eating GF). The flight attendant may even approach you and confirm with you first. They will do this according to your seat number, so don't switch seats.
Your GF meal will usually be brought out before everyone else and will most likely be labeled "GFML", which is the standard 4-letter code for airline meals that are gluten-free.
If you are unsure of any foods or ingredients, or something looks sketchy, don't eat it. Save yourself the trouble of getting glutened on a plane.
Airlines with Gluten-Free Snack/Meal Options as of March 2023
Please double check with the airlines directly regarding these options and to see if their meals work for your needs.
Most airlines have a disclaimer that they cannot guarantee it is 100% GF due to the preparation space not being dedicated gluten-free. It's similar to the risk you take when dining in a restaurant.
Personally, I have never had an issue and I know many celiacs have said the same. But do what's best for you and call the airline directly if you want more information.
JetBlue (Goodie Girl Cookies & GF Snack Boxes)
American Airlines (Gluten-Free Meals)
British Airways (Gluten-Free Meals)
Delta Airlines (Gluten-Free Meals)
United Airlines (Gluten-Free Meals)
This article sheds some light (though it is dated from 2014) about what other airlines have gluten-free meals and snacks.
Airline meals can be a hit or miss, depending on the airline. I've had some great GF airline meals over the years, and a few that were.. not so great.
Gluten-Free Meals & Snack Ideas For Flying With Celiac Disease
Remember that snacks aren't always as satisfying when traveling. Great to pack with you for something quick, but be thinking about something larger you can have so you aren't just eating granola bars and fruit the entire time. This not a comprehensive list of meals, but a few to get you started.
Gluten-Free Breakfast Ideas
Bagels: Pack yourself a gluten-free bagel and an individual packet of cream cheese (3.4 oz or less) in a reusable container.
Muffins or Quickbread: Make some gluten-free breads or muffins to bring with you in a reusable container. Try my gluten-free banana bread or gluten-free blueberry muffins.
Hard Boiled Eggs & Fresh Fruit: Pack a few hard boiled eggs with some fresh berries. Make sure to put salt & pepper on the eggs before you leave, or just grab some salt & pepper packets in the airport.
Gluten-Free Lunch or Dinner Ideas
Charcuterie Board Picnic: Get your favorite hams, salamis, hard cheeses (nothing too smelly!) plus some grapes, dried dates, gluten-free crackers and pretzels. Unwrap them and keep them in your reusable bag or container.
Chicken Salad Sandwich or Wrap: Make my gluten-free chicken salad and turn it into a wrap using your favorite gluten-free tortillas or on bread for a sandwich. Wrap in beeswrap or place in resuable container. Or make a sandwich with whatever ingredients you like: Sunbutter & Jelly, Cold Cuts with Lettuce & Tomato, BLT...the possibilities are endless.
Pizza: Make a gluten-free pizza the night (either a frozen pizza or a crust with your own toppings) the day/night before. Store it in a reusable bag or container.
Gluten-Free Snacks
Fresh or Dried Fruit

Veggie Sticks

Individual Cheese Packets

Granola or Granola Clusters
Trail Mix (Be mindful of nuts)
Dark chocolate
Jerky or Sausage Sticks
Pretzels/Chips
What If I Get Stuck in An Airport?
First, take a deep breath. This too shall pass.
While it might seem impossible right now, or you might be starving and have less patience, take a moment to gather yourself and make a plan to find something to eat first. That way, if you end up getting stuck overnight and the shops close, you won't be without anything.
-Stock up on snacks or anything you can find. Check restaurants, shops, or small cafes for fresh fruit, packaged yogurts or salads, snacks, chips, granola bars.
-Look for water fountains to refill your water bottle. Take note of where these are so you can stay hydrated, which can be a common problem on travel days and flights.
-If you have hours to kill and there's nothing you can find to eat, consider going to a different terminal of the airport. Look for an airport map or use the Wi-Fi to see if you can find what other restaurants and shops are in other terminals. Be aware that this may mean you need to go through security again, so give yourself enough time.
Want the details on how I've saved over $3,000 in travel expenses with travel hacking? Read this post with my top five travel tips to vacation like a pro.
Flying With Celiac Disease: Final Thoughts
Whew! That was a lot of information on flying with celiac disease, but I hope it was helpful for you. This way, you'll have a plan to not go hangry, some easy meals you can pack with you, and feel confident heading out on your next flight.
Looking for more celiac travel posts?
The 5 strategies you NEED for traveling with celiac disease.
What to do if you're traveling with IBS - and how to reduce travel anxiety.
Get my gluten-free travel guides to Boston, New York, Madrid, Buenos Aires (plus many more) here!
What has your experience been like flying with celiac disease?
Tell me about it or add your top tips in the comments below!