This is the gluten-free fettuccine alfredo you've been waiting for!
This post may contain affiliate links. Please see my disclosure page for more information. Thanks!
About This Recipe
I can't even remember the last time I had gluten-free fettuccine alfredo.
Before discovering the two products I'm going to share with you today, I really don't remember the last time I had tasty fettuccine alfredo that didn't bother my stomach. I honestly believe it was sometime before my celiac diagnosis, most likely at an Italian restaurant somewhere in Florida or New York.
But alfredo sauce has never been my go-to. As a child, I had butter on my pasta (and nothing else) until I was an adult. But now, I'm so excited that I could finally have fettuccine alfredo once again!
This recipe combines two amazing products that I'm thrilled to share with you so you too can enjoy fettuccine alfredo - gluten-free!
Ingredients You Will Need
THE PASTA
Trader Joe's makes a gluten-free fettuccine that is egg-based and absolutely scrumptious! You can find it in the refrigerated section by the other fresh pasta, dips, and guacamole. It cooks very quickly, has a GREAT texture and consistency, and goes perfect in this recipe.
Curious about other great gluten-free pasta brands? Check out this post that compares the most popular ones on the market today!
THE SAUCE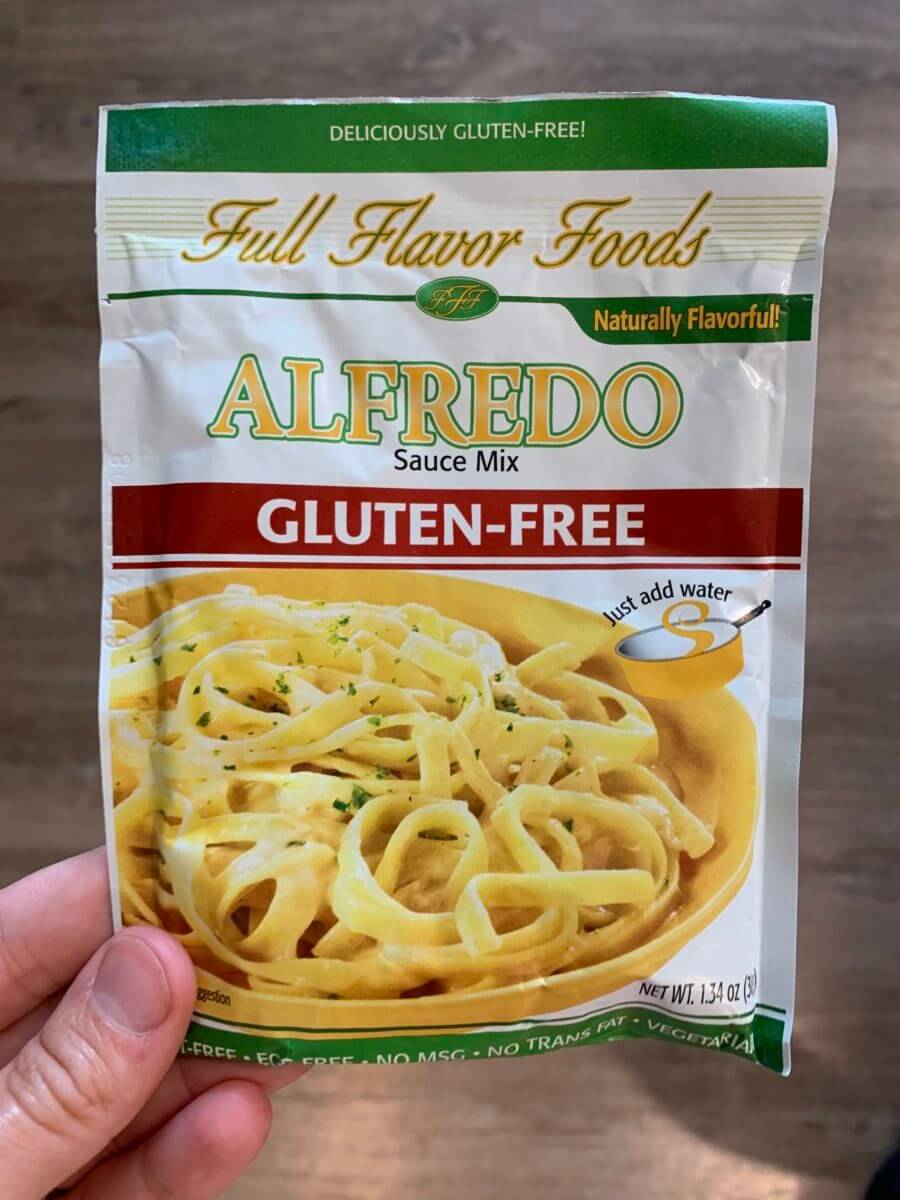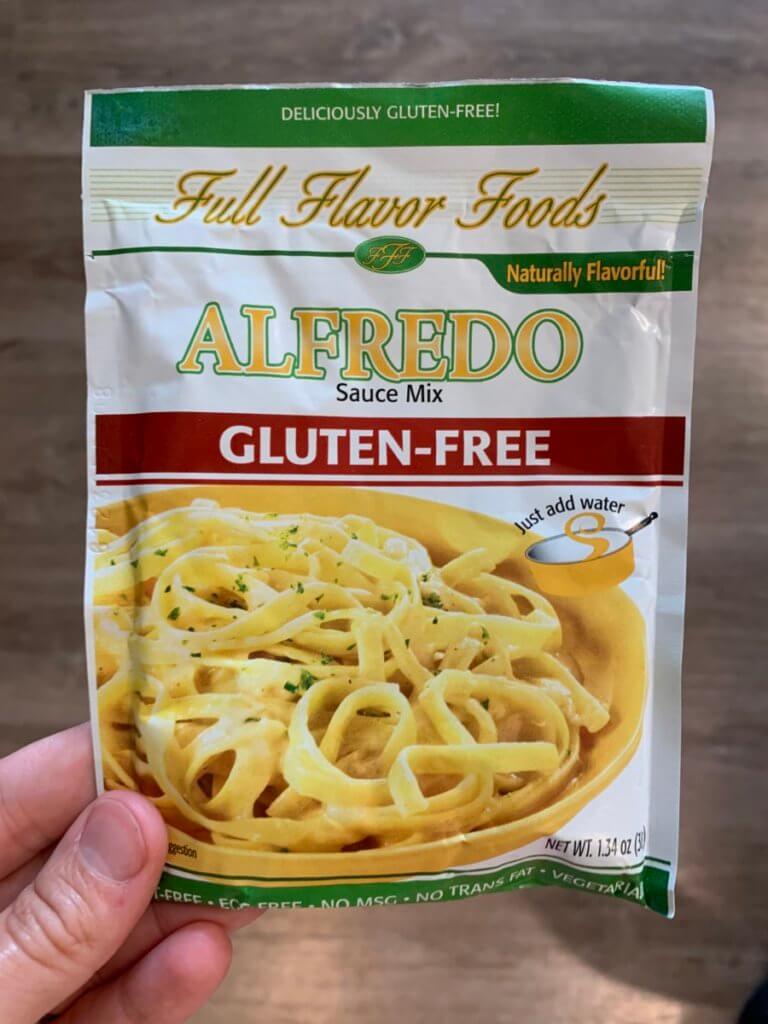 Full Flavor Foods was one of the vendors at the Nourished Festival this year. They are based out of Michigan and make delicious gluten-free sauces and soup mixes that were so good as free samples, I knew I needed to try more.
The alfredo sauce comes together in minutes. You simply add 1 cup of water (or milk) to a pan and whisk together over medium heat until it thickens. I'm not one to use a lot of packaged or processed stuff, but this is the real deal. No fake ingredients, either!
I also added grilled chicken breast to make the dish extra filling! If you are a vegetarian or vegan, feel free to skip or add your own form of protein!
How To Make Gluten-Free Fettuccine Alfredo
All you do is cook your pasta according to the package directions, and prepare the sauce in a separate sauce pan with water or milk. Then you just pour it over your pasta and enjoy! You can also add grilled chicken breast, extra parmesan cheese, or some fresh parsley for garnish.
What To Serve With Fettuccine Alfredo
Definitely some gluten-free garlic bread! This garlic bread recipe uses a whole head of roasted garlic for extra flavor.
Looking for more gluten-free pasta dishes?
You can't go wrong with spaghetti and meatballs. It's a classic!
Have another vegetarian pasta dish with penne alla vodka.
Do you have a ton of cherry tomatoes to use up? Try it in this burst cherry tomato spaghetti.
Love pesto but don't have any basil? Try this spinach version, which goes perfectly over penne or rotini!
Try gluten-free pad thai, with rice noodles and flavors right from Thailand.
Check out over 100+ gluten-free recipes on the blog right here.
Here's the recipe for gluten-free fettuccine alfredo. I hope you love it!
If you enjoy this recipe, please leave a comment! Thank you so much!
Gluten-Free Fettuccine Alfredo Recipe With Grilled Chicken
Gluten-Free Fettuccine Alfredo
Fresh fettuccine with alfredo sauce - gluten-free!
Ingredients
1 boneless skinless chicken breast (optional)
1-2 tablespoon cooking oil of choice
½ teaspoon dried rosemary
¼ teaspoon garlic powder
salt & pepper to taste
1 package Trader Joe's gluten-free Fettuccine
1 package Full Flavor Foods Alfredo Sauce
1 cup water or milk
Fresh parsley, for garnish
Instructions
In a frying pan over medium heat, heat the olive oil. Add in the chicken breast and season with dried rosemary, garlic powder, and salt & pepper to taste. Sauté about 5-7 minutes on each side, until golden brown and no longer pink in the middle. This will depend on the size and thickness of your chicken breast. When chicken is done - remove to a cutting board to let it rest. When the chicken has cooled, slice into strips and set aside. If not cooking chicken, skip this step.

In a medium-sized pot, bring 4 quarts of water to a boil. Add in fettuccine and cook according to package directions. Use a fork to separate the pasta as it boils. Strain and toss with olive oil to prevent sticking.

In a small pot, whisk together 1 package of Full Flavor Foods alfredo sauce and 1 cup of milk or water. Whisk for about 5-7 minutes until sauce thickens to creamy deliciousness.

When alfredo sauce has thickened to your desired consistency, remove from heat and pour over fettuccine, tossing with a large spoon to allow the sauce to coat the pasta.

On to a plate, place fettuccine now coated in delicious alfredo sauce, and sliced chicken strips on top. Garnish with freshly chopped parsley and dig in! Enjoy!
Notes

Milk or Water
Full Flavor Foods suggests making the alfredo sauce with milk rather than water, for a creamier texture. I've made another Full Flavor Foods cheese sauce before with water, and while it was delicious, milk definitely added a thicker and creamier texture.

Fresh Parsley
I usually don't have this handy, unless I'm feeling super fancy. Feel free to skip or used dried parsley!

Alfredo Sauce - cook last!
You definitely want to cook your sauce last. It has a tendency to clump together when it sits, so you may have to put it over medium heat again and whisk to make it smooth once more. You could also heat in the microwave for 30 seconds. Save it as your last step so all you have to do is pour it over your cooked fettuccine and eat!
Nutrition Information
Yield

2
Serving Size

1
Amount Per Serving
Calories

529
Total Fat

32g
Saturated Fat

11g
Trans Fat

1g
Unsaturated Fat

18g
Cholesterol

98mg
Sodium

568mg
Carbohydrates

30g
Fiber

1g
Sugar

1g
Protein

30g
The nutrition information on each recipe card is provided as a courtesy and for your convenience. The data is calculated by Nutritionix. You are encouraged to make your own calculations based on your ingredients and preferred nutritional facts calculator. While I try to make sure they are accurate, I cannot guarantee the accuracy of these calculations.
When was the last time you had fettuccine alfredo?
Tell me about it in the comments below!