Nothing beats gluten-free macaroni and cheese baked in the oven with breadcrumbs. And if you want extra decadence, with bacon, too!
This post may contain affiliate links. Please see my disclosure page for more information. Thanks!
About This Macaroni and Cheese Recipe
This macaroni and cheese recipe uses homemade roux and a few types of fresh cheeses. Leave the blue boxes behind, my friend and upgrade your mac and cheese game.
But be warned - homemade macaroni and cheese is next level stuff. I won't blame you if you want the blue box for nostalgia's sake, but this recipe will have you dreaming of macaroni and cheese!
Ingredients For Mac & Cheese
Gluten-Free Pasta: You can use any type of gluten-free elbow macaroni for this pasta, but I prefer Barilla as I think it's sturdier and holds up well in the oven. I've also had success with Banza, Jovial, and Ronzoni when making baked pasta dishes. Or, if you don't want to use elbows, use whatever shape you like. Penne and rotini work well too!
Gluten-Free Breadcrumbs: For breadcrumbs, I prefer Aleia's! They are my go-to brand for breadcrumbs like in these meatballs or this meatloaf recipe. You can also make your own using gluten-free sandwich bread (Details for how to do this in the recipe card below).
Gluten-Free Flour: For thickening the roux, I use Cup4Cup, my #1 recommended gluten-free flour blend. I've used it to make everything from fresh croissants, bagels, empanadas, muffins, cookies, and more. It has never failed me.
Other Ingredients You Will Need
Milk: I use Lactaid milk for this recipe, but regular milk works too.
Cheese: We're using fresh cheese in this recipe. Grate it yourself for the best results! I use mostly Cheddar and a little Monterey Jack, both from Cabot.
Salt & pepper: Nothing wrong with a little S&P.

Dried mustard: This just gives the macaroni and cheese a deeper flavor. Not spicy, so don't worry!
Dried nutmeg: A little hint of sweet, nutty flavor pairs nicely with the macaroni and cheese.
Melted butter: This is for both the roux and for the breadcrumbs so they get nice and golden brown.
Optional Mix-ins: bacon, vegetables, or whatever you like!
Wondering what other gluten-free pastas I recommend? Check out this pasta comparison.
How To Make Macaroni and Cheese
First, prepare the pasta by boiling water and adding salt. Then cook your pasta until al dente - it will finish cooking in the oven.
Next, you will prepare the roux by combining the gluten-free flour, butter, and milk, on the stovetop. Once it thickens, you'll add the cheeses and spices until it becomes smooth and creamy.
Finally, you'll add the cooked pasta into the cheese sauce and mix it together, adding in any mix-ins, before pouring everything into a baking dish.
Then you'll top the pasta with the breadcrumbs, bake, and dig in!
Can I make this dish lactose-free or dairy-free?
Macaroni and cheese dishes do typically contain a lot of dairy - and I have some sensitivity to it thanks to my IBS. That's why I use dairy-free or lactose-free milk when possible (like Lactaid), and lactose-free cheeses, like Cabot, to help reduce the content. This isn't a regular meal for Dylan and me but a special treat!
If you have a dairy allergy or are lactose-intolerant, substitute whatever cheeses, milks, and gluten-free flours that work for you. (Cup4Cup's multipurpose blend does contain milk powder.) You can also substitute dairy-free milk and cheeses, but I'm not in the habit of using them for this recipe and can't speak to the results.
Can I Freeze This Gluten-Free Mac & Cheese?
Due to the nature of gluten-free macaroni, I wouldn't recommend it. The dried pastas that are gluten-free tend to harden and clump overtime, so the freezer (I think) would make this worse.
How Should I Store Macaroni and Cheese?
Keep this macaroni and cheese covered & tightly sealed in the refrigerator. You can reheat individual portions in the microwave, or place the entire dish back into the oven to be reheated at 350 degrees Fahrenheit for 10-15 minutes or until heated through. I think macaroni and cheese, like many casseroles, tastes even BETTER the next day!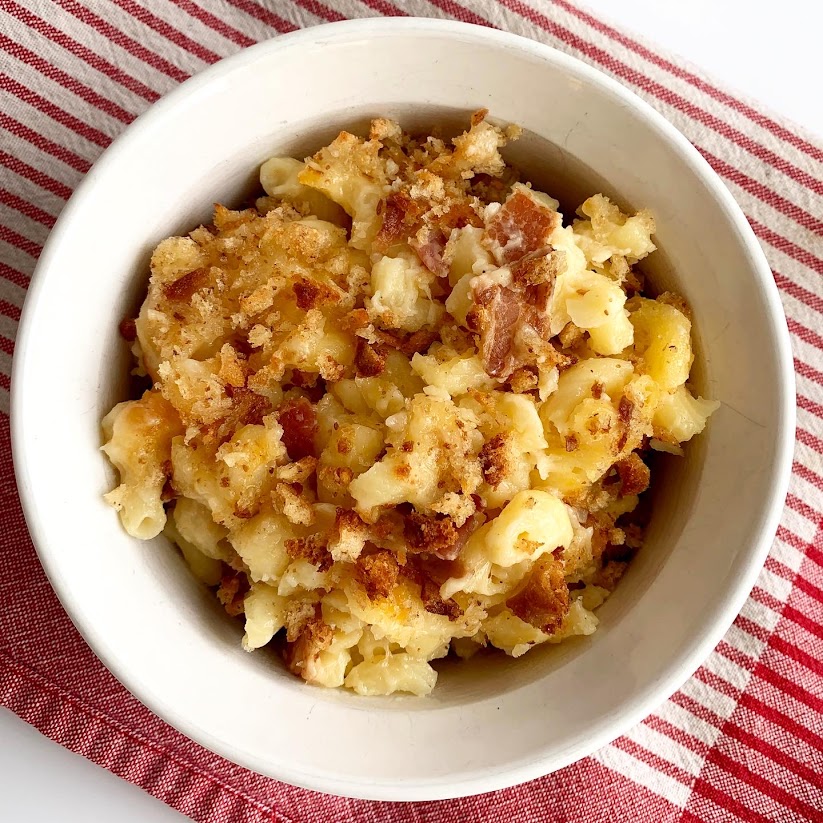 How to Serve Gluten-Free Macaroni and Cheese
This is a pretty decadent dish!
So I'd suggest maybe a salad on the side or a vegetable! You could try my pear goat cheese and walnut salad with homemade salad dressing, or perhaps some easy roasted vegetables as well. Of course, all of these recipes are gluten-free!
This is the gluten-free macaroni and cheese you'll be dreaming about and won't be able to stop eating. It's dangerously good and baking it in the oven just takes it to the next level. I hope you enjoy it!
Looking for more gluten-free dinner recipes?
This is the pad thai I learned to make right in Thailand, with a homemade sauce too!
This gluten-free potato leek soup is super creamy without the dairy.
Veggie chili requires minimum prep work and is packed with vegetables.
Want something easy with tons of flavor? Try chicken piccata over pasta or rice.
Check out over 100+ gluten-free recipes on the blog right here.
Here's the full recipe for gluten-free macaroni and cheese!
If you love this recipe, please leave a comment! Thank you so much!
Gluten-Free Macaroni and Cheese Recipe
Gluten-Free Macaroni and Cheese
Total Time:
1 hour
10 minutes
Comfort food. Plain and simple.
Ingredients
12 ounces (1 box) gluten-free macaroni (I prefer Barilla)
5 tablespoon unsalted butter, divided (use dairy-free or ghee if needed)
⅓ cup gluten-free flour, like Cup4Cup
2 cups milk (use lactose-free if needed)
4-5 cups shredded cheddar cheese, or mixture of cheddar/Monterey jack/Gouda - whatever floats your boat, divided
3-4 slices of gluten-free sandwich bread or 1 cup gluten-free breadcrumbs, like Aleia's
Salt & pepper to taste (start with ½ teaspoon of each and go from there)
¼ teaspoon ground nutmeg
⅛ teaspoon ground mustard
Optional mix-ins: chopped bacon, ham, peas, carrots,
Instructions
Preheat oven to 400 degrees Fahrenheit. Grease a large casserole dish or baking dish with ghee or butter.

Pulse gluten-free bread in a food processor until it resembles small crumbs. Toast on a baking sheet in the oven at 400 degrees Fahrenheit for 7-9 minutes. Mix with 2 tablespoon of melted butter and set aside. (Or if you prefer, just use 1 cup GF breadcrumbs mixed with same amount of butter instead).
Cook macaroni in salted water to al dente - about 1-2 minutes less than fully cooked. It will continue to cook in the oven. Drain and set aside.

In the same pot that cooked the pasta, melt the remaining 3 tablespoon butter over medium heat. Add the flour and whisk constantly for 1-2 minutes until bubbly and golden. Next, slowly whisk in the milk until smooth and bubbly, about 2-3 minutes. Whisk in salt, pepper, ground mustard, and ground nutmeg. Finally, whisk in the cheese (Save 1 cup for the topping), two cups at a time, until smooth and creamy. Stir in the cooled pasta and any extra mix-ins until coated in cheese sauce.

Pour into the casserole dish and sprinkle with the remaining 1 cup of cheese, followed by the breadcrumbs and butter mixture. Bake for 15 minutes at 400 degrees Fahrenheit. Serve warm.
Nutrition Information
Yield

8
Serving Size

1
Amount Per Serving
Calories

1947
Total Fat

116g
Saturated Fat

64g
Trans Fat

3g
Unsaturated Fat

37g
Cholesterol

341mg
Sodium

2241mg
Carbohydrates

145g
Fiber

20g
Sugar

9g
Protein

97g
The nutrition information on each recipe card is provided as a courtesy and for your convenience. The data is calculated by Nutritionix. You are encouraged to make your own calculations based on your ingredients and preferred nutritional facts calculator. While I try to make sure they are accurate, I cannot guarantee the accuracy of these calculations.
Do you like macaroni and cheese?
What would you add to this dish to make it even better?
Tell me in the comments below!