After much recipe testing, my recipe for gluten-free lasagna is here! And it's delicious. And you should definitely make it.
This post may contain affiliate links. Please see my disclosure page for more information. Thanks!
Lasagna - one of my favorite easy comfort meals. What is about the combination of pasta and cheese when baked that becomes so perfect? Don't even get me started on this homemade mac and cheese..
After multiple recipe attempts, and trying different layering techniques/order of ingredients, I'm happy with my final recipe to share with you here.
The reason this lasagna is so easy is that you don't have to boil the gluten-free lasagna noodles. You can use your favorite jarred tomato sauce as well. I prefer to grate my own cheese for better taste (pre-shredded cheeses have anti-caking agents), but you can use a bagged version if that saves you time.
Here's what you'll need to make gluten-free lasagna:
Gluten-Free Lasagna Noodles: I've had success with this recipe using 2 different gluten-free lasagna noodles: Barilla and Jovial. Both are no-boil noodles, so there is no boiling required. But don't worry, the pasta will still cook and soften despite not pre-boiling it. Between the two brands, Barilla is definitely cheaper, and my go-to favorite for this recipe.
Tomato Sauce: Whatever your favorite gluten-free tomato sauce is. I use Rao's. You can also use sauce from scratch for even better flavor!
Mozzarella Cheese: I prefer to grate by hand for freshness, but if you are short on time, you can buy the bagged kind. Part Skim or Full Fat, whatever you prefer. I use Galbani or Polly-O.
Ricotta Cheese: The ricotta cheese will be one of our layers in the lasagna. You can buy whatever brand you prefer. I use Galbani.
Parmesan Cheese: This will be grated with our mozzarella cheese for extra cheesy goodness. Again, buy whatever you like! I buy Bel Gioioso.
Other Ingredients Needed:
Egg, Italian seasoning, salt & pepper
Olive oil/oil of choice
Fresh parsley, for serving
How To Layer This Gluten-Free Lasagna
I spent a lot of time experimenting with the order of things when layering lasagna. And with the no bake noodles, it's essential they be covered in liquid of some kind so they cook in the oven. But even when alternating the order, as long as the noodles had sauce on one side of them, they cooked fine!
Layer 1: Into a glass rectangular baking dish (or corningware), spray or coat with oil then add some sauce (see recipe card for specific amounts).
Layer 2: Add 4 sheets of gluten-free lasagna noodles, slightly overlapping.
Layer 3: Add ricotta cheese mixture (see recipe card for details)
Layer 4: Add shredded mozzarella cheese & parmesan cheese.
Then repeat, until you run out of noodles. Once you've placed the top layer of noodles, add some more tomato sauce and shredded mozzarella cheese & parmesan. Then it's time to bake it until everything is cooked and perfect!
Gluten & Dairy-Free Lasagna?
You can absolutely make this recipe dairy-free! Since I'm midly lactose intolerant, I tend to pop a Lactaid or two before eating lasagna so it doesn't bother my tummy. But feel free to substitute whatever dairy-free cheeses you prefer. Kite Hill has some great dairy-free ricotta cheese!
Lasagna is a great meal to give you leftovers for lunch or dinner the next day. I usually find with baked pasta dishes, they always taste even better the next day! Unfortunately, that rarely happens when you're married to Dylan. Ha!
Craving more comfort food recipes that are gluten-free?
You've gotta try this homemade baked macaroni and cheese. Absolutely dreamy.
Looking for crockpot recipes? Try Dylan's famous pulled pork, or this veggie chili.
Whip up a batch of a classic chocolate chip cookies with cranberries & walnuts.
Discover all 100+ gluten-free recipes on the blog right here.

Here's the full recipe for gluten-free lasagna!
If you love this recipe, please leave a review! Thank you so much!
Gluten-Free Lasagna Recipe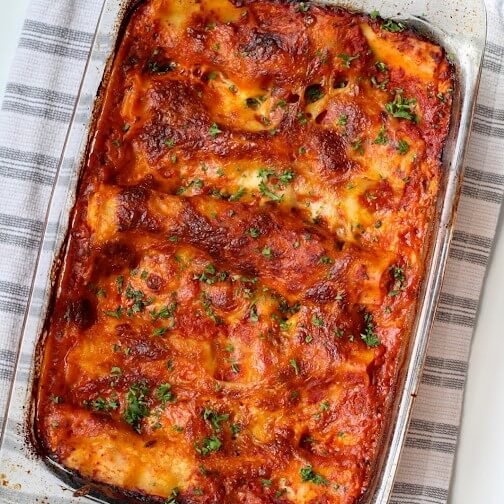 Gluten-Free Lasagna
Additional Time:
15 minutes
Total Time:
1 hour
35 minutes
Recipe Adapted from Barilla
Ingredients
1 box gluten-free no-boil lasagna noodles, like Barilla or Jovial
2 (18 ounce) jars of your favorite tomato sauce
1 (15 ounce) container of ricotta cheese
8 ounces of mozzarella cheese, grated, or 1 8 oz bag of shredded mozzarella cheese
1 cup grated parmesan cheese
1 egg
½ teaspoon salt
½ teaspoon black pepper
½ teaspoon dried Italian seasoning
fresh parsley, for garnish
Instructions
Preheat the oven to 425 degrees Fahrenheit. Into a bowl, combine the ricotta cheese, egg, salt, pepper, and Italian seasoning. Mix until smooth and then set aside.
Into a glass 9x13 baking dish, coat with oil to prevent sticking. Pour 1 cup of the tomato sauce onto the bottom of the dish into an even layer. Place 4 sheets of the gluten-free lasagna noodles side by side, slightly overlapped.
Add ¼ of the ricotta cheese and spead into an even layer over the lasagna noodles.
Sprinkle the ¼ of the mozzarella cheese over the ricotta cheese.
Sprinkle ¼ of the parmesan cheese over the mozzarella cheese.
Repeat 3 more times: sauce, noodles, ricotta, mozzarella, parmesan.
After you have placed the last lasagna noodles, top with any remaining sauce followed by any remaining mozzarella cheese and parmesan cheese.
Cover the dish with foil and bake for 40 minutes. Remove the foil and bake for another 20 minutes and it will be nice and golden. Remove from the oven and let the lasagna sit for 15 minutes before cutting into. Sprinkle freshly chopped parsley on top. Enjoy!
Notes
Storage: Lasagna can be stored for up to 3-4 days in the refrigerator. Keep it covered.
Dairy-Free: You can make this dairy-free, just substitute your favorite dairy-free cheeses.
Nutrition Information
Yield

8
Serving Size

1
Amount Per Serving
Calories

270
Total Fat

17g
Saturated Fat

10g
Trans Fat

0g
Unsaturated Fat

6g
Cholesterol

80mg
Sodium

826mg
Carbohydrates

9g
Fiber

0g
Sugar

2g
Protein

20g
The nutrition information on each recipe card is provided as a courtesy and for your convenience. The data is calculated by Nutritionix. You are encouraged to make your own calculations based on your ingredients and preferred nutritional facts calculator. While I try to make sure they are accurate, I cannot guarantee the accuracy of these calculations.
Do you like lasagna?
What's your favorite lasagna addition?
Tell me in the comments below!
Pin It!