Spice up your salad with this easy gluten-free salad dressing!
This post may contain affiliate links. Please see my disclosure page for more information. Thanks!
About This Salad Dressing Recipe
Salad dressings can sometimes contain hidden gluten - and it's one of the products I became very wary of after my celiac diagnosis in 2009.
My aunt Ellen, who I affectionally have called Neenee since I was little, makes the best salad dressing- an Italian vinaigrette, from scratch. And this salad dressing is inspired by her recipe!
The dressing super easy, tastes delicious, and has nothing hidden or fake inside. When you make something from scratch, it really gives you peace of mind knowing exactly what's going into your food. Especially when you are gluten-free or have celiac disease!
Ingredients You Will Need
You'll need the following ingredients for this dressing:
-olive oil
-dried Italian seasoning
-lemon or lime (doesn't matter, both taste good!)
-salt & pepper
-minced garlic (fresh or jarred!)
-red wine vinegar - for extra acidity and tartness. Completely up to you!
How To Make This Salad Dressing
To store or make the dressing, I suggest just a mason jar. I rinse out and reuse all of my jam/jelly jars from Bonne Maman for this purpose. Sometimes I even use them for potting plants!
All you do is mix the ingredients in a jar, shake, and let it sit overnight for best results. You can even pour this dressing over chicken or vegetables, too. It's of course, great on salads of all kinds. You can also customize this dressing with more flavors, like balsamic vinegar, apple cider vinegar, other citrus fruits, or dried seasonings.
How To Serve This Salad Dressing
Pour it over your favorite greens, cold pasta salad, or any type of salad you'd like to add more flavor to. Try it on this gluten-free strawberry & avocado salad, gluten-free chicken salad, or even this gluten-free pear, walnut, and goat cheese salad. Want something more filling? Check out this gluten-free cobb salad with bacon, hard-boiled egg, and grilled chicken!
However you enjoy your salad, this dressing will be sure to make it taste even better!
How To Store Salad Dressing
Store this at room temperature in a sealed jar with a lid on it. Shake it up before pouring over anything and use within 4-5 days.
Looking for more gluten-free recipes?
This is the pad thai I learned to make right in Thailand, with a homemade sauce too!
This gluten-free potato leek soup is super creamy without the dairy.
Veggie chili requires minimum prep work and is packed with vegetables.
Want something easy with tons of flavor? Try chicken piccata over pasta or rice.
Check out over 100+ gluten-free recipes on the blog right here.
Here's the full recipe for gluten-free Italian salad dressing!
If you love this recipe, please leave a comment! Thank you so much!
Gluten-Free Salad Dressing Recipe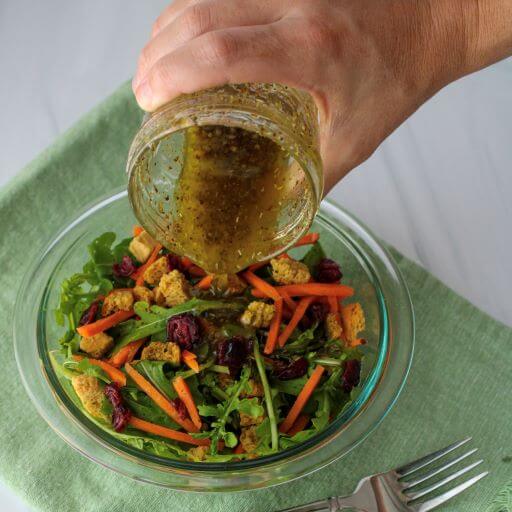 Easy Gluten-Free Salad Dressing
Total Time:
1 hour
5 minutes
Ingredients
½ cup extra virgin olive oil
½ lemon or lime, juiced
1 tablespoon minced garlic (jarred or fresh)
1 ½ teaspoons dried Italian seasoning (or more)
½ teaspoon salt
¼ teaspoon pepper
1-2 Tablespoons red wine vinegar, to taste
Instructions
Combine all ingredients into a mason jar. Shake! Let rest for 1 hour or let stand overnight at room temperature for even better flavors. Pour over salads and enjoy!
Notes
Store this salad dressing at room temperature in a sealed container for up to 4-5 days. Always shake before using!
Nutrition Information
Yield

4
Serving Size

1
Amount Per Serving
Calories

250
Total Fat

27g
Saturated Fat

4g
Trans Fat

0g
Unsaturated Fat

23g
Cholesterol

0mg
Sodium

266mg
Carbohydrates

3g
Fiber

1g
Sugar

0g
Protein

0g
The nutrition information on each recipe card is provided as a courtesy and for your convenience. The data is calculated by Nutritionix. You are encouraged to make your own calculations based on your ingredients and preferred nutritional facts calculator. While I try to make sure they are accurate, I cannot guarantee the accuracy of these calculations.
Do you like dressing on your salads?
What's your favorite kind?
Tell me in the comments below!