I'm a sucker for gluten-free loaded nachos. I'd eat them for breakfast, lunch, or dinner!
This post may contain affiliate links. Please see my disclosure page for more information. Thanks!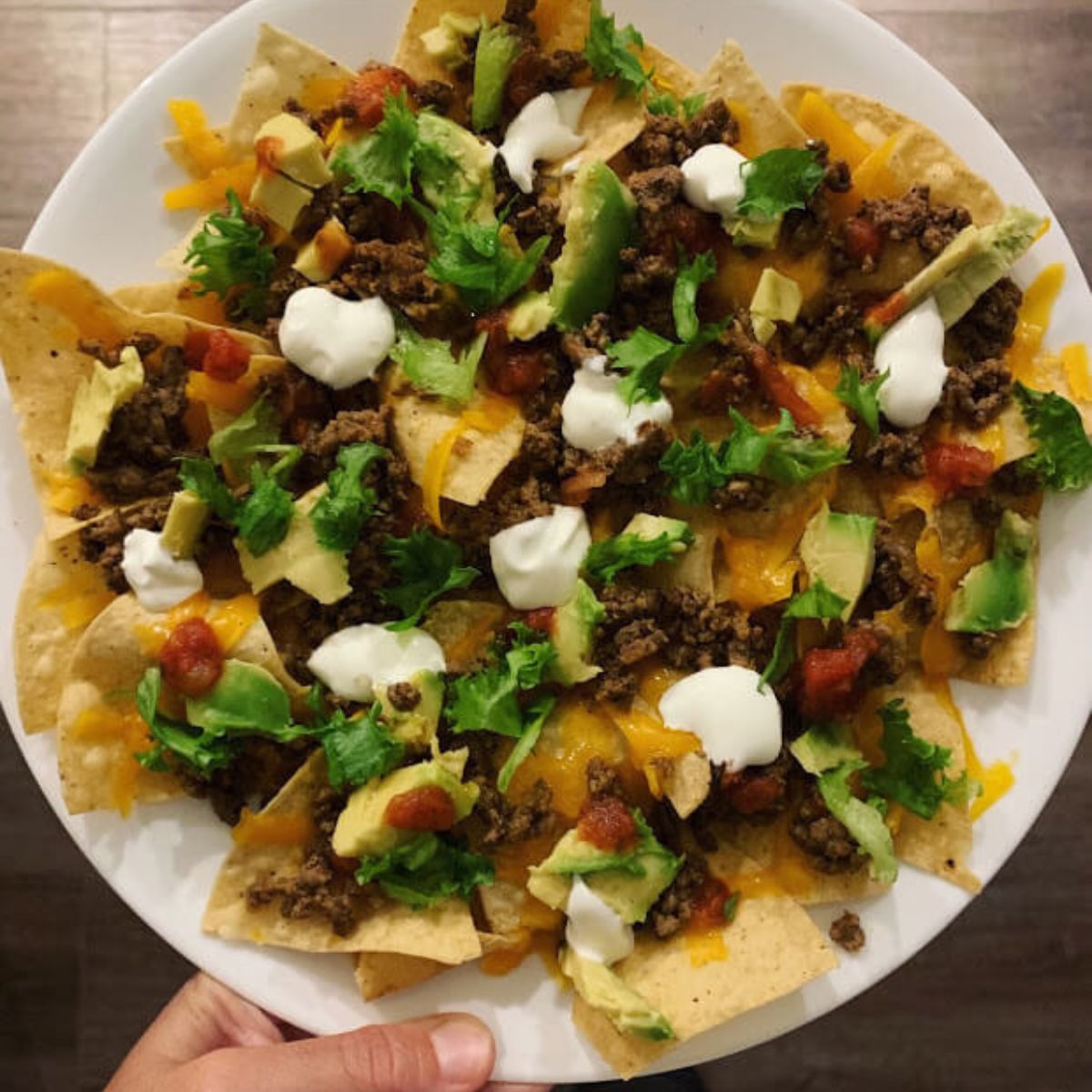 About This Nachos Recipe
Nachos are one of my favorite foods, especially for a snack on the weekends when watching football with Dylan. We love using Mi Nina Tortilla chips or Late July for regular nachos, or Siete Foods chips for a grain-free alternative!
But the best part I think about making nachos is that you can customize them to be whatever makes you happy and makes your tummy happy too!
Ingredients You Will Need For Loaded Nachos
-Tortilla Chips
-Ground Beef or Protein of choice
-Cheese (Grate it yourself for the best melt!)
-Sliced Avocado
-Lettuce & Tomatoes
-Sour Cream
-Fresh Lime Juice
-Cilantro
-Whatever Toppings you want! Beans, tomatoes, corn, other cheeses, chili, cilantro, black olives, green onions…the list goes on!
Variations For Gluten-Free Nachos
Vegetarian? Skip the meat, pile on more toppings you love!
Dairy-Free? Skip the cheese/sour cream, or use dairy-free alternatives. Or add more vegetables!
Avoiding Nightshades? Skip the salsa and opt for more avocado or lettuce.
Avoiding Guacamole? What the heck is WRONG with you? Just kidding.
Tips For Making Gluten-Free Nachos
While you can load these up on a plate and microwave them for 30-40 seconds, I find that broiling nachos in the oven for about 5-7 minutes produces a better plate overall. The chips have a better texture when they are broiled as opposed to microwaved, and they crisp up nicely rather than retaining moisture.

Also- be sure to add your lettuce LAST, after everything else has been heated through. No one wants to eat a soggy, wet piece of lettuce. Gross! Consider the lettuce and sour cream your final toppings, right before you bite into that first taste of these nachos.
Try making your own gluten-free taco seasoning. This is my own mixture and it's what we have with tacos and nachos for every Taco Tuesday!
Looking for more gluten-free appetizers & snacks?
These gluten-free beef and cheese empandas are made with a homemade pastry dough. Yes, gluten-free!
This is my easy gluten-free guacamole, which goes perfectly in loaded nachos.
Do you miss pigs in a blanket? Make them gluten-free with this 3-ingredient recipe!
Looking for something savory but different? Try these buffalo wings instead of chicken, use cauliflower.
Let's make some gluten-free loaded nachos with all the toppings, shall we?
If you love this recipe, please leave a comment! Thank you so much!
Gluten-Free Nachos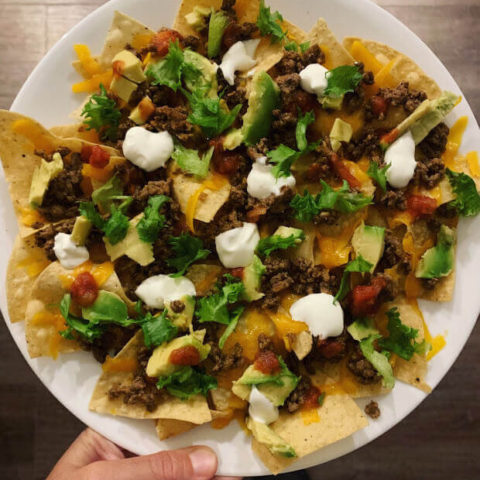 Gluten-Free Loaded Nachos
Customize your plate with tasty nachos and all the fixin's you like!
Ingredients
¼ bag of tortilla chips
1 lb ground beef + water
1 Gluten-Free Taco Seasoning Packet, or make your own
Cheddar Cheese
Avocado or Guacamole
Salsa
Sour Cream
Lettuce
Beans, tomatoes, corn, other cheeses, chili, cilantro, black olives, green onions…the list goes on!
Instructions
Get creative and have fun with these loaded nachos!

Arrange tortilla chips on a baking sheet. Preheat oven to broil on high. Brown the beef, drain the fat, and add seasoning packet & water. Cook according to package directions.

Over the tortilla chips, add the ground beef, grated cheese, salsa, and any other ingredients you want to melt. Place in the oven for 8-10 minutes, adding more time if needed.

Add your non-heated ingredients like lettuce, sliced avocado or guacamole, sour cream, or anything else you want! Nachos, baby!

Remember, these loaded nacho fries can be customized for each person based on their preferences and dietary restrictions. Feel free to add whatever other toppings you like to have on your nachos. I ended up eating mine with a fork because they were so loaded and packed full of delicious goodness. Enjoy!
Notes
My go-to tortilla chips are Mi Nina Tortilla Chips - locally made right in Boston! But, for a grain-free alternative, I also love Siete Foods tortilla chips!
What are your favorite nacho toppings?
Do you load them up like I do?
Leave a comment with your gluten-free loaded nacho combos below!