Matcha is my new favorite obsession. Let's make a dairy-free, gluten-free matcha latte at home - it's so easy! No Starbucks needed here.
This post may contain affiliate links. Please see my disclosure page for more information. Thanks!
Matcha is a type of green tea that has ceremonial purposes in Japan. It's grown in popularity in recent years here in the US, but I only just started jumping on the matcha train. After my sister-in-law introduced me to matcha lattes, it's safe to say I'm hooked.
Remember to make sure you are using pure green tea matcha powder. Tea is naturally gluten-free provided there are no added flavors or ingredients. Read this post from National Celiac Association for more info!
There are lots of ways to make a matcha latte, but this is my take on them. Its' gluten-free, dairy-free, easy, and super simple to make at home.
What you'll need for a gluten-free matcha latte:
-pure matcha green tea powder: I buy mine from Thrive Market, which sells thousands of gluten-free, vegan, and paleo products for way less than retail prices. You can try it here and receive a free gift with your first box.
-dairy-free milk: oat milk, almond milk, or any other milk that you prefer.
-sugar, honey, or maple syrup (if you like)
-hot (not boiling) water
Gluten-Free Matcha Latte Recipe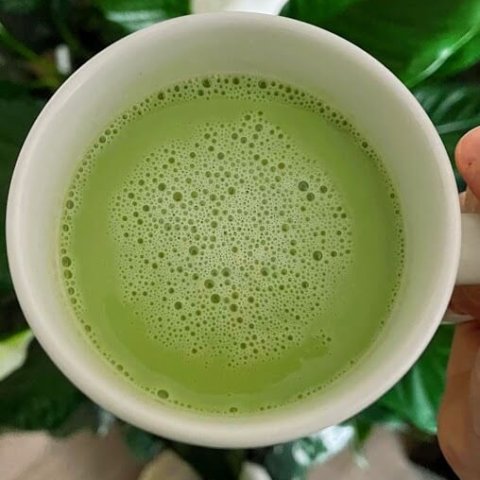 Gluten-Free Matcha Latte
Ingredients
½ teaspoon high-quality 100% pure matcha powder
¼ cup warm water
1 teaspoon (or more) of sugar, honey, or maple syrup (optional)
½ cup or more of warm milk, of choice
Instructions
Into a mug, scoop out the matcha powder, and add hot (not boiling) water. Whisk together vigorously to break up any clumps. Add sweetener to taste if desired and whisk again.

In the microwave, warm your milk, then froth with a milk frother or whisk vigorously for some bubbles.

Pour the warm milk into the matcha and warm water mixture, then top with another 1-2 teaspoons of hot water. Stir and enjoy!
Do you like matcha?
What's your favorite type of tea?
Let me know in the comments below!