Ready for the easiest gluten and dairy-free hot chocolate recipe you can make at home, from scratch, in less than 10 minutes?
This post may contain affiliate links. Please see my disclosure page for more information. Thanks!
About This Hot Chocolate Recipe
This recipe is SO easy I can't believe I didn't make it sooner!
We're in the thick of it (cue TikTok song) when it comes to holiday sweets and treats. And there's nothing quite as perfect as hot chocolate.
Whether you top yours with whipped cream, marshmallows, chocolate chips, shaved chocolate, peppermint, or even a gluten-free gingerbread cookie, nothing beats it!
Since I'm not in the habit of buying hot cocoa mixes, and since many of them are not gluten-free, I decided to make my own. And due to the fact I'm a bit lactose intolerant, I used non-dairy products too. And hence, delicious hot chocolate was made! In 10 minutes, too!
Ingredients You Will Need
-Pure cocoa powder: I use Hershey's, which is gluten-free.

-Non-dairy milk: I used oat milk from Oatly which is certified gluten-free. Some people with celiac disease cannot tolerate oats. You can also use almond milk, soy milk, coconut milk - whatever you prefer!

-Chocolate chips: I used Enjoy Life, which are allergen-free.

-Granulated sugar: For sweetness.

-Vanilla Extract: Also for sweetness.
-Optional: Whipped Cream (For the topping), Marshmallows, Candy canes..
How To Make Gluten & Dairy Free Hot Chocolate
This recipe is very easy!
All you do is combine everything on the stovetop and whisk until smooth. Then you can add whipped cream, cookies, candy canes, marshmallows, or anything else you want!
How To Serve Gluten & Dairy Free Hot Chocolate
You can buy your own whipped cream in a can, but making it from scratch is super easy. I used Silk Non-Dairy Creamer and modified this recipe from the Silk website. You'll see the details for how to make it in the recipe card below.
I also added in a candy cane and gluten-free gingerbread cookie which I had made. You can find the details for that recipe right here, or check out this collection of 10+gluten-free Christmas cookie recipes here.
More Holiday Gluten-Free Baking Recipes
Ready for an addictive sweet & salty treat? Try this gluten-free pretzel bark.
Want to practice your pie making skills? Homemade apple pie hits the spot. Gluten-free but no one will know!
Feel like baking Christmas cookies? Check out this collection of gluten-free cookie recipes from my fellow gluten-free & celiac bloggers.
Discover all the gluten-free baking recipes on the blog right here.
Here's how to make this tasty hot chocolate - gluten and dairy free!
If you love this recipe, please leave a review! Thank you so much!
Gluten Free and Dairy Free Hot Chocolate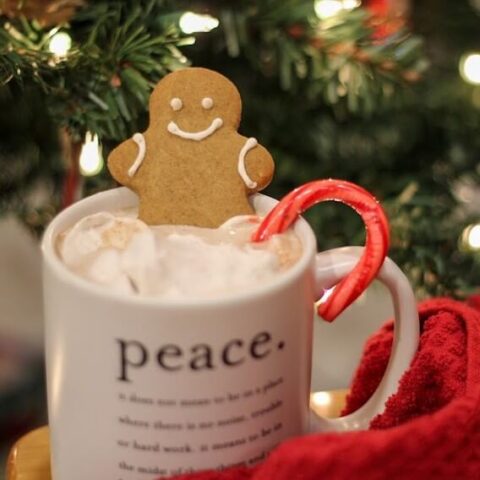 Gluten and Dairy Free Hot Chocolate
Ingredients
For the Hot Chocolate
1 cup non-dairy milk of your choice
2 tablespoons chocolate chips (non-dairy, like Enjoy Life)
1 tablespoon cocoa powder
1 tablespoon granulated sugar
¼ teaspoon vanilla extract
For the Whipped Cream (Non-Dairy)
½ cup Silk Heavy Whipping Cream Alternative
¼ teaspoon cinnamon
1 tablespoon powdered sugar (Confectioner's sugar)
¼ teaspoon vanilla extract
Toppings: Marshmallows, chocolate shavings, chocolate chips, candy canes, cookies - whatever gluten-free topping you like!
Instructions
To make the hot chocolate:

In a small saucepan, add the milk, cocoa powder, and granulated sugar over medium or medium-low heat. Whisk often, until it is warm but not boiling (no bubbles!), about 2-3 minutes. Then add the chocolate chips and vanilla extract, continuing to whisk until the chocolate chips melt, another minute or so. Pour into a mug and serve immediately.

To make dairy-free whipped cream (Note, this will give you a little extra whipped cream.)

Make sure the Silk stays in the refrigerator (nice and cold) until ready to use. Into the bowl of a stand mixer or a medium-sized bowl, pour the Silk creamer and add cinnamon, powdered sugar, and vanilla. Beat on high speed, for about 2-3 minutes with a hand mixer, OR for a little over a minute (75-90 seconds) with a stand mixer. WATCH carefully - don't overbeat. The mixture should hold its shape and make peaks when the whisk or beaters are pulled out. Cover with plastic wrap and refrigerate. Best when used fresh within a day.

Note: The Silk website says to refrigerate the bowl, whisk, and Non-Dairy Creamer for 2 hours or overnight. I did not do this and the whipped cream came out fine. If you run into problems, try refrigerating the bowl, beaters, and Silk for a while and attempt again.


Notes
More Servings: Feel free to multiply this x2 or x4 for additional servings!
Nutrition Information
Yield

1
Serving Size

1
Amount Per Serving
Calories

948
Total Fat

47g
Saturated Fat

25g
Trans Fat

1g
Unsaturated Fat

17g
Cholesterol

55mg
Sodium

300mg
Carbohydrates

124g
Fiber

6g
Sugar

97g
Protein

18g
The nutrition information on each recipe card is provided as a courtesy and for your convenience. The data is calculated by Nutritionix. You are encouraged to make your own calculations based on your ingredients and preferred nutritional facts calculator. While I try to make sure they are accurate, I cannot guarantee the accuracy of these calculations.
Do you like hot chocolate?
Do you add marshmallows or whipped cream?
Tell me in the comments below!