New Zealand doesn't have to be expensive - But for many travelers, it can be. We were determined to have a great trip here and save money traveling in New Zealand, too. Let's dive in and see how we made this happen!
New Zealand was going to be one the priciest places we were visiting on our travels. And we were going to be staying for two full weeks. Yikes!
To give you an idea of the average cost of travel in New Zealand, take a look at these numbers from BudgetYourTrip.com. Prices are in US Dollars.
New Zealand
Budget (Cheap)
Hostel/Hotel for 1 night: $23/person or $46/couple
Meals for a day: $10/person or $20/couple
Local Transportation for a day: $6/person or $12/couple
Average cost for a couple to spend 2 weeks: $1,205.

Mid-Range
Hostel/Hotel for 1 night: $70/person or $140/couple
Meals for a day: $23/person or $46/couple
Local Transportation for a day: $16/person or $32/couple
Average cost for 2 weeks for a couple: $3,417
Luxury - HA!
We knew we'd have to be mindful of how we spent money here, and here are three ways we helped save money in New Zealand.
How To Save Money When Traveling in New Zealand
1. Stay in Airbnb & Hostels.
Besides two small Airbnb stays, we only stayed in hostels to save money in New Zealand. Lodging is one of the biggest expenses for travelers. Hostels even for hostel standards are expensive here!
We stayed in a variety of hostel rooms including dorm rooms, private rooms, and even a capsule room. Our two AirBnb's were a private room inside someone's home and a small guesthouse on the property of a farm. Both were lovely and great ways to save money while meeting local people.
Our total lodging costs for 2 weeks were about $630 USD - right around the cheap estimate for hotels/hostels listed above! Choosing cheaper accommodation is a great way to save money traveling in New Zealand.


2. Cook your own food.
We made a point to try and pick hostels that had kitchens available. By cooking our own food, we were able to cut costs and save tons of money in New Zealand.
It was also easy to find gluten-free foods at local supermarkets. We regularly ate peanut butter & Nutella sandwiches during our driving days or hikes and kept granola bars for snacks and fresh fruit like bananas on hand. At our Airbnb's we had access to a kitchen and made our own dinners on multiple nights. We did the same at our hostel in Christchurch.
Thanks to cooking our own food, we only spent $350 on food/drinks for our entire time in New Zealand, which is about half the estimate of the mid-range budget listed above! While you can of course treat yourself to nice dinners, if you prepare your own meals, you'll definitely save money while traveling in New Zealand.

3. Plan your excursions mindfully & carefully.
Excursions are what can make or break your budget in New Zealand. With adrenaline sports, boat cruises, glacier trekking, multi-day hikes, and helicopter rides, this is where tourists can really overspend. While so many of these activities sounded amazing to us, we knew we couldn't do them all.
We specifically picked our excursions to include a lot of what we liked - nature & the outdoors. We did 1 full day at Milford Sound, taking a boat cruise and kayak adventure that included a picnic lunch. By mindfully choosing this one pricey excursion, it helped us save money in our budget for this portion of our round the world trip.

This ran us roughly $270 USD, and it was our only excursion. Dylan and I knew that there was so much more to see and do in New Zealand we'd have to come back and explore more of it! We were happy with the choice we made and got a lot out of our Milford Sound experience.
Pick and choose your excursions carefully so you can save money while traveling in New Zealand.

How did these strategies help our overall budget?
By staying in hostels/AirBnb's, cooking our own food, and mindfully choosing our excursions, we were able to stick to our budget and be right in the range we had hoped for. We spent a total of $1800 for two weeks on the South Island! This included all day-to-day costs -lodging, transportation, food, drinks, gas, excursions, and any miscellaneous costs (i.e., bug spray).
Note: Our flights are not included in this amount. For a detailed spreadsheet of flight costs, click here.
The Other Way We Saved: Hiking
There was significant potential for our daily budget in New Zealand to be much, much higher than we thought. The one constant in our budget that didn't cost us anything was our main choice of activity to save us money in New Zealand - hiking!
Hiking is the perfect way to explore a destination and save some cash. You get exercise, spend time in nature (which has been proven to be good for your health & wellbeing) and have the chance to see beautiful scenery and wildlife. And there are ample hiking opportunities in New Zealand.
There are hundreds of hikes when you research the country online - especially on the South Island. The landscape is so varied you can find almost any type of hike you are looking for.
From beaches to waterfalls, to caves and mountains, and even alpine lakes, New Zealand has it all! And - the best part? Hiking in New Zealand is, for the most part, free.
We didn't pay a single dollar for any of our hikes.
All of the hikes we did on the South Island didn't cost us a dime. We had anticipated paying park entrance fees, like in the US National Parks, or even depositing money at various trailheads, but it never happened.
There are 13 national parks across the country of New Zealand and entrance is 100% free to all of them.
Our choice to utilize hiking as our main form of activity and excursion truly paid off.
If you are an adventure seeker looking to visit New Zealand but don't want to completely wipe out your bank account, check out these exciting and fun trails.
Here are seven great hiking spots along the South Island of New Zealand - all 100% free!
---
Free Hikes on New Zealand's South Island
Lake Tekapo
Lake Tekapo is a turquoise blue lake located approximately 3 hours southwest of Christchurch. This was the first stop on our road trip. Whether you take a day trip just to view the lake and the lupine flowers or complete the Mt. John Track, there are plenty of options here. Be sure to visit the stone Church of the Good Shepherd and if you have time, the observatory known as the dark Sky Reserve at night time. The lack of light pollution and open areas make it one of the best places to see the stars and the night sky.
More information on hikes in Lake Tekapo can be found here.

Aoraki/Mt. Cook
We completed the Hooker Valley Track hike at Mount Cook. It's one of the most popular day hikes at Aoraki/Mount Cook National Park. Be sure to get there early!
This 10km hike (6.2 miles) is an out and back that crosses three suspension bridges in the alpine landscape. It ends at a glacial lake with great views of Mt. Cook itself! My favorite part was the boardwalks and the 360-degree vistas.
More information on this hike and others in Mt. Cook can be found here.
Queenstown
The Queenstown trail was a perfect early evening hike for us. After polishing off some delicious burgers and fries from Fergburger (highly recommend- they have amazing gluten-free options!), we strolled along the lake and stopped at the various benches along the path. The walk gave open views of Lake Wakatipu and town while also passing through lush forests and a nice public garden.
For more walks to do in Queenstown, check out this link.
Are you gluten-free? Check out my guide to gluten-free spots in New Zealand's South Island.

Fiordland National Park
Fiordland National Park is famous for Milford Sound. We spent a full day at Milford, but also found other hikes in this park to be enjoyable too! We especially liked the hike to Rainbow Reach along with the longer Kepler track (about 6 miles) and Manapouri Circle Track (about 5 miles). Heads up- you'll need to hire someone to bring you across the water and back to get to the Circle Track trailhead. We called a retiree named Mike who brought us over and back for around $20 USD.
For other walks and hikes to do in Fiordland, click here.

Franz Josef Glacier
You can pay a lot of money to hike on the Franz Josef Glacier, or even helicopter right onto it, but personally, it doesn't look like it's worth it. This glacier has been receding significantly over the past ten years and you can see clear evidence of it. Your best bet (in my opinion) is to do the free hike out to view the base of the glacier and save trekking for a cooler one (Like this one in Patagonia!) It's a little less than 2 miles and an easy out and back hike.
For more information on the Franz Josef Glacier Hike, check out this page.

Tatare Tunnels- Glowworm Caves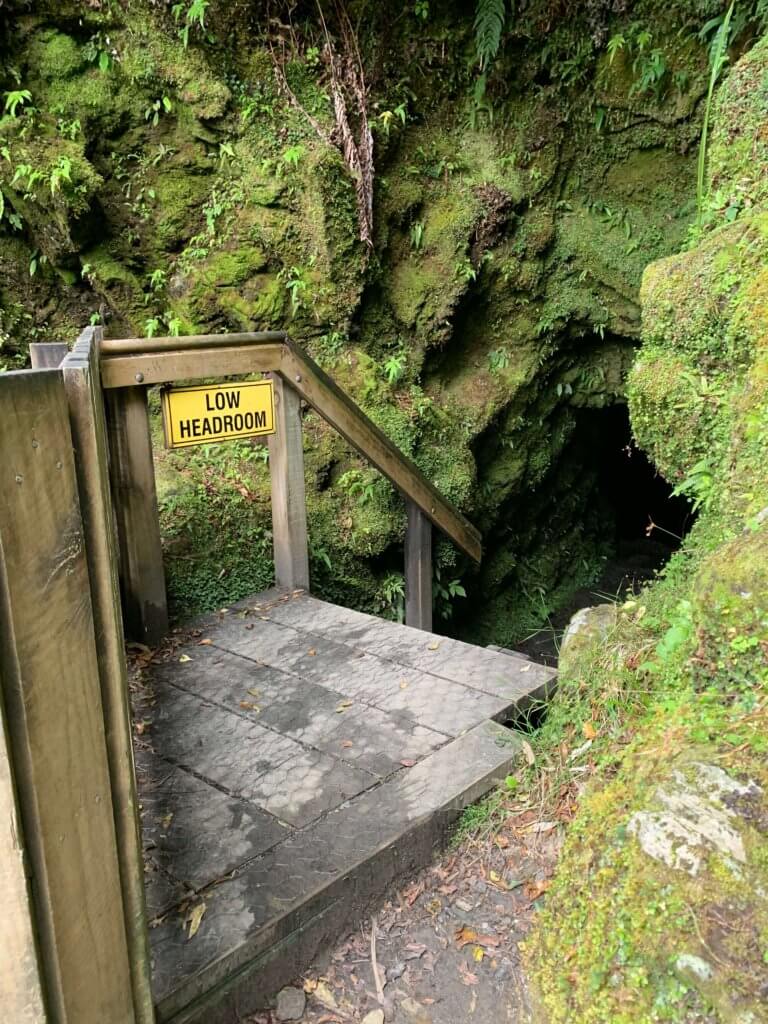 This was our most unique hike in New Zealand- through a dark cave in ankle-deep freezing cold water with glowworms above us!

There are other glowworm caves you can visit on the South Island but this one is right near Franz Josef, making it an easy choice. It was a short walk from the town and the hike was about 2-3 miles round trip with a walk through the old water tunnels. The glowworms were at the end and so cool to see. A neat spot!
More information on this hike can be found here.

Pancake Rocks, Punakaiki
The west coast of New Zealand was one of the most beautiful areas on South Island. Punakaiki is famous for its beachside rock formations that look exactly like a nice stack of buttermilk pancakes! There are plenty of walks here to choose from along the beach.
For more information on walks in Punakaiki, check out this page.
---
Saving Money in New Zealand: Final Thoughts
Hiking is always our primary goal when visiting a new place, and South Island was an excellent spot to do just that. The fact that hiking in New Zealand didn't require us to spend any additional money was a huge bonus and help with our round the world trip costs!

We hope to return one day to New Zealand and employ the same money-saving strategies once more as we continue to explore - maybe around the North Island this time!
If we can visit expensive countries like New Zealand and save money while we are there, so can you!
Have you ever been to New Zealand?
How did you save money when traveling there?