You don't want to miss these 10 things in Jackson, Wyoming - a historic, western town right by Grand Teton National Park!
This post may contain affiliate links. Please see my disclosure page for more information. Thanks!
Jackson, Wyoming is a romantic destination for couples looking for a bit of luxury combined with a bit of the outdoors. With the backdrop of the Grand Tetons, a quaint town square, and the feeling that you've gone back in time to the old west, it's no wonder so many people choose to visit this historic and western town!
The town of Jackson is filled with numerous restaurants, artisan crafts shops, and saloons. With a population of about 10,000 people, the downtown area isn't too big or too small- it's just the right size to make you feel comfortable. Within a day or two, you'll know which art gallery has your favorite pieces, or where to find the best huckleberry ice cream.
For some fun outdoor hikes & more, here are the ten best things to do in Jackson, Wyoming for romance, nature, and mountains!
Ten Best Things To Do In Jackson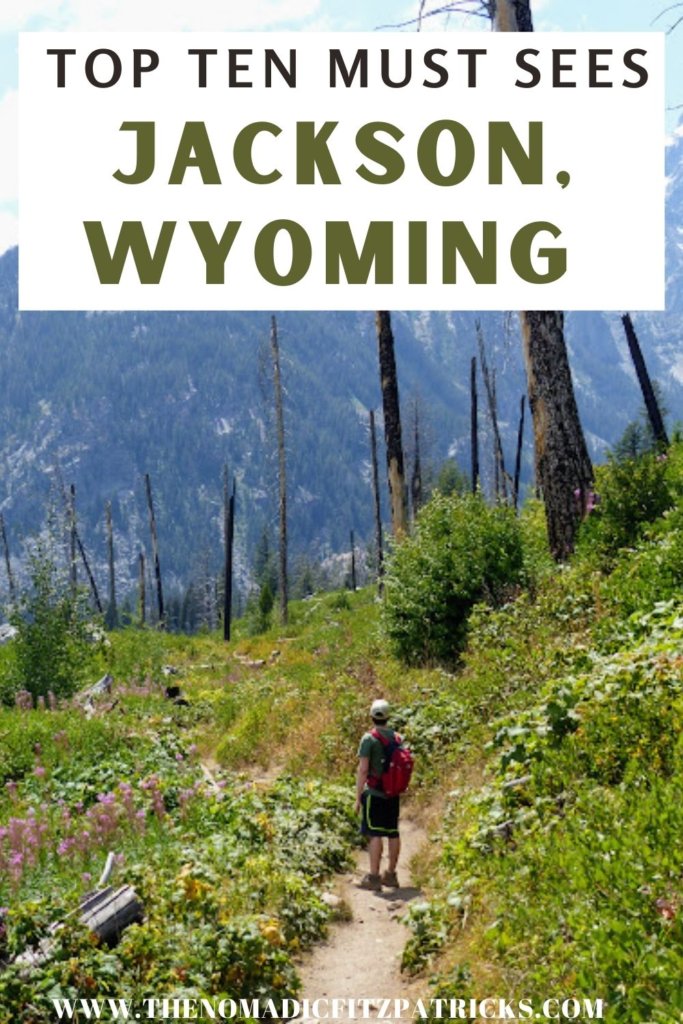 About Jackson
Jackson was the final destination during our three-week road trip honeymoon. It's located very close to two national parks which makes it perfect for hikers, nature enthusiasts, and animal lovers. In our nine days here, we discovered activities, hikes, and outings that truly show the best of Jackson, Wyoming, and what this town has to offer!
As avid hikers, we knew we had come to the right place. The number of outdoor activities in Jackson made us want to maximize our time outside to enjoy it as much as possible. With nature walks, hikes, wildlife watching, boating, paragliding, rafting, horseback riding, and more, we never ran out of things to do.
Our Accommodations: Inn on the Creek
We spent nine wonderful days at Inn on the Creek, a boutique bed and breakfast right along Flat Creek. This adorable B&B was peaceful, relaxing, and beautifully furnished. The town square was only a few block's walk away making it easily accessible on foot.
Breakfasts were unique and different every day. Information was readily available including guides for what types of birds and flowers we spotted on a day hike to Jenny Lake. The staff were welcoming, friendly, and fun to talk to. We didn't feel like guests- we felt like we were at home. Plus, the fresh homemade cookies in the evenings were a bonus for Dylan, and they always had gluten-free options on hand for me!
On mornings when we had activities planned or left early to visit Yellowstone, a special breakfast was packed just for us. Our jacuzzi fireplace room was an amazing invitation after two weeks on the road. There was even a bottle of champagne and a handmade card awaiting us upon our arrival!
Each afternoon there was a wine and social hour where we chatted with other guests and had crackers, cheese, fresh fruit, and local reds and whites. The gardens and back patio were so inviting and colorful, and the presence of the Inn kitty was especially charming.
If you are planning to visit Jackson, Wyoming sometime soon, do yourself a favor and book a night at Inn On The Creek. This inn is without a doubt, the best of Jackson, Wyoming.
---

Best of Jackson: Hike Around Jenny Lake
One of our first day hikes in Grand Teton National Park was around Jenny Lake. This 8-mile round trip hike gives you not only a view of the lake but the mountains and forests as well.

As you weave in and out of the trees, you can catch glimpses of thimbleberries, huckleberries, and other local berries native to this region. This was our first introduction to Grand Teton National Park and we instantly were in love with the view. The best part of getting to hikes likes these from Jackson is that they are SO close!

Take A Day Trip to Yellowstone National Park
While you could drive to Yellowstone in a little over an hour, the natural landscapes, majestic mountains, and the possibility of spotting an elk, moose, or deer along the way will make you take your time. There are various mud pots, geysers, hot springs, as well as lakes, valleys, fields, and forests to visit within the park. The proximity of Yellowstone is one of the best things about Jackson's location!
The Grand Canyon of Yellowstone (not to be confused with the one in Arizona), is magnificent. We saw three rainbows at one of the overlooks! Old Faithful, of course, is famous for its eruptions on the hour, but make sure to go inside and check out the Yellowstone Hotel. We had dinner there and tried bison chili- very tasty!
Hayden Valley and Yellowstone Lake are some of the best places to stop for prime wildlife viewing, stunning views, and amazing natural wonders. Watch out for bison traffic jams in the evenings - one night it added an extra 45 minutes to our drive back to Jackson! We didn't mind, as it was so interesting to observe the bison families and how they meandered around Hayden Valley.
Be sure to check out Moon USA National Parks Guide for excellent information on hikes, nature walks, activities, and more for Grand Teton & Yellowstone National Parks! It's jam-packed with resources to ensure your trip is a success!

White Water Raft in Snake River
The Snake River, which runs along the town of Jackson, is an excellent spot for white-water rafting trips with various levels of difficulty. Spotting wildlife is also common on these trips, and the chance to see bald eagles is a real treat. We used Jackson Hole Whitewater and would recommend them. Our guide was well-informed, had so much knowledge to share, and a lot of fun!

Falling out of the boat can happen (and it did to Dylan!) but only adds to the adventure! Shortly after this photo was taken he climbed back into the boat unharmed. His glasses, however, are now resting comfortably at the bottom of the Snake River. Thank goodness he brought a backup pair!

Horseback Ride through the Tetons
To live out your own spaghetti western, take a horseback ride along the mountains with a real cowboy. In a small riding group, you'll be able to ask questions, learn about the local flora and fauna, while also becoming close buddies with your horse.

The views on horseback give you a new perspective on those famous snow-capped mountains and a new respect for those who continue traditional horseback riding practices. We rode our horses at Spring Creek Ranch and they offer a variety of different horseback riding excursions.
Our horses' names were Soda and Sarge and in general, they were well-behaved! These guys were much better than the horses we rode in Patagonia.


Have a Picnic in Jackson Town Square
What's more romantic than a picnic?
The town square in Jackson is surrounded by cute shops, and on each corner stands an archway of elk antlers. The elk shed the antlers every spring which the local Boy Scouts collect. There's a park in the square with places to sit in the shade and relax as you people watch, have some gluten-free huckleberry ice cream, or just enjoy each other's company.

Best of Jackson: Teton Village
Teton Village is the ski resort town that surrounds Jackson Hole Mountain Resort. It's just northwest and only a twenty-minute drive away. If you are looking for an easy day trip, you can take the gondola up to the top of Rendezvous Mountain and then comfortably hike down to the halfway point and grab a bite to eat. After, take the gondola all the way down!
At over 10,000 feet, you can see for miles, and the various wildflowers growing along the mountain are delicate and colorful. We enjoyed our walk down the mountain at a leisurely pace in the early afternoon. On our way back to Inn on the Creek, we spotted a MOOSE on the side of the road eating some leaves!

Wildlife Watch at Dusk
Wildlife is one of the best things about Jackson. Moose graze on vegetation off the main streets, deer and elk are easy to spot, and even bears and wolves make their homes in Yellowstone National Park.

Take a drive just before dusk to Grand Teton National Park (just ten minutes away) and you'll be sure to spot something! Drive slowly and respect the speed limit - it's 45 mph at night to avoid any collisions with animals. Respect it!

Rock Jump at Phelps Lake
For those looking for a hike with a thrill, the four-mile hike to Phelps Lake does not disappoint. A rock ledge thirty feet high overlooks the clear blue lake. Locals and tourists will venture out to this particular spot in order to jump from the top.
I was super excited about this rock jump, but once we arrived, I made the mistake of looking over the edge. I so badly wanted to jump but was extremely nervous about it. Dylan went first, and after almost an hour of procrastinating, I took the jump too. Everyone around us knew how much I struggled with it, and they all cheered when I finally took the plunge!
You can watch the video of my jump here for a laugh!

Hot Air Balloon Ride
Another thrilling and truly spectacular experience was our hot air balloon ride. While being nervous is completely normal, the folks at Wyoming Balloon Company put our fears at ease with their years of expertise and practice. Seeing these incredible mountains from a basket at 9,000 feet is breathtaking and definitely another adrenaline rush!
At the conclusion of the balloon flight, we enjoyed champagne and observed paragliders, the sunrise, and the majesty of the Grand Tetons once again!

Stargazing
Jackson sits at 6,237 feet in elevation. The lack of high rises buildings & large cities, plus the limited light pollution make stargazing both special and romantic.

We rented a Mustang Convertible for our trip, and on the way home from the national parks, we'd stop at one of the pull-offs and put the top down. The sheer quiet that surrounded us and the stars above were absolutely magical. We snuggled in the backseat and while spotting satellites and shooting stars.
The Best of Jackson: Final Thoughts
Jackson was the ideal destination to finish our whirlwind road trip honeymoon. After traveling across six states and traveling almost 3,000 miles, arriving in Jackson was like breathing a sigh of relief. We found each of these activities to be some of the best that Jackson had to offer.

A small town, friendly locals, and the natural beauty of Wyoming made us promise to come back one day. Until then, we'll keep dreaming of our jacuzzi room at Inn on the Creek and the best of Jackson, Wyoming.
Have you ever been to Jackson?
Tell me in the comments below!