Our Vermont summer wedding was one of the best days of our lives thus far! Vermont is one of my favorite places, and I knew soon after we got engaged (in Vermont!) it was going to be the location of our wedding weekend. We had an gorgeous summer day on July 24, 2016. It was filled with family & friends, sunshine, the Green Mountains, and the rustic elegance I had dreamed of.
With the help of Shana from The Essex Resort and Spa, my vision of a country chic wedding came to life with simple touches, great entertainment, and beautiful scenery. In honor of three year anniversary and the wanderlust that ensued from our road trip honeymoon, here's a look back at our wedding day in beautiful Vermont!

For a complete list of all the vendors we worked with, please click here.
Planning a visit to Vermont? Check out these wonderful outdoor activities and my celiac travel guide to the Burlington area.
Our Vermont Summer Wedding
Getting Ready
I got ready with my bridesmaids, my Mom, my Aunt, and some close family & friends at The Essex Resort & Spa. It was wonderful to be surrounded by such incredible women who have shaped me into the person I am today!
My cousin Rob and his fiancé Diana brought their French bulldog Taco, as The Essex is a pet friendly resort. Taco was the perfect addition to our getting ready festivities! Even though my nerves were through the roof, having his adorable squishy self and generous kisses made the morning a little less stressful!
My wedding gown was from Bella Sera in Danvers, MA. It was one of the first ones I tried on and I knew it was the one. Denise from Simplicity Salon & Spa did our hair, and the girls from the Essex Spa took care of makeup & manicures a few days prior.
I loved having my Mom and my best friend/maid of honor, Kristen, help me with finishing touches! They both helped keep me calm while helping me with earrings, fastening the buttons of my dress, and putting on my shoes - ballet flats! Because if you can't be comfortable on your wedding day, then when can you?
Seeing my Dad was a super special moment. He was the only other person besides Dylan that hadn't seen my gown. I'm an only child and definitely a Daddy's little girl, so I wanted to make this part memorable and perfect. Based on the number of tears my Mom shed the entire day, I think it was.
Dylan got ready in the morning at his parent's home nearby before heading to the church. His suit and those of his groomsmen were from Men's Wearhouse. My parents, bridesmaids & I went in the limo and that's when things started getting real!
The Church Ceremony
Our Catholic ceremony for our Vermont summer wedding was held at Holy Family Catholic Church in Essex Junction. Family members from both the Schwarz and Fitzpatrick families gave readings, and the church organist provided music that I selected.
Walking up to the church I can remember everything clearly - my Dad helping me adjust my train, the butterflies in my chest, and seeing a few familiar faces when I walked inside. Then I saw Dylan standing at the altar, and I remember nothing else.
I'm not even joking. I seriously cannot remember anything past that!
Seeing Dylan up there was everything I imagined, hoped for, and more. I was so beyond happy, I didn't pay attention to anything or anyone but him. The ceremony started, and I have no recollection of any of it. Thank goodness for our videographer!
Our priest, Father Ranges, included a lot of humor in his homily. We all had another good laugh during our vows when I couldn't get Dylan's ring on his finger due to the summer heat!
After our first kiss and a few pictures at the church, we were escorted via a limo for champagne and a quick ride to our wedding reception at The Ponds. School buses provided by The Essex Resort and Spa shuttled everyone up to The Ponds at Bolton Valley, their offsite property.
The Reception
From the first time we visited The Ponds, I knew it was exactly the picture of our Vermont summer wedding I was looking for.
The Ponds at Bolton Valley is a cabin overlooking a pond, surrounded by flowers with the mountains for a backdrop. The fireplace and wood detail, high ceilings, and balcony with sunset views were the perfect combination of Vermont beauty and rustic charm. After that, no other Vermont summer wedding venue would do. I knew this was the place!
Cocktail hour took place both inside the hall and outside on the deck & grass. Games of cornhole and ladderball were on the grass for our guests to enjoy through out the evening. The grounds were open for anyone who wished to take a stroll around the lake, admire the flowers, or just take in the mountain scenery!
Colors & Flowers
I had so much fun coming up with the color scheme for our Vermont summer wedding day. We decided on a palette of green, beige, and pale pink. The bridesmaids' dresses were green, and the groomsmen wore gray suits with green accents.
Our flowers were provided by Dennille at The Village Green Florist in Essex. Her work was outstanding - the flowers were my favorite aspect to plan! I still have my bouquet today- it's been dried and still looks beautiful, years later. It was filled with hydrangeas, roses, and peonies. The flowers on the tables were mason jars filled with hydrangeas and wax flowers. The bridesmaid bouquets were similar.
One of the most special elements of the reception were the small details we included. Our favors were maple leaf glass jars filled with Vermont maple syrup. These were purchased from a local family run maple orchard - Branon Family Maple!
Our initials "J & D" appeared above the fireplace, and a collection of wedding photos from our parents and grandparents weddings were on display. We had custom-designed burlap runners over white linen table cloths. Simple, rustic, and elegant - perfect for a Vermont summer wedding!
The Buffet Dinner: Gluten-Free!
Almost everything on the dinner buffet at our reception was gluten-free.
The Essex is excellent at accommodating food allergies, and they prepare all of their sauces & dressings gluten-free. They also went above and beyond with our food, and we thoroughly enjoyed trying everything at our tasting!
Cocktail Hour included a fruit platter, plus bacon-wrapped dates, mozzarella caprese skewers, and fingerling potatoes stuffed with goat cheese. Dinner was buffet style with mesclun greens salad, roast Statler chicken, potatoes, fresh vegetables, roast pork loin, bacon, apple, and cheddar stuffing, and the one non-gluten-free item: butternut squash ravioli. There were rolls and butter for everyone, but I got my own gluten-free basket of rolls & butter right at our sweetheart table.
Dylan and I made our plates first at the buffet, to ensure I had first pick of everything without any risk of cross-contact. Everything was absolutely scrumptious!
The Cake
We technically had two wedding cakes!
There was the one-tier gluten-free cake Dylan and I cut together & tasted. There was also the traditional entire 3 tier cake of the same flavor and frosting but baked normally. This way, I was able to enjoy the delicious chocolate cake with buttercream frosting without any risk of cross-contact, and we didn't have to spend extra making the entire 3 layer cake gluten-free!
We also received another 1 tier of gluten-free cake to take home with us and freeze for our one-year anniversary, which we enjoyed a year later.
The Party
Our wedding party certainly kept things lively and fun with their antics, inside jokes, and laughs during the day. It meant so much to both Dylan and me to have our best friends, siblings, and cousins be special parts of our day! We are so grateful to them!
Along with that, we had a fantastic DJ - Paul, from SuperSounds Entertainment. He was excellent and kept everyone dancing all night long. Our first dance was not coordinated at all and I think made it more hilarious. It was to "You & Me" by Dave Matthews Band. It was made even more awkwardly funny when Dylan attempted some dance moves from Napoleon Dynamite!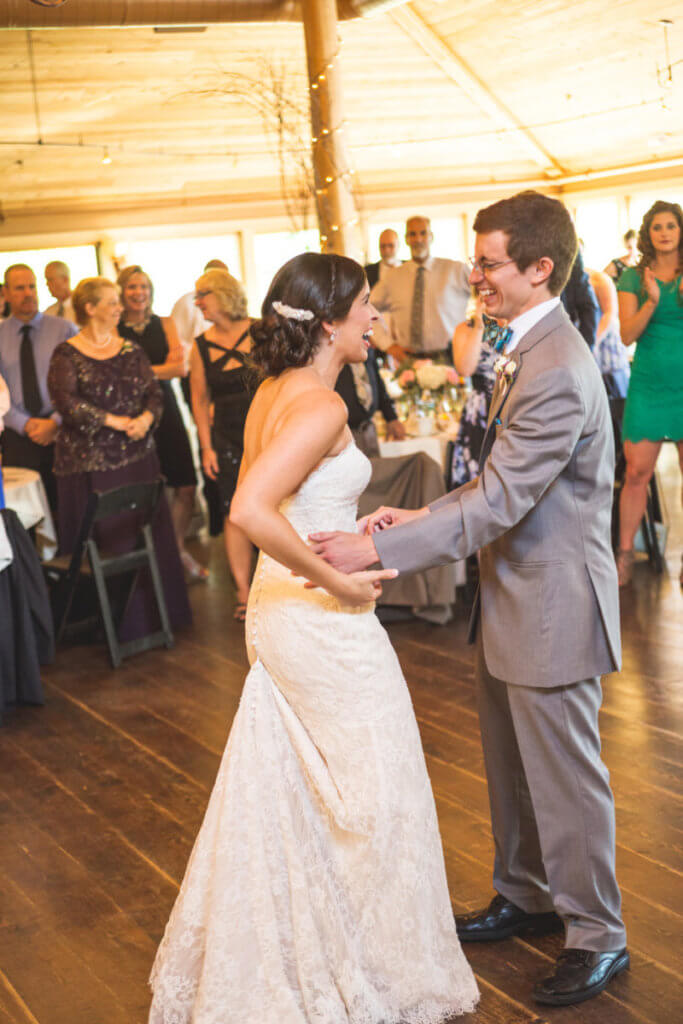 I was a mess dancing with my Dad to "Isn't She Lovely" by Stevie Wonder, and spent all of Dylan's mother/son dance to "What a Wonderful World" drying my tears and getting hugs from the groomsmen.
Some of the best moments of the celebration shenanigans include when my Dad did the worm during Shout, my cousin Ethan collecting all the glowstick necklaces from everybody, and of course, our dear friends Garrett and Christina! They did the lift from Dirty Dancing that even Patrick Swayze and Jennifer Grey would agree is top notch. It was epic!
After a ridiculous amount of 90's hits, laughs, and fun, including some hilarious pictures in the photo booth, the night was over all too soon. We headed back to The Essex Resort & Spa for some late-night drinks at the bar. Dylan and I took a few photos by the firepit before hanging out with our friends and family way into the early hours of the morning. Around midnight, my Uncle Paul ordered about a dozen pizzas from Dominos! (Thankfully, we had a gluten-free snack platter waiting for us back in our room, since the pizzas were not gluten-free!)
Reflections
Before we cut our cake, Dylan and I disappeared outside for a moment and went for a walk, just the two of us to a tree by the pond. It was the one recommendation Dylan had received from a colleague and I recommend it to anyone getting married in the near future.
On your wedding day, you are surrounded by your loved ones all day. Everyone is thrilled for you to begin this chapter of your lives together! They want to congratulate you, hug you, kiss you, and share in the joy. But there really few moments for you to be alone. As a couple, it's important to take some time to reflect for a few minutes on the day, while it's still happening.
We walked out to the lake as the sun was setting, and just took it all in. I wanted badly to go back inside and dance (I could hear a Shakira song playing and my salsa moves were ready), but Dylan said,
"Hang on, let's take a moment here. We got married today."
And today, I can actually remember that part. I remember standing there and being so grateful, so happy, and so incredibly excited for whatever our next chapter would bring.
THANK YOU
The best part of our wedding day was celebrating our love story with our closest family and friends. It's something that likely, won't happen again in our lifetime and I cherished every moment. We felt so blessed and lucky the entire weekend.
We are forever grateful to our amazing parents for helping us and supporting us with putting on the wedding weekend of our dreams! Thank you, Mom, Dad, Weezy & Fitz. We love you!
To my goofy, brilliant, and incredible husband Dylan - Happy 3rd Anniversary! I love you with all my heart. I look forward to more hikes, travel adventures, and whatever our future holds for years to come. ❤️
Our wedding was also featured in Vermont Weddings blog. You can read the story here.
For a complete list of all the vendors we worked with, please click here.