Two weeks in Ireland isn't enough time to explore everything, but it's a great introduction to the magic of the Emerald Isle!
This post may contain affiliate links. Please see my disclosure page for more information. Thanks!
Dylan and I had the chance to spend two weeks in Ireland together in June of 2014. It was our first trip out of the country and my second trip to Ireland. With hiking opportunities galore, romantic and historic castles, traditional music, and the plethora of gluten-free options, I knew it was the perfect destination for us.
With a little help from Rick Steves, as well as Authentic Ireland, we were able to spend two weeks in Ireland on our own self-drive tour through the land of our ancestors. We loved every minute of this adventure!
If you are planning to vacation in Ireland, this two-week itinerary will show you the cities, the countryside, and plenty of famous sites. Our two weeks in Ireland were like a dream, and we had a blast creating this self-guided itinerary and road trip. Plus, the plethora of gluten-free food made it so easy to eat safely!
Here's where to go, what to see, and how to navigate for two weeks in Ireland!
Two Weeks in Ireland: A Complete Itinerary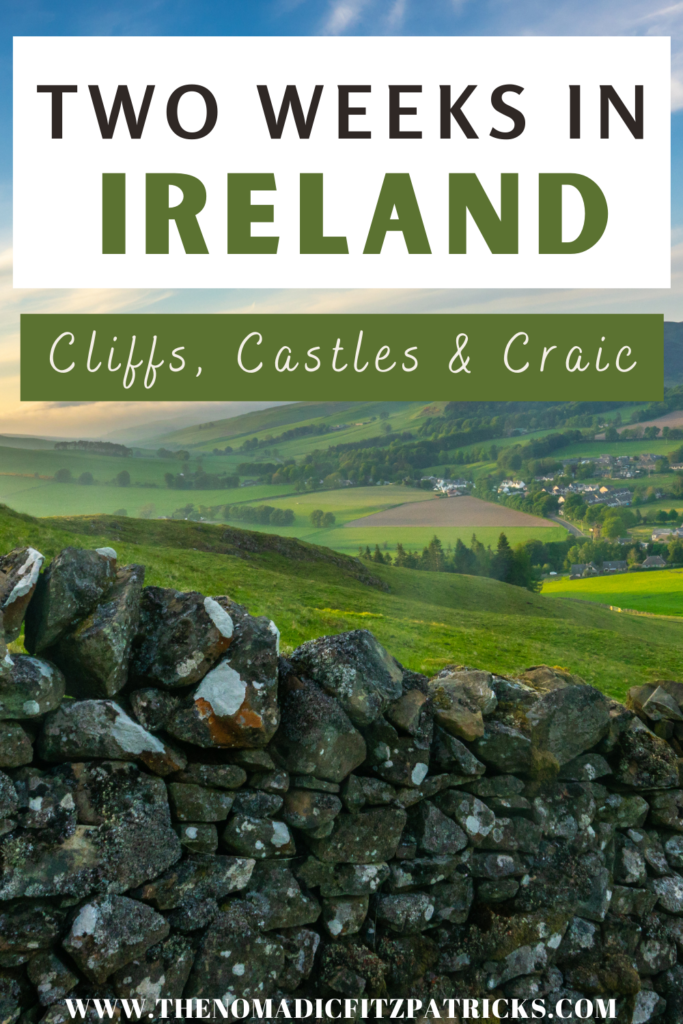 Our Travel Agency - Authentic Ireland
Our experience with Authentic Ireland was great and I highly recommend them if you prefer having a travel agency handle the specifics of your trip. Our self-drive itinerary had a combination of cities and small towns, coasts, and mountains, along with friendly locals and great food. It was one of my favorite trips and I always look back on it fondly.
Coordinating our trip with Authentic Ireland was easy and I didn't have to worry about anything. Once I received the recommendation from a high school friend about the company, I sent an email with where we wanted to go. Our travel agent Amanda was an excellent resource of information and sent us various itinerary ideas. It was a quick process to get everything taken care of.
Our trip was back in 2014, prior to our major traveling and trips like this three-week road trip out west and our six months of backpacking abroad. As a seasoned traveler, I most likely wouldn't use a travel agency again. However, for any new travelers looking to have the specifics taken care of, this was a great way to go about it.
Accommodations
In addition to helping us plan our itinerary, Authentic Ireland took care of our accommodations. These varied from traditional B&B's to larger hotels. Our favorite was staying with a local Irish couple in Galway named Margaret and Seamus. They were adorable!
Our lodgings were comfortable, stylish, and always included a delicious breakfast. The full Irish breakfast was something we quickly became accustomed to! We also drank a lot of tea every morning to stay awake from the jet lag - it helped!

Rental Car
Authentic Ireland also secured us an automatic rental car at a reasonable rate. This was very important considering we do not drive a stick shift. Learning to drive on the opposite side of the road is already a challenge when you are tired - adding in learning to drive a manual would have been a nightmare. While it was scary, it definitely helped prepare us to drive on the left in New Zealand during our trip around the world in 2019.
Flights
We flew from Boston to Shannon, Ireland direct on AerLingus. We used rewards points from our Capital One Credit Cards to cover the cost - another travel hack! This was one of the first times we used credit card points to cover the cost of flights. It saved us $900! To find more ways to travel hack, read this post and save hundreds of dollars for your next vacation!

Gluten-Free Food
Ireland was HEAVENLY for gluten-free food.
Due to a large number of people with celiac disease in Ireland, I had absolutely zero issues finding safe food. Awareness of celiac disease is common, and restaurants, pubs, and grocery stores especially, were all extremely cognizant of offering safe gluten-free food.
I never went hungry, never got sick, and felt safe eating literally everywhere. Even little hole-in-the-wall pubs were quick to share their kitchen practices and what they had on the menu that day that was safe for celiacs.
To this day, one of my favorite gluten-free finds in traveling the world with celiac disease was the pack of rolls and Irish butter I bought at a grocery store in Dingle. The rolls tasted so much like regular rolls, I had to recheck the package. And then I actually cried happy tears while eating them.
For more information and resources about eating gluten-free in Ireland, check out the Coeliac Disease Society of Ireland and their app Minding Me Gluten-Free.
---
Here's a look at our day-by-day itinerary!
Ireland Day 1: Galway
Galway was our home base for the first few days. We stayed at Glenariff B&B for the first three nights with Seamus and Margaret, a lovely couple who run a B&B in their home. After recovering from major jet lag, we explored this port town and enjoyed grabbing dinner here in the evenings at The Oslo Pub. From here, we were able to take two day trips to Connemara & County Clare.

Ireland Day 2: Connemara
The Connemara region, north of Galway, was absolutely breathtaking. We did our own driving itinerary through this area our first full day in Ireland. It was light out until 10:00 PM, so we had so much time to explore!

Things to do in Connemara
Village of Cong
This quaint town was the site of the film "The Quiet Man" with John Wayne. There are nature trails, historic ruins, and cute shops to explore.

Doo Lough Valley
The Doo Lough Valley was part of our drive and though there was nothing here but sheep, it was worth a stop. The Valley was incredible and so hauntingly beautiful!

Connemara National Park
This park had tons of walking trails, hikes, and 360 degree views. The hikes were definitely easy and very manageable - and since we visited in June, the sun was still up at 8:00 PM!

Kylemore Abbey
This monastery is now a top tourist attraction in Ireland. It houses the largest walled garden in Ireland and a former castle turned abbey. The grounds are stunning and it's definitely worth a visit!

Croagh Patrick - Teach na Miasa
This mountain, the third highest in Ireland, is a sacred site and pilgrimage for many Irish Catholics. Saint Patrick is said to have fasted here for forty days. It's a hike we didn't have the opportunity to do, but definitely wanted to (a leg injury of Dylan's forced us to sit this one out).


Ireland Day 3: County Clare
County Clare is famous for the Burren, the limestone rock area surrounding the Cliffs of Moher. We enjoyed everything about County Clare, including seeing a sheep demonstration, having a bite to eat at a local pub (with a special name), and spotting swans on the lake from high atop a castle. The colors of the sea against the cliffs were so brilliant, they don't even look real!

Things to do in County Clare
Cliffs of Moher
How can you not love the Cliffs of Moher? This stunning site along the west coast has been featured in many movies (Harry Potter & The Princess Bride are my personal favorites), and the colors are unreal. Walk along the cliffs on The Burren Way to make the most of your time here.

Dunguaire Castle
This historic castle is a fun stop and you can go inside! There are tapestries and various artworks to view, and the tiny staircases are super fun to climb. From the top you can see the surrounding countryside, and if you are lucky, swans in the lake below!

Poulnabrone Dolmen
This tomb from the Neolithic period is the most famous site in The Burren. It's been balancing that way for thousands of years! The limestone rock of this area is strange but worth a stop to see for yourself.

Fitzpatrick's Pub
It wouldn't be a trip to Ireland without finding the name Fitzpatrick somewhere!
In the town of Doolin just outside the Cliffs of Moher you'll find Fitzpatrick's Pub. We are of course big fans of the place for its name, but I actually ate lunch here during my first visit to Ireland in 2010. Good food & good craic!


Ireland Days 4-6: Dingle
Dingle is a charming seaside town with lots to offer. The Slea Head Loop has been argued as equally, if not more, beautiful to the Ring of Kerry. This town was filled with pubs and live traditional music, a cute local dolphin named Fungie, and plenty of opportunities for walking and hiking. Dingle was the longest distance of driving during our two weeks in Ireland, but definitely worth it. We stayed at Heaton's Guesthouse which was a lovely small hotel for two nights. It was fancier than our usual stays!

Things to do in Dingle
Dingle Town
Another adorable town filled with cute shops, restaurants, artisan crafts, and pubs!

Beehive Huts & The Slea Head Loop
This day trip was one of our favorites. The beehives huts were really neat to step inside, but this shorter drive (about thirty miles) had all the amazing views and coastlines we could ever dream of.

Drinks, Music & Craic at the Pub
All the local pubs have traditional music almost every night of the week. Grab a pint and find a seat - you'll be here for a while. Try a Guinness if you like the dark stuff, or a Bulmer's Hard Cider if you are Gluten-free! If you're lucky, you might get asked to solo or conduct the entire bar like Dylan did!
Ireland Day 7: Killarney
On our drive from Dingle to Cork, we stopped in Killarney National Park. It was another beautiful area for hiking and scenic walks. In the forests that we hiked through, everything was so green I stopped walking and literally gasped. I told Dylan, in total seriousness, "I think fairies live here."

Things to do in Killarney National Park
Torc Waterfall
This short hike to a local waterfall was a nice break from driving. There were rhododendrons in bloom and other pretty flowers along the way.
Ladies View
This is another beautiful stop in Killarney National Park. How can you beat this viewpoint? There's also a restaurant if you want to grab a bite to eat. Watch out for leprechauns!
Ireland Day 8: Cork
We made Cork our home base for a few days to explore the surrounding towns of Midleton & Blarney. This city is not as picturesque as Dublin and a bit more industrial. You can find lots of great restaurants and even a museum dedicated to butter! We stayed at The Address Hotel in Cork for two nights, taking a day trip from here to Blarney/Midleton.


Ireland Day 9: Midleton & Blarney
This town is famous for two things and we saw both of them - the Jameson Distillery of Irish whiskey, and Blarney Castle! Both are great excursions and day trips to enjoy. Midleton is an adorable town with again more great pubs, shops, and cute shopping opportunities.

Things to do in Midleton
Blarney Castle
Even if kissing the Blarney Stone grosses you out, visiting this amazing castle is fascinating. The inside is completely open and you can see where the former rooms would have been. The grounds are beautiful and kissing the stone to get the "gift of gab" is a real thrill - you have to hang upside down!

Jameson Distillery
The distillery was a bonus for us because we did the tour & taste test completely free! A friend of mine at work frequently buys Jameson whiskey and with one of the more expensive bottles, they include free passes to the distillery. He gave them to me as a gift. So nice! We learned all about the whiskey-making process and Dylan even got a certificate for his efforts as a whiskey taste-tester.

Ireland Day 11: Glendalough
This monastic settlement was the perfect in-between stop for our drive from the Cork area to Dublin. There are incredible ruins, hiking trails, lakes, and more.

Ireland Days 12-14: Dublin
Dublin is a vibrant and historic city with so much to offer. St. Stephen's Green is the Central Park of Dublin, and with cathedrals galore, bridges over the River Liffey, and Trinity College Library, there's a lot to see and do. We stayed here for 3 nights at The Alex Hotel, which was a standard hotel with clean rooms and breakfast every morning. We really enjoyed our pub dinner & show with Irish music and dancing. There's so much to do here and this capital city does not disappoint! It was the perfect place to cap off our two weeks in Ireland.

Things to do in Dublin
Trinity College
For the full experience and to really understand the history of Trinity College, take a tour with a college student. We had a Ph.D. candidate take us around and learned so much! The ticket to see the Library and the Book of Kells is worth the price. The books inside this library are organized not by author, or topic, but by size!

St. Patrick's Cathedral
Legend says the Saint Patrick blessed converts to Christianity on these grounds. The cathedral is beautiful and when we visited, a local orchestra was rehearsing. The music inside those huge halls of the cathedral was incredible!

St. Stephen's Green
The Central Park of Dublin - there are lots of places for a picnic, snack, walk, or just an opportunity to enjoy nature. The gardens are well manicured and there are plenty of beautiful flowers and swans, too! Milano's Pizza was right near here and had amazing gluten-free pizza. It was so good we went back three times!

Guinness Storehouse
If you're a fan of the dark stuff like Dylan, you'll need to visit the Guinness Storehouse. They teach you all about how they make it and you learn how to pour the perfect pint! The rooftop sky bar at the top floor gives you panoramic views of Dublin.

Merry Ploughboys Dinner & Pub Show
This was one of the best nights of our trip! We loved this excursion Authentic Ireland planned for us. They even provided a bus to pick us up and drop us off at our hotel.
What was unexpected about the evening was how I ended up on stage!
As we were all clapping along to one of the pub tunes, the pipes player singled me out in the crowd and said I wasn't clapping right. Me?! A classically trained pianist and violinist? No way! Dylan started laughing hysterically. Before I knew it, the pipe player insisted I come up to the stage to be taught how to clap correctly. I reluctantly made my way to the stage, where he held my hand and told me to introduce myself to the hundreds of people in the audience.
Once I realized he was a big flirt, I just went along with it and laughed. To my surprise, he gave me a kiss on the cheek and a free copy of their CD. It made for a fun memory on our last night and a souvenir to take home, too!
---
Ireland: Final Thoughts
Our two weeks in Ireland was one of our absolute favorite vacations. We loved our trip and can't wait to go back one day! Even if you aren't Irish, you'll sense the magic here. If you are Irish, it feels like coming home, and two weeks in Ireland won't be enough. You'll be planning your next trip to this incredible place.
Have you ever visited Ireland?

Let me know in the comments!
---
For more information on booking a vacation through Authentic Ireland, contact them at [email protected].