This gluten-free Boston dining guide will show you all of my favorite spots as a local resident with celiac disease!
This guide was last updated in August of 2022 with new photos, gluten-free restaurants, recommendations, and tips for dining out with celiac in Boston.
I've been eating gluten-free in the Boston area for more than ten years.
We move to Boston's North Shore in January of 2012. Boston became our go-to place for hanging out with friends, spending a weekend, nightlife, shows, concerts, activities, and fun.
At the time, the gluten-free scene was minimal and limited. I would find myself cooking my own recipes at home on a regular basis because eating out was always a challenge. Cross-contact was rampant, and hardly anyone understood the difficulties of living with celiac disease.
Fast forward to 2022 and it's a much different story!
I've personally seen the changes and improvements to the gluten-free restaurants in Boston. While the presence of dedicated gluten-free facilities is smaller (still growing!), there is always room for more places to help make Boston an even safer destination for celiacs.
About This Gluten-Free Boston Dining Guide
Just so you know - this guide is going to talk about restaurants in Boston proper, their protocols, and their gluten-free food. I'm sharing my go-to places eating with celiac in Boston having lived here for the last 10+ years.
But if you're looking for celiac safe restaurants or dedicated bakeries that are around the city of Boston, especially to the north, you're definitely going to want to read this celiac dining guide to Boston's North Shore. This will give you ideas of the towns & restaurants around Boston where you can find gluten-free food.
And of course, this guide doesn't have EVERY restaurant in Boston on it! These are the places I trust and come back to time and time again because I've had positive experiences dining here with celiac disease. I'm always updating it when I visit new places, so check back for updates!
Here's where to find the best gluten-free restaurants in Boston and celiac-safe places from a local celiac - me!
NOTE & DISCLAIMER
This Gluten-Free Boston guide was originally written and published online for Gluten-Free Living. I have updated and condensed the information here to include the most accurate and up-to-date spots for celiac diners.
Everyone's experience with celiac disease is different. Dedicated gluten-free facilities are usually the safest places to go, and you'll see those listed here. For non-dedicated facilities, always exercise caution. Use your own judgment and only eat where you feel safe doing so.
Gluten-Free & Celiac Dining Guide to Boston
How To Find Gluten-Free Food in Boston
While this guide will give you my personal recommendations to point you in the right direction for dining gluten-free in Boston, you might need to explore other options.
And that's okay!
One of the best ways to do that while traveling to the Boston area is by doing your research first, on an app/website like FindMeGlutenFree.
FindMeGlutenFree can help you get an idea of the Boston gluten-free restaurants with safe food options for you. And with a Premium Subscription, you can filter by most celiac friendly, see what's open now (so you don't drive all the way to a bakery for breakfast and discover it's closed), and what's gluten-free in the direction you're headed. It's like Google Maps, but a gluten-free version. And no Ads!
I've been a FMGF user for over a decade, but I think their Premium version is much more effective. Take $5 off a Premium Subscription with the code THENOMADICFITZ to make your trip to Boston less stressful.
Dining Out In Boston With Celiac Disease
Boston has multiple neighborhoods, despite being a city on a smaller scale. There's a lot of revolutionary history that took place here in Boston, plus many immigrants groups have made this area home in years past (Italian-Americans in the North End, Irish-Americans in Southie). The T is the most popular way to get around but it's also a very walkable city if you enjoy walking like I do.
Like I said before, there's a minimal amount of dedicated gluten-free facilities in Boston. As I recommend to all of my clients for dining out with celiac, you want to make sure to clarify what gluten-free means when you order.
Unfortunately, due to the presence of fad dieters, gluten-friendly and gluten sensitive menus, people with celiac disease struggle to be taken seriously when dining in restaurants.
Based on my 13 years with celiac disease and my multiple restaurant allergen trainings, I suggest using the words severe gluten allergy when dining out, and then clarifying celiac disease. Also, be sure to tell your server about how you need your food prepared to prevent cross-contact.
Gluten-Free Downtown Boston
100% Gluten-Free Restaurant: Grainmaker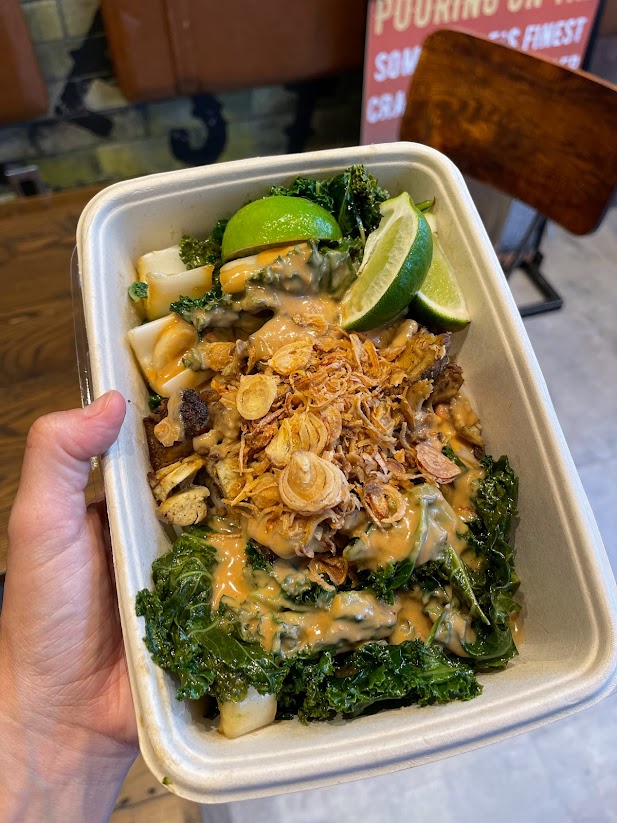 Grainmaker is a 100% gluten-free restaurant in Boston - and one of the few! They also have a location in Cambridge and Woburn.
With a twist on street food from Southeast Asia and an ethical approach to eating, Grainmaker offers delicious bowls, tacos, and salads filled with wholesome ingredients, locally sourced products, and tasty flavors. This is a 100% gluten-free restaurant and dairy-free restaurant too.
Think of it like a Chipotle but where you don't have to worry about cross-contact at all. I especially like their noodle bowls but a build your own option with lots of roasted vegetables was calling my name the last time I visited.

More information about Grainmaker can be found on their website, Instagram, or Facebook page.
Boston Public Market

: Jennifer Lee's Allergen Free Bakery
Located inside Boston Public Market, Jennifer Lee's Allergen Free Bakery does an amazing job creating delicious foods that are gluten, dairy, egg, sesame, and peanut/treenut-free. This is a 100% gluten-free bakery and cafe. You can order sandwiches, paninis, baked goods, salads, and more right at the counter or even place large orders online for custom-made cakes. You never have to worry about anything prepared here because it's all safe to eat. What a relief, right?
Jennifer is a wonderful person and entrepreneur from Massachusetts that helps those with dietary restrictions feel normal with delicious gluten-free, & allergen-free treats. Of course, these baked goods are going to taste a little bit different because they are free from many allergens, not just wheat/gluten, but they are still very good. I really like their donuts and cupcakes.
More information on Jennifer Lee's Bakery can be found here on her website, Instagram, or Facebook.
Boston Public Market: Mother Juice
Mother Juice is another 100% gluten-free cafe located in Boston Public Market. It's also a vegan juice bar with multiple locations in Boston and plenty of fresh juices to go around! Cold-pressed juices, smoothies, bowls, oats, and they use Udi's gluten-free bread for their gluten-free toast.
Mother Juice also has locations in Kendall Square, Harvard Place, and High Street. While I've only had smoothies from them so far, I look forward to going back for some toast or breakfast bowls in the future.
Learn more about Mother Juice, their locations, and tasty options on their website, Facebook, or Instagram.
Close To TD Garden: Tavern In The Square
Tavern in the Square is a chain American bar/grill restaurant with gluten-free options and celiac protocols. I've been eating here since 2014 and continue to come back again and again. They have dedicated kitchen spaces, fryers, and allergen protocols for those ordering from the gluten-free menu.

From burgers, wings, nachos, to sandwiches, salads, pasta, pizzas, and more, Tavern in the Square always has a delicious choice for everyone, and almost everything on the menu can be prepared gluten-free. A manager brings your food to confirm you ordered a gluten-free dish, and an allergy stick is in each dish.
I'm always excited to visit Tavern in the Square because it means I can have something fried! If you're not sure what to order, definitely try a burger with a side of fries, or their parmesan truffle tots. Or the fried pickles. Or the nachos. I digress, there's too much to choose from when there's a dedicated fryer.
For more information on Tavern in the Square, visit their website, Instagram, or Facebook page.
Close to TD Garden: POKE By Love Art
Another 100% gluten-free-free restaurant in Boston you may want to consider adding to your list is POKE by Love Art. I'm not a big seafood person or poke person (no hate at all, just not my thing), but they are definitely a safe option as they use tamari, not soy sauce, and all of their ingredients are gluten-free. This is a fast casual recipe inspired by Hawaiian cuisine.

From their website:
"In addition to being able to find classic comfort dishes such as island mac salad and sesame tamari tuna, POKE by Love Art will be a 100% gluten-free kitchen as we've elected to use tamari and other ingredients to keep our menu fully Celiac friendly.
More information about POKE by Love Art can be found on their website or social media pages here. This is definitely a place that is outside my food comfort zone but I feel is important to mention here because they are safe!
A Boston Classic: Kane's Donuts
Kane's Donuts is a bakery in Boston you can't miss for their incredible donuts! They make gluten, dairy, and nut free donuts in over 14 different flavors.
As part of my gluten-free consulting business, I worked with Kane's to develop a dedicated kitchen space for their delicious gluten, dairy, and nut-free donuts. Kane's has 3 locations in the Boston area, but their gluten-free donuts are made in a dedicated gluten-free facility in their Lincoln Avenue (Saugus) location on the North Shore. So no matter which Kane's location you visit, you can enjoy these amazing donuts safely. Seriously, they are a Boston gluten-free dining icon!
They have classic flavors like chocolate glazed or jelly-filled, but then they also have funky flavors like my favorite - Maple bacon. Yum!
When ordering your donuts, explain you have celiac/gluten allergy and they will be sure to change their gloves and place yours in a separate bag. They keep all the gluten-free donuts on their own trays.
For more information about Kane's donuts, their 14+ flavors, and the inside scoop on their dedicated gluten-free donut line, visit their website, Facebook, or Instagram page.
Gluten-Free North End
Gluten-Free Italian Food: La Famiglia Giorgio's
La Famiglia Giorgio's is an Italian-American restaurant in the North End that has over 100 dishes that can be made gluten-free. Their menu is enormous, and it's going to be one of those restaurants where you get decision fatigue. It's so rare to be able to have SO many options at a restaurant when you have celiac disease, so this might be a place you want to read the menu in detail beforehand.
Gluten-free meals are prepared separately, and they have gluten-free bread as well as allergy toothpicks. Large portions here - and an option for homemade gluten-free pasta. When I visited with my family around the holidays, we shared a Antipasto platter, I had my own gluten-free bread (it's their pizza crust, brushed with olive oil - not great, but I'll take it), but the real pièce de résistance was the homemade gluten-free pasta with bolognese sauce. (Clearly I am a sucker for bolognese, because I also order this every time we go out to dinner in Salem as well.)
For more information, visit their website, or check their social media pages- Instagram & Facebook.
More Gluten-Free Italian Food: Benevento's
Benevento's is an Italian-American restaurant in the North End that I've eaten many times over the years. They have gluten-free pizza and pasta dishes available and take precautions for allergens, including cooking gluten-free pizzas on tinfoil trays and using fresh pans/clean equipment for gluten-free dishes. Their upcharge for gluten-free pasta is pricey ($3 for pasta, $5 for gnocchi) but it is so so good. Definitely recommend the pasta primavera with the white wine butter sauce seen here.
Benevento's is located right across the street from La Famiglia Giorigo's on Salem street, which is one over from Hanover Street, the main drag in the North End.
For more information about Benevento's, check out their website. And heads up - they don't serve dessert!
Gluten-Free Groceries: Salumeria Italiana
While not a gluten-free restaurant in Boston, Salumeria Italiana is a small Italian grocery store in the North End, not far from Paul Revere's house. Don't be put off by the gluten-filled bread in the windows - they have cheese, olives, tomato sauce, pasta, and packaged foods that are imported right from Italy!
My favorite part of this place are the imported products. You can find many gluten-free specialty Italian products here to cook for yourself at home. Most of the brands listed below we actually saw and sampled during our month in Italy in 2019 and again in 2022. I always buy Le Veneziane gnocchi or some unique pasta shapes we usually can't find in the usual grocery stores.

More information about Salumeria Italiana can be found on their website.
Gluten-Free Cambridge
Gluten-Free Bakery: Violette Bakers
This 100% gluten-free bakery in Cambridge filled with delicious sweets and treats! Everything from custom-made cakes to cupcakes, desserts, bread, and more, the owners behind Violette Bakers were inspired to create gluten-free baked goods after a visit to France. They are one of the only gluten-free bakeries in the area (besides Jennifer Lee!). They also create gluten-free bagels once a month that are incredible.
Truthfully, I like the cupcakes over at Crave on the North Shore (or those of Twist in Burlington) to be more of my favorite, but these were still very tasty. But I did find their eclairs to be scrumptious with just the right amount of pastry cream. Also, their homemade gluten-free sourdough bagels were awesome - on par with those of Modern Bread and Bagel in New York City.
More information about Violette Bakery can be found on their website, Facebook, or Instagram page. They are closed on Mondays.
Gluten-Free South Boston (Southie)
Capo: Gluten-Free Restaurant on Tuesdays
Capo goes ALL OUT on Tuesday evenings for their Gluten-Free Night, and Dylan and I were completely blown away by the food, their protocols, and commitment to serving gluten-free food safely! Capo is located in South Boston and we visited here as part of a #hosted restaurant visit in July of 2022.
Everything on the menu can be made gluten-free on Tuesdays - they even have homemade GF pasta made in a dedicated space AND homemade bread! The food was phenomenal, and we barely had room for dessert. Plus, the chef gave us a tour of the kitchen and explained how they go about deep cleaning everything in the kitchen 24 hours in advance. They really get it at Capo and are committed to serving celiacs safely.
For more information about Capo, check out their website, Facebook, and Instagram.
Gluten-Free Brunch: Loco Taqueria & Oyster Bar
After hearing so much about Loco, I finally tried this South Boston Mexican place for myself and was blown away by their tacos and brunch options. Almost the entire menu at Loco is gluten-free. They have gluten-free chips for their chips & guac, gluten-free taco shells, and really good cocktails.
Loco is just down the street from Capo, and both are owned by the same restaurant group, which is part of the reason I feel so safe eating at both restaurants. They have strong protocols and understand celiac disease.
I definitely recommend getting the chips and guacamole for an appetizer, because when you can have the tortilla chips, you gotta do it, right? The chilaquiles divorciadas are really good because they offer you both types of salsas - red and green, with eggs, and of course, more tortilla chips. Drool.
You can learn more about Loco on their website, but I love their Instagram account for their to the point, funny signs they put out front of the restaurant.
For more information about Loco, visit their website, Instagram, or Facebook page.
Gluten-Free At Fenway Park
Fenway Park & Red Sox Games
Yes, there is gluten-free food at Fenway Park if you are headed to a Red Sox game!
There's nothing like having a hot dog at a baseball game, am I right?
Well at Fenway Park you can still have that experience in gluten-free form.
Here's a screenshot of from the MLB Fenway Park website for where you can find gluten-free hot dog buns (they have Udi's brand) and Mings Bings plant-based, gluten & dairy free brown rice pockets. You can also find lots of chips, snacks, drinks (Angry Orchard cider, wine, hard seltzers, sodas), popcorn, and cotton candy.
Fenway Park uses Kayem brand hot dogs and sausages that are gluten-free. Ask for them to change their gloves and they will grab you an Udi's bun from the back. I have found them at Home Plate Grill without issue, but others have reported that they are often out. Jersey Street seems to have them more often!
Gluten-Free East Boston
Gluten-Free Cider: Downeast Cider House
Rather than go on a brewery tour - how about a cidery tour?
Downeast Cider is one of the best gluten-free hard ciders around and their factory is in East Boston. For $12/person, you can take a tour, sample delicious cider combinations, and get an inside look at what goes into making hard cider. After the tour, enjoy a cider flight, hang with friends, or grab some cider to bring home. They also have a pop-up outside the cidery in the summer months!
Like Far From The Tree in Salem, Downeast cider's are SWEET. They have a lot of fun flavors and utilize different fruits to make them exciting and taste different, but again, they are super sweet. Definitely recommend Downeast cranberry, pineapple, or pumpkin if you're looking for a cider to try.
For more information about Downeast Cider, visit their website, Facebook page, or Instagram.
A restaurant I no longer have listed
I used to have Legal Seafood on this list of Boston restaurants, and had visited for years without issue, enjoying their GF Fish and chips from their dedicated gluten-free fryers. But during the pandemic, something changed. After visiting in August of 2021, for a hosted influencer dinner no less, I got glutened. Plus, I also heard from multiple celiac friends having similar issues at various locations. Because of these reasons, Legal is no longer listed on this guide.
Everyone's experience with celiac disease is different. I know many other celiacs & GF folks that have been to Legal without issue. If you choose to dine there, that is your decision and you do what you are comfortable with. This is not to speak ill of Legal Seafood as a company, as they clearly do have protocols in place for gluten-free guests, but based on my own experience, I do not feel comfortable listing them as a safe place to go.
Grocery Stores For Gluten-Free Food in Boston
If you are staying in Boston proper for a vacation or trip, your best bets for gluten-free groceries are Whole Foods, Trader Joe's, and Stop & Shop. These three supermarkets are the most common and popular in Boston and have multiple locations. As you go north, Market Basket is the cheapest and most reasonable supermarket in the Boston area.
More Boston Area Gluten-Free Restaurants
If you are venturing to the outer neighborhoods of Boston for gluten-free dining, these two places are a must visit for celiac safe protocols, home cooking, and Italian subs.
Waltham: Tempo Kitchen & Cocktails (Dedicated Fryer!)
Tempo is a fabulous dinner spot in Waltham's Moody Street area downtown. They serve awesome combinations of cocktails alongside classic dishes - and almost their entire menu can be made gluten-free. They also have dedicated fryers. The outside patio area is so nice in the warmer months and it's beautifully decorated as well. This is a really good date night spot or a place to visit with friends.
Don't skimp on appetizers like the crispy brussel sprouts or their truffle fries. Everything is good here, and you won't be disappointed. I also really liked the Fish and Chips, and their hot fudge brownie sundae.
My Favorites: Crispy Brussel Sprouts, or their Truffle Fries!
For more information about Tempo, visit their Instagram, Facebook, or website to see their current menu.
Natick: Lola's For Gluten-Free Subs & Cannolis
Lola's in Natick is an Italian deli serving up classic Italian fares, subs, and cannolis. They use rice flour throughout their kitchen so they have many gluten-free dishes, plus an entirely separate gluten-free preparation area of their kitchen. It's a rare treat to be able to enjoy a gluten-free cannoli with the powdered sugar and chocolate chips, just like the Italian bakeries make where I grew up on Long Island. And if it's your first visit to Lola's, you'll get one for free!
The Italian subs are Lola's are also, very popular in the celiac community here in the Boston area. I'm not a huge sub person (unless it's a Publix sub, which I still can't have gluten-free...sigh) but I will say that if having an Italian sub is your thing, this is definitely the place to do it.
For more information about Lola's, visit their Instagram, Facebook, or website page for current menus.
If you are still looking for more of the best restaurants for gluten-free food in Boston, check out my friend Brooke on Instagram, who has celiac and lives in the city!
---
Looking for more celiac travel guides in New England?
Check out the North Shore of Boston for the best breakfast sandwiches on homemade gluten-free herb & cheese bread at Crave.
Explore the Green Mountain State of Vermont and discover gluten-free beer at the first dedicated GF brewery in New England.
Go for a hike in New Hampshire and get the juiciest GF burger and fries with a homemade sauce (dedicated fryer, too!)
Wander up the coast of Maine for gluten-free donuts and homemade GF sourdough.
Sample all of the gluten-free drink choices in New England with breweries and cideries that are 100% gluten-free.
Have you ever been to Boston?
What are your favorite gluten-free restaurants in Boston?
Leave a comment with any of your favorite places I should try!