Nothing says stars and stripes like a gluten-free American flag cake!
This most may contain affiliate links. Please see my disclosure page for more information. Thanks!
About This Flag Cake Recipe
I've been making or helping to decorate flag cakes for America's birthday since I was a little girl. My family always made flag cakes for 4th of July or Memorial Day picnics. After my celiac diagnosis, I decided my flag cake tradition should continue - gluten-free! I made this gluten-free American flag cake to bring to a family gathering in Vermont over the 4th of July weekend and it was a hit!
Ingredients You Will Need
You can make an American flag cake a lot of different ways, but I like to stick to what's easy to put together.
You will need:
-Fresh berries, like raspberries, strawberries, or blueberries
-Your favorite gluten-free cake mix (mine is King Arthur Flour!)
-Gluten-free frosting (I used Pillsbury)
Why Boxed Cake Mix & Frosting?
You could also do fresh whipped cream instead of frosting, but in the interest of this being a faster and easier recipe, I stick to frosting.
While you could also make this cake yourself (and not buy a cake mix), I'd much rather spend the holiday with friends and family outside having fun. It's July, it's summer, and it gets super hot in the kitchen when that oven is on. While I'm a big supporter of cooking and baking from scratch, sometimes it's okay to do things in an easier way. Flag cakes are one of them!
How To Make Gluten-Free Flag Cake
First, prepare the cake according to the box instructions, which may require additional ingredients such as eggs, water, or oil. Make sure the cake has time to cool before you start frosting, or the frosting will melt! Then, once the cake has cooled, spread on the frosting and arrange your berries in a pattern similar to the Stars and Stripes (American Flag).
Tips For Making a Flag Cake
Make sure the cake has cooled. If you start speading frosting on warm cake, it can turn the frosting liquidy and your berries will start to slide off. Make sure the cake has cooled before you begin to decorate!
Make sure your berries are dry. Similarly, make sure you have rinsed AND dried your strawberries, raspberries, blueberries thoroughly before placing them on the frosting to decorate and arrange in the flag pattern. Otherwise, excess water will bleed into the frosting and it will get messy, and you may not be happy with the final product.
Arrange the berries in a flag pattern. For the true flag pattern, I do blueberries in the upper left corner leaving space in between to signify the stars, and then rows of strawberries (you could also do raspberries) to signify the stripes. Leave space in between each row of strawberries so you have stripes of both red and white. Have fun with it! There's no official rules here, and you can mix it up, sprinkle on powdered sugar, or do your own design if you like.
Keep the cake cool. Since it's summer and you may be using either fresh whipped cream or icing, you don't want it to melt. Keep the cake covered in the fridge when not using.
I hope you love this American flag cake and enjoy having a tasty, gluten-free dessert you can share with friends and family!
Looking for more 4th of July/Memorial Day recipes?
Make this fruit galette in a star shape for another patriotic dessert.
Use up fresh berries in a gluten-free crisp, or a gluten-free strawberry cake.
Bring a no bake pie everyone will love - gluten & dairy free key lime pie.
Go for a classic - Apple pie! This one is gluten-free with a lattice design so you'll look extra fancy.
Here's the recipe for a patriotic dessert - flag cake!
If you love this recipe, please leave a comment! Thank you so much!
Gluten-Free Flag Cake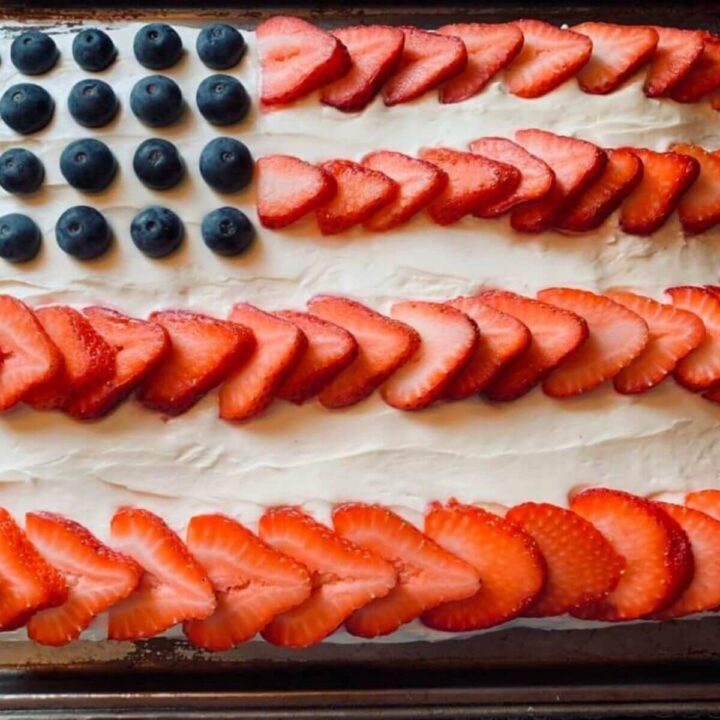 Gluten-Free American Flag Cake
Additional Time:
30 minutes
Total Time:
1 hour
10 minutes
A patriotic treat to celebrate the USA - gluten-free!
Ingredients
1 gluten-free chocolate or vanilla cake mix
1 container of gluten-free vanilla frosting or homemade whipped cream
1-pint blueberries, rinsed and dried
1-pint strawberries, rinsed, sliced, and dried
Powdered sugar, for sprinkling (optional)
Instructions
Bake the cake according to package instructions and allow it to cool completely. This is really important so the frosting doesn't melt!

Rinse the berries and dry them, thoroughly. You want to make sure they are as dry as possible to prevent any liquid from running on the frosting. Slice the strawberries in half for larger pieces, or into thin heart shapes.

Soften the frosting by microwaving it in a small bowl for 10-15 seconds at a time, until it reaches a soft and spreadable consistency. Or, if using homemade whipped cream, make sure it is soft. Spread frosting/cream over the cake evenly in a layer of thickness to your choosing.

Arrange berries in the shape of the American flag! You can get creative and add more to the decorations, but I like to keep it simple. Line blueberries in the upper left corner in rows of 4-5 berries as the stars section. Place strawberries slightly on top of each other, fanning them out in long rows to act as the stripes. Leave space between each row of strawberries to alternate red and white - red being the strawberries, white being the frosting until berries cover the entire cake.

Sprinkle with powdered sugar, if desired. This cake goes perfectly with a scoop of vanilla ice cream. If you notice the frosting starts to melt, pop it in the fridge for 10-15 minutes. Enjoy!
Notes
King Arthur Flour and Betty Crocker make delicious gluten-free cake mixes. They are my go-to brands for a quick cake rather than making it from scratch.

Pillsbury frostings are gluten-free and spread perfectly for this cake. Try vanilla buttercream!

If you notice the berries are too wet or that the cake seems to be melting a bit, pop it in the fridge for 10-15 minutes to firm up
Nutrition Information
Yield

8
Serving Size

1
Amount Per Serving
Calories

365
Total Fat

4g
Saturated Fat

1g
Trans Fat

0g
Unsaturated Fat

2g
Cholesterol

1mg
Sodium

487mg
Carbohydrates

81g
Fiber

3g
Sugar

52g
Protein

3g
The nutrition information on each recipe card is provided as a courtesy and for your convenience. The data is calculated by Nutritionix. You are encouraged to make your own calculations based on your ingredients and preferred nutritional facts calculator. While I try to make sure they are accurate, I cannot guarantee the accuracy of these calculations.
Do you have any favorite desserts to celebrate 4th of July?
Have you ever made an American flag cake?
Tell me about it in the comments below!