Get ready to up your flapjack game with these gluten-free lemon ricotta pancakes!
This post may contain affiliate links. Please see my disclosure page for more information. Thanks!
Pancakes are the best breakfast food. Ever. Don't try and change my mind, because it won't work! If you're one of those silly people who think that waffles are king, these gluten-free lemon ricotta pancakes with Cup4Cup might have you reconsidering.
I had a craving for pancakes on Sunday (let's be real - I crave pancakes EVERY day), but wanted to up my pancake-making game. With some leftover ricotta cheese from pizza last Friday and a spare lemon lying around, I had a genius idea.
Gluten-free lemon ricotta pancakes! I've only had lemon ricotta pancakes once before, and I loved them. The ricotta makes the pancakes light and fluffy, while the hint of lemon brings a nice tangy flavor.
Ingredients For Lemon Ricotta Pancakes
Gluten-Free Flour: These pancakes are specifically made with Cup4Cup flour, my #1 baking tool in my gluten-free kitchen. I've made almost every pastry and baked good with success thanks to Cup4Cup, and it's why I also recommend it in this recipe. For other recipes made with Cup4Cup, check out these empanadas, naan, scones, gnocchi, and even bagels. Please note - this flour is not dairy-free.
Note: You can also substitute your favorite gluten-free flour blend for this pancake recipe, such as King Arthur Measure for Measure, or Bob's Red Mill 1:1 Baking Flour.
You will also need:
Baking powder
Baking soda
Kosher salt
Milk
Egg
Ricotta Cheese
Vanilla
Lemon Zest & Juice
Melted coconut oil or melted butter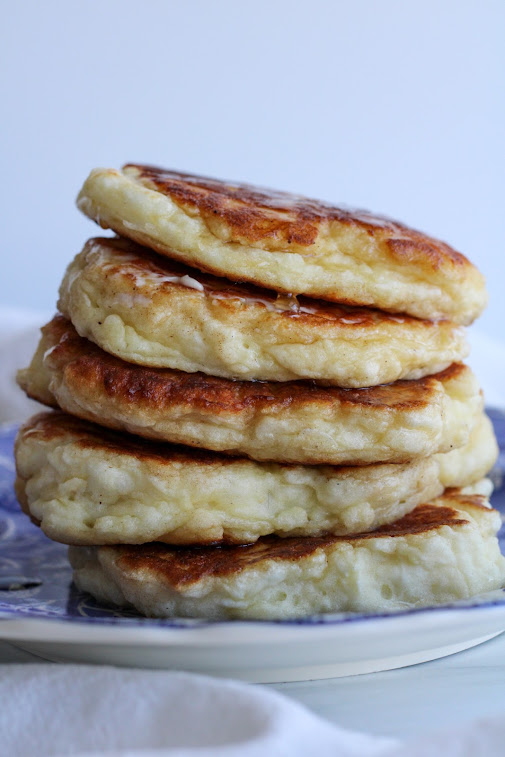 Adding a little lemon juice to a regular pancake batter has been a habit of mine for many years. It's a cooking tip I learned from my best friend's mom. Growing up she would often make Kristen & me pancakes on Sunday mornings after our sleepovers. Sometimes, those things just stick with you. Thanks, Donna - with love from your O.D.!
How To Make Gluten-Free Lemon Ricotta Pancakes
Pancakes are easy to make, but take some patience!
First, you'll assemble the batter by whisking everything together. It will be thick, don't worry! And don't worry about overmixing - there is no gluten developing here, so this is not a concern as in most pancake recipes.
Next, you'll let the batter rest to help prevent grittiness in the pancakes. Then, heat up your griddle or frying pan with some melted butter over medium-low heat, and it's time to make them!
Using a ⅓ or ¼ cup measuring cup (depending on how big you like your pancakes), you'll pour out the pancake batter and spread it with a spoon into a circle shape. Then, the hard part. Leave it be! Don't flip until you see lots of bubbles. The pancakes should cook for about 4 minutes on each side, give or take.
Can I make these pancakes dairy-free?
Yes you can! You'll need to use a different gluten-free flour blend, as Cup4Cup contains milk powder, as well as your favorite non-dairy milk as well. And I recommend using Kite Hill ricotta for dairy-free ricotta cheese. And for cooking the pancakes, you can use a non-dairy butter or your go to cooking oil.
PRO TIP: Let the batter rest!
One of the best tips I've learned from baking gluten-free for over a decade is that some batters, like pancakes and quickbreads (muffins, banana breads, things like that) do better when the batter has had time to rest. Make sure you allow for 10-15 minutes of rest time before actually pouring any pancake batter into your pan. Room temperature is fine. This will give your pancakes a better texture (and less grittiness!) when they are done!
How To Store & Save Pancakes For Later
Pancakes will keep in the refrigerator for 2-3 days. You can fry them up and save to have breakfast later in the week. Or lunch. Or dinner. I'm not judging!
Looking for more great gluten-free breakfast ideas?
Try these gluten-free banana chocolate chip muffins. Easy, quick, and also great for dessert or a snack.
Berry chia jam takes only minutes and you've got a perfect topping for yogurt, or some gluten-free scones, like these blueberry ones.
Want something decadent but filling? Make a baked French toast casserole with cinnamon raisin bread and cream cheese. Wowzers.
Discover all 100 recipes on the blog right here.
Here's how to make these tasty gluten-free flapjacks!
If you love this recipe, please leave a comment! Thanks so much!
Gluten-Free Lemon Ricotta Pancakes Recipe
Gluten-Free Lemon Ricotta Pancakes
Ingredients
1 cup of Cup4Cup Gluten-Free Flour
1 teaspoon baking powder
½ teaspoon baking soda
½ teaspoon kosher salt
1 cup of milk
1 egg
½ cup ricotta cheese
1 teaspoon vanilla (optional - for added sweetness)
1-2 tablespoon lemon zest
¼ cup lemon juice, freshly squeezed
3 tablespoon melted coconut oil, slightly cooled
Instructions
In a medium bowl, combine the gluten-free flour, baking soda, baking powder, and Kosher salt. Whisk to combine, then set aside.

In a small bowl, add the milk, egg, ricotta cheese, vanilla (if using), lemon zest, and lemon juice. Whisk to combine. Melt the coconut oil and let it cool slightly as to not cook the eggs, adding it last to the mixture, whisking well.

Pour the liquid ingredient mixture into the dry ingredient mixture, using a large spoon. Mix well, and don't worry about overmixing - most regular pancake recipes will tell you not to overmix, and that's because of the gluten. But there's no gluten here! Fair warning, the batter will be quite thick. At this point, leave the batter at room temperature for 10-15 minutes. This will help prevent grittiness in the pancakes.

In a frying pan or griddle over medium-low heat, melt a teaspoon of butter or coconut oil. When the pan is hot, pour batter into a circular shape, using a ⅓ cup scoop. You may need to use a small spoon to even out the batter - again, it's thick! Allow pancakes to get golden brown before flipping, and be careful not to flip too early. Look for bubbles and then begin peeking underneath with a spatula. I'd say about 3-4 minutes each side, and the first pancake will usually be your "test". The next ones will be better!

Cook the pancakes until golden brown on both sides, watching carefully. Remove to a plate and serve with your favorite toppings! I suggest butter, real maple syrup from Vermont, fresh berries, or even chia jam! Enjoy!
Notes
Gluten-Free Flour
This recipe uses my favorite gluten-free flour blend - Cup4Cup. It's my absolute favorite for baking anything and everything. Since the amounts of ingredients in baking can be tricky, especially for gluten-free baking, I suggest you if you are using a different GF flour blend, refer to their website for making pancakes. Then, add in the lemon zest, lemon juice, ricotta, and vanilla.

Milk
For a super-rich pancake, use buttermilk instead of regular milk. To reduce the dairy, substitute oat milk or coconut milk. I believe almond milk would be too thin for this recipe, but oat milk has the thickness you need.

Lemon Zest
Start with 1 tablespoon of lemon zest, and add another if you really like the lemon flavor. I chose to use only 1 tablespoon for an adequate taste of lemon - but nothing overpowering. But if you like more, add it!
Nutrition Information
Yield

3
Serving Size

1
Amount Per Serving
Calories

405
Total Fat

20g
Saturated Fat

15g
Trans Fat

0g
Unsaturated Fat

4g
Cholesterol

81mg
Sodium

695mg
Carbohydrates

40g
Fiber

2g
Sugar

1g
Protein

14g
The nutrition information on each recipe card is provided as a courtesy and for your convenience. The data is calculated by Nutritionix. You are encouraged to make your own calculations based on your ingredients and preferred nutritional facts calculator. While I try to make sure they are accurate, I cannot guarantee the accuracy of these calculations.
Have you ever tried lemon ricotta pancakes?
What are your favorite pancake toppings?
Leave a comment below and tell me what type of gluten-free pancakes I should bake next!