Use up that summer squash in this gluten-free chocolate zucchini bread! Because everything tastes better with chocolate, right?
This post may contain affiliate links. Please see my disclosure page for more information. Thanks!
About This Gluten-Free Chocolate Zucchini Bread
This gluten-free chocolate zucchini bread is a variation of my gluten-free zucchini muffins recipe, which is already on my website. Our CSA had a lot of zucchini this year, and when you've got a ton of zucchini to use up and you're craving chocolate, this is the recipe to make!
The result is a soft gluten-free quickbread that can be eaten for breakfast, a snack, or even dessert. It has all the moistness from the zucchini, the sweetness from both brown and white sugar, the coziness from the cinnamon and nutmeg, and the chocolate comes from both chocolate chips and cocoa powder. Zucchini is super versatile for baking and for cooking, and it works so well in this quickbread.
Ingredients You Will Need For Zucchini Bread
-Gluten-Free Flour: See below for my recommendations and tips for baking with gluten-free flour blends.

-Brown Sugar & White Sugar: For sweetness.

-Cocoa Powder: This will give the bread it's deep chocolate color and also add to the chocolate flavor. I use Hershey's Unsweetened Cocoa Powder, which is gluten-free.

-Spices: Cinnamon & Nutmeg: For that cozy smell and nutty taste.

-Baking Powder & Baking Soda: To help the bread rise. We use both because without gluten, the bread needs extra assistance!

-Salt: For balance. For baking recipes, I use regular salt, not kosher salt.

-Coconut Oil or Vegetable Oil: This will be our liquid and fat content in the bread.

-Eggs: Eggs will help as a binder and to thicken the batter.
-Vanilla: Extra little touch of sweetness!

-Zucchini: Zucchini are the main stars of this recipe. You'll need about 2 small to medium zucchini.

-Chocolate Chips: Here's where we get even more chocolatey goodness in every bite: chocolate chips. You can use whatever chocolate chips you prefer. I use Nestle (Gluten-free) or Enjoy Life (Allergen Free) in most of my recipes.
How To Make Gluten-Free Zucchini Bread
This quick bread is easy to put together. Like my zucchini muffin recipe, you combine the dry ingredients and wet ingredients separately, then combine the two together. Finally, you'll add in the zucchini and chocolate chips, then let the batter rest before pouring into your loaf pan and then baking!
Gluten-Free Flour Blend For Zucchini Bread
Based on my own experience using Bob's Red Mill, Cup4Cup, and also King Arthur's Measure for Measure flour, all 3 would work well in this recipe. Just be aware, Bob's Red Mill and King Arthur would be the only two flours that will make the bread dairy-free, as Cup4Cup contains milk powder.
Can I Make This Recipe With Almond or Coconut Flour?
I do not recommend substituting a single gluten-free flour, like almond flour or coconut flour, for my recipes. My recipes use a gluten-free flour blend, a mixture of different gluten-free grains, starches, and thickeners, to substitute for all purpose flour. Using just one of them, like almond or coconut, will not give you the same results, and will probably lead to a lot of frustration in the kitchen. For most of my recipes, you'll need a blend, like Cup4Cup, King Arthur Measure For Measure, Bob's Red Mill, or GF Jules, to name a few.
For more my top tips on gluten-free baking with success, check out this post!
Can I Make This Dairy-Free?
Yes, of course! Just make sure to use a gluten and dairy free flour blend, like Bob's Red Mill 1:1 Baking Flour, or King Arthur Measure For Measure. My go-to blend for baking is Cup4Cup Multipurpose Flour, but it does contain milk powder. You'll also want to use gluten and dairy-free chocolate chips, like Enjoy Life, which are allergen-free.
Tips For Success With Gluten-Free Zucchini Bread
Let the batter rest. A tip I learned from America's Test Kitchen for quick breads/muffins is to allow the prepared batter to sit for 15-20 minutes at room temperature. Don't go beyond that time frame though. This helps prevent grittiness in your final product!
Squeeze out the Zucchini. Zucchini packs a lot of moisture. And while we love that to keep our gluten-free baked goods from tasting overly dry, we don't want too much moisture or the bread will become soggy and not rise. Make sure that after grating the zucchini, you squeeze it out in a paper towel or kitchen towel of the excess moisture before adding to your batter.
How To Store Zucchini Bread
This gluten-free zucchini bread should be stored in an airtight container at room temperature and will last for 3-4 days. It can also be frozen for up to 3 months and defrosted at a later date.
How to Serve Zucchini Bread
Zucchini bread doesn't take much to make it taste good- with all the chocolate in there, it's hard to beat! Personally, I like serving it warm, with a dollop of butter on top for extra decadence. You can enjoy this bread for breakfast with your morning tea or coffee, as a snack if you're hungry in the afternoon, or for dessert with a glass of milk.
However you choose to eat this bread, I hope you enjoy it!
More Gluten-Free Baking Recipes
Feel like an easy quickbread? This banana bread with walnuts hits the spot.
Looking for a scones recipe? Bake a savory version with bacon, cheddar, and chives.
Want to practice your pie making skills? Check out this gluten-free peach pie with lattice design.
Ready to take your baking skills to the next level? Try these delightful, buttery, and flaky gluten-free croissants.
Discover all the gluten-free baking recipes on the blog right here.
Here's the recipe for gluten-free chocolate zucchini bread!
If you love this recipe, please leave a comment! Thank you so much!
Gluten-Free Chocolate Zucchini Bread Recipe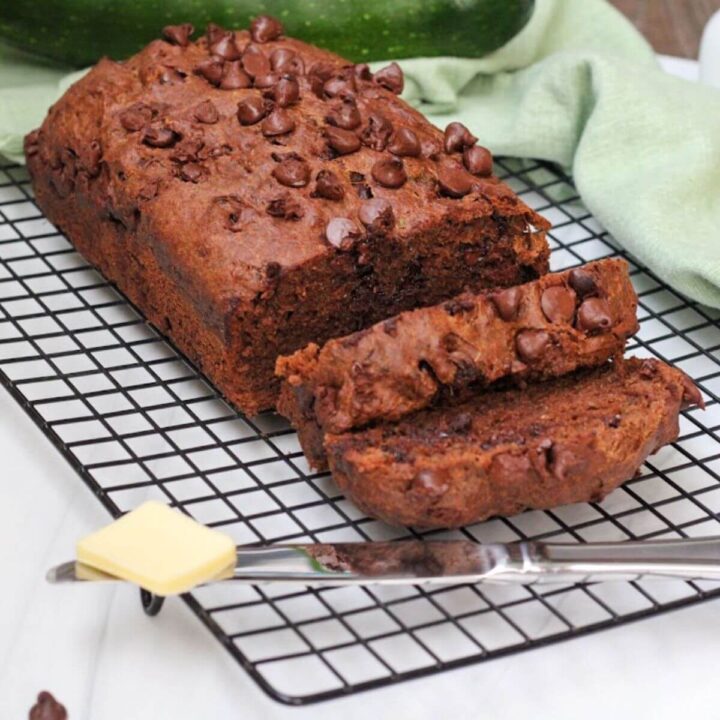 Gluten-Free Chocolate Zucchini Bread
Additional Time:
15 minutes
Total Time:
1 hour
35 minutes
A great way to use up summer zucchini and have something chocolatey!
Ingredients
1 ¾ cups gluten-free flour (Bob's Red Mill 1:1 Baking Flour, King Arthur Measure For Measure, Cup4Cup all work well)
¼ cup cocoa powder
¼ cup brown sugar, packed
¼ cup granulated sugar
½ teaspoon baking powder
½ teaspoon baking soda
½ teaspoon salt
1 ½ teaspoon cinnamon
½ teaspoon nutmeg
2 eggs
¾ cup coconut oil, melted and slightly cooled, or use vegetable oil
1 teaspoon vanilla
1 ½ cups finely grated zucchini (about 2 small zucchini), squeezed of excess liquid
½ cup of chocolate chips (plus more on top for sprinkling)
Instructions
Preheat oven to 350 degrees Fahrenheit, Grease a loaf pan with coconut oil or oil of choice, or use parchment paper. Using a box grater, grate the zucchini using the smallest sized holes. Then place the zucchini into a towel or paper towel to squeeze out the excess moisture. Set aside
In a medium-sized bowl, combine the dry ingredients (Gluten-free flour, cocoa powder, sugars, baking powder, baking soda, salt, cinnamon, nutmeg) with a whisk. Set aside.
In a separate bowl, whisk the eggs, and add the melted and cooled coconut oil or vegetable oil. Add the vanilla and whisk to combine.
Pour the liquid ingredients (eggs, coconut oil, vanilla) to the dry ingredients, and using a large spoon, stir until combined. Lastly, stir in the grated zucchini and chocolate chips. Let the batter sit for about 15 minutes at room temperature.
Pour into the greased loaf pan. Bake for 50-60 minutes and allow to cool for 10-15 minutes in the pan before removing to a wire rack to cool completely. Serve it by itself plain or with a dab of softened butter. Yum!
Notes
Dairy-Free: This bread can be easily made dairy-free provided you use a gluten and dairy free flour blend, such as Bob's Red Mill 1:1 Baking Flour or King Arthur Measure For Measure.
Storage: Bread should be stored in an airtight container at room temperature and will last for 3-4 days. It can also be frozen and defrosted at a later date. Enjoy!


Nutrition Information
Yield

10
Serving Size

1
Amount Per Serving
Calories

346
Total Fat

22g
Saturated Fat

16g
Trans Fat

0g
Unsaturated Fat

4g
Cholesterol

37mg
Sodium

211mg
Carbohydrates

34g
Fiber

2g
Sugar

15g
Protein

5g
The nutrition information on each recipe card is provided as a courtesy and for your convenience. The data is calculated by Nutritionix. You are encouraged to make your own calculations based on your ingredients and preferred nutritional facts calculator. While I try to make sure they are accurate, I cannot guarantee the accuracy of these calculations.
Do you like zucchini?
What's your favorite way to cook or bake with it?
Tell me in the comments below!