Wondering which are the best gluten-free mac and cheese brands? Look no further - I'm breaking them down in this blog post so you have an idea of which ones are worth your money. Because gluten-free food ain't cheap!
This post may contain affiliate links. Please see my disclosure page for more information. Thanks!
About This Macaroni and Cheese Blog Post
There's something about boxed macaroni and cheese that screams simplicity, comfort food, and childhood. At least, it does for me.
However, when I was diagnosed with celiac disease back in 2009, for a while I thought that would no longer be an option. At the time, the only gluten-free boxed macaroni and cheese available was from Trader Joe's. It was white rice pasta with a cheese sauce and while the texture wasn't my favorite, I ate it anyway because it was mac and cheese!
Thankfully today, there are SO many delicious gluten-free macaroni and cheese options available. And while I'm all for making mac and cheese from scratch for super decadent results (See this recipe for homemade gluten-free mac & cheese with breadcrumbs here!) sometimes you just want something simple, easy, and tasty. And that's where having a box or two of one of these babies really comes in handy!
Boxed mac and cheese makes a great dinner and you can throw in your favorite veggies or other mix-ins that you prefer. In this blog post, I'm breaking down some of the most popular gluten-free boxed macaroni and cheese available today and which ones I think are definitely worth buying!
So grab your butter, milk, and your taste buds. Let's break down the best gluten-free boxed macaroni and cheese!
Please note, these are my opinions, and you may not agree with them! That's okay, and the nature of living a gluten-free life. We all have our preferred tastes, textures, and choices. Having lived with celiac disease for over 14 years, I've seen the gluten-free products go from terrible to pretty dang good, so I hope you know my thoughts come from many years of eating gluten-free, and suffering through disgusting packaged foods. Today, we are lucky to have as many options as we do!
Where To Buy Boxed Macaroni and Cheese
Most boxed macaroni and cheese is available at supermarkets around the United States. Whether it's Kroger, Publix, Stop & Shop, or even Market Basket like we have here in New England, mac and cheese is fairly easy to come by. Plus, specialty stores like Whole Foods and Aldi also carry gluten-free macaroni and cheese mixes too. If you prefer to buy in bulk, you can also get a big pack of these at stores like Costco and BJ's, or just buy them in large quantities from Amazon.
Typically they come in a 6-ounce box with the powdered cheese packet inside. Occasionally, the mixes will be sauce based, as I'll explain below.
Tips For Making Gluten-Free Macaroni and Cheese
STIR THE PASTA! Often, macaroni and cheese is made with rice pasta, and rice pasta, especially white rice pasta, has a tendency to clump together. Keep your water at a rolling boil, add salt for flavor, and stir often to prevent pasta shapes from sticking together.
Add butter for richness. Butter makes everything better. Plus, if you feel like it, you can add in additional spices for flavor. I like to do salt, pepper, and a little nutmeg. Occasionally I'll throw in garlic and onion powder too.
Check cooking time. The cooking time for one boxed macaroni and cheese might not be the same as another. Depending on the grain used to make the pasta, the cooking times can vary. Always double check the instructions!
Best Gluten-Free Macaroni and Cheese
Without further ado, these are my top contenders for the best macaroni and cheese that is gluten-free! Please note, these are just my favorites so if you feel differently, that is okay. We each have our own opinions.
#1 Favorite: Annie's
Annie's is my go to, all the time. Hands down! Because they have so many varieties of Annie's, like their classic rice pasta & cheddar, or the shells & white cheddar, or the cheese sauce version, AND they have minis that are perfect for traveling. Annie's even makes a vegan & gluten-free mac and cheese version AND a red lentil vegan & gluten-free version. But since I am not vegan or dairy-free, this isn't what I usually buy.
Annie's gluten-free macaroni and cheese is the closest thing I remember to boxed mac and cheese as a kid, and it's what I buy when I want a simple, nostalgic dinner. It's so good I could eat it right out of the pot. Sometimes I do.
Annie's macaroni and cheese is labeled gluten-free so it tests to less than 20 ppm of gluten per the FDA standards. The macaroni cooks in about 10 minutes making it super quick for lunch, dinner, or a snack. Personally, I love the classic rice pasta & cheddar version. And as long as you follow the tips I mentioned above about cooking rice pasta (especially white rice pasta!) and stir often, this will be a knockout! I always add butter for additional creaminess and it works well with Annie's. Even the cheese sauce version is also super rich and creamy too!
Some things I love to add to Annie's mac and cheese are some additional shredded cheddar, spices, or even hot dogs for the full childhood throwback. My neighbor who babysat me as a kid used to make that. She passed of breast cancer when I was 12, and every time I eat mac and cheese & hot dogs, I think of her fondly.
Annie's is #1 for gluten-free boxed mac and cheese in my book! I've never been disappointed by Annie's product. They are reasonable priced in most grocery stores, and are often on sale 2 for $4. You can find Annie's at most grocery stores and supermarkets, or buy them in bulk on Amazon below. Plus, they sell this travel-sized version which is perfect for Airbnbs, hotel rooms, or taking trips!
Check out the Annie's store on Amazon to discover more gluten-free macaroni and cheese.https://amzn.to/4995YXh
Jovial: A Solid Second Place
If you haven't gotten your hands on this Jovial gluten-free macaroni and cheese, it's next level. Since they only have one cheese sauce version (the other is a vegan version, again, not something I eat), I'm putting them at a solid second place. But holy moly, I only recently was able to find this product at a local Whole Foods and my mind was BLOWN. It was some of the best white cheddar macaroni and cheese I've ever had, and only had one small drawback!
Jovial's gluten-free macaroni and cheese is a NEW product as of 2023 and it is also certified gluten-free by the GFCO. Unfortunately, due to the new nature of this product, I've found it extremely difficult to locate in supermarkets, even those that normally sell Jovial pastas. I had to go to Whole Foods for this one, but was again, glad I did.
Now the only drawback I noticed about this particular macaroni and cheese compared to Annie's was some cheese clumping when it came time to mix the cheese packet in with the butter & milk. And that there's only one flavor besides their vegan one (which since I am not vegan, I don't buy). While this can result in just some extra packs of cheesy flavor in certain bites of pasta, I prefer for everything to be cohesive and smooth. That's just my personal preference. But the cheese flavor was phenomenal and the texture of brown rice pasta from Jovial is fabulous, as always. I think the brown rice pasta here really makes it next level!
Jovial's pastas tend to be a bit more pricey, especially if you are buying them at Whole Foods. Look for sales and coupons, and stock up when you can!
Honorable Mention: Aldi
I gotta say, I was really impressed with the certified gluten-free mac and cheese from Aldi! The only reason I have it not at the top of my list is that it requires me to go to a special store (Aldi) to buy it, which is not as convenient for me as going to my regular grocery store and seeing Annie's on the shelf. However, this gluten-free mac and cheese is really good, has excellent texture, cheese sauce, and is very well-priced. It's probably the cheapest gluten-free macaroni and cheese option that still tastes great!
If you don't shop at Aldi, but have one nearby, they are definitely worth checking out. Our area just got an Aldi in January of this year, and I did not expect how much I would love it! They have their own gluten-free line or "Live G-Free" line as seen in the macaroni and cheese box above, where their products are certified gluten-free. And you really can't beat their prices - which are usually cheaper than most grocery stores around.
I've written a full blog post on some of my favorite products from Aldi (this mac and cheese is on there!) which you can read right here.
Not a Fan: Kraft
Ugh, I was so excited and hyped for when this product came out, especially since it's KRAFT! The original blue box we all loved as kids and I grew up on. However, I was not impressed with the taste or texture, and have never bought it again since, which is such a bummer for quite a few reasons.
First off, this macaroni and cheese has a gluten-free certification, which is great! But something about it just tasted...off, and I couldn't place what it was. The texture was okay, but I prefer Annie's or Jovial to the texture of Kraft. And then the cheese powder...it just didn't taste like I was hoping. Maybe because I had an expectation in my mind of what it would taste like, and when it didn't come close, I felt super disappointed? I'm not sure, but I haven't bought Kraft again since.
However, this is just my opinion and I know many people were happy with the Kraft gluten-free mac and cheese - especially from reviews on Amazon! I've heard lots of wonderful reviews from people who say it tastes just like the original! While that's not my personal opinion, I of course want you to make your own opinion. If you'd like to try it out yourself, it comes in the blue box you remember, with the powder cheese packet, and a corn/brown rice noodle. Most Kraft's are reasonably priced too - similar to Annie's.
What do you think? Do you like Kraft Mac and cheese, and should I give it another shot? Let me know in the comments?
Weird Taste & Texture: Banza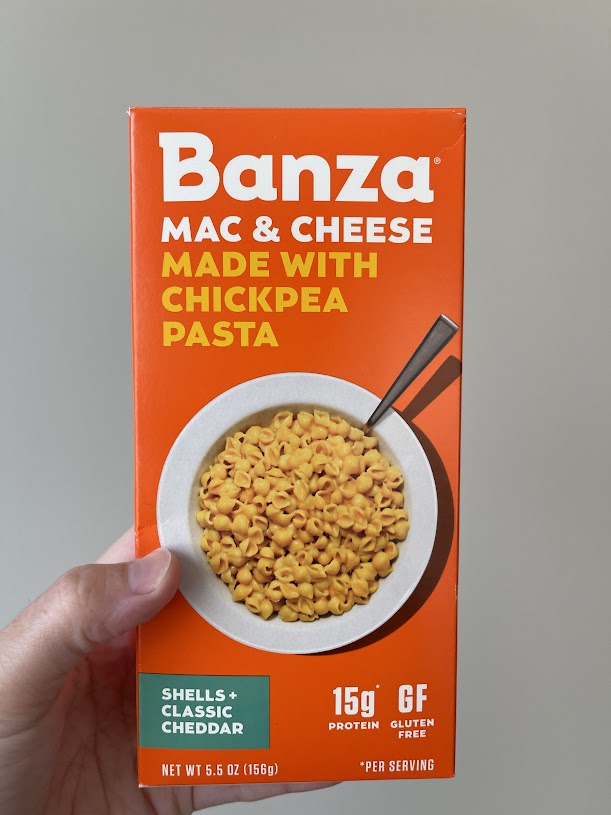 Okay friends, let's be honest about chickpea pasta. It's got a funky after taste and tends to disintegrate. I used to really like Banza pasta but after a while, I got sick of the taste and just couldn't do it anymore. If you're a fan of bean-based pasta, more power to you! But I just think there are a lot better options out there.
Recently, I realized I had never tried the Banza macaroni and cheese, and thought - maybe something's changed! Let me buy a box and try it out.
Nope. Every bite tasted like chickpea, and not macaroni and cheese. The sauce was super liquidy and didn't thicken up at all either. The texture was okay, but again, the pasta is so delicate it tends to break apart right before your eyes. The price is okay for Banza, but again, due to the poor texture and bean taste, I'll pass.
For these reasons, I don't recommend Banza and again, that's just my opinion.
Other Macaroni and Cheese Brands:
Store Brand Versions: You may be able to find store-brand gluten-free versions of macaroni and cheese. I've seen them from Stop and Shop and Market Basket here in the Boston area and they have been decent! Of course, always read labels and double check it's something you are comfortable with. If you don't see it on the shelf, ask your grocery store clerk!
Thrive Market: I used to have a subscription to Thrive Market a few years ago. But after not using it monthly, I canceled it and no longer use it. I've heard they make a gluten-free boxed macaroni and cheese but haven't really heard positive or negative reviews. If you've tried it, let me know in the comments!
Daiya: Gluten and Dairy Free: I know this brand is a popular choice for those who eat gluten and dairy free, but fortunately for me, I am only lactose intolerant due to IBS-D. As long as I take Lactaid, I am okay. So I never buy a vegan or dairy-free macaroni and cheese. I've heard mixed reviews on the macaroni and cheese. If you've tried it, let me know in the comments!
Trader Joe's: Trader Joe's sadly no longer make their boxed gluten-free macaroni and cheese. However, they have shifted to offering a frozen gluten-free macaroni and cheese, of which I've heard mixed reviews. If you've tried it, let me know your thoughts in the comments!
Final Thoughts: Gluten-Free Macaroni and Cheese
Let me know what you think of my picks for the best gluten-free macaroni and cheese! Do you agree or disagree? I love Annie's and truly think their rice & cheddar version is the best out there.
Are there some others I should try that I might have missed?
Let me know in the comments!
Looking for more gluten-free product reviews?
Find out which gluten-free sandwich bread is worth buying, and what I buy every week at the store!
Discover the most popular gluten-free pastas on the shelf, especially if you want to make homemade macaroni and cheese.
Curious about what other gluten-free items are available at Aldi besides macaroni and cheese? Check out this list of my top recommendations.
Wondering how to make gluten-free pizza from scratch? This cookbook changed the game for me back in 2020, and I still think their homemade pizza is the best!