Aldi gluten-free products are plentiful! And today I'm sharing why Aldi is a great option for grocery shopping if you have celiac disease.
This post may contain affiliate links. Please see my disclosure page for more information. Thank you!
About This Blog Post On Aldi
If you shop at Aldi, this post is for you. And if you don't shop at Aldi, this post is for you too!
Recently my neighborhood got an Aldi, and I quickly realized why so many people find this store to be a great choice for grocery shopping with celiac disease. With their low prices, gluten-free labels, and certified gluten-free line, and plenty of yummy options here, it's now one of my go-to supermarkets.
In this blog post I'm sharing more about Aldi supermarkets, their gluten-free line, and which products should definitely be on your grocery list!
Gluten-Free Products at Aldi:
What is Aldi? Is it like Trader Joe's?
Aldi is a discount supermarket chain with origins in Germany. The business was founded by two brothers in Germany in 1946, and eventually separated into two separate groups: Aldi Nord, and Aldi Sud (North and South). The Aldi business has since spread to countries all over Europe.
And here's the crazy part: Trader Joe's was bought by Aldi Nord in 1979, so the companies are under the same Aldi name! The one is North (TJ's) and the other, what we know as Aldi here in the USA, is Aldi South.
Aldi is also in many European countries, and there's usually a good gluten-free selection at them as well. I've found gluten-free products in Aldis of Spain and Italy, but not the same ones we have here in the United States.
Does Aldi Have Gluten-Free Products?
Yes, they do! Aldi is a regular grocery store, so you'll find your usual produce, milk, eggs, meats, and packaged foods. You'll also find household items, cleaning supplies, decor, and candy. However, since it's similar to a Trader Joe's, most of these items will be Aldi brand, and you won't find as many varieties as you would in a larger supermarket chain like Stop and Shop, Kroger, or Publix.
Aldi is also really good about labeling their products gluten-free. They also have a specific dedicated line of gluten-free products known as their Live G-Free Line!
Aldi's Live G-Free Line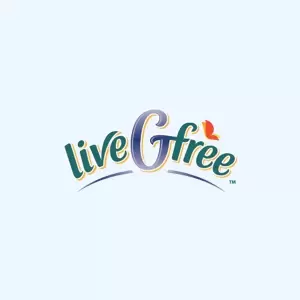 Our Aldi here in the United States has their "Aldi G Free" line. You will see this on the packaging for any Aldi brand product that is certified gluten-free. This GF certification comes from the Gluten-Free Certification Organization. You may recognize their logo also on these Aldi G-Free products, as it may look like either of these symbols:
This is the old logo, which still appears on gluten-free packaged foods:
And this is the updated logo, which you will see more commonly:
According to the Aldi website, it states they offer 17 gluten-free products in their GFree Line, from breads, to pastas, crackers, baking mixes, cookies, donuts, and more. And according to many celiacs, Aldi often puts out special gluten-free products just in the month of May in honor of Celiac Awareness Month.
Why Else Should You Shop At Aldi
Not only do you have a line of gluten-free certified products, plus great gluten-free labels, and a small grocery store to shop in, you also are getting Aldi's biggest draw: their prices. If you do a quick Google search for cheapest grocery store, you'll find Aldi comes up again and again.
Aldi's slogan is "Quality Food, Everyday Low Prices". And one of the main reasons Aldi can afford to keep their prices so low is because most of their products are private label (around 90%). And by avoiding using big brand names, they can keep their prices down. Plus, they source a lot of local farms for their meat, and keep their stores simple. With a small store, there's less need for more workers, so they can keep their costs low that way too.
Plus, for Celiac Awareness Month, Aldi usually launches new products, or seasonal products only available for the month of May. In the past, these have included a gluten-free cheesecake platter! So you can bet I'll be at my local Aldi once May comes around to see what they've got for us!
Tips For Shopping At Aldi
Now, shopping at Aldi is teeny bit different than going to your usual grocery store. So here are a few tips I've learned through trial and error.
Pack your grocery bags. Aldi charges for bags, so it's best to bring your own reusable bags from home. Also, cashiers will not bag your items for you but instead place them in your cart. So you'll want to save yourself some time after paying to bag up your items.
Bring a quarter for the cart. Aldi uses a rental system for their shopping carts, where you insert a quarter to use the cart, and then when you put the cart back, you get your quarter back. This is how shopping carts were at the grocery store I went to as a child, so this was not something new to me. However, since I usually don't carry cash, I make a point to leave a quarter in my car's cupholder so I always have one.
Go during off times if it's too crowded. Due to the nature of Aldi's stores being smaller and also with their low prices, it tends to get pretty busy, especially on the weekends & around dinner time. Go during off hours if you can!
Don't expect to find TONS of brand names. Because Aldi uses predominantly private labeling for most of their products, if you're looking for a specific brand or item, you're more likely to find it at your regular grocery store. There are some, but not as many as your bigger supermarkets.
Aldi Gluten-Free Products: My Favorites
Okay, let's talk about what gluten-free products you can find at Aldi. There's definitely a lot of yummy options here, and of course, these are just my thoughts. If you like a product that I don't, it's all good! We're allowed to disagree.
You can also view the weekly flyers for what products are available at your local Aldi on their website here.
Baking Mixes
Now, I'm a big cook and baker, and not someone that usually buys pre-made mixes unless it's for brownies. But I have to say, I've been very impressed with the Aldi mixes! They are easy to prepare, and the results are quite good. My favorite is the Cheddar Cheese Biscuit mix. They taste SUPER close to the Red Lobster version, and Dylan and I couldn't stop gobbling them up! So definitely one of my top recommendations if you don't like to cook or bake from scratch.
Cereals
GIMME THE CEREAL! Without a doubt, one of the foods I missed the most during the first few years of my celiac diagnosis was cereal. I was a massive cereal person my whole life - always having it for breakfast, sometimes for a snack, or even a late night meal. And the cereal options haven't been great for celiacs since then. Cheerios made me sick, and I got bored of Rice Chex really quickly. But seeing Rice Krispies WITHOUT that pesky barley malt made me almost leap for joy! And I have been continuously buying this cereal and enjoying it with some sliced bananas ever since.
Aldi Gluten-Free Products: Other To Try
Pastas
Aldi has gluten-free pastas available - a combination of brown rice and quinoa. This pasta reminds me a lot of the Trader Joe's brown rice pasta. A great option and again, cheaper than what Market Basket charges for their gluten-free pastas!
Frozen General Tso's Chicken
Some people RAVE about this frozen item at Aldi, but I didn't care for it very much. The chicken pieces were great, but the sauce was too overpowering for me. But I think if you like it, it's an easy lunch or dinner option, would go perfectly with rice or vegetables, or in a stir-fry.
Wraps/Bread
The wraps and breads at Aldi are also really high up on the list for being well-liked by the celiac community. I'm a big fan of Canyon Bakehouse gluten-free bread and use it in my recipes (like this French Toast Casserole), and I also really like the Mission Gluten-Free Tortillas (which I use for these crunchwrap supremes). As I continue shopping at Aldi, I'm going to purchase them and will post an update with my thoughts.
Not sure which gluten-free sandwich bread is worth buying? Check out this comparison blog post here.
Snack Bites
There are LOTS of snacks & sweets at Aldi, many of which are labeled with the certified GF logo, like theses PB&J bites. I didn't buy them the last time I was at Aldi, but they are on my list. I love anything peanut butter and jelly flavored!
Crackers
These are pretty decent! Nothing truly compares to a Cheez-It, but these have good crunch, proper cheddar flavor, and the cauliflower isn't too overpowering. Not my go-to cracker, but I'd eat them again.
Macaroni and Cheese
This macaroni and cheese was VERY good. And what was different about it was that it came with a cheese sauce packet, not just the powdered cheese. This made a big difference in creaminess and texture for me. I loved it! Dylan and I even did a comparison to the Annie's Mac and Cheese, and they were pretty similar in taste and texture. I'd definitely buy this again!
Taco Shells
I bought these for taco night and found them to be just as crispy and tasty as the Old El Paso taco shells. Plus, they were cheaper than what the taco shells cost at Market Basket, my local grocery store (which usually has the best prices).
There are MORE gluten-free products than this available at Aldi, and these are just some of them. As I continue shopping at Aldi and trying them out, I'll keep adding to this list!
Brand Name Products
The other wild thing about Aldi is that while they have a lot of their private labeled products, you can also find some brand name items too, like the gluten-free oreos! I LOVE these, and Dylan does too. I've used them to make gluten and dairy free oreo cheesecake brownies, and really enjoy having them as a late night snack with a glass of Lactaid milk. Yum!
Again, if you want to see what products are available at your local Aldi this week, click here to view the grocery flyer for your area.
Celiac Awareness Month 2023 Products
Usually in May, Aldi has a big push of their Live G Free line, but they started early this year! Here's what I was able to find at my local Aldi on 4/21/23. This was in the freezer chest area. I've heard from other people in the celiac community that it's best to go early in the day, or when you hear these products are in stock. Unfortunately it can be a toss up sometimes as to whether or not they have them!
English Muffins: They had two kinds of English muffins: plain and cinnamon raisin. I bought the plain ones.
Egg Rolls: They also had two kinds of egg rolls: chicken and vegetable. I'm not a huge egg roll fan, and usually prefer to buy the Feel Good Foods ones, so I skipped these. They look yummy though!
Ravioli: AHH! I was so excited to see this! Two kinds of frozen ravioli: cheese & spinach/cheese. The bags were just $3.99, which is HALF the price of a bag of other name brand gluten-free ravioli I usually buy at my supermarket.
Donuts: Chocolate frosted donuts just take me back to my childhood! I grew up enjoying Entemann's donuts, especially when I was around my Grandma. This immediately made me think of her and I had to buy a pack in her memory!
Final Thoughts on Gluten-Free Aldi Products
I'm really happy my neighborhood got an Aldi. And I can't wait to continue checking out more Aldi gluten-free products and sharing them with you here in this post!
Now tell me...
Do you shop at Aldi?
What's your favorite gluten-free product?
Let me know in the comments!
Looking for more gluten-free resources?
Check out this list of celiac-friendly restaurants like Five Guys & Jersey Mikes.
Compare notes on the best gluten-free products like sandwich bread and pasta.
Do you struggle with celiac disease AND IBS? Here's how I manage both.
View all of the gluten-free resource posts on the blog here.