New York is one of the best destinations for incredible gluten-free food. And this gluten-free guide to New York City will show you some of the restaurants, bakeries, & cafes in NYC you should definitely try!
This post may contain affiliate links. Please see my disclosure page for more information. This post was last updated in May of 2023.
About This Gluten-Free Guide to NYC
This guide will share the gluten-free restaurants in New York City that should definitely be on your NYC bucket list if you have celiac disease or follow a gluten-free diet. The restaurants here will make you feel normal, have you drooling or crying over how delicious the food tastes! NYC is a dreamy destination for celiacs, and I firmly believe it's one of the absolute best places for gluten-free food.
Am I biased because I'm from New York? Probably. But I think it's justified.
Heads up! This guide is not a complete, comprehensive guide of all the gluten-free restaurants in New York City. I'm sharing the places that I love visiting and that I think you will too. If you're looking to expand beyond what's listed here (and I list quite a few places), at the bottom of this guide you'll find links to other gluten-free & celiac bloggers that live in NYC.
I also come back to the city multiple times a year so I keep adding to this guide and updating it with new restaurants. Be sure to check back for updates, and take a look at the Google map below to see where these places are located in Manhattan!
Also be sure to check out my YouTube Video which highlights some of my favorite 100% gluten-free spots! If you like this video, subscribe for more!
This guide only contains gluten-free places in Manhattan and not the other boroughs.
NOTE & DISCLAIMER
Everyone's experience with celiac disease is different. Dedicated gluten-free facilities are usually the safest places to go, and you'll see those listed here. For non-dedicated facilities and restaurants, I only recommend places I have visited or where clear protocols are in place for celiac diners.
My experience is not your experience. This is a guide – a list of suggestions to point you in the right direction. Restaurants can change. Use your own judgment and only eat where you feel safe doing so.
Gluten-Free New York City Restaurant Guide
I've created this NYC map for you to help you find the restaurants, bakeries, and cafes listed below!
A Little Back Story About My Love For NYC...
As a native New Yorker, the city holds a special place in my heart.
I grew up on Long Island and come from a family of FDNY firefighters. My Dad and uncle were both first responders after 9/11.
A year later, my parents and I moved to Florida, but I never lost my loyalty and love for New York. It reminds me of my childhood, makes me proud to be from New York, and now with celiac disease, I love it even more!
I loved New York so much that after college, I scored a summer internship in the city for two months. I got paid $50 a day to do data entry for a non-profit, but I didn't care. It was NYC, and I was back in the place that felt like home!
The only bummer at the time was that I was still newly diagnosed with celiac disease (less than 2 years) and the gluten-free scene was minimal.
There was an Italian place called Risoterria in the West Village that was 100% gluten-free, and they even brought gluten-free breadsticks to your table. Unfortunately, they closed in 2016, and I didn't really have chance to discover the gluten-free & celiac safe food scene until the last few years.
And I am SO happy that my beloved New York is now even more special to me because it is seriously HEAVEN for celiacs and gluten-free folks! New York City has lots of delicious gluten-free food. You will be so excited to have options because there will be many, and it will be so empowering eating at these restaurants. If you've been feeling down about celiac disease and need a boost - New York City will bring some serotonin for sure.
How To Find Gluten-Free Food in New York City
While this guide will give you my personal recommendations to point you in the right direction for where to eat in Manhattan, you might need to explore other options.
I get it. New York City is MASSIVE. I've noticed a large concentration of gluten-free places are downtown in the West Village near Washington Square Park, but you can definitely find gluten-free food in Midtown, the Upper West Side, Upper East Side, and in lower Manhattan too.
But maybe you're planning to visit the other boroughs... or you want to venture out to more than what is listed here in this gluten-free New York City guide. Or maybe, you're looking for a hotel and place to stay that offers a gluten-free breakfast option.
That's why I highly recommend doing your research on an app/website like FindMeGlutenFree.
FindMeGlutenFree can help you get an idea what other fabulous gluten-free restaurants & safe food choices are in New York. And with a Premium Subscription, you can filter by most celiac friendly, see what's open now (so you don't drive all the way to a bakery for breakfast and discover it's closed), and what's gluten-free in the direction you're headed. It's like Google Maps, but a gluten-free version. And no Ads!
I've been a FMGF user for over a decade, but I think their Premium version is much more effective. Take $5 off a Premium Subscription with the code THENOMADICFITZ to make trip to NYC a big success!
Dining Out In New York City With Celiac Disease
If you ask anyone with celiac disease, they'll usually agree that New York City is at the top of the list for celiac safe & gluten-free food. And while many of the places listed in this guide are 100% gluten-free, some of them are not.
As I recommend to all of my clients for dining out with celiac, you want to make sure to clarify what gluten-free means when you order.
Based on my 14 years with celiac disease and my multiple restaurant allergen trainings, I suggest using the words severe gluten allergy when dining out, and then clarifying celiac disease. Also, be sure to tell your server about how you need your food prepared to prevent cross-contact.
Now, let's get to the food and the places you GOTTA check out in NYC!
100% Gluten-Free Bakeries in New York City
Modern Bread & Bagel
The best damn gluten-free bagels of all time. I know a good New York bagel, and this 100% gluten-free bakery & deli knocks it out of the park! Crunchy outside, soft inside, perfect texture and so fluffy. They truly are the best gluten-free bagels I've ever had (and I've made them from scratch myself.) Upon visiting for the first time in September of 2021, I was so wowed by the first everything bagels with cream cheese I had to go back inside for a second one. Now, every time I visit Manhattan, it's my first stop and #1 priority.
They have 2 locations in Manhattan. At their upper west side location, there is Thyme and Tonic, their sister restaurant: also 100% gluten-free and Kosher. It's a gastro-pub known for their plant-based foods and cocktails. Modern opened a second location on 14th street (Midtown) in the Summer of 2022. Both locations are similar with a few spots to sit down but they fill up quickly. This is a grab and go kind of place - perfect for getting breakfast, lunch, or brunch on your way to explore and sightsee, because you know everything is safe! All of their food is gluten-free and Kosher.
At Modern Bread and Bagel, you won't only find bagels, but salads, sandwiches, and baked goods. They have a variety of cream cheeses, including veggie and tofu based cream cheese, coffees, and even breads for sale too. Their baked goods include classics like a NY Black & White cookie, donuts, babka, and cupcakes. Personally, I always go for the bagels, and haven't been as impressed with their baked goods. Their bagels are their specialty!
And if you don't have any plans to visit New York City but you still are drooling over the thought of a bagel, you can also have them shipped right to your door! Shipping is expensive, but the bagels hold up well, freeze well, and still taste delicious right at home. My favorite bagels are the everything bagels or cinnamon raisin ones. You'll either end up drooling or crying eating them, in the best way!
For more information about Modern Bread & Bagel, visit their website or follow them on Instagram.
Posh Pop Bakeshop
The most insane dedicated gluten-free bakery ever. And by insane, I mean decadent, rich, blow your mind combinations. You'll walk in and have a lot of decision fatigue because everything will have your jaw on the floor. Soak it all in, my gluten-free friend! It's all safe to eat!
Posh Pop is a 100% gluten-free bakery located by Greenwich Village in lower Manhattan on Bleeker Street, not far from Washington Square Park. No matter what you get in here, you'll be set up for a sweet treat. The cakes are moist, have a light texture, and again, you'll probably want one of everything. Their brownies and cookies are amazing, and I have also tried their more savory items, like a soft pretzel, but was a bit disappointed to find it more cake-like. Their best items are their sweets. Remember to pace yourself and that they also ship!
Posh Pop also ship across the US so you can try their cakes, cookies, brownies, and more right at home! My friend Taylor of That's So Celiac had their gluten and dairy free brownies shipped my way for my birthday in 2022 (Thanks, Taylor!) and they were outrageous with a scoop of dairy-free vanilla ice cream. Posh Pop has clear labels on all of their items and many of them are gluten AND dairy-free.
For more information about Posh Pop, visit their website or follow them on Instagram.
NoGlu
Another fantastic bakery is NoGlu, a dedicated gluten-free bakery, located on the upper east side of Manhattan, just a 5 minute walk from Central Park. NoGlu has a sister bakery in Paris as well, which is beloved by many celiacs and gluten-free folks that visit France. They are known for their pastries but also offer breakfast and lunch options.
NoGlu recently went through a remodel and their new space is open, airy, and bright! There are pre-made gluten-free meals you can take to go, such as sandwiches and salads, plus an entire wall of gluten-free pastries to pick from, including croissants and pain au chocolat (just make sure to go early if you want them, as they sell out quick!).
Personally, I found the croissants and pain au chocolat here to be a bit dry, and I feel like I can say that because I've made gluten-free croissants from scratch that tasted better! (You can check out the recipe here). But I love the NoGlu fruit tarts. Even my best friend Kristen tried one of them (she does not have celiac disease) and said it was delicious! That's always a good sign when a non-celiac person says, "Hey, this is good."
For more information about NoGlu, visit their website or follow them on Instagram. I highly recommend grabbing something to go and bringing it over to Central Park to eat in the sunshine on a nice day. Perfection!
By the Way Bakery
By The Way Bakery is a 100% gluten and dairy-free bakery with 5 locations in the New York City area - 2 of them in Manhattan (upper west and east sides), one in Westchester, one in Brooklyn, and one in Connecticut. By The Way calls themselves an "old-fashioned" bakery, where everything is made by hand, from scratch. And not to mention, everything is gluten AND dairy-free!
They make cakes, bars, cookies, muffins, scones, cupcakes, breads - and their shop is adorably decorated and charming. I've had By The Way baked goods before but something about getting them fresh makes them even better! I've tried their cookies, bars, cream puffs, linzer cookies, and carrot cake - all scrumptious!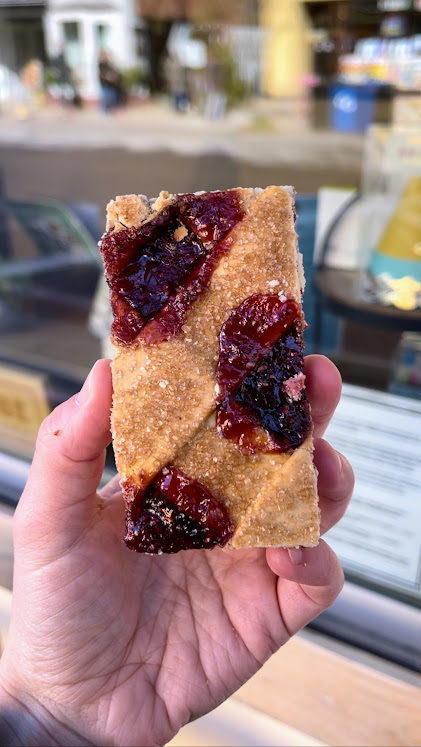 For more information about By The Way Bakery and their locations, visit their website or check their social media pages!
More Gluten-Free Bakeries In New York City
There are other gluten-free bakeries in New York City, including Erin McKenna's (gluten-free & vegan). I've tried her baked goods in Orlando, Florida, but haven't been to the NYC location so I don't have it listed here. Personally, I prefer just gluten-free bakeries that use eggs, butter, and other ingredients to add fluffiness to their baked goods. I'm less of a fan of gluten & vegan bakeries, but still appreciate them nonetheless!
100% Gluten-Free Restaurants in New York City
Senza Gluten by Jemiko
Senza Gluten's restaurants are a little confusing due to a change in ownership so click here to read the scoop!
Senza Gluten by Jemiko has 2 locations: a cafe & bakery (pictured above) in Greenwich Village on the lower west side, and a restaurant in Hell's Kitchen on 10th avenue. Both are 100% gluten-free. The chef, Jemiko L. Solo, prides himself on creating celiac-safe Italian dishes and baked goods in a 100% gluten-free environment!
They also ship their baked goods, including their breads, cakes, cookies, and muffins. Everything is scrumptious and they held up well during shipping. My favorite baked goods from them are the bombolini filled with pastry cream!
If you plan to visit the cafe & bakery, they have both indoor and outdoor tables available, plus delivery and takeout. They offer soups, salads, paninis, eggs, and other breakfast/brunch/lunch fare, along with their yummy baked goods. Again, all gluten-free! This is a small place, so reservations would be a goo diea. They are open every day 9:00 AM - 4:00 PM except Tuesdays, when they are closed. If you plan to visit the restaurant, they also have indoor and outdoor tables available, and are open for dinner only from 5:00 PM - 11:00 PM every day except Tuesdays.
For more information about Senza Gluten by Jemiko, including both locations and how to place an order for shipping baked goods, please visit their website or follow them on Instagram.
Senza Gluten
Senza Gluten is a 100% gluten-free restaurant on Sullivan Street in Greenwich Village, just a 5-10 minute walk from Posh Pop Bakeshop. They are a small restaurant with both indoor and outdoor dining, excellent service, and an entire gluten-free menu of dishes to choose from, including Italian favorites you normally can't safely enjoy gluten-free. Think chicken parmigiana, fried calamari, homemade pasta, and chocolate lava cakes!
The great part about a restaurant like this is that you have the chance to share dishes, something that isn't normally an option for when you have celiac disease due to cross-contact. When I brought my support group the Confident Celiac Community here during our first-ever retreat, they were thrilled to be able to look at the menu together, and decide what items to order and split/share with one another. Plates were passed around the table as everyone offered samples of their dish for others to try. It was a communal experience around food that we don't often have!
I will say that since the restaurants have split and I have tried both of them...I like the Senza Gluten by Jemiko food better. I found it had better taste and flavor than the dishes at Senza Gluten. I found the pasta dishes at Senza Gluten to be lacking in seasoning, which was a bummer! However, the dessert was a knock out - chocolate lava cake with raspberry sorbet? I'd eat 5 of them.
Senza Gluten is open only for dinner! They are open Monday-Friday from 4:00 PM - 11:00 PM, and on weekends from 2:00 PM - 11:00 PM. This is a sit-down restaurant where you'll spend time eating here. They also do takeout via GrubHub and UberEats for delivery/pickup.
For more information about Senza Gluten, please visit their website or follow them on social media here. Reservations are a must as they are very small and seating is limited. PLEASE NOTE they only take cash or American Express!
Tap NYC
TAP is a Brazilian restaurant/cafe. It's also 100% gluten-free and they have multiple locations around the city! This is a small place with minimal seating either indoor/outdoor, and definitely a grab and go option. Perfect on a hot day, for a snack, or for a quick meal!
This restaurant focuses on Brazilian specialties like tapioca, pão de queijo - Brazilian cheese bread (pictured above), and acai. A lot of Brazilian foods rely on naturally gluten-free ingredients, like tapioca/cassava flour, a main component of the cheese bread! They have smoothies, bowls, sandwiches, wraps, and more.
I definitely enjoyed the cheese bread and their acai bowl (PowerBowl) is a good size - not too big, with fresh berries, granola, and peanut butter mixed in.
For more information about TAP, visit their website or follow them on Instagram. Please be sure to check the map shared at the top of this blog post to see their locations!
Little Beet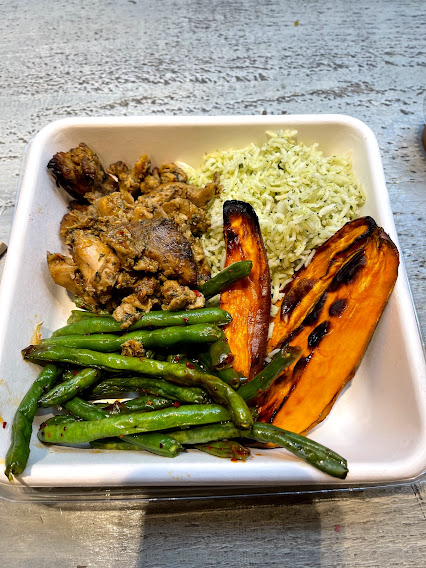 Serving up hearty bowls and focusing on plant-based foods, The Little Beet is a great option for a healthy gluten-free meal. I got a rice bowl on one of my rainy days here to balance out all of the sweets and treats I was eating - I was craving vegetables at that point!
IMPORTANT: The Little Beet is a chain restaurant with multiple locations in the city. This chain restaurant/fast casual option is 100% gluten-free. Their sit-down, more formal restaurant, The Little Beet Table is not dedicated GF, but has gluten-free options.
For more information about The Little Beet, visit their website or follow them on Instagram.
More Gluten-Free Restaurants in New York City
While still on my list to visit, Risoterria Melotti and Wild are both 100% gluten-free restaurants that come with rave reviews from other celiacs online. Check them out!
Restaurants With Gluten-Free Options in New York City
Keste Pizza
While not a 100% gluten-free facility, Keste is renowned for having incredible pizza recipes and celiac protocols. And their inspiration comes right from Naples, Italy. They also have salads, and even arencini - fried rice balls - something I enjoyed at Mama Eat in Milan, Italy. They have a dedicated oven, fryer, prep space, and ingredients for their gluten-free pizzas, and they use a special flour - Fiorglut, a flour made in Italy that you can buy on Amazon.
Please Note: This gluten-free flour contains gluten-free wheat starch. That means the gluten protein is removed from the wheat, leaving the starch behind. Now I know that sounds confusing, but is safe for celiacs to consume. However, it is not safe for those with a wheat allergy. For more information about this flour with this confusing ingredient, click here.
Keste's pizzas taste like the real deal thanks to not only that ingredient for a fluffy crust, but for their diligence to providing a safe and delicious dining experience. Keste is located on the Lower East Side/Financial District. You can also SHIP their pizzas to you on GoldBelly, but they are expensive.
For more information about Keste Pizza, visit their website or follow them on Instagram.
Friedman's
Another chain restaurant with multiple locations around the city and excellent allergen protocols! They have sandwiches, fries (dedicated fryer), and even FRIED CHICKEN AND WAFFLES! The texture of the waffle was perfect - pulling it apart felt like a real, waffle, that I was tempted to double check with the server that it was in fact, gluten-free. They come served with a hot honey sauce to dip them in but honestly? I would've eaten the waffle and the chicken plain.
You're bound to be able to find a Friedman's nearby to wherever you are in NYC. They have 9 different locations so this is a great breakfast/lunch/dinner option with salads, sandwiches, burgers, and more. As always, make sure to speak up about your needs as this is not a dedicated gluten-free restaurant. If you aren't sure if there's a Friedman's close to you, check the Google Map at the top of the guide to look for them.
For more information about Friedman's, visit their website or follow them on Instagram.
Lilli & Loo
As someone with celiac disease, safe Chinese food is RARE. But at Lilli and Loo, you have an entire menu of gluten-free options to choose from.
Located on upper east side on Lexington Avenue, Lilli and Loo is a pan-Asian restaurant. They have an entire (two-page!) gluten-free menu as well as dedicated kitchen space, fryer, and GF Labels for their takeout too. While not dedicated gluten-free, the restaurant is highly rated by other celiacs, and having eaten here multiple times, I have never had any issues.
Some of my favorite items from here have been the gluten-free lo mein, fried rice, and pan-fried pork dumplings. They also have sushi, rolls, and other dishes you normally can't have, like General Tso's chicken, beef and broccoli, and pad thai! They also bring out gluten-free soy sauce/tamari to your table.
The restaurant has gone through a renovation since 2021 when I first started visiting and seating is small. For your best option for a sit-down meal, I'd recommend booking a reservation by calling them directly. Their website is minimal and they don't really use social media that much. Lilli and Loo also offers takeout & delivery options if that's more your style!
Lilli and Loo is only open for lunch and dinner, but they are open every single day! Their hours are 12:00 PM - 9:00 PM. Again, a reservation is a wise idea if you want to dine there as they have very small seating.
For more information about Lilli and Loo, visit their website or Facebook page.
100% Gluten-Free Sushi
If you like sushi, check out Nami Nori! I'm not a big sushi person, but Nami Nori is 100% gluten-free and lots of my fellow celiacs rave about their food! They have locations in Williamsburg (Brooklyn) and the West Village. (Manhattan) And for a 100% gluten-free Asian takeout option, try Happy Tummy Asia!
More NYC Gluten-Free Places
Again, this definitely isn't an entire list of ALL the amazing options in New York City. This is just the start of a guide I will continue to add to. But I hope this has given you inspiration to add to your celiac bucket list for your time in New York City!
For other gluten-free places in New York, check out my NYC-based gluten-free blogger friends who share their gluten-free adventures on Instagram:
Christina of Gluten-Free Living BK
And if you want an updated list of all the gluten-free restaurants in NYC, check out this list from Gluten-Free Globetrotter.
Looking for more gluten-free restaurant guides in the Northeast?
Head into Boston for more gluten-free donuts at Kane's Donuts.
Check out the North Shore of Boston for the best breakfast sandwiches on homemade gluten-free herb & cheese bread at Crave.
Explore The Green Mountain State of Vermont and discover gluten-free beer at the first dedicated GF brewery in New England: Red Leaf!
Go for a hike in New Hampshire and get the juiciest GF burger and fries with a homemade sauce (dedicated fryer, too!)
Wander up the coast of Maine for gluten-free donuts and Colombian arepas.
Sample all of the gluten-free drink choices in New England with breweries and cideries that are 100% gluten-free.
Have you been to New York City?
What's your favorite gluten-free restaurant in Manhattan?
Let me know in the comments where I should visit next time I'm there!