New York is one of the best destinations for incredible gluten-free food. And this gluten-free guide to New York City will show you some of the places you should definitely try!
This post may contain affiliate links. Please see my disclosure page for more information. Thanks! This guide was last updated with new restaurants I've been to in December 2021!
As a native New Yorker, the city holds a special place in my heart.
I grew up on Long Island before moving to Florida as a teenager. I returned to NYC for an internship after college in 2011, but even then the gluten-free scene was minimal. And on return trips to the city over the years, I wasn't aware of a lot of places. There was an Italian place called Risoterria that had incredible gluten-free food and their paninis were my favorite. Unfortunately, they closed in 2016 and I miss them so much.
Thankfully, today New York City is packed with tons of delicious gluten-free food!
Last week, I spent 2 days exploring New York City to enjoy some of the best gluten-free places. And I'm thrilled there are so many safe options today that offer incredible gluten-free food.
This guide is not a complete, comprehensive guide of all the gluten-free places to eat in New York City.
It does share the restaurants that should be on your list if you're planning a visit to New York!
If you are looking for a more detailed list of gluten-free restaurants in NYC, check out this list from Gluten-Free Globetrotter.
Now, let's dive into the great gluten-free places in New York City. I can't wait to go back and discover more to add to this guide in the future!
Also be sure to check out my YouTube Video which highlights some of my favorite spots!
NOTE & DISCLAIMER
Everyone's experience with celiac disease is different. Dedicated gluten-free facilities are usually the safest places to go, and you'll see those listed here. For non-dedicated facilities and restaurants, I only recommend places I have visited or where clear protocols are in place for celiac diners.
My experience is not your experience. This is a guide – a list of suggestions to point you in the right direction. Restaurants can change. Use your own judgment and only eat where you feel safe doing so.
This guide only contains gluten-free places in Manhattan and not the other boroughs.
Gluten-Free New York City
Dedicated Gluten-Free
Modern Bread & Bagel (Arba + Thyme & Tonic too!)
100% Gluten-Free
The best damn bagels of all time. I know a good bagel, and this bakery/deli knocks it out of the park! Crunchy outside, soft inside, perfect texture and so fluffy. They are incredible. They also sell other breads, baked goods, sandwiches, and more, but my priority is their bagels!
Modern has a sister restaurant, Arba, which serves Mediterranean fare and is also 100% gluten-free & located at the same place. Next door, there is Thyme and Tonic, also 100% gluten-free.
Modern is on the Upper West Side. You can also get their bagels & products shipped right to your door! Shipping is expensive, but the bagels hold up well, freeze well, and are just fantastic.
For more information about Modern Bread & Bagel, visit their website or follow them on Instagram.
Posh Pop Bakeshop
100% Gluten-Free
The most insane dedicated gluten-free bakery ever. And by insane, I mean decadent, rich, blow your mind combinations! You'll walk in and have a lot of decision fatigue because everything will have your draw on the floor.
I opted for the s'mores brownie (amazing) and the red velvet cheesecake (double amazing). No matter what you get in here, you'll be set up for a sweet treat.
Posh Pop is located by Greenwich Village in lower Manhattan, not far from Washington Square Park. They also ship across the US so you can try their cakes, cookies, brownies, and more right at home!
For more information about Posh Pop, visit their website or follow them on Instagram.
NoGlu
100% Gluten-Free
Another fantastic bakery is NoGlu, a dedicated gluten-free bakery. NoGlu has a sister bakery in Paris as well!
NoGlu is currently remodeling a larger space just down the block from their current location. Right now they are just for takeout/pickup. They have lots of great pastries to choose from. They are located on the upper east side.
Pictured above is the gluten-free lemon tart, which was fantastic! Even my best friend Kristen (who does not eat GF or have celiac) agreed that you couldn't even tell it was gluten-free. She loved it!
For more information about NoGlu, visit their website or follow them on Instagram.
Senza Gluten
100% Gluten-Free
A fantastic 100% dedicated gluten-free facility. Everything they serve is amazing!
And the best part is - there's actually 2 locations!
There's the Senza Gluten Restaurant, serving up Italian specialties for dinner only, and also their Cafe/Bakery is open for lunch with baked goods, paninis, and more. You can't go wrong with your order here - it's all so good. Both of these are located in lower Manhattan just outside Greenwich Village & Washington Square Park.
Please be aware that the Cafe/Bakery is open for lunch whereas the Restaurant is currently only open for dinner. These two spots are within one block of each other. They also ship their baked goods!
For more information about Senza, visit their website or follow them on Instagram.
Tap NYC
100% Gluten-Free
TAP is a Brazilian restaurant/cafe. It's also 100% gluten-free and they have multiple locations around the city!
This restaurant focuses on Brazilian specialties like tapioca, pão de queijo - Brazilian cheese bread (pictured above), and acai. A lot of Brazilian foods rely on naturally gluten-free ingredients, like tapioca/cassava flour, a main component of the cheese bread! They have smoothies, bowls, wraps, and more.
For more information about TAP, visit their website or follow them on Instagram.
Little Beet
100% Gluten-Free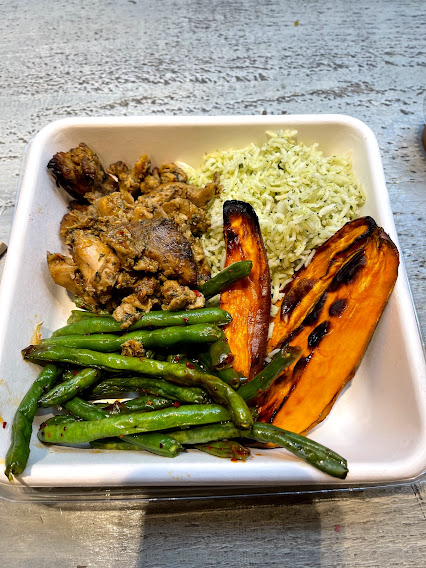 Serving up hearty bowls and focusing on plant-based foods, The Little Beet is a great option for a healthy gluten-free meal. I got a rice bowl on one of my rainy days here to balance out all of the sweets and treats I was eating - I was craving vegetables at that point!
IMPORTANT: The Little Beet is a chain restaurant with multiple locations in the city. This chain restaurant/fast casual option is 100% gluten-free. Their sit-down, more formal restaurant, The Little Beet Table is not dedicated GF, but has gluten-free options.
For more information about The Little Beet, visit their website or follow them on Instagram.
Non-Dedicated Gluten-Free But Great Protocols & Gluten-Free Options
Keste Pizza
While not a 100% gluten-free facility, Keste is renowned for having incredible pizza recipes, right form Naples, Italy. They also have salads, and even arencini - fried rice balls! They have a dedicated oven, fryer, prep space, and ingredients for their gluten-free pizzas, and they use a special flour - Fiorglut, a flour made in Italy that you can even buy on Amazon.
This flour contains gluten-free wheat starch. That means the gluten protein is removed from the wheat, leaving the starch behind. Now I know that sounds confusing, but is safe for celiacs to consume. However, it is not safe for those with a wheat allergy. For more information about this flour with this confusing ingredient, click here.
Keste's pizzas taste like the real deal thanks to not only that ingredient for a fluffy crust, but for their diligence to providing a safe and delicious dining experience. Keste is located on the Lower East Side/Financial District. You can also SHIP their pizzas to you on GoldBelly!
For more information about Keste Pizza, visit their website or follow them on Instagram.
Friedman's
Another chain restaurant with multiple locations around the city and excellent allergen protocols! They have sandwiches, fries (dedicated fryer), and even FRIED CHICKEN AND WAFFLES!
You're bound to be able to find a Friedman's nearby to wherever you are in NYC. They have 9 different locations so this is a great breakfast/lunch/dinner option with salads, sandwiches, burgers, and more.
For more information about Friedman's, visit their website or follow them on Instagram.
Lilli & Loo
As someone with celiac disease, safe Chinese food is RARE. But at Lilli and Loo, you have TONS of safe options!
Located on the east side of Midtown, Lilli and Loo is a Chinese restaurant where immediately you are asked if anyone is gluten-free in your party. They have an entire (two-page!) gluten-free menu as well as dedicated kitchen space, fryer, and GF Labels for their takeout too!
I was so excited to try Lilli and Loo and the food was scrumptious. I ordered GF Lo Mein and GF FRIED (what!?) pork dumplings. Incredible!
For more information about Lilli and Loo, visit their website or Facebook page. They don't really use Instagram.
More NYC Gluten-Free Places
I can't wait to head back to NYC and check out even more places to add to this list!
Again, this definitely isn't an entire list of ALL the amazing options in New York City. This is just the start of a guide I will continue to add to!
For other gluten-free places in New York, check out my NYC-based gluten-free blogger friends:

Erin of Gluten-Free Globetrotter
Christina of Gluten-Free Living BK
Looking for more gluten-free travel posts?
The 5 strategies you NEED for traveling with celiac disease.
These 10 items are always in my backpack or suitcase when traveling.
What to do if you're traveling with IBS - and how to reduce travel anxiety.
Get my gluten-free travel guides to Boston, Italy, Madrid, Buenos Aires (plus many more) here!
Have you been to New York City?
What's your favorite gluten-free place?
Let me know in the comments where I should visit next time I'm there!