Gluten-Free Christmas bark has to be the most addictive sweet & salty treat that ever existed!
This post may contain affiliate links. Please see my disclosure page for more information. Thanks!
About This Gluten-Free Christmas Bark Recipe
Christmas is the perfect time for holiday baking, and I am so glad to have a gluten-free version of this delicious sweet treat! I make gluten-free Christmas bark and it's absolutely delicious. My family calls this stuff Christmas Crack!
This bark is easy to make, customizable for whatever your sweet tooth craves, and will be gone in minutes! While this recipe usually calls for a gluten-free substitute for saltine crackers, I found that most of the gluten-free crackers just didn't have enough saltiness or crunch that I was looking for. And when my mother-in-law started making it with pretzels, I knew this was the key to making gluten-free Christmas bark perfect!
Ingredients You Will Need For Christmas Bark
You Will Need:
-Gluten-Free Pretzels: This will give the bark the salty and crunchy base. I recommend Snyder's of Hanover for this but you can use whatever GF pretzel sticks you prefer.
-Brown Sugar: This will be the sweetness to balance the salty pretzels.
-Butter: We will mix unsalted butter with the brown sugar to create a golden, caramel colored mixture to pour over the pretzels.

-Chocolate Chips: Chocolate chips will go on top of the brown sugar and butter mixture as our top layer!
-Any toppings you like! I use sprinkles but you could even do chopped candy cane pieces, chopped nuts, or anything else!
How To Make Gluten-Free Pretzel Bark
This recipe is so easy and the results are seriously, so addictive. You won't be able to have just one piece!
First you arrange your pretzels on a greased foil lined pan.
Then you melt your butter and brown sugar in a small pot over medium heat until it's golden brown (about 5 minutes).
Finally, you'll pour this over the pretzels and spread with a spatula to make sure everything is covered.
This bakes for 4-5 minutes until bubbly.
Lastly, you'll sprinkle on chocolate chips and spread it all over to coat the entire layer. And since the butter/brown sugar will be warm from the oven, the chocolate chips will melt rather quickly so you can spread this out over your butter/brown sugar layer.
Finally, after covering everything with chocolate, you can top with sprinkles, peppermint pieces, chopped nuts, or any decorations. Then it's into the freezer for 1 hour to harden & cool.
Watch me make this Christmas dessert over on my Instagram page!
Can I Make This Dairy-Free?
Yes, you can. You can also customize this treat to be dairy-free if you use Enjoy Life chocolate chips and vegan butter like Country Crock or Earth Balance butter sticks. I've never made it this way, but you could also try using ghee too!
Brand Recommendations
Gluten-Free Pretzels
You'll need gluten-free pretzels to make this recipe. I recommend Snyders of Hanover gluten-free pretzel sticks as these are my favorite for making Christmas bark. The pretzels are saltier and really make them absolutely addictive. If you prefer crackers, you could use Schar or Glutino crackers.
Decorations & Toppings
I usually add gluten-free red and green sprinkles for holiday cheer, but don't be limited! You can break apart candy canes or peppermint sticks (make sure they are gluten-free), or even add M&M's or chopped nuts. Have fun and get creative with this easy holiday recipe!
How To Store Gluten-Free Christmas Bark
Definitely store this in the refrigerator or freezer to avoid the chocolate from melting. I usually store mine in a Christmas cookie metal tin lined with parchment paper/foil. Just make sure you allow the bark to sit at room temperature for a few minutes after removing from the fridge/freezer before biting into it (it will be very firm, so don't crack a tooth!)
More Holiday Gluten-Free Baking Recipes
Ready for another great holiday recipe? Try this cranberry orange bread!
Want to practice your pie making skills? Homemade apple pie hits the spot. Gluten-free but no one will know!
Feel like baking Christmas cookies? Check out this collection of gluten-free cookie recipes from my fellow gluten-free & celiac bloggers.
What goes perfectly with a freshly baked cookie? A cup of hot chocolate, homemade, without gluten or dairy. Make it right here.
Discover all the gluten-free baking recipes on the blog right here.
Here's how to make this addictive gluten-free pretzel bark!
If you love this recipe, please leave a comment! Thank you so much!
Gluten-Free Christmas Bark Recipe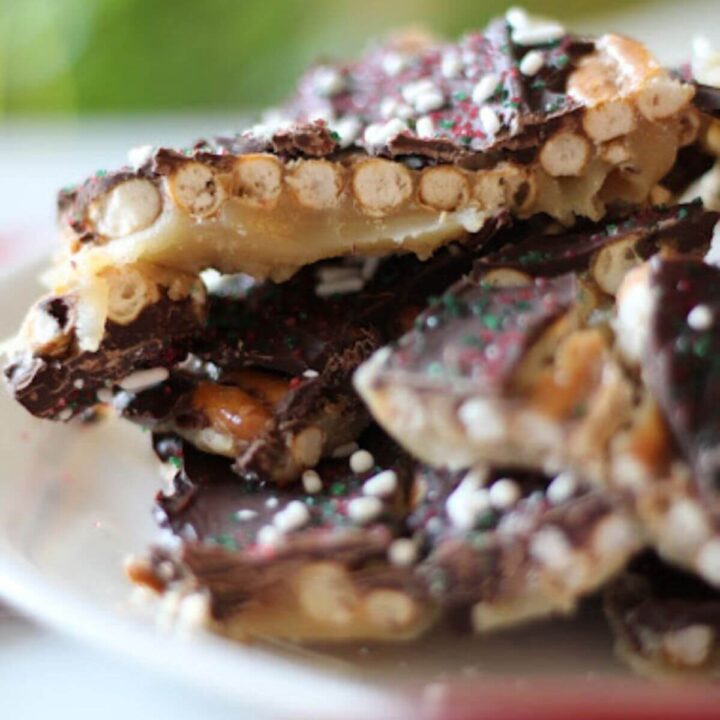 Gluten-Free Christmas Bark
Total Time:
1 hour
30 minutes
A sweet treat so decadent I only make it once a year!
Ingredients
1 package gluten-free pretzels, like Snyder's
1 cup unsalted butter (2 sticks) - vegan, if needed
1 cup brown sugar, packed
1 12-ounce package of semi-sweet chocolate chips - dairy-free, if needed
Optional toppings: sprinkles, candies, nuts, peppermint sticks
Instructions
Preheat oven to 425F.

Line two small jelly roll pans (I use 8.5x12) with aluminum foil and grease them with either coconut oil, butter, or spray.
Arrange the gluten-free pretzels in a single layer on both of the trays, making sure the pretzels are as even in size as possible.

In a small pot, melt butter and brown sugar. Reduce until bubbly & caramel in color, about 5 minutes. Pour evenly over pretzels and spread with a spatula to coat in an even layer.
Place both trays into the oven and bake for 4-5 minutes or until bubbly.

Remove from oven and sprinkle on chocolate chips. Allow chocolate to melt for 5 minutes. Once melted and soft, spread chocolate to coat over the entire layer of brown sugar/butter on both trays.
Top with holiday sprinkles, peppermint pieces, chopped nuts, or candy, if using.

Freeze the bark for 1 hour and then break by cutting into pieces with a knife or breaking with your hands. Enjoy!
Notes
Storage: Store any leftover Christmas bark in the refrigerator or freezer in a sealed container. I use a metal cookie tin.
Dairy-Free: You can make this recipe dairy-free provided you use dairy-free butter or coconut oil/ghee, and dairy-free chocolate chips, like Enjoy Life.

Make Half: You can cut the recipe in half to use about half of a bag of Snyder's GF pretzels, rather than a whole bag, if you don't want to make so much. Bark usually gets eaten rather quickly, so if you have a crowd of people, make it as written!
Nutrition Information
Yield

8
Serving Size

1
Amount Per Serving
Calories

538
Total Fat

38g
Saturated Fat

22g
Trans Fat

0g
Unsaturated Fat

14g
Cholesterol

61mg
Sodium

72mg
Carbohydrates

55g
Fiber

3g
Sugar

46g
Protein

3g
Do you make Christmas bark?
What's your favorite holiday treat?
Let me know in the comments below!