The holidays are here! It's the perfect time to bake some gluten-free Christmas cookies!
This post may contain affiliate links. Please see my disclosure page for more information. Thanks!
About This Gluten-Free Christmas Cookie Post
Every year, I make a variety of Christmas cookies and deliver them to friends, colleagues, and loved ones in my area. It's one of my favorite traditions. But I don't have all of the Christmas cookie recipes - I use some of my own, and some from others.
In this round-up, I'm sharing a bunch of different gluten-free Christmas cookie recipes from my fellow gluten-free bloggers. There's bound to be a cookie here that sparks your interest!
For each recipe, you'll find a link to the recipe post (you can click on the name or the photo to get there) as well as a link to the blogger's Instagram page. Please give them a follow for more great gluten-free content. And if you make one of their recipes and love it, tell them! We love hearing from readers and that you were able to enjoy a holiday treat with your family or friends.
Without further ado, here are the cookies!
Gluten-Free Christmas Cookie Recipe Round-Up
Gluten-Free Ginger & Spice Cookies
Hey there, this is one of my recipes! I'm Jen, AKA The Nomadic Fitz, and this is my go-to gluten-free gingerbread recipe that I've been making for years.
Morgan of How To Coeliac is a New Zealand-born fellow gluten-free blogger living in the UK. She shares hilarious videos as well as lots of delicious gluten-free and vegan bakes!
Carrie of Wheat Free Mom is a Canada-based gluten-free blogger. Her recipes inspire anyone living the gluten-free lifestyle to discover that living without gluten still means really good food.
Jamie of Vibrantly Gluten-Free shares her tasty paleo molasses cookies here - lots of spice but without any grains or dairy! Jamie thrives at making gluten and dairy-free taste good, so you should definitely give these a try.
Gluten-Free Chocolate Cookies
Another recipe here on the blog with minimal ingredients and super soft, chewy results. These are flourless gluten-free peanut butter blossoms with Hershey's Kisses!. Definitely recommend making a double batch - they will go quickly!
Liz of Gluten-Free Mom Colorado is a mom of three, one of which has celiac disease. Her recipes are creative, fun, and definitely kid-friendly!
Karen of Health Gluten-Free Family has an enormous index of gluten-free recipes, especially Christmas cookies! She's a mom of two, one with celiac disease, and cooks amazing gluten-free recipes. These hidden kiss cookies look like sweet snowballs - don't you think?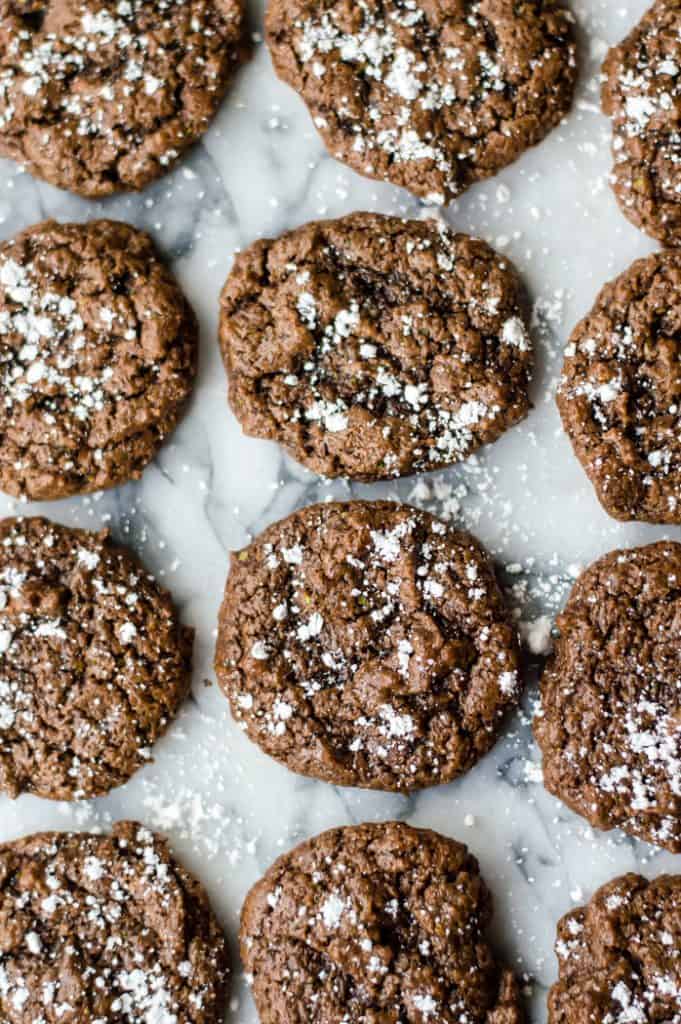 Taesha of The Natural Nurturer is the creator of the veggie-loaded approach to all of her recipes. She incorporates vegetables into her recipes but you'd never know it, they taste so good. Great for kids! Try these Chocolate Zucchini Cookies and see what I'm talking about!
One more cookie recipe from me - taking a classic twist on Nestle's Tollhouse Cookies, but with chocolate chips, cranberries, and even chopped nuts if you like!
Gluten-Free Butter Cookies
Another amazing Christmas cookie recipe from Karen of Healthy Gluten-Free Family. Karen's recipes are always simple, straightforward, and scrumptious. I make her gluten-free cornbread recipe all the time!
Kelsey of The Gluten-Free Grasses shares the recipes that have helped her thrive with celiac disease & her gluten-free life! These spritz cookies are adorable and perfect for the holiday season.
Debby of Thriving Gluten-Free is a mom of four, one with celiac disease, and runs a gluten-free household! Her recipes are often gluten and dairy free, with easy swaps and plenty of kid-friendly options. She shares another spritz cookie recipe made gluten-free!
I've made these same gluten-free butter cookies for Valentine's Day and Halloween. All you need are holiday-shaped cookie cutters and they are a HUGE crowd-pleaser!
Laura from Living Beyond Allergies creates incredible recipes free from allergens - especially gluten! These cookies take it one step further by also being vegan, but still really good.
Gluten-Free Thumbprint Cookies
Katie of Wheat by the Wayside takes foods that we miss so often and turns them into beautiful gluten-free creations! Her recipes are not to be missed and always come out fantastic.
Another Thumbprint cookie from Katie at Wheat by the Wayside. Katie's recipes provide excellent step-by-step tips, tutorials, and instructions. And her cookies are the bomb!
Gluten-Free Sugar & Snickerdoodle Cookies
Taylor of That's So Celiac creates a community around celiac disease on her website and social media. These fluffy iced sugar cookies were her holiday creation last year. Yummy!
Another allergy-free recipe from Laura - Living Beyond Allergies. These Snickerdoodles look like the perfect cinnamon treat for the holiday season!
My friend Matt of Glass of Weinstein has created these beautiful gluten-free donuts, called Sufganiyot which are typically enjoyed during Hannukah! So if you celebrate Hannukah or want to branch out to another gluten-free treat, you should definitely give these a try.
Not a typical Christmas cookie, but still tasty and #1 on Google for Gluten-Free Christmas Bark! Sweet and salty combine with gluten-free pretzels, chocolate, and festive sprinkles for this addictive holiday treat on the blog.
More Holiday Gluten-Free Baking Recipes
Ready for an addictive sweet & salty treat? Try this gluten-free pretzel bark.
Want to practice your pie-making skills? Homemade apple pie hits the spot. Gluten-free but no one will know!
Feel like baking Christmas cookies? Check out this collection of gluten-free cookie recipes from my fellow gluten-free & celiac bloggers.
What goes perfectly with a freshly baked cookie? A cup of hot chocolate, homemade, without gluten or dairy. Make it right here.
Discover all the gluten-free baking recipes on the blog right here.
---
What are your favorite gluten-free Christmas cookies?
Let me know in the comments!