This gluten-free shepherd's pie is a hearty meal perfect for St. Patrick's Day!
This post may contain affiliate links. Please see my disclosure page for more information. Thanks!
About This Gluten-Free Shepherd's Pie Recipe
Have you ever had shepherd's pie? I hadn't, until only recently. My husband Dylan is a huge fan of shepherd's pie. And after learning more about it, I realized, it had to be something my Irish roots would enjoy. You can't go wrong with mashed potatoes, right?
Shepherd's pie, like it's sister dish cottage pie, are both savory casseroles using a combination of meat, vegetables, and potatoes. According to the traditionalists, shepherd's pie should contain lamb, while cottage pie should contain beef.
Well...about that...
After making the recipe a number of times from the Food Network and adapting it to my liking, I decided it was time to share my version of gluten-free shepherd's pie. I like to use ground beef more than lamb, so technically it would be cottage pie, but let that be our little secret. Don't tell the shepherd's pie police on me!
Ingredients You Will Need
-Russet Potatoes: The base of our potato topping for the pie.

-Sour Cream: To make the potatoes extra creamy and add a little tangy flavor.

-Butter: Butter makes everything better. Duh.

-Salt & Pepper: Basic seasonings, to make sure everything tastes good!

-Oil of choice: To sauté your vegetables. I use vegetable oil.

-Carrots & Onion: The base of our veggie mix. You can use whatever type of onions you prefer, but I usually do yellow or sweet onions.
-Garlic: Because it's delicious.

-Ground Lamb or Beef: Traditionally, shepherd's pie calls for ground lamb, but I prefer to use ground beef (Technically, that makes it a cottage pie). The choice is up to you! I've also used ground turkey when I couldn't find any lamb or beef at the store.

-Gluten-Free Flour Blend: See below for the gluten-free flour blend I recommend for thickening soups, stews, and sauces.

-Tomato paste: For thickness and flavor to the sauce.

-Chicken broth: To thicken the sauce. Make sure it's gluten-free - I use Swanson.

-Worcestershire sauce: I use Lea and Perrins, which is gluten-free.

-Dried rosemary & thyme: These are the herbs we will use in the pie filling.

-Frozen or fresh peas & corn: The other veggies going into the pie. You can add additional vegetables if you prefer!
Gluten-Free Flour Blend For Shepherd's Pie
Gluten-Free Flour: I use Cup4Cup multi-purpose gluten-free flour for this recipe. It is my #1 choice for cookies, pastries, and yeast-based baked goods. Since it contains cornstarch as a main ingredient, it also works very well for thickening soups, stews, and casseroles (like this homemade macaroni and cheese!)
Cup4Cup has given me great success in the kitchen over the last eight years, helping me to create delicious croissants, empanadas, naan, chocolate chip cookies, pierogi, bagels, and more.
Please note if you use a different gluten-free flour your results may vary. Based on my own experience, I believe this recipe would also work well with GF Jules or King Arthur Measure For Measure.
Can I Make This Shepherd's Pie Dairy-Free?
You can definitely make this shepherd's pie dairy-free or lactose-free. Make sure to use dairy-free products for the butter and sour cream, and to use a gluten-free and dairy-free flour blend. Cup4Cup Multipurpose Flour does contain milk powder, so it is not dairy-free.
How To Make Gluten-Free Shepherd's Pie
The process for making shepherd's pie is very easy! Essentially, you are making a casserole, with the meat and veggie mixture as a base and the mashed potatoes on top.
You'll make the potato mixture first, and mash it so it's ready for your topping. After that it's just browning the meat and cooking the vegetables on the stovetop while adding in the spices and other ingredients to thicken.
Then you pour the beef and veggie mixture into a pan and top with the mashed potatoes. It bakes for 25 minutes until lightly golden brown. Yum!
You can watch me layer this gluten-free Shepherd's pie in the video below:
Tips For Making Shepherd's Pie
Want more decadence? Add some shredded cheddar cheese on top of the potato layer when baking. Or for a more even distribution of flavor, add the cheese into the potato mixture itself so it spreads evenly over everything.
Having trouble spreading the potatoes? Use a rubber spatula, like I do in the video above. It makes it easier to move the potatoes around. Be sure to cover everything, especially the corners, to create a nice even seal of potatoes over the beef.
How to Serve Gluten-Free Shepherd's Pie
The best part about shepherd's pie is that you have your entire meal in one! That's the beauty of a casserole. You have your protein, you vegetables, and your starch, all rolled into one yummy dish. We usually don't serve shepherd's pie with anything else, but I definitely think some rolls or homemade gluten-free garlic bread would be a delicious addition.
How To Store Gluten-Free Shepherd's Pie
Shepherd's pie should be stored covered in the refrigerator and will keep for 2-3 days. Just reheat in the microwave an individual serving, or you can put it the oven covered at 350 to heat through again for 10-15 minutes.
I always think this gluten-free shepherd's pie will last for leftovers in our home, but it doesn't happen! It's such a tasty, comfort food type of meal that I hope you enjoy.
Looking for more gluten-free St. Patrick's Day Recipes?
Make this hearty beef stew with vegetables - super cozy and tasty! Try it with a side of homemade garlic bread.
Try this creamy potato leak soup - without the dairy! You won't be able to tell it uses coconut milk to thicken, and not heavy cream.
Bake a batch of this yummy soda bread - it's a family recipe, and a favorite by many readers.
Whip up a batch of St. Patrick's Day themed butter cookies: made into the shape of shamrocks with green icing. Super festive!
Discover all 100+ gluten-free recipes on the blog right here.
Here's the full recipe for this shepherd's pie!
If you love this recipe, please leave a comment! Thank you so much!
Gluten-Free Shepherd's Pie Recipe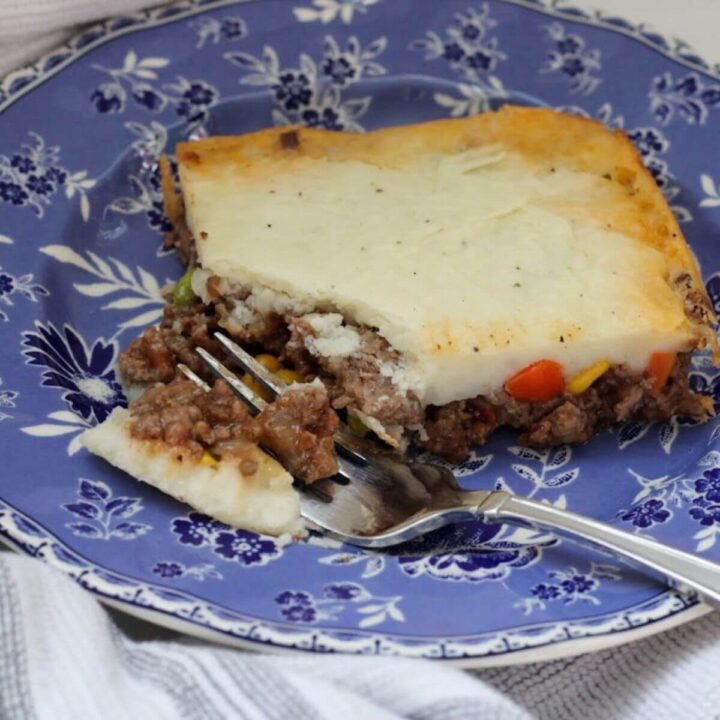 Gluten-Free Shepherd's Pie
Additional Time:
15 minutes
Total Time:
1 hour
20 minutes
Ingredients
For the potatoes
1 ½ pounds russet potatoes
¼ cup sour cream (use lactose free if needed)
2-3 tablespoons unsalted butter (use dairy-free if needed)
¾ teaspoon kosher salt
¼ teaspoon freshly ground black pepper
For the meat mixture
2 tablespoons oil of choice
1 cup finely chopped onion
2 carrots, peeled and diced small
2 cloves garlic, minced
1 ½ pounds lean ground beef (I use 90% or higher)
1 teaspoon kosher salt
½ teaspoon freshly ground black pepper
2 tablespoons gluten-free all-purpose flour blend (I use Cup4Cup)
2 teaspoons tomato paste
1 cup gluten-free chicken broth
1 teaspoon gluten-free Worcestershire sauce
½ teaspoon dried chopped rosemary
½ teaspoon dried thyme
½ cup fresh or frozen corn kernels
½ cup fresh or frozen peas
Instructions
First, prepare the potatoes. Peel the potatoes and cut into a ½ inch dice. Then, place them in a medium sauce pan and cover them with cold water (just until they are covered and submerged). Put the cover on the pot and place over high heat and bring to a boil. Once it boils, take the top off, lower the heat to medium low, and simmer until potatoes are fork tender, about 10-15 minutes. Drain the potatoes and then return to the saucepan. Add the sour cream, butter, salt, and pepper, and mash until smooth. Optional: you can even add in shredded cheddar cheese if you like.

Once the potatoes are done, preheat the oven to 400 degrees F.
While the potatoes are cooking on the stove, add the oil to a large frying pan over medium high heat. Once the oil shimmers, add the onion and carrots. Saute for 3-4 minutes, stirring often. Then add the garlic and stir to combine for about a minute. Then add the ground beef, kosher salt, and pepper and cook until the meat is browned. Drain the fat and return the mixture to the pan.

Sprinkle the ground beef with the gluten-free flour and stir to combine for one minute. Then add the tomato paste, chicken broth, Worcestershire sauce, dried rosemary and thyme, and stir. Bring the mixture to a boil, then reduce the heat to low, cover and simmer for 10-12 minutes or until the sauce slightly thickens.

Finally, add the corn and peas to the beef mixture and spread everything into an 11 by 7-inch glass baking dish. Put the mashed potatoes on top and spread into an even layer, making sure to create a seal in the corners and edges with a rubber spatula. Place the dish on a parchment lined baking sheet or jelly roll pan and bake for 25 minutes, or until the potatoes just start to brown. Remove to a cooling rack and cool for 15 minutes before serving. Enjoy!
Notes
Storage: Shepherd's pie should be stored covered in the refrigerator and will keep for 2-3 days. Just reheat in the microwave for individual servings or reheat the entire tray in the oven at 350 degrees Fahrenheit for 10-15 minutes, covered.

Dairy-Free: You can make this recipe dairy free by using dairy-free products such as sour cream and butter, and a gluten and dairy-free flour blend. Please be aware Cup4Cup Multipurpose Flour contains milk powder.
Nutrition Information
Yield

8
Serving Size

1
Amount Per Serving
Calories

444
Total Fat

22g
Saturated Fat

8g
Trans Fat

0g
Unsaturated Fat

11g
Cholesterol

101mg
Sodium

508mg
Carbohydrates

30g
Fiber

4g
Sugar

5g
Protein

32g
The nutrition information on each recipe card is provided as a courtesy and for your convenience. The data is calculated by Nutritionix. You are encouraged to make your own calculations based on your ingredients and preferred nutritional facts calculator. While I try to make sure they are accurate, I cannot guarantee the accuracy of these calculations.
Do you like shepherd's pie?
What's your favorite St. Patrick's Day recipe?
Tell me in the comments below!