This travel guide to eating gluten-free in Ubud will give you a glimpse of paradise filled with culture, temples, and healthy gluten-free food! And I'm talking about how to visit here safely with celiac disease. Keep reading!
This post may contain affiliate links. Please see my disclosure page for more information. Thanks! Guide last updated August 2022. Please double-check current travel restrictions and COVID protocols for visiting Bali.
Bali was our first stop in Asia during our round the world trip, and wow, did we fall in love with this Indonesia island. The welcoming nature of the Balinese people, street markets, yoga studios, and overall feeling of rest and relaxation was addictive. After one week here, I didn't want to leave.

Bali is known for being a hotspot for yogis, health nuts, and digital nomads. Smoothie cafes, coffee shops, and juice bars are everywhere, especially in Ubud. Traveling here with celiac disease was a little intimidating at first because it isn't well known.
Gluten-free food is popular for preference, but not as much for medical reasons like celiac disease, but thankfully, that is changing. After discovering dedicated gluten-free facilities and sticking to my gluten-free travel strategies, I was able to eat here safely - and I want to help you do the same.
In this guide, I'm sharing how to navigate eating in Ubud, Bali if you have celiac disease - where to eat, what to look out for, and how to be prepared. Bali is paradise on a dime. This gluten-free Ubud travel guide has all of the information you need for visiting the cultural heart of Bali.
Curious about planning a trip to Bali? Check out my two-week guide to a luxury vacation on a backpacker budget.
Ready to travel further on a gluten-free diet? Read my celiac travel guides to Madrid, Buenos Aires, Boston, and beyond!
NOTE & DISCLAIMER
Everyone's experience with celiac disease is different. Dedicated gluten-free facilities are usually the safest places to go, and you'll see those listed here. For non-dedicated facilities and restaurants, I only recommend places I have visited or where clear protocols are in place for celiac diners.
My experience is not your experience. This is a guide – a list of suggestions to point you in the right direction. Restaurants can change. Use your own judgment and only eat where you feel safe doing so. Also please note that restaurants and their services may have changed with COVID protocols. Check their social media or contact them directly for the most up-to-date information.
Gluten-Free Travel Guide To Ubud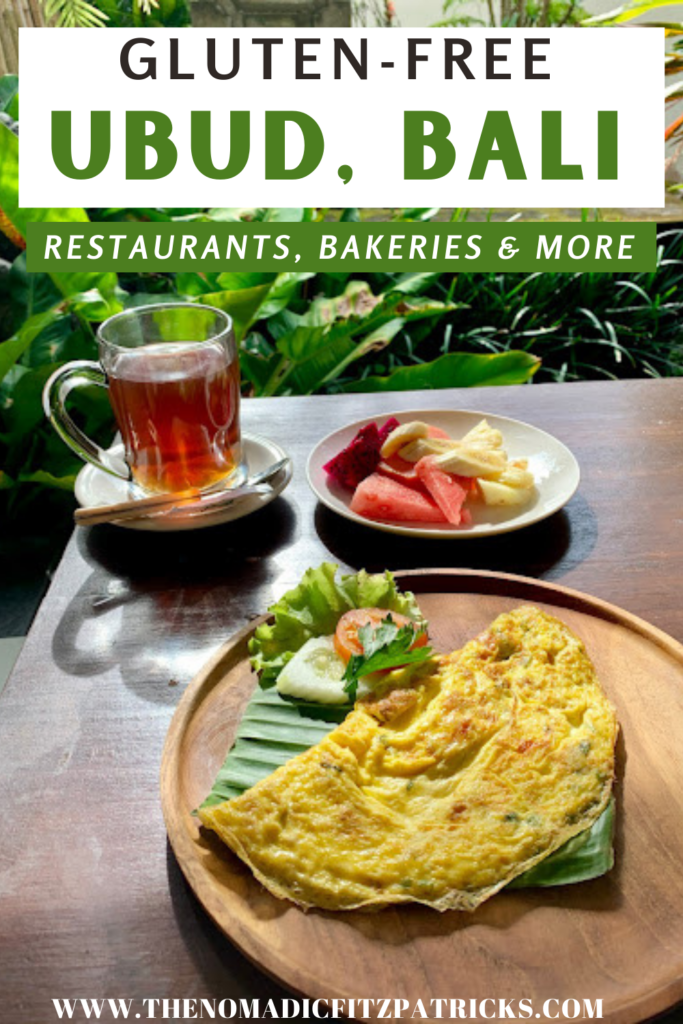 This gluten-free Ubud travel guide was originally written and published online for Gluten-Free Living back in 2019. I have updated and condensed the information here to include the most accurate and up to date spots for celiac travelers in Ubud. Please be mindful to double check places listed in this guide as they may no longer be offering gluten-free food, especially since the pandemic. Thank you!
About Ubud, Bali
Bali is one of the many islands (over 17,000) comprised of Indonesia, located just south of the equator. Home to warm, hospitable people that thrive on tourism, it's become a very popular island retreat, especially due to social media. Bali is now a go-to place for yoga retreats, spa treatments, and sandy beaches.
Ubud is a spiritual place on the island. The green rice paddies, towering temples, street markets, and offerings on the ground are just some of the ways you feel welcomed into the Balinese culture. Try a yoga class in the morning (I loved Radiantly Alive Yoga Studio!) and listen to the morning doves that perch on the roofs of the family compounds. Walk Campuhan Ridge, indulge in a massage, or check out the local market. Ubud has a calming presence that makes you want to close your eyes and relax.
Where to Stay in Ubud
If you are staying in Ubud for a longer length of time, I would suggest getting an Airbnb with a kitchenette. This will make life easier and give you a great backup plan for meals. Our Airbnb did not have a kitchen (we were on a budget!). Instead, I used my celiac language card to eat safely at our Airbnb with our hosts, eat at the dedicated GF places, gorge on smoothies, and make my own peanut butter and Nutella sandwiches with bread from Ubud Gluten-Free Kitchen & Bakery.
About Balinese Cuisine
Balinese cuisine uses multiple spices, seeds, fresh fruits, and vegetables. They also include dishes with tempeh and tofu, plenty of seafood (they are an island, after all), and satay (meat skewers) are popular. Thanks to the warm and tropical climate, you'll find an abundance of fresh fruits, including unique choices of lychees, passion fruit, and dragon fruit, as well as mangoes, papayas, and bananas. Banana leaves are used for serving and presentation, as seen above. I've never been more impressed with food presentation than here in Bali.

Unfortunately, many of the traditional Balinese foods are ones you should not eat due to soy sauce or other ingredients, such as nasi goreng -Indonesian fried rice. While it looks amazing (and according to my husband, who ate every day, said it was), it isn't safe to eat at traditional warungs (restaurants). Soy sauce will be the most common culprit and cross-contact will be a challenge. But there are some ways to help with this.
One of the best ways to learn more about the cuisine of your destination and try traditional dishes safely is to take a local cooking class. This is exactly how I learned to create delicious Thai dishes like Massaman curry, pad Thai, and mango sticky rice all gluten-free - by taking a cooking class in Chiang Mai, Thailand. You can do the same in Ubud to learn the ins and outs of Balinese food. The more you know, the more you can be aware of and watch out for in non-dedicated facilities.
Due to the health-conscious nature of Bali and its focus on whole foods, most cooking classes in Ubud have gluten-free and vegetarian options. Be sure to ask the chef and hosts first but make sure they understand it is a medical issue and not a preference, so you can be aware of any cross-contact. This can be challenging due to their people-pleasing nature. They will smile and agree with you but may not understand. One of the best ways to make sure you eat safely gluten-free in Ubud is by using an Indonesian restaurant card.
Indonesian Gluten-Free Dining Card
I usually recommend the restaurant cards made by Jodi from Legal Nomads, but unfortunately, she doesn't have one translated into Indonesian. Instead, I highly recommend my other go-to, this customized and succinct dining card from Equal Eats, which is translated into Indonesian. I recommend these cards as they are translated by locals and specifically mention not only ingredients but how to avoid cross-contact.

I used a free Indonesian gluten-free restaurant from Celiac Travel, which was extremely helpful in Ubud for communicating with our Airbnb hosts but definitely took some time for them to understand. Bringing a gluten-free restaurant card in the local language that clearly specifies your needs makes a big difference. As always, be sure to ask questions, and if you don't feel safe eating somewhere, leave!
How To Find Gluten-Free Food in Bali
Locating gluten-free food can be tough when you're traveling - especially abroad. And while it's critical to speak to the restaurant directly to make sure their protocols work for you, sometimes you just want to get an idea of what's available. One of the best ways to do that while traveling is by doing your research first, on an app/website like FindMeGlutenFree.
FindMeGlutenFree can help you get an idea of what gluten-free restaurants, bakeries, and safe menus are available in Bali. Yes - this app is used around the globe! And with a Premium Subscription, you can filter by most celiac friendly, see what's open now (so you don't drive all the way to a bakery for breakfast and discover it's closed), and what's gluten-free in the direction you're headed. It's like Google Maps, but a gluten-free version. And no Ads!
I've been a FMGF user for over a decade, but I think their Premium version is much more effective. Take $5 off a Premium Subscription with the code THENOMADICFITZ to make your trip to Ubud less stressful.
Dedicated Gluten-Free Facilities in Ubud
There are many dedicated gluten-free facilities in Ubud which makes it a delightful location for travelers in Bali. I primarily ate at Dedicated Gluten-Free Facilities in Ubud for lunch and dinner, as a gluten-free breakfast of tomato omelets, ginger tea, and fruit were provided by my Airbnb host.

*WhatsApp is widely used in Ubud to communicate quickly with businesses, Airbnb hosts, and restaurants. If you don't use the app, it's a great choice for connecting while traveling abroad, and allows you to text and video call other WhatsApp users!
Here's where to go for a 100% gluten-free dining experience in Ubud!
Fussy Bird Bali
Fussy Bird is a 100% gluten-free and vegetarian cafe serving up wild combinations of classic dishes that are packed with vegetables and alternative means of protein. We enjoyed a delicious lunch here with fruit smoothies, sweet potatoes, vegetables, and a lovely view of downtown Ubud. Get more information about Fussy Bird Bali through its website or Facebook page.
Gluten-Free On Bisma
A sister restaurant to Ubud Gluten-Free Kitchen (more information below). They have fresh jucies, smoothies, pancakes, salads, curries, burgers, coconut fries, and vegetarian options, as well as traditional Balinese foods like satay and fried rice - all gluten-free! Get their current menu or follow them on Facebook.
Kokolato Ice Cream
This gluten-free gelato shop is serving up fresh flavors with high quality, local ingredients! With flavors like coconut, cardamom, ginger, cacao, and more - you definitely don't want to miss this place because they even have gluten-free CONES! A truly special treat to find in Asia. Follow Kokolato on Facebook or Instagram and visit their website for more information about their tasty ice cream.
Sapodilla Sawobali
A 100% gluten-free and vegan cake, coffee shop, and buffet! Soups, salads, teas, ice creams, cakes, and more. You could eat all 3 meals here for very cheap! The best way to learn more about the menu and their offerings are through their Facebook page.
Ubud Gluten-Free Kitchen
My absolute favorite! 100% Gluten-free restaurant and bakery. We visited this place multiple times as it was right around the corner from our accommodations. They specialize in pork schnitzel - which seems crazy, but it's fantastic. We also tried their gluten-free and dairy-free cakes, burgers, salads, and dumplings. You can order bread from this bakery to take back to your hotel or guesthouse for your own meals. The bread was super dense but very good, and helped keep me fed during our excursions. Follow Ubud Gluten-Free Kitchen on Instagram or visit their website to learn more about how this celiac cafe came to be.
Zest
This plant-based restaurant is all about bringing organic fresh produce to your plate in creative ways. They have salads, bowls, wraps, pizzas, flatbreads, rice, waffles, smoothies, coffee, and more! While you might not be able to tell from their menu, they are actually 100% gluten-free - literally, everything is gluten-free! Learn more about Zest and its tranquil cafe space through their website, Facebook, or Instagram.
Restaurants/Warungs in Ubud For Gluten-Free
There are multiple restaurants and warungs in Ubud that offer gluten-free choices on their menus, but always take that with a grain of salt. Cross-contact and the possibility of being glutened can be very high at these places, and even reviews can vary across helpful apps like FindMeGlutenFree. Smoothies can sometimes have cookies, fryers may not be dedicated, and locals, who are eager to please, might serve you bread even though you explain you can't have it (it happened to me at one warung! I had to ask for a new plate.)

If you are going to dine at a non-dedicated facility in Ubud, make sure you use your Indonesian restaurant card and speak to the staff. Remember - Bali is super health-conscious, but unless the establishment understands the complexity of celiac disease, you could get sick. Just be careful!
Bring Your Own Gluten-Free Snacks & Supplies
On our backpacking trip around the world, we were limited to what we could pack. However, one of our best tools was a reusable sporkknife for making my own gluten-free sandwiches. I purchased a loaf of homemade gluten-free bread at Gluten-Free Kitchen for 40,000 rupiahs (roughly $2.80 USD), which lasted for a week. At the Coco Supermarket in Ubud, located right next to the Monkey Forest, I was able to find gluten-free grocery staples, including gluten-free pasta, peanut butter, jelly, granola bars, as well as tons of fresh fruits and vegetables.
For more ideas of what gluten-free snacks, kitchen products, and supplies you should bring with you, check out my top gluten-free travel resources, and refer to the map at the beginning of this post to locate actual supermarkets in Ubud. They will be most likely to have imported gluten-free products and pantry staples. Outdoor markets and vendors will sell local produce, crafts, and clothing.
Looking for more gluten-free travel posts?
The 5 strategies you NEED for traveling with celiac disease.
These 10 items are always in my backpack or suitcase when traveling.
What to do if you're traveling with IBS - and how to reduce travel anxiety.
Get my gluten-free travel guides to Boston, New York, Madrid, Buenos Aires (plus many more) here!
Have you ever been to Bali?
Have you been to any of the places in this gluten-free Ubud travel guide?
Let me know in the comments!