Spending three weeks in Thailand was not nearly enough time. Where do I even begin to describe how much Dylan and I fell in love with Thailand?
This post may contain affiliate links. Please see my disclosure page for more information. Thanks! This guide was last updated in April of 2023.
Anyone who has backpacked through Asia before will usually say the same thing about Thailand - somewhere along the lines of, "the best", "my favorite" or "incredible". We have to agree. In our three weeks in Thailand, we got to experience a varied picture of Thailand's people, culture, landscape, and food. It's cheap, it's fun, and there's so much to see!
There are hundreds of blog posts, websites, and articles about Thailand. From information on the government, the people, the cultural norms, the delicious food, the best islands, the average price of a tuk-tuk ride, and more, there's no shortage of information on this place.
But, if you are reading this post, I think you're here for a different reason. You're wondering where we spent our three weeks in Thailand and how to have a blast in this backpacking paradise! We spent five days in Bangkok, ten days in Chiang Mai, six days in Koh Lanta, and one day in Krabi. By doing this, we got to see a little bit of Thailand's varied landscapes, people, and destinations.
This article is split into three sections - one section for each destination we visited in Thailand. At the end of the post, I talk about the total costs & how we did for staying within our mid-range budget. (Hint - it was easy to do because we didn't spend a lot!)
Read on to find out more about spending three weeks in Thailand!
Three Weeks in Thailand: Travel Guide
Thailand & COVID-19
Please be sure to review the latest information about travel restrictions, quarantining, and vaccinations for visiting Thailand. You can also visit the Thai Embassy website to learn more about what visitors to Thailand can expect upon arrival for visiting Thailand as of 2023.
Three Weeks in Thailand: Bangkok
About Bangkok
The first thing you should know about Bangkok is that it is extremely popular with backpackers. The entire country is a well-known "rite of passage" destination for anyone traveling through Southeast Asia, or even the world. Bangkok is huge but has tons of variety. CNN named it the "World's Greatest City" and gave 50 reasons why!
Some areas of Bangkok reminded me of a glorified New York City. The malls and shopping districts are crazy! But there were also shrines, temples, palaces, canals, street vendors, boats, parks, and local markets. There's so much to do and see here, you're going to want to give yourself a few days to soak it all in.
Where To Stay in Bangkok
I was a bit nervous about finding anything gluten-free and wanted to give Dylan and me a chance to see what the food situation was going to be. So, we opted to stay at this Airbnb apartment with a kitchen in Soi Sukhumvit.
Our Airbnb was cute, clean, and had everything we needed. We barely spent any time except in the evenings to cook dinner and sleep. It was close to the mass transit lines (ten minutes to the SkyTrain), plus a few supermarkets, and in a safe area. It costs us about $40 a night.
If you head over to Khao San Road, you'll find ridiculously cheap hostels, tons of bars, restaurants, and a good time. It's considered the backpacking hub of Bangkok. Even if you don't plan to stay here, you should visit at least once!
Bangkok is a huge city, and it can be overwhelming to decide where to stay. Check out this article that might help shed some light.
Activities & Things To Do in Bangkok
Malls
The malls in Thailand are seriously crazy. I've never seen anything like them.
We met a very nice couple from San Francisco during our time in New Zealand, a few weeks before we arrived in Thailand. Dylan and I shared with them our upcoming travels to Bangkok, and they immediately began talking about shopping malls. They insisted we had to go and see them, as they were unreal!
A few weeks later, we too became enthralled with the malls in Bangkok!
A few weeks later, we ate those words and became enthralled with the malls in Bangkok!
These malls were almost ten stories, with themed floors, restaurants, shops, movie theaters, demonstrations, decorations, fountains, (one had an aquarium!) street vendors, clothing stores, accessories, grocery stores, and more! They also are always air-conditioned, and when it's 90 degrees out, they are definitely a great option. Our favorites were the MBK and Siam Paragon.

Royal Palace
I've seen countless cathedrals, churches, and palaces in Europe that are jaw-dropping - places that are such marvels of architecture, beauty, and art, they leave you speechless. But I have never seen anything like the Royal Palace. It is unbelievably opulent, ornate, and detailed. The Royal Family of Thailand used to live here, but it's now used for formal events and state dinners.
Despite the insane heat and having to wear certain clothing in 95-degree heat, we really enjoyed touring the Royal Palace. It's worth getting there early if you can which might help a teensy bit with the heat. The colors, the gold, and the detail of the structures here are truly beautiful to behold.
Note: Make sure you check the Royal Palace's website to know about appropriate clothing. It is a sacred site and therefore you must dress appropriately or you WILL be turned away at the entrance. You must have your shoulders covered and knees covered. Men too. Ladies, leggings are NOT okay. We read online that they were a no-go and then watched a teenage girl be denied admission. Be respectful of the cultural norms where you are visiting and follow the rules.
Worried about the heat? Pick up some elephant pants. You'll see tourists wearing them everywhere, and I did too. One of the best places to find them is over at the weekend market of Chatuchak!

Chatuchak Weekend Market
The largest flea market in Thailand is Chatuchak!
Only open on the weekends and filled with more than 8,000 stalls, Chatuchak is a great introduction to the foods, craftsmanship, clothing, and other various goods for sale in Bangkok. It's quite a spectacle and you should add it to your three-week itinerary in Thailand.
Try the fresh juices or coconut ice cream, or buy yourself a pair of elephant pants. All of the tourists wear them because they aren't just fashionable, but they are appropriate dress at the temples. They are much cooler than regular pants and way comfy in the heat! You can definitely spend hours here, so plan appropriately! Wear comfortable shoes and enjoy getting lost in the maze of stalls and vendors.

Wat Pho
Also known as the Temple of the Reclining Buddha, this Buddhist Temple should definitely be on your to-do list. The temples have such unique colors, with many-flowered stupas, gold chapels, statues, and courtyards. The temple complex is very old and has hundreds of Buddha images, but the most famous of these is the Reclining Buddha.
The Reclining Buddha is the main attraction and for good reason. It is one of the largest Buddha statues in Thailand at over 15 meters in height (almost 50 feet tall) and 46 meters in length (150 feet long!). The mother-of-pearl detail on the Buddha's feet is also intricately detailed.
You should definitely take some time to explore here and observe the Buddhist customs. You can combine this visiting the Royal Palace as they are fairly close to one another and within walking distance.

Three Weeks in Thailand: Chiang Mai
About Chiang Mai
After five days in the big city, we took a little over an hour's flight north to the mountains of Chiang Mai. Chiang Mai is the largest city in Northern Thailand. It's smaller than Bangkok, and we fell in love. Little did we know, we'd actually end up staying longer than our original plans.
Something about the kind people, the night markets, the laid back vibe, the proximity to nature, and overall feel of the place just made Dylan and I feel like we could stay forever. We loved it, and wanted to see as much as possible! I would have loved to stay more than three weeks in Thailand - and if we return, I'd go back to Chiang Mai first.
There are other northern towns you can visit in Thailand, including Pai and Chiang Rai. We chose to stay in Chiang Mai and soak up more of this relaxing place. Though we had planned to stay for seven days, we wound up staying for ten.
Where To Stay in Chiang Mai
Entaneer Poshtel - Best Hostel Ever
The Entaneer Poshtel hostel one of my favorite hostels we stayed in during our three weeks in Thailand - and our entire six months of travel. This newly built hostel (2018) was down the street from one of the local night markets with the best smoothie vendor (more on that later), as well as being a ten-minute walk to my favorite restaurant (Pink House Garden - 100% gluten-free!
This hostel is modern, spacious, comfortable, and well-run. A local family keeps the place, and they are so welcoming and kind. The AC is strong, the beds are comfortable, the breakfast is good, and it's got a similar vibe to the rest of Chiang Mai. Plus, it's reasonably priced.
According to their Facebook page, which is updated regularly, Entaneer Poshtel is still open as of April 2023. Please check their Facebook page or refer to Booking.com to reserve a room.

Activities & Things To Do in Chiang Mai
Night Markets
Our favorite markets were the night markets in Chiang Mai. Our hostel was just a five-minute walk from one of the smaller local markets, Chiang Mai Gate Night Food Market. Dylan would order sushi, dumplings, or other dishes, and I'd get mango sticky rice, plain white rice, or smoothies. Make sure you see the weekend markets too - they are huge! We spent hours strolling the streets and exploring the food, crafts, clothing, and getting foot massages for super cheap.
Fruit Smoothies from Pa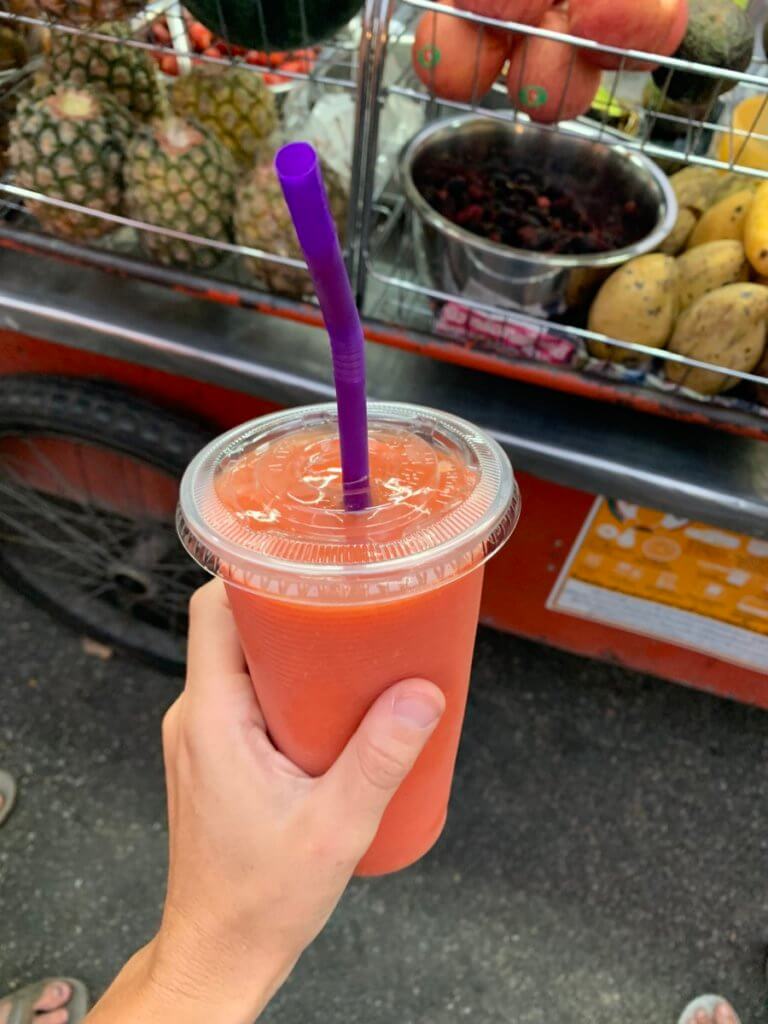 The best fruit smoothies in Thailand are from Pa at the Chiang Mai Gate Night Food Market just down the road from Entaneer Poshtel!
It became a nightly ritual around 8 or 9 PM. Dylan and I would take a quick walk down the street to Pa, say hello in Thai, and choose what fruits we'd like to have in our smoothie that evening. Always made fresh with local fruits and simply delicious, we couldn't get enough! Pa is friendly, sweet, and makes the best smoothies I've ever had. And they are only 20 baht each (less than $1)!
Temples
Just like Bangkok, Chiang Mai is filled with temples to visit, observe, and explore. We spent a full day in Chiang Mai walking around town to various temples, but also took a day hike up in the mountains to visit Wat Phrathat Doi Suthep. Worth the hike!
At one point, there was a service taking place and we sat down inside to observe the chants and prayers. It was mesmerizing and despite the heat, Dylan and I sat down and respectfully observed the ceremony for almost thirty minutes. Monks are everywhere in Thailand, and we became so accustomed to seeing them around town. I did a lot of research in Thailand about Buddhism to understand more about religion and the significance of what we saw.

Mama Noi Thai Cooking School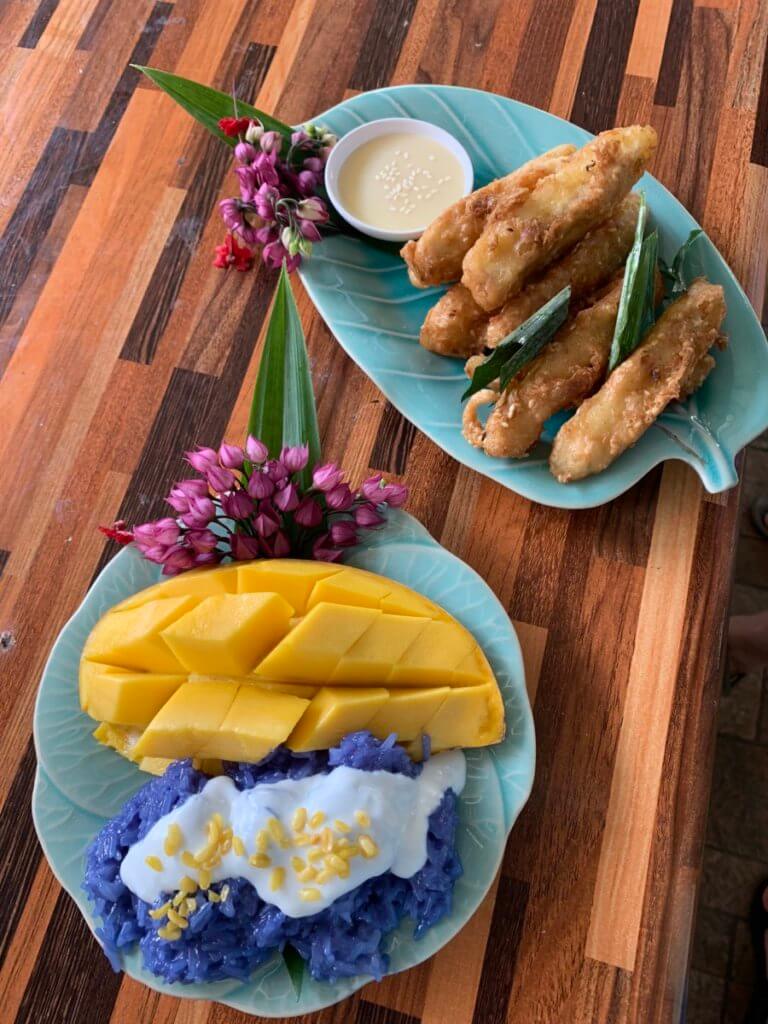 If you do any excursions or outings during your three weeks in Thailand - make sure you take a cooking class. It's so worth it! I was very nervous navigating Thailand's food scene as a celiac. I think a large part of that came from my lack of knowledge of Thai cuisine. To be totally honest, I had never tried Thai food in my whole life until we visited Thailand.
I know. And I was seriously missing out on the most aromatic, delicious food!
Taking a Thai cooking class was a great way to become more acquainted with the most common ingredients, cooking styles, and dishes. It not only helped me become more cognizant of Thai cuisine, but also made me more comfortable with what to order in restaurants as a celiac.
We each had our own cooking station, wok, utensils, and ingredients, and chose our dishes individually. I was able to eat everything except the spring rolls! I was also able to bring my own soy sauce and oyster sauce to use in the recipes. This is where I learned to make gluten-free pad thai, which is now one of my all-time favorite recipes to make at home.
For more information about visiting Thailand with celiac disease, please read my full celiac dining guide here.
Day Trip: Elephant Sanctuary
Warning: Be careful and diligent in your research here.
You have to be careful with elephant sanctuaries - there are a lot of scams out there. Many elephants in Southeast Asia are abused, mistreated, and hurt. Elephant riding is still prevalent in many areas of Thailand, but please don't do it. To learn more about the treatment of elephants in Thailand, please read this to understand the damages that elephant riding does.
Dylan and I spent hours researching reputable elephant sanctuaries. Elephant Nature Park is notorious for doing a great job, but we couldn't afford the price. After much deliberation, comparison, research, googling, and asking other guests at our hostel, we decided to go with Kanta Elephant Sanctuary.
The elephants at this sanctuary are retired logging elephants. They are more like oversized, playful dogs! We did not see any mistreatment or abuse and the animals seem extremely happy. They live on an enormous piece of land, are fed, bathed, and taken care of. We fed them sugarcane, took some photos, and got to say hello. There was no riding at all. At one point we even gave a baby elephant a bath in the river and she loved it!
Please make sure you do your research if you choose to visit an elephant sanctuary in Thailand and be sure you are visiting a reputable organization.

Day Trip to Doi Inthanon National Park
Another fun day trip in Chiang Mai was to Doi Inthanon National Park!
We found this organized hiking day trip through our hostel. Since we didn't have a car, Dylan and I realized that in order to do some of the hiking we wanted, we'd have to join a group tour. We did, and it was still a lot of fun!
In the morning, we visited the highest point in Thailand as well as two stupas in honor of the king and queen. We did two other smaller hikes, visited a small village, saw a beautiful waterfall, and had a tasty lunch. They even made sure to provide me with plain rice, eggs, and vegetables! Ironically, we ran into the people in our small group tour at Doi Inthanon while strolling the beach in Koh Lanta one night! Crazy how that happens!

Rajapruek Flower Gardens
These gardens were like a dream come true - and definitely one of the most beautiful places we saw in our three weeks in Thailand.
We spent an entire day exploring and wandering through this magnificent place. It was built to commemorate the king's ascension to the throne and also previously named an International Exposition for His Majesty the King. The amount of biodiversity and plant species in this enormous space is truly breathtaking. The orchids alone were jaw-dropping!
The gardens are also geared toward educating the public about plants, farming, and agriculture. You'll see tons of exhibits and showcases that will teach you about the plants in the gardens as well as an international garden zone. It showcases the flora and fauna from different countries around the world!
Plan on spending an entire day here, or at least a few hours. There's a cafe to grab snacks if you need them as well as places to sit down and rest among these stunning flowers and collections of plant life.

Coffee Shops/University
The university area of Chiang Mai has a large shopping mall, coffee shops, stores, and restaurants.  We enjoyed visiting this neighborhood to get Mexican food from Salsa Kitchen (more on that below), see the latest Marvel film, and plan our time in Koh Lanta. 

Coffee shops are a tradition for Dylan and I in every new place we visit, whether at home or abroad. Dylan loves coffee and I love tea, so we usually make a point to find a hip place to try out and enjoy the local atmosphere! Our two favorite coffee shops in Chiang Mai are RISTR8TO and Thesis Coffee.
Three Weeks in Thailand: Koh Lanta/Krabi
About Koh Lanta/Krabi
Deciding on which Thai island to visit was definitely one of the most challenging aspects of planning our Thailand itinerary. Everyone seems to have a favorite!
Dylan and I are not party people. I was hoping for a more relaxed island that wouldn't be full of Americans looking to drink in nightclubs and bars until they passed out. We wanted to go somewhere quieter, less busy, and a bit less popular.
We chose Koh Lanta after reading about it online here. It's peaceful, much quieter than other islands, and hasn't been overrun with tourists just yet. They were still working on expanding the main road on the island during our time there. To me, that was a sign we were visiting a place that had yet to become "popular". I liked it that way.
You can get around Koh Lanta by using tuk-tuks, renting a scooter, or walking.
Side note: Koh Lanta can be spelled with the h or without!
Where To Stay in Koh Lanta/Krabi
Our initial plan was to stay in an Airbnb for the first 3-4 days on Koh Lanta before deciding where we would go next. Upon arrival, we noticed it was a bit dirty, the fridge was filled with mold, and while it had the basic amenities we needed, I wasn't very happy. After two nights there, we investigated different lodging plans and we were much happier staying at Sea Shell Beach Resort and At Lanta Hostel.
Sea Shell Beach Resort was much cleaner and right on the beach for fairly cheap! We had breakfast with views of the ocean every morning and a cute kitty who kept us company.
At Lanta Hostel was farther south on Koh Lanta and a communal hostel, newly built with shared rooms, nice public spaces, and breakfast. It was within walking distance to restaurants and shops and of course, the beach!
For our last night, we took a bus service back to the mainland and spend one night in Krabi. Our hostel was in Krabi Town and was fairly basic - a dorm room bunk beds, shared bathroom, and breakfast in the morning. The hostel provided a taxi service for us to the airport.
Activities & Things To Do in Koh Lanta/Krabi
Beach Bars/Restaurants
What's the best thing to do on the islands of Thailand? Go to the beach, of course!
We spent most of our time on Long Beach in Koh Lanta, on the western part of the island. Later in the week, we continued down to Lanta Secret Beach (my favorite beach) and then Kantiang Bay. High above the beach, there are restaurants on the hill overlooking the Andaman Sea. These provide marvelous views of the sunset from outdoor terraces and small tables. We usually had our dinner at one of the restaurants here.

Sunsets & Fire Shows
In the evenings, we would stroll the beach to Why Not Bar for a fire show and drinks, or even listen to a reggae band at whatever beach bar had live music playing. It was incredibly relaxing and romantic! The sunsets never got old here. It became routine to watch it every evening over dinner or drinks with live music. The fire shows are CRAZY. Make sure you see one for this magical and intense demonstration of fire.

Mu Ko Lanta National Park
If there's a national park in a destination, you know Dylan and I have to check it out.
Rather than spend the baht to have us driven by tuk-tuk to the park's location (the drivers wanted way too much money), we opted to walk. Please note, we just didn't feel like paying it when it was a 2-mile walk. As you may realize, Dylan and I don't mind walking (though I will say the walk this particular day was the hottest we had. Good thing we had sunscreen and water!)
The national park is another beach with trees, rock formations, small buildings, picnic tables, and leisurely walks. The rock formations were cairns piled high all over the beach, and there were plenty of places to relax or go for a swim, but the water was fairly rocky.
BE WARNED:  There are monkeys! Monkeys in the park here do whatever they want!  We saw them steal ice cream from a girl on a towel then chase her and her friends into the trees, saw another jump on another person, and someone's lunch taken right out of their hands. They can ALWAYS smell food and will go after it. Be prepared!

Waterfall Hike
The Khlong Chak Waterfall is an easy day hike through the dense trees and rainforest of Koh Lanta island to a small waterfall. When we visited, there was barely a trickle of water! It varies at different points of the year. You will have to leave a motorbike or scooter here, but for walking, there was no charge. The trek is short and takes 30-45 minutes tops to get to the waterfall. It's a very moderate hike with no huge changes in elevation and relatively flat.

Volunteer at the Animal Shelter
Lanta Animal Welfare is an animal protection nonprofit organization on Koh Lanta, dedicated to protecting and finding homes for the many stray cats and dogs on the island.

We spent an afternoon at the shelter, originally hoping to volunteer, but they were overwhelmed with the help that particular day, so we instead played with the cats and learned more about what the volunteers day to day responsibilities include. They do a wonderful job of rescuing strays, spaying, and neutering, and also rescuing animals from abuse.
You may even find random cats that will join you for breakfast on the beach, like the one pictured above. She joined us every morning.
---
Three Weeks in Thailand: Total Costs
Thailand is a backpacker's paradise. With cheap food and lodging, miles of beaches, temples to explore, nature walks, and an amazing culture, you can't go wrong here. To give you an overview of our expenses in Thailand, here's a quick breakdown of our total costs, including lodging, meals, activities, and miscellaneous.
Dylan and I spent three weeks on a fairly strict budget. We stayed in hostels, did a lot of walking, limited our excursions to a few things, and ate cheap food as much as possible!
A cheap budget for 2 people for three weeks in Thailand according to BudgetYourTrip.com was $1002. A mid-range (more realistic) budget for 2 people for three weeks in Thailand was $2,726.
Our total costs in Thailand were $1,749. Here's the total breakdown from our round the world trip spreadsheet.
The largest expense was lodging, followed by food, excursions, miscellaneous, and transportation. Be mindful, this budget does not include flights. We flew into Thailand from Indonesia, then flew within the country to get around easier. You can choose to take buses or trains, but for the interest of time and money, flights were the way to go.
Flying into Thailand will be up to you and depend on where you are coming from. We flew from Indonesia which made the flight a lot less costly than from the United States. We flew from Bangkok to Chiang Mai and Chiang Mai to Krabi for a total of $296. So if you add that into our budget, we are still way under the mid-range amount - $2,045! For more information on how much it costs to go to Thailand, check out this article.

Three Weeks in Thailand: Final Thoughts
When can we go back and spend another three weeks in Thailand?
I fell in love with Thailand was so sad to leave! I barely knew anything about the country, the food, the people, or the history here and quickly learned so much in just a few short weeks.
I was amazed by everything we saw and Dylan was too. There are evenings here in Salem when I think back to our nights in Chiang Mai and getting smoothies from Pa around 9 PM almost every evening.
Looking for more New England travel guides?
Check out my guide to Witch City - Salem, Massachusetts in all seasons.
Learn more about visiting New England's national park - Acadia, in Maine.
Explore celiac travel guides to Boston, New Hampshire, Vermont, and Maine.
Discover our favorite secret spots for leaf peeping in New Hampshire during the fall.
Life was so simple!
Have you ever visited Thailand?

Let me know in the comments below!