These gluten-free Valentine cookies are the perfect treat to share with that special someone on the day that celebrates love!
This post may contain affiliate links. Please see my disclosure page for more information. Thanks!
About This Valentine Cookie Recipe
These gluten-free Valentine cookies are my favorite cookies for decorating. They are butter cookies, which are like sugar cookies. They aren't as sweet as sugar cookies, but are more creamy. Butter cookies are crisp, light, and highly addictive. My aunt makes delicious butter cookies for most holidays, and they were a dessert I truly enjoyed growing up until my celiac diagnosis in 2009.
Missing these delightful cookies something crazy, I decided to try making my own gluten-free butter cookies with Cup4Cup flour and a glossy frosting, in heart shapes of various sizes for Valentine's Day. Now, these gluten-free Valentine cookies are the perfect sweet for the upcoming holiday!
Ingredients For Gluten-Free Valentine Cookies
Gluten-Free Flour Blend: See below for my top recommendations for which gluten-free flour blend to use.
Unsalted Butter: This will be the fat content and will help the cookies get their signature name, creamy dough, and crisp taste.
White Sugar: The sweetner in the recipe. Remember, these are light and buttery cookies, and not overly sweet. The icing makes them sweeter.

Salt: A small amount, for balance.

Egg Yolks: Egg yolks will help with moisture and color in the cookie dough.

Vanilla Extract: Also for sweetness.

For the icing:
Confectioner's Sugar: The main ingredient in the icing is confectioner's sugar, also known as powdered sugar.

Water: This will help turn the sugar into icing.

Light Corn Syrup: This gives the frosting/icing a nice shine! Optional but I don't leave it out. I keep it in my cabinet just for cookies like this.

Salt: Again, for balance.

Gluten-Free Food Coloring: Depending on the amount of red food coloring drops you add to the icing can create various shades of reds and pinks. I use Betty Crocker which is labeled gluten-free.
Gluten-Free Flour Blend For Cookies
Gluten-Free Flour: I use Cup4Cup multi-purpose gluten-free flour for this recipe. It is my #1 choice for cookies, pastries, and yeast-based baked goods. Cup4Cup has given me great success in the kitchen over the last eight years, helping me to create delicious croissants, empanadas, naan, chocolate chip cookies, pierogi, bagels, and more. Please note if you use a different gluten-free flour your results may vary.
Based on my experience baking with Cup4Cup and other gluten-free flour blends, I believe these cookies would also work well with GF Jules, Better Batter, Bob's Red Mill, or King Arthur Measure For Measure. For the best results, you'll want to use Cup4Cup.
Can I Make This Recipe With Almond or Coconut Flour?
I do not recommend substituting a single gluten-free flour, like almond flour or coconut flour, for my recipes. My recipes use a gluten-free flour blend, a mixture of different gluten-free grains, starches, and thickeners, to substitute for all purpose flour. Using just one of them, like almond or coconut, will not give you the same results, and will probably lead to a lot of frustration in the kitchen. For most of my recipes, you'll need a blend, like Cup4Cup, King Arthur Measure For Measure, Bob's Red Mill, or GF Jules, to name a few.
For more my top tips on gluten-free baking with success, check out this post!
Tools & Tips For Making These Cookies
Measuring gluten-free flour. One of my top gluten-free baking tips! If you aren't measuring for weight, then be sure to spoon your flour into your measuring cup, then level off with the back of the knife. This makes sure you get an accurate amount.
Rolling Pin: A rolling pin really helps for both rolling out the cookie dough.
Baking Sheets: I recommend tese from Nordic Ware. I have them in multiple sizes.
Silicone Mats: Not required, but helpful and less wasteful than using parchment paper. I use SilPat because they last forever!
Bench scraper: A bench scraper, like this one, really helps when transferring cut out cookies to the baking sheets. You can also just use a spatula.
Decorations: Piping bags, tips, and gluten-free sprinkles are all super helpful to make these Valentine shapes even more festive.
Heart-Shape Cookie Cutters: I found mine at Michael's, but there are plenty available online. I have two or three different sizes of metal heart-shaped cookie cutters, like these ones, and a few with scalloped edges. You can use any cookie cutters you like or have, and in whatever shapes you prefer. I also found a Valentine's envelope with a heart shape at Michael's and used that one as well.
How To Make Gluten-Free Valentine Cookies
Prep the dough. The dough is mixed together and then refrigerated, to firm up.
Roll out the dough. The dough is rolled out with a rolling pin.
Cut out Cookies. Using cookie cutters, the dough is cut into different heart shapes or Valentine shapes of choice.
Bake the Cookies. The cookies are baked in the oven for just over ten minutes.
Cool Completely. The cookies need to cool for a few hours, or overnight before frosting.
Make the glaze and frost. Once the cookies have cooled, the icing is made, and it's time to decorate!
How To Frost Gluten-Free Valentine Cookies
The Icing: While you can leave the cookies plain (and they are still very tasty!), frosting or icing on top makes them even better. And this icing from Sally's Baking Addiction is phenomenal! It sets so quickly that you won't even see marks from your knife. I always refer to Sally for her baking tips and this is one that definitely came through. Using her recipe, I then added a few drops of gluten-free red coloring gel to make red and pink, but left some of the icing white. This gave me more flexibility and options when decorating.
How To Store These Cookies
After decorating, store cookies in a sealed container at room temperature for 3-5 days. You can also try freezing them for up to one month, but I cannot comment on how well they will defrost. Butter cookies never last long enough in our house to freeze!
Looking for more gluten-free Valentine's Day Recipes?
Try these gluten-free chocolate covered strawberries. Always a good idea, and they are dairy-free too!
Make this gluten-free bread pudding with chocolate and raspberries.
Try these gluten and dairy free oreo cheesecake brownies. Decadent.
Another way to use up strawberries -in a cake! This is like a pound cake with strawberries and powdered sugar on top. Great with fresh whipped cream.
Go for a classic - chocolate chip cookies, but add cranberries and walnuts!
Here's how to make these gluten-free Valentine's Day cookies!
If you love this recipe, please leave a comment! Thank you so much!
Gluten-Free Heart-Shaped Cookie Recipe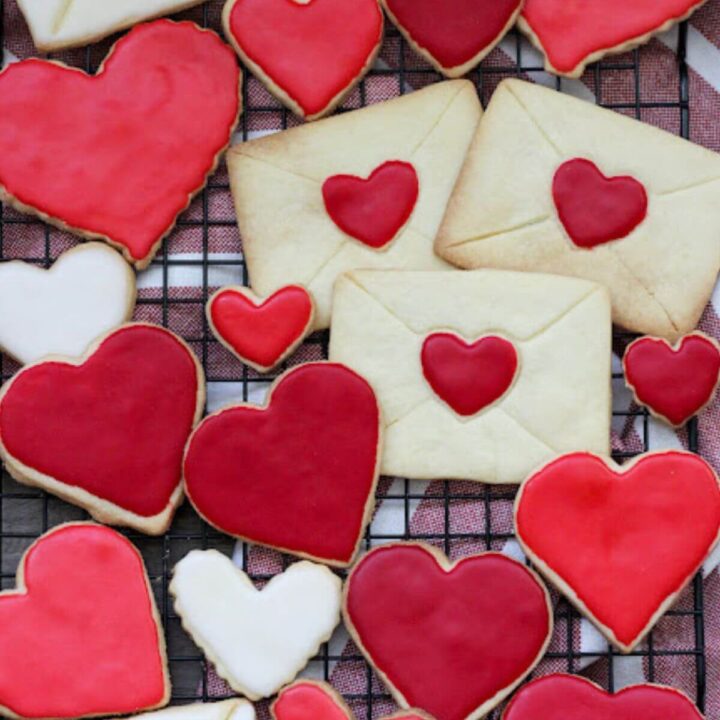 Gluten-Free Valentine's Butter Cookies
Prep Time:
1 hour
20 minutes
Additional Time:
12 hours
Total Time:
13 hours
32 minutes
The perfect treat for Valentine's Day!
Ingredients
For the Cookies
¾ cup unsalted butter, softened to room temperature
⅔ cup of white sugar
¼ teaspoon of salt
2 egg yolks
1 teaspoon vanilla extract
2 cups gluten-free flour, like Cup4Cup, plus more for rolling out the dough
For the Icing
1 and ½ cups (180g) confectioners' sugar
½ teaspoon pure vanilla extract
1 teaspoon light corn syrup*
2 – 2.5 Tablespoons (30-38ml) room temperature water
⅛ teaspoon of salt
Instructions
Into a stand mixer with the paddle attachment (or using a hand-held mixer), beat the butter, sugar, salt, egg yolks, and vanilla extract for 3 minutes on medium-low speed. The mixture should be creamy and a light yellow color. Using a large wooden spoon, slowly add in the flour. The dough may be crumbly, and this is okay. Once all of the flour has been added and mixed as best as possible with a spoon, turn the dough onto a lightly floured countertop.

Work the dough with your fingers, kneading as necessary to make everything incorporated and smooth for just a few turns. Shape the dough into a ball, then cut in half. Wrap in plastic wrap (or bee's wrap for a greener alternative) and flatten with your hands, until they form a flat disk shape. Refrigerate for 1 hour.

Remove the dough from the refrigerator. Preheat the oven to 325 degrees Fahrenheit. Allow the cookie dough to rest for 5-7 minutes at room temperature before rolling. Otherwise, it will crack.

Lightly flour a work surface with gluten-free flour. Roll out the dough until about ¼ inch thickness, then use cutters in heart shapes or other shapes of choice. Place on an ungreased cookie sheet or a cookie sheet lined with Silpat silicone baking liners. With the remaining scraps of dough, reroll and continue cutting out shapes until no more dough remains.

Bake the cookies for 10-12 minutes but BE CAREFUL. Rotate the pans halfway through baking, and watch once you get to the 10-minute mark. They can turn dark and brown very quickly, especially if they are on the thinner side. We only want them to be lightly browned along the edges. As soon as you see that, remove them from the oven.

The cookies will be very delicate once removed. Allow them to sit on the baking sheet for another 10 minutes before removing to a wire rack to cool completely for 2-3 hours or overnight before frosting.
To make the icing, mix together the confectioners sugar, vanilla, corn syrup, and 2 tablespoons of water in a medium-sized bowl. Have another bowl out and handy if you plan to make different colors. The icing should be thick. If it is too thick to work with, add another ½ tablespoon of water and whisk again. If it seems too thin, and 2 more tablespoons of confectioner's sugar. Add food coloring as desired and pipe. Please check the recipe from Sally's Baking Addiction for more information.
Notes
Gluten-Free Flour: This recipe uses Cup4Cup gluten-free flour for the best results, and it is my #1 recommendation. You can also try Bob's Red Mill 1:1 Baking Flour which I believe would yield positive results. If you use another gluten-free flour, please note your results can vary.

Shapes: These cookies don't only have to be hearts! You can use whatever cookie cutters you have. I just think they are so cute as hearts!

Icing: This icing recipe comes from Sally's Baking Addiction. I've linked the post in the recipe but you can find it here as well.

Storage: After decorating, store cookies in a sealed container at room temperature for 3-5 days. You can also try freezing them for up to one month, but I cannot comment on how well they will defrost. Butter cookies never last long enough in our house to freeze!
Nutrition Information
Yield

12
Serving Size

1
Amount Per Serving
Calories

332
Total Fat

18g
Saturated Fat

9g
Trans Fat

0g
Unsaturated Fat

7g
Cholesterol

61mg
Sodium

157mg
Carbohydrates

40g
Fiber

1g
Sugar

14g
Protein

3g
Do you like butter cookies?
What's your favorite kind of cookie?
Tell me in the comments below!