This guide to Salem has everything you need to discover one of the best spots on the north shore of Massachusetts!
This post may contain affiliate links. Please see my disclosure page for more information. Thanks! Guide last updated October 2023.
About This Guide To Salem
After a good ten years of living in Massachusetts, I'm pleased to share with you the ultimate guide to Salem!
Despite our six-month hiatus when we traveled the world, we've spent a lot of time in Witch City and have come to love this quirky, historic, and exciting place.
Here you'll find my ultimate guide to Salem - things to do, historic sites, all the hocus pocus, where to stay, hidden gems, places to shop, and where to eat!
Cue the Hocus Pocus soundtrack & let's get into this guide to Salem!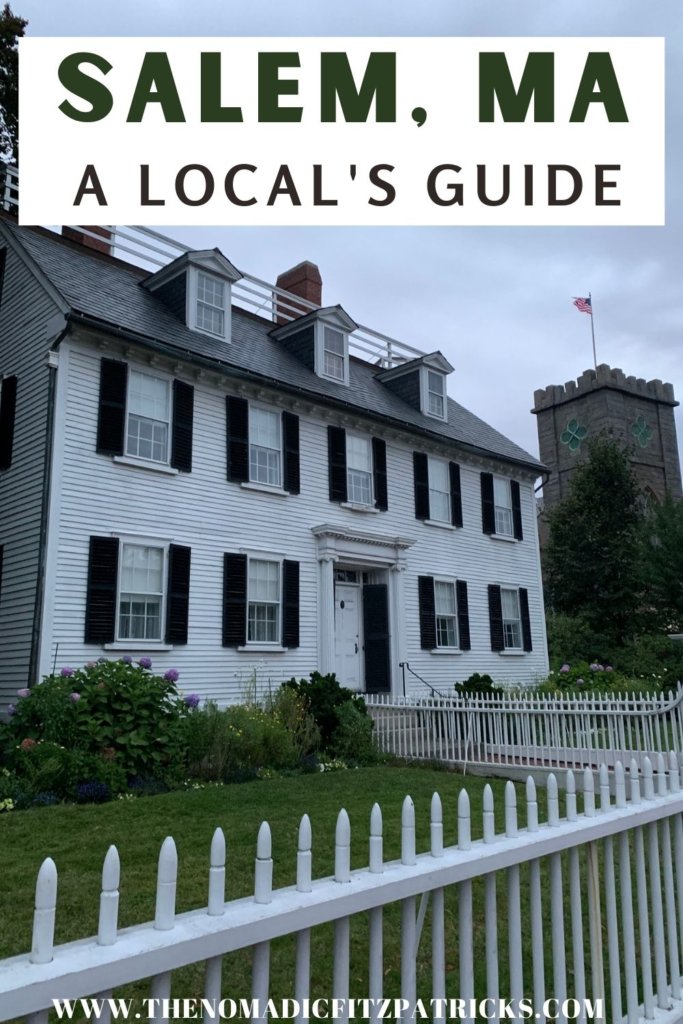 Travel Guide to Salem, Massachusetts
Background on Salem
Salem is a coastal city just north of Boston, Massachusetts, dating back to 1626. There are plenty of colonial and maritime history in Salem, and of course, the history of witchcraft as well. Today it is a vibrant and exciting destination that attracts tourists year-round but is most popular during the month of October.
The Salem Witch Trials took place here starting in 1692, which led to overall hysteria and the death of twenty people. Salem was made famous by the author Nathaniel Hawthorne and the 1993 movie Hocus Pocus, which has seen a massive revival in popularity in recent years (though some of us have been obsessed since the '90s…).
Salem also has a diverse community, including a large presence of immigrants from the Dominican Republic. Hearing Spanish is very common in this area, and also finding delicious Dominican foods, like pastelitos, mangu, and rice (Be sure to check out a local típico for them!)
General Information For Visitors To Salem
To get the best experience and understanding of this ultimate guide, I would highly suggest reading more about Salem through the city's tourism website - Destination Salem. Also, Things to Do in Salem is a Salem-based blog that also focuses on all of the great things about Witch City!
For more travel information when you arrive in Salem:
For more general information about Salem, walking tours, maps, the city layout, events, and other helpful tips, head to the Salem Regional Visitor Center, on the corner of New Liberty Street and Brown Street, which as of January 2022 is open Wednesday-Sunday, 10 am-4 pm. You can also access visitor information is available at Waite and Peirce NP Store on Derby Street, from 10 am-5 pm.
Getting to Salem & Transportation
If you are planning to visit Salem, it's roughly 30 minutes from Boston's Logan Airport. You can take the commuter rail on the Newburyport/Rockport line which takes you directly into downtown Salem. If you prefer to rent a car, the best parking areas are the Peabody Essex Museum lot or garage. It's central to almost everything.
If you visit during the month of October, parking can be a nightmare! The prices in most parking lots increase, and it's packed with tons of people. Thousands of people come to Salem in October, so it can be a bit crazy! For more information on where to park in Salem, check out this helpful resource.
Where to Stay in Salem, Massachusetts
When creating this ultimate guide to Salem, there's one area that has never been something we've had to worry about since we live locally. But if you are visiting, here are the top places I'd recommend!
Airbnb is always an excellent option. There are plenty of small apartments and private rooms within the downtown area and in the historic district. Just make sure you are renting from locals.
For local BnB's with great breakfasts and witchy flair, try Morning Glory Bed & Breakfast or The Salem Inn. For a historic (and haunted!) hotel with year-round celebrations, events, and great meal options, stay at The Hawthorne Hotel, located right next to Salem Common. The Hotel Salem is a new boutique hotel downtown with a rooftop bar. Learn more about this hip and stylish space right here.
Other hotels include The Merchant Salem and Salem Waterfront Hotel & Suites. All three hotels are located in the downtown area, putting you in a perfect spot to walk to everything and not need a car. Uber and Lyft are always available, and Witch City Taxi too (look for the witches on everything...even our cabs!)
Ultimate Activities & Things To Do in Salem
There's a lot to do in Salem, so this guide does not include everything. But these are some of our favorites for every season. Be sure to also check out Salem Main Streets to find out what events are happening downtown when you visit.
Visiting Salem in Winter
Salem is much quieter and less touristy in the winter months. As such, you'll probably find fewer crowds, cheaper accommodation prices, and of course, snow. But a visit to Salem in the wintertime or colder months still has a lot to offer! Check out these festivals, activities, and things to do in winter.
The Peabody Essex Museum
The Peabody Essex Museum was established in 1799. It's rooms are filled with art, sculpture, installations, and exciting exhibits. Discover maritime history about Salem, art from all over the world, and even exhibits on the Salem Witch Trials.

The museum is located on brick-lined Essex Street. It's open Thursdays, Saturdays & Sundays 10 am–5 pm, Fridays 10 am-7 pm and holiday Mondays.
It's $20 per person and you should plan to spend a good 3 hours here. It's not an enormous museum, but there's plenty to see. You can purchase advanced general admission tickets at pem.org/tickets or by calling 978-542-1511.
So Sweet Chocolate & Ice Sculpture Festival
Every February, local shops and businesses downtown have Valentine's day specials involving lots of chocolate and ice sculptures! You can take the trolley around town to see them, or bundle up and walk around to view them yourself. Here's a link to the 2021 Ice Sculptures festival to see a map of where the sculptures are usually placed.
Visiting Salem In Spring
Springtime is personally my favorite season in Salem, just for the gardens alone. With warmer weather, the flowers in bloom, and New Englanders starting to emerge from winter hibernation, this is a lovely time to visit Salem. Here's what I recommend if you're visiting in the spring!
Check out the local gardens
The two gardens I recommend in Salem are the Ropes Mansion on Essex Street and the Derby House gardens, located behind the Derby House on Derby Street. Both have benches where you can sit down and enjoy the view, read a book, or take a break from sightseeing.
Salem's Maritime History
The National Parks Service runs the Salem Maritime Historical Park, which is comprised of a number of historic buildings, like the Salem Custom House, and the Friendship of Salem, pictured above. Salem has a strong history as a trading port and you can learn about it in this of Derby Wharf.
Currently as of October 2023, the Wharf is open for you to explore, as well as the Visitor Center, Park Store, and Restrooms. The Friendship of Salem is only open on certain days per month for tours. Please check the National Park Service website for updates!
Visiting Salem In Summer
Salem in the summertime is a classic nautical scene in New England. Hydrangeas blooming, boats in the harbor, sunshine, and great beach days. Here are some fun things to do if you are visiting Salem in the summer.
Get Ice Cream At Melt
Melt is the local ice cream shop in downtown Salem on Washington Street. While there are others as well (scroll down to the "Where to Eat" section for the details), Melt is my favorite because they have really cool flavors. Try the banana nutella, or opt for their raspberry.
And if you're gluten-free like me, they have great allergen protocols, plus gluten-free cones and sprinkles. A perfect treat to cool you down on a hot day.
Visit The Salem Willows
Relax by the water on one of the benches, bring a hammock, or lay out on the beach - the Willows has it all, plus old-school arcade games and food stalls. It's a great spot for a picnic, too!
Visiting Salem In Fall
Be warned: This is the most popular and busiest season in Salem. Expect long lines, lots of people, traffic, bad parking availability, and that advanced reservations for meals, tours, and admission will be necessary.
If you're visiting Salem in the fall, you most likely know the connection to the city with witchcraft and the Salem Witch Trials. It's been shared in history classes, literature, and plays such as Arthur Miller's The Crucible, and in the cult classic film "Hocus Pocus".
If you are planning to visit specifically during the month of October, you'll want to arrive early in the day and check out the Haunted Happenings website. It will include information about events, parades, parking (it can be tricky!), festivals, street vendors, and other spooky sites.
Spooky Spots in Salem
To get the ultimate Salem experience with all its spooky history, we highly recommend taking a ghost tour in the evenings. Check out Bewitched After Dark tours for their historic nighttime tours of Salem. Tickets are $30 per person and go for 2 hours past many popular sites in Salem.
For more witchy locations, visit the House of Seven Gables, Salem Witch House, Witch Dungeon Museum, and the Salem Witch Museum. The Burying Point is the old graveyard with tombstones that go back centuries - look for the Mayflower Pilgrim buried there. For one of the most haunted spots in Salem, visit Proctor's Ledge, the execution site for those accused of witchcraft during the Salem Witch Trials.
To get catch a glimpse of a real apothecary shop with homemade products to purchase visit Red Antler Apothecary. You can also check out these witch shops for a psychic reading.
Update Fall 2023: My friend Evan Northrup is a fantastic magician offering shows this fall in Salem during Haunted Happenings! Check out Evan's website for all of the details on where to see his wonderful magic or his Instagram page too!
Hocus Pocus Filming Locations
The cult classic "Hocus Pocus" is a favorite Halloween movie by 90s kids, myself included. And living in Salem you have plenty of opportunities to see spots where filming took place.
The Ropes Mansion is one of my favorite locations in Salem, and it's the site of Alison's House in Hocus Pocus. You can visit the inside of this historic home, or just walk through the gardens around the back. Max and Dani's house is located past the downtown area, in the area of Salem called The Point on Ocean Avenue. Please keep in mind that people actually live here, so please be respectful of their property and their privacy.
You can also visit Pioneer Village, where the village of Thackery Binx was filmed, or check out The Old Town Hall, where Max and Dani's parents attend the Halloween party. For more Hocus Pocus filming locations, check out this article from Destination Salem.
Shopping in Salem: My Favorites Storefronts
There are many local shops that have a wide selection of adorable products! Here are some of the best places to find unique stuff in Salem!
Oak & Moss
Plants, home decor - modern and minimalist. My absolute favorite!
Roost & Co
Stationary, cards, coloring books, and assorted cute stuff. It's the sister store to Oak & Moss.
Spruce
The third store in this line up with home decor, candles, pillows. Honestly, all three of these places are fantastic!
Pamplemousse
Adorable kitchenware, specialty foods wine, and assorted home items.
Modern Millie's
The best and most amazing thrift store with adorable and classic outfits!
The Boutique
Women's clothing & trendy items, including dresses, tops, blouses, scarves, and more.
Salem Cheese Shop
CHEESE, wine, meats, and imported products.
Wicked Good Books
If you are a bibliophile like me, nothing beats a good bookstore.

Where To Eat in Salem
You can find my entire celiac dining guide to eating gluten-free in Salem right here on the blog.
But if you don't have celiac or need to eat gluten-free, here's where to eat in my ultimate guide to Salem, no matter what your preferences may be!
Breakfast
My favorite breakfast place is Crave. and if you've been following my Instagram for any period of time now, you know it's our go-to weekend spot with celiac safe options. They have recently opened a new location in Salem, too! Make sure to get a North Shore sandwich because it's mindblowing, or pick up some scones/cupcakes (all gluten-free).
Other popular breakfast spots are The Ugly Mug Diner and Red's Sandwich Shop. Mr. Crepe has also recently become popular for delicious crepes with various fillings.
For an awesome brunch, look into Ledger Restaurant. It's a former bank that has been transformed into a hip restaurant space and they do great mimosas and brunch options on the weekends.
Coffee/Tea
We have many coffee shops here in Salem besides Dunks and Starbucks. Check out Jaho, Front Street Coffee House, Odd Meter, or Gulu-Gulu, for great coffee and tea, or even a pumpkin spiced latte in the fall.

Pizza
Bambolina and Flatbread Company both offer more traditional Italian pizzas and flatbreads, but if you are looking for funky, check out Flying Saucer. The amount of Star Trek and space memorabilia, along with their fun pizza toppings and names, makes it a well-loved local stop. Order the Stormtrooper Commander - Dylan's favorite, and it's technically not even on the menu anymore and is a secret item. Chicken, ranch, bacon, broccoli are some of the toppings.
Italian & Mediterranean
For a more elegant experience with Italian and Mediterranean cuisine, dine at The Adriatic or Bella Verona for a delicious dinner. The Hawthorne Hotel also has multiple restaurants with wonderful and classy dining options.
Adriatic is our favorite restaurant in Salem and we always come here for anniversary dinners or date nights.

Asian Cuisine
For sushi, check out Koto Grill & Sushi, or Opus for an American and Asian fusion menu. Kokeshi is known for its ramen, and Thai Place serves excellent classic Thai dishes such as pad thai, fried rice, and mango sticky rice.

Seafood
The Lobster Shanty is a tiny bar and seafood place on Artist's Row. Give their lobster rolls a try for a classic New England dish. For oysters, steamers, and other local options including the classic New England clam chowdah, try Sea Level Oyster Bar or Finz. Turner's Seafood is a more upscale sit-down restaurant that has excellent seafood and allergen protocols in historic Lyceum Hall.

Mexican
Howling Wolf Taqueria has quesadillas, tacos, burritos, nachos, and everything in between. The decor is fun and looks like something from a Day of the Dead celebration. Expect big crowds and tasty dishes- including margaritas and avocado fries.

American/Bar & Grill
The Boston Hot Dog Company serves specialty hot dogs and sausages. The Derby, formerly Tavern in the Square, is an American bar and grill with burgers, sandwiches, and more. Opus, as mentioned earlier for an Asian fusion menu, also does excellent burgers and dinners. The Village Tavern is a pub that has lots of tv's for sports watching, pool tables, and is usually busy.
Healthy Eats
Life Alive Cafe is an organic cafe serving up juices, grain bowls, kombucha, soups, teas, and acai bowls. The Juicery is a similar cafe with bowls, juices, and other health-conscious options.

Sweets & Treats
Melt Ice Cream is allergen-friendly and full of eclectic flavors. Captain Dusty's Ice Cream is down by the Wharf and a local favorite. Essex Street recently opened another new sweet shop, Kakawa Chocolate House! Jodi Bee Bakes is a vegan bakery and cafe (Sadly closed as of September 2023). And Goodnight Fatty makes crazy good cookies (that's what my friends and Dylan say).

Where To Drink in Salem
Deacon Giles makes tasty cocktails and really good gin. They are small and a bit off the beaten path in Salem, but so worth it. You can take a tour of the distillery or try out one of their concoctions in the Tasting Room.
Far From The Tree is our number one favorite spot for a drink in Salem! Amazing 100% gluten-free ciders, games, great patio space, dog-friendly, and pop-ups/trivia on a regular basis.
Notch is a brewery offering traditional beers in a beer-hall setting. They also have a nice outdoor Biergarten and an exciting Oktoberfest every fall.
All Soul's Lounge is a new cocktail lounge just across the street from Notch. They also make a mean grilled cheese sandwich.
East Regiment Beer Company is a new brewery in Salem that opened just a few years ago. A friend of a friend started the brewery and we've heard great things.
O'Neills is your typical Irish pub and pub fare.
The Roof offers drinks atop, you guessed it, a rooftop! It's above the Hotel Salem on Essex Street.
Bit Bar is an 80's themed pub with funky drinks, arcade games, and pinball. They do fun events like crafts, trivia, and music bingo.
If you enjoy live music, check out Opus Underground - the basement of Opus for a bricked music room and bar with great bands. Hopefully they can resume having bands play here agian soon. Artist's Row usually has live music out front of the Lobster Shanty, and Rockafellas has dance parties and DJs frequently.
Final Thoughts on This Travel Guide to Salem
I hope this guide to Salem lets you enjoy more of Witch City with a few local favorites! Salem is such a fun town and there's always something going on.
---
Looking for more New England travel guides?
Learn more about visiting New England's national park - Acadia, in Maine.
Explore celiac travel guides to Boston, New Hampshire, Vermont, and Maine.
Discover our favorite secret spots for leaf peeping in New Hampshire during the fall.
Have you ever been to Salem?
Did you find this guide to Salem helpful?
Leave me a comment below and tell me your favorite part!