In this gluten-free Southern Maine travel guide, I'm sharing some great spots for gluten-free food along the coast!
This post may contain affiliate links. Please see my disclosure page for more information. Thanks! Guide last updated February 2023.
Ah, Maine - the way life should be. And the way gluten-free food/drink should be! Maine's gluten-free scene and stunning natural beauty are nothing short of spectacular.
About this Gluten-Free Southern Maine Dining Guide
While our go-to getaway spot for many years has always been Vermont, Maine has slowly crept upon us. And now that we've been a few more times, like visiting Portland with friends, or camping in Acadia National Park it's become a favorite destination not only for the beautiful landscape but also for the awesome gluten-free food options.
Here's a preview of the great gluten-free Southern Maine food that awaits you! Please note - this gluten-free guide to Southern Maine is not a complete list. I'm still adding to it as I continue to visit Maine. Check back for updates!
NOTE & DISCLAIMER
Everyone's experience with celiac disease is different. Dedicated gluten-free facilities are usually the safest places to go, and you'll see those listed here. For non-dedicated facilities and restaurants, I only recommend places I have visited or where clear protocols are in place for celiac diners.
My experience is not your experience. This is a guide – a list of suggestions to point you in the right direction. Restaurants can change. Use your own judgment and only eat where you feel safe doing so.
This guide was originally written and published online for Gluten-Free Living. I have updated and condensed the information here to include the most accurate and up-to-date spots for celiac travelers. Guide last updated February 2022.
Gluten-Free Southern Maine Travel Guide
About Southern Maine
Maine is the largest state in all of New England, with over 15 million acres of land. Maine's seacoast stretches for 3,478 miles - more than fifty miles longer than the state of California.
Since Maine is so huge, I'll only be focusing on the gluten-free options of Southern Maine, specifically, along the seacoast, until we've adventured further north!
How To Find Gluten-Free Food in Southern Maine
Locating gluten-free food can be tough when you're traveling - especially in a state like Maine. Things are pretty spaced out, and it can be hard to find restaurants sometimes. This guide will give you suggestions and my personal recommendations to point you in the right direction, but you might need to explore other options.
And that's okay!
One of the best ways to do that while traveling in Maine is by doing your research first, on an app/website like FindMeGlutenFree.
FindMeGlutenFree can help you get an idea of what gluten-free restaurants, bakeries, and safe menus are available in Maine. And with a Premium Subscription, you can filter by most celiac friendly, see what's open now (so you don't drive all the way to a bakery for breakfast and discover it's closed), and what's gluten-free in the direction you're headed. It's like Google Maps, but a gluten-free version. And no Ads!
I've been a FMGF user for over a decade, but I think their Premium version is much more effective. Take $5 off a Premium Subscription with the code THENOMADICFITZ to make your trip to Maine less stressful.
Dining Out In Southern Maine With Celiac Disease
As I recommend to all of my clients for dining out with celiac, you want to make sure to clarify what gluten-free means when you order food at a restaurant.
Unfortunately, due to the presence of fad dieters, gluten-friendly and gluten sensitive menus, people with celiac disease struggle to be taken seriously when dining in restaurants.
Based on my 14 years with celiac disease and my multiple restaurant allergen trainings, I suggest using the words severe gluten allergy when dining out, and then clarifying celiac disease. Also, be sure to tell your server about how you need your food prepared to prevent cross-contact.
Gluten-Free Food in Kittery
Toast Sandwich Shop
100% Gluten-Free
Toast Sandwich Shop just opened in January of 2022. They are a 100% gluten-free facility serving specialty gluten-free sourdough bread with various toppings. They are currently only open on the weekends for takeout as they get adjusted to supply and demand.
The gluten-free sourdough bread here is really good! It's similar to the sourdough I made during quarantine in 2020 (you can read a full post about that experience here and how you can make it at home too!) While the avocado toast was great and the bread had excellent texture, it was extremely expensive at $13. This isn't the type of place I feel is within most peoples budgets for food, and I don't really have plans of returning.
For more information about Toast, visit their website or Instagram page.
Lovebird Donuts
Big thanks to my friend Emily @im.emily.bean for telling me about this place in Kittery for safe donuts. I haven't made it here yet, but it's on my list. And since I'll just about anything for a gluten-free donut, I wanted to share this place with you! They make vegan and gluten-free donuts - but they are safe to eat.
From their website menu:
"Our gluten-free options are prepared separately from our wheat-based donuts and cooked in their own dedicated fryer and oil."
Score! Sounds a lot like Kane's Donuts, which you can find at three locations in the Boston area.
For more information about Lovebirds as well as their full menu & hours, visit their website, or follow them on Facebook/Instagram.
TacoCat
100% gluten-free taco truck in Kittery!
This taco truck boasts an entirely gluten-free kitchen and they use Vermont Tortilla Co. tortillas for their tacos. They have tacos, rice, beans, and drinks! They are open seasonally, so be sure to double-check before going.
They are located off Route-1 just past the traffic circle and are closed on Mondays and Tuesdays. For more information about TacoCat, visit their website or follow them on Facebook/Instagram.
Knew Potato Caboose is another dedicated gluten-free food truck located in Wells, Maine, serving hand cut french fries. Yum!
Gluten-Free Beer in Biddeford
Lucky Pigeon
Biddeford is home to the 2nd gluten-free brewery in New England (the first belongs to Red Leaf Gluten-Free Brewery in Vermont) that just opened in summer 2021- Lucky Pigeon!
This dedicated brewery is just starting but they already have 4 different beers available for purchase. I'm partial to the blonde ale - Eclectus, but we tried all of them! Dylan really liked the darker ale (on the far right) - Little Brown Job.
They have flights, full pours, and cans available to purchase. Lucky Pigeon is located right in downtown Biddeford, in the historic Pepperell Mills. You can visit their website or follow them on Facebook/Instagram for more information about their hours and events!
For more dedicated gluten-free breweries & cideries in New England, check out this blog post!
Gluten-Free Food in Portland
Portland is one of the biggest cities along the seacoast with a really fun gluten-free scene, including 100% gluten-free restaurants! It's also a really neat spot and boasts live music, local festivals, art museums, and nautical history. This is the type of city you can spend a weekend in, but it's also good for a day trip as well.
The Holy Donut
This place is quintessential Portland - freshly made potato donuts with all different flavors and a special selection of gluten-free donuts as well.
A note about Holy Donut: while they are not a dedicated gluten-free facility, they do take measures to keep the gluten-free donuts safe. AND MAKE SURE YOU GET THERE EARLY, especially on the weekends! We were there in February of 2022 and they sold out of all GF donuts at the downtown location before 9 AM.
From their website:
**We offer gluten-free donuts, but we are not a certified gluten-free facility! We do our best to keep gf ingredients separate and we do prep and cook with separate gf designated equipment. But eat at your own risk.
These donuts are different from your traditional donut but definitely worth trying if you feel comfortable. Their flavors are also fantastic. I love the dark chocolate sea salt - the perfect combination of salty and sweet.
They have multiple locations in Portland and each has specific hours of operation. For more information about Holy Donut, visit their website, or follow them on Facebook/Instagram.

Maiz
100% Gluten-Free Restaurant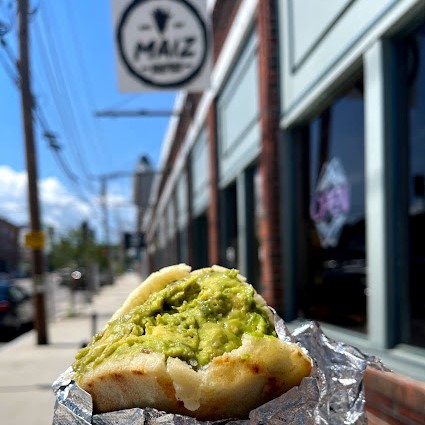 Maiz is a Colombian restaurant in Portland serving incredible arepas! They are completely gluten-free and everything they make is so so good. The arepas are enormous (they are corn-based) and you can also get rice bowls, empanadas, pan de bono (cheese bread!), drinks, and more.
They have a small amount of seating both indoors and outdoors and it's a really fun spot. It's great to be able to get a full meal rather than just a baked good from a place you know is completely safe. Sometimes I feel like there are more gluten-free bakeries than restaurants in the US, so when you find a place you can get lunch or dinner, it's a WIN!
For more information about Maiz, visit their website or follow them on Facebook/Instagram.
Be sure to check out this Reel I made on Instagram about our visit their in summer of 2021!
Empire Chinese Kitchen
Finding celiac-safe Chinese food is RARE. When I found it at Lili & Loo's in New York City, I was ecstatic (read more about that here.) And when I discovered Empire in Portland has celiac protocols on their menu, including gluten-free dishes like steamed dumplings and fried rice, I just about cried.
Empire is a Chinese restaurant currently only open for takeout but take celiac disease seriously. There is even a "celiac" option when you order online and they give you gluten-free soy sauce packets. It was just as fantastic as I remembered takeout being pre-celiac diagnosis!
You can also call them to clarify about their protocols if you aren't sure. I ordered the steamed pork dumplings (yum) and the fried rice. It was SO much food but felt so special to have takeout Chinese again. And the gluten-free soy sauce packets made me feel normal again.
For more information about Empire, visit their website or Facebook page.
Bam Bam Bakery - TEMPORARILY CLOSED
100% Gluten-Free Bakery
Bam Bam Bakery is well known for its gluten-free desserts and for being a 100% dedicated gluten-free facility. Besides baked goods, they also offer breakfast sandwiches, scones, and snacks.
They have changed their operating hours/methods since COVID. Previously, pre-ordering was required for pickup on the weekends only. Now, their website just lists them as closed. I hope they reopen in the future, because they were really well loved in Portland!
Evolution Burger
Evolution Burger is an organic burger chain with locations all over the country. NOT Dedicated Gluten-Free and a place you'll definitely need to ask about cross-contact procedures carefully! We found this place on a recent trip to Portland (Which is funny, because we have so often frequented the gift shop next door, and never noticed it!) This is a burger joint and more of a fast casual place where you place your order at the counter and they bring it to you at your table.
Now, in places like this, you have to bring your A game. You need to ask a lot of questions, clarify ingredients, and make sure you understand (and they understand) how you need your food prepared. They offer gluten-free buns and their olive oil fries are all gluten-free, as the only thing fried in them is potatoes. For more information on how I go about ordering in a place like this, check out this post on Celiac Friendly Restaurants & Fast Casual Places!
For more information about Evolution Burger, visit their website to see their locations and check their menus.
Portland Hunt & Alpine Club
This place has a great atmosphere and perfect window seats to people watch. Plus, they have yummy drinks, mocktails, teas, and light snacks. We've never eaten food here - only drinks, but they indicate gluten-free and allergen options on their menu. The staff is very friendly, the vibes are super chill, and this is one of the reasons we enjoy a day trip to Portland. Much like Salem, it's relaxed, the food and drinks are good, and awareness of celiac disease/gluten-free is usually, quite good! We've mostly been here mostly on afternoons, but it's a cozy spot for an evening drink or date as well.
For more information about Hunt & Alpine Club, visit their website.
Gluten-Free Lobster Rolls in Portland
Since I'm not a big seafood fan, this is never on my radar. But my friend Sarah from Endless Distances sure is! She searched all over Portland for the best gluten-free lobster rolls. Find out where she got gluten-free lobster rolls in her gluten-free travel guide to Portland. Most people recommend Eventide or Luke's for gluten-free lobster rolls, but always confirm and double check about their protocols. I don't eat lobster, so I'm never asking for one!
Looking for another gluten-free seafood recommendation in New England? Definitely check out Woodman's in Essex on Boston's North Shore. Read the full guide to it right here.
More Gluten-Free Portland Recommendations
Sticky Sweet Ice Cream: 100% plant-based, vegan & gluten-free ice cream! Their scoop shop is in downtown Portland. Follow them on Instagram!
Roots Cafe, Westbrook: 100% GF: This place is still on my list to check out, but I've heard wonderful things about their from scratch kitchen! Everything on the menu is 100% gluten-free.
Sinful Kitchen: The chef of this restaurant has celiac disease! Still on my list to visit as well, but the brunch is supposed to be fantastic. As of June 2022, they are temporarily closed as they move to a new location in Portland. Check their social media pages for the most up to date info!
FOR MORE PORTLAND, MAINE RECS: Mrs. Gee Free Living: My friend Kaitlin lives in the Portland area and shares her favorite gluten-free spots in Southern Maine plus organizes small group dinners in Maine. Check out her Instagram and website!
Gluten-Free Bakeries in Brunswick
Wildflours Gluten-Free Bakery
100% Gluten-Free
I am IN LOVE with Wildflours bakery!
We stopped here on the way to an airshow in Maine and oh my gosh, their baked goods were out of this world. They have muffins, donuts, biscuits, and even mixes/pies you can take home. We grabbed some of their biscuits to try at home and made the best breakfast sandwiches with them. Highly recommend stopping here if you are driving through Brunswick. Just FYI - they are closed on Sundays!
If you can't decide what to get, definitely go for one of their muffins. I had the raspberry muffin and between the fresh fruit and coarse sugar on top, it was delightful. The pumpkin chocolate muffin was also really tasty!
For more information about Wildflours, visit their website or follow them on Facebook/Instagram.
Gluten-Free Food in Bar Harbor
Bar Harbor is the closest town to Acadia National Park, located on Mount Desert Island. It's been a tradition of ours to camp in Acadia every summer, but we haven't had a chance to do that since COVID happened. And since I started going to Acadia before I had this website and my gluten-free coaching business, I don't even have photos of my food (can't believe there was a time I didn't take pics of my food!) We haven't been back to Acadia since 2019, but are hopeful to come back again. The two places listed below are the ones we've gone to multiple times with safe meals. Please double-check and make sure their options work for you!
Geddy's
Geddy's Restaurant in downtown Bar Harbor has an outstanding gluten-free menu with fried options that seem too good to be true! From gluten-free nachos to gluten-free fish and chips, Geddy's does a solid job with their dedicated fryers and foods. Everything I've eaten here has been really good. Plus, they have fun placemats you can color on (hey, embrace your inner child.)
For more information about Geddy's, visit their website, Facebook, or Instagram pages.
Side Street Cafe
The Side Street Cafe is another great place and one of the best stops for food in Bar Harbor. This restaurant is off of the main drag and their decor is funky but fun. Their macaroni and cheese are outrageously good, and you can make this a true Maine dish by adding an extra ingredient - lobster! I remember having a GF pasta dish here in 2016 that was out of this world good!
For more information about Side Street, visit their website, Facebook, or Instagram pages.
Looking for more gluten-free travel guides in New England?
Head into Boston for more gluten-free donuts at Kane's Donuts.
Check out the North Shore of Boston for the best breakfast sandwiches on homemade gluten-free herb & cheese bread at Crave.
Explore The Green Mountain State of Vermont and discover more gluten-free beer at the other dedicated GF brewery in New England: Red Leaf!
Go for a hike in New Hampshire and get the juiciest GF burger and fries with a homemade sauce (dedicated fryer, too!)
Sample all of the gluten-free drink choices in New England with breweries and cideries that are 100% gluten-free.
Have you been to Maine?
What's your favorite gluten-free Southern Maine restaurant?
Let me know in the comments!