This gluten-free Thailand travel guide will help you be prepared to visit the land of smiles with celiac disease. But heads up, it isn't easy!
This post may contain affiliate links. Please see my disclosure page for more information. Thanks! This post was updated in July of 2022.
Thailand's friendly people, diverse history, stunning temples, and picturesque beaches were some of the reasons we fell in love with this backpacker's paradise. But since celiac disease is not as common in Asia as it is in other parts of the world, it definitely requires planning and preparation. It's definitely challenging. But if you are going to Thailand, rest assured that this guide will help you feel a little more prepared to eat there!
Dylan and I spent three weeks in Thailand in March of 2019 as part of our six-month round the world trip. In this guide I'm walking you through my top tips for visiting Thailand with celiac disease. You can read my 3-week itinerary for Thailand here and how we planned a 6 month trip around the world to more than ten countries right here.
NOTE & DISCLAIMER
Everyone's experience with celiac disease is different. Dedicated gluten-free facilities are usually the safest places to go, and you'll some of those listed here. For non-dedicated facilities and restaurants, I only recommend places I have visited or where clear protocols are in place for celiac diners. My experience is not your experience. This is a guide – a list of suggestions to point you in the right direction. Restaurants can change. Use your own judgment and only eat where you feel safe doing so. Please be aware that restaurants in Thailand are lacking in recent, updated reviews due to the country being closed to tourists from the pandemic. Visiting Thailand now will be even more challenging than when I visited in 2019.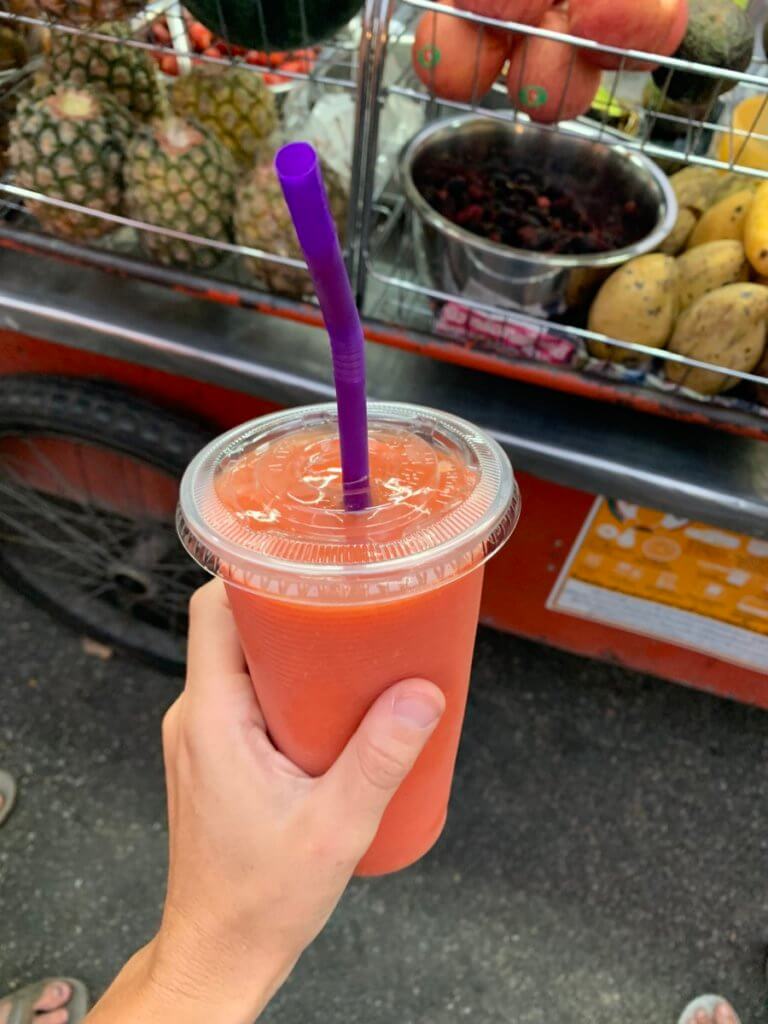 This guide was originally published in Gluten-Free Living Magazine in 2019. It has been updated here for your reference. Always double check as places may have changed since the pandemic as I visited in 2019.
Gluten-Free Thailand Travel Guide
About Celiac Disease in Thailand
In general, celiac disease is not as common in Asia as it is in other countries. The prevalence of gluten-free food is thanks to a large part in tourists. You'll find that large cities like Bangkok or Chiang Mai will have more gluten-free options and products in supermarkets available.
But unfortunately, due to cross-contact, lack of awareness of celiac disease, and use of sauces with wheat (soy sauce and oyster sauce), Thailand will be challenging- especially in restaurants. But you're here and reading this guide, and that's a great place to begin!
Staying Somewhere With A Kitchen
Upon our arrival in Thailand, I was extremely nervous about finding safe food, as I was not familiar with Thai cuisine at all. And rather than expose myself to more possible risk by dining out for almost every meal, Dylan and I opted to find a place with a kitchen for the first few days.
And this was really helpful and kept me calm our first few days in Thailand.
It's why I highly recommend booking a place with a kitchen when traveling with celiac disease. It gives you the option to balance out speaking up and risking exposure at restaurants by preparing something easy, safe, and quick in your accommodation. We also did this for the majority of our trip.
You can do this by booking an Airbnb (make sure it's owned by a local, so you are supporting the local community and economy), using Booking.com to find a small apartment, or just reserve a hotel room with a kitchenette, microwave, or refrigerator. When deciding on a location, try to book something close to a market or grocery store, if possible. If it's within walking distance, even better!
During our time in Thailand, Dylan and I stayed in this Airbnb in the Sukhumvit neighborhood of Bangkok, then this hostel with a full breakfast in Chiang Mai, and various hostels/guesthouses on the island of Koh Lanta. You can read more about where we stayed in my 3 Week Thailand itinerary here.
Learn About Thai Cuisine & Take A Cooking Class
Thai cuisine is filled with various dishes, spices, curries, stir-fries, and steamed dishes. The more you know about Thai cooking, the better equipped you will be to visit Thailand with celiac disease. It means you will know what recipes contain what ingredients, what dishes are safer, and which to stay away from.
I highly recommend taking a Thai cooking class when visiting Thailand to further understand the ingredients that go into common dishes you'll see on restaurant menus. The more information and knowledge you have about Thai food, the stronger advocate you can be for yourself.
Dylan and I took a Thai cooking class in Chiang Mai, with Mama Noi's Thai Cooking School. The experience was excellent. We each had our own clean cooking tools and station, and I brought my own gluten-free soy sauce and oyster sauce from a brand called Megachef, that I found at the local Rimping supermarket. I was able to eat almost every dish we made that day except one!
The class was so much fun to be a part of, and everything we made was scrumptious. I learned how to make gluten-free pad thai from scratch, which is still a dish I enjoy making at home on a regular basis.
Gluten-Free Groceries in Thailand
In large cities with a lot of tourists, such as Bangkok or Chiang Mai, you'll be able to find gluten-free imported products in larger grocery stores. I was also able to do this in Ubud, Bali, Indonesia, and Hong Kong.
Unfortunately, there's not really great labeling of gluten in packaged foods in Thailand, and I didn't buy anything that wasn't in English I could clearly read. You can use your phone and the Google Translate app (and your camera) to translate ingredients on packages. However, you will find plenty of fresh fruits and vegetables, protein, and rice to cook your own meals.
Rimping supermarket in Chiang Mai has an large selection of gluten-free imported products, as well as most of the large malls & grocery stores in Bangkok!
How To Find Safe Restaurants in Thailand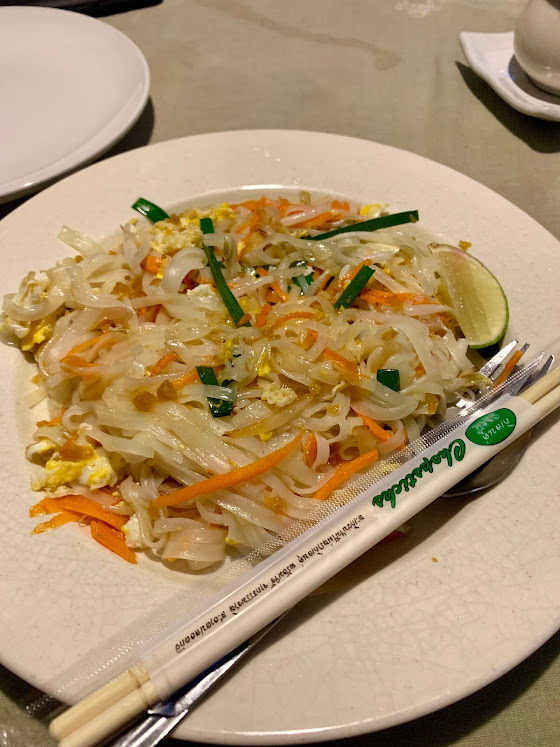 Locating gluten-free food can be tough when you're traveling - especially abroad. And while it's critical to speak to the restaurant directly to make sure their protocols work for you, sometimes you just want to get an idea of what's available. One of the best ways to do that while traveling is by doing your research first, on an app/website like FindMeGlutenFree.
FindMeGlutenFree can help you get an idea of what gluten-free restaurants, bakeries, and safe menus are available in Thailand. Yes - this app is used around the globe! And with a Premium Subscription, you can filter by most celiac friendly, see what's open now (so you don't drive all the way to a bakery for breakfast and discover it's closed), and what's gluten-free in the direction you're headed. It's like Google Maps, but a gluten-free version. And no Ads!
I've been a FMGF user for over a decade, but I think their Premium version is much more effective. Take $5 off a Premium Subscription with the code THENOMADICFITZ to make your trip to Thailand less stressful.
Note: This app is usually very helpful when traveling, but in places that were closed to tourists during the height of the pandemic, they are very outdated. So it's going to be up to you to speak up, understand Thai food and know what dishes are *usually* safe, and give yourself a break by staying somewhere with a kitchen. And to help with restaurants - you should definitely have a translation card.
Gluten-Free Thai Dining Card
Do you speak Thai?
I don't.
I learned to say "Thank you" and "Hello" during our three weeks in Thailand.
Unfortunately, my skills as a former Spanish teacher didn't really matter in Asia, unless I ran into someone who spoke Spanish.
But using proper colloquialisms, grammar, and vocabulary makes a big difference in comprehension - regardless of the language you are speaking.
That's why a restaurant card properly translated into the local language allows your host, server, or chef to know what foods you can and cannot eat, and how the preparation of your food is critical to your health and safety. Google Translate is great for identifying individual words (and you can download the app to use when reading menus or products), but it is not ideal for explaining your needs in restaurants.
This Thai restaurant card, created by fellow celiac and world traveler Jodi of Legal Nomads, is translated by a local in Thailand, to be sure travelers are understood. It goes into detail about cross-contact and ingredients to help your dish be prepared as safely as possible. This is crucial, especially in Asia where celiac and food allergies are not as common.
In general, in most touristy areas, people do speak English. But it always helps to try and speak the language of where you are visiting. This is their home, not yours. A Thai dining card will help with this.
Things To Be Careful Of Eating Gluten-Free in Thailand
One of the biggest challenges of visiting Thailand with celiac disease is cross-contact and sauces. This will especially apply to food stalls and outdoor markets, where there is one cooktop for everything. You really won't be able to get a lot at outdoor markets except mostly fruit/fruit smoothies (what I always had) and mango sticky rice. The majority of items will be risky due to cross-contact.
Soy sauce, fish/oyster sauce contain wheat, so they are not safe to consume with celiac disease. Pad Thai is also not gluten-free, due to the sauces. Yes, they use rice noodles, but the sauces are not. The sauces will be the bane of your existence when in Thailand.
Here's a list of some of the dishes I ate in Thailand in restaurants where there were no specific gluten-free options mentioned. Please keep in mind that for each of these dishes, I always spoke to the server, used a Thai translation card, asked about the ingredients, confirmed it was made separately, and that no soy sauce or oyster sauce, or other flavorings were added, where applicable.

Some of the dishes I ate in Thailand:
Plain steamed white rice
Curries: Massaman curry (chicken, potato, peanuts - I ate this daily in Koh Lanta). Most curries are gluten-free, but always double check.
Fresh fruits
Mango sticky rice
Eggs - scrambled or fried
Fruit smoothies (only from smoothie venders that served fruit only. No cookies or anything else)
Restaurants With Gluten-Free Food in Thailand
Since my visit to Thailand was 3 years ago, I cannot speak to the current gluten-free safety procedures of the restaurants we visited as they may be outdated. And due to the pandemic and the fact that Thailand was closed to tourists for over a year, many reviews/places online are not up to date. It is up to you to do your own due diligence and verify these places are options for you when you visit Thailand. This section was last updated in July of 2022.
Bangkok
We stayed in an Airbnb in Bangkok to be able to cook our own quick meals and did minimal dining out as we got accustomed to Thailand and Thai cuisine. According to my research and FindMeGlutenFree, there aren't many dedicated gluten-free places in Bangkok. But there are a few options you can try:
Theera Healthy Bake Room: Vegan and gluten-free bakery in Bangkok! For more information, visit their website. They serve breads, snacks, and desserts.
Rice Bakery: Gluten-free bakery. While I know this place was open pre-COVID, I can't find any updated information if it still is, or has closed. Here's the website with more information.
Peeps Thai Eatery: We ate here and had gluten-free dishes back in 2019. The staff was well aware of allergies and cooked everything separately - with gluten-free sauces. A rare find! The last I read they were reopened in 2021, but that's the last I have found. Their Facebook page is here.
Malls: The malls in Bangkok are massive, and wonderful places to cool off when it's almost 100 degrees Fahrenheit. In some malls I was able to find acai bowls or smoothies, or rice.
Chiang Mai
Chiang Mai is a backpacker paradise and was home to one of the best gluten-free spots - but unfortunately, due to the pandemic, many places we spent a lot of time in have now closed. We stayed in a hostel that had a full kitchen available and fresh breakfast every morning (fruit and eggs).
Unfortunately, there are no 100% gluten-free places in Chiang Mai anymore.
Pink House Garden: CLOSED (Sad News): It breaks my heart that the BEST Thai restaurant, Pink House Garden which was 100% gluten-free that we went to almost every day in Chiang Mai back in 2019, has closed due to the pandemic. This is where I had my first bite of pad thai and fell in love with Thai food in a 100% safe way. The owner is still making vegan & gluten-free cakes for pickup/takeaway, but the restaurant has closed. This is truly such a loss for the Chiang Mai gluten-free scene as they were cheap, delicious, and the staff so friendly.
Butter is Better: This diner has two locations in Chiang Mai and serves American fare with lots of gluten-free options, including meals and baked goods. I am not sure if their options are the same as they were in 2019. In previous years, they had many gluten-free choices, including baked goods, pancakes, sandwiches, cakes, etc. and strong understanding of allergens. Please inquire with them directly.
Salsa Kitchen: This is a Mexican restaurant in Chiang Mai, down by the university, with great tacos and corn tortillas. They were aware of allergies when we visited in 2019, and everything was very good. Their Facebook page can be found here.
Pa's Fruit Smoothies:
My friend Jodi, of Legal Nomads, who has lived around the world with celiac disease, wrote about Mrs. Pa and her fruit smoothies at the Chiang Mai south gate night market. Her smoothies are phenomenal and only 20 baht (less than $1USD) - Dylan and I paid her a visit almost every day and it became a ritual. After speaking with Jodi, I learned Mrs. Pa is doing very well and still keeps in touch. I hope one day to return to Thailand and enjoy Mrs. Pa's smoothies and her lovely company again someday!
Koh Lanta
The island of Koh Lanta (also spelled Ko Lanta) had very minimal gluten-free options. I relied on my knowledge of Thai cuisine and stuck to the same dishes every day we were there (eggs and fruit for breakfast, curries and rice for lunch/dessert, plus any snacks I could find at local markets). We stayed at small beach resorts & hostels that had breakfast available.
The only restaurant we visited that had gluten-free meals on the menu was The Happy Veggie, which is a vegetarian/vegan restaurant. The portions were tiny, and after walking 1.5 miles in the 100 degree heat, I was really upset and starving!
For more information about planning a trip to Thailand, be sure to read my 3-week itinerary to all three of these locations - Bangkok, Chiang Mai, and Koh Lanta!
Final Thoughts: Gluten-Free Thailand
It's tough looking back on Thailand because I know that anyone who visits now, it's going to be much different than the experience I had in 2019. But I'm hopeful that as tourism comes back to Thailand, maybe more gluten-free places will pop up again like Pink House Garden. It truly was a magical place (and 100% gluten-free) that made cities like Chiang Mai, one of my favorite destinations around the world.
Be careful of sauces and cross-contact in Thailand. Learn about Thai cooking and hidden ingredients so you know what to expect. And most importantly, book a place with a kitchen so you have the option to cook for yourself!
Thailand isn't easy to visit with celiac disease, but it is possible. I hope this guide has helped!
Looking for more gluten-free travel posts?
The 5 strategies you NEED for traveling with celiac disease.
These 10 items are always in my backpack or suitcase when traveling.
What to do if you're traveling with IBS - and how to reduce travel anxiety.
Get my gluten-free travel guides to Boston, New York, Madrid, Buenos Aires (plus many more) here!
Have you been to Thailand?
How was your experience eating there gluten-free?
Let me know in the comments!