Looking for celiac friendly restaurants in the USA? They're like a needle in a haystack, am I right?
This post may contain affiliate links. Please see my disclosure page for more information. Thanks!
About Dining In Celiac-Friendly Restaurants
Restaurants, fast food, or fast casual dining can be a far away dream if you have celiac disease. Because so often, restaurants don't have the proper training in celiac disease or know how to prevent cross-contact. This is especially common here in the United States (unfortunately).
There are a FEW celiac friendly restaurants & fast casual places out there that offer gluten-free options and MIGHT be a safe option for you. But it is SUPER important that you bring your A game, speak up, and ask the right questions to prevent cross-contact from occurring.
There is NO guarantee of safety when dining out with celiac disease.
But in this blog post, I'm sharing the celiac friendly restaurants that could potentially be an option for you, provided that you do your homework, advocate for yourself, and accept the risk of dining out. This information on celiac friendly restaurants is based on 13 years of experience living with celiac disease combined with 4 restaurant allergen trainings: ServSafe, Always Food Safe, FARE, and Beyond Celiac GREAT Training.
Disclaimer: Please double check and do your own research when dining out with celiac disease. Everyone's experience with celiac disease is different. What works for me may not work for you. My positive experience at a restaurant could be the opposite for you. This is a guide to point you in the right direction. Restaurants and businesses can change. Use your own judgment and only eat where you feel safe doing so. Remember, fast casual & fast food restaurants are some of the most difficult places to dine because it requires you to speak up about every step of your meal preparation. If you don't have the capacity for this, don't eat there.
Why Dining Out With Celiac Is Tricky
Dining out is one of the biggest challenges we face with celiac disease. And one of the largest reasons for this is that celiac disease is not well-known by the restaurant industry. As such, this creates many problems for celiacs when dining out.
Not to mention, dining out with celiac disease is complicated. It has different degrees of difficulty, ranging from the easiest (a dedicated gluten-free facility) to the medium-difficult (a place with a GF menu/allergen protocols) to the most challenging (sit-down or fast casual restaurants).
It takes time and practice to build up your skills for dining out in restaurants. You have to be comfortable speaking up for yourself, and also have the mental bandwidth for these conversations. And it takes the most practice, skill-building, and advocacy at a regular restaurant or fast casual place, where there may be no indication of gluten-free items or allergen protocols, and you may be on your own to explain everything to the staff.
If you are newly diagnosed with celiac disease and do not yet have a strong handle on celiac safety, preventing cross-contact, and speaking up for yourself, you may want to stick to dedicated gluten-free restaurants or those with clear allergen protocols in place. And then build your way up to these with practice.
Isn't It Risky?
This post is going to talk you through how to navigate celiac-friendly restaurants where you may be able to get a safe meal with celiac disease, but as I've mentioned, there are no guarantees for safety.
And that means, if you are reading this, you understand:
There is always a risk when dining out with celiac disease. And you accept that risk.
It is up to YOU to speak up and advocate clearly for EXACTLY how you need your food prepared in a restaurant or fast food setting.
So yes, there is always a risk, but you have the power to significantly lower that risk by the way you go about it.
Why It's Helpful Knowing Celiac Friendly Restaurants
Let's be honest: it's difficult ENOUGH trying to find a celiac-friendly restaurant to eat. But it's especially challenging when you're traveling or on the road.
While there seems to usually be a dedicated gluten-free bakery in most big cities, a cupcake doesn't make a full meal. So sometimes you need something quick and want to know where this is could be an option for you.
Because it's helpful to know what restaurant chains are celiac friendly or at least have gluten-free items listed on the menu. It's helpful to know where you might be actually able to find something to eat, no matter where you are in the USA!
How To Find Celiac Friendly Restaurants
While this guide will give you my personal recommendations to point you in the right direction for celiac friendly restaurants, maybe these options don't work for you, or you need to explore something else.
That's totally fine!
One of the best ways to discover celiac-friendly restaurants is by doing your research on an app/website like FindMeGlutenFree.
FindMeGlutenFree is a free app available for iOS and Android. It can help you get an idea of the restaurants close to you with gluten-free options. Members of the celiac and gluten-free community share their reviews of the place and their safety procedures, so you can see what's worth trying, and what to avoid. Through their free app, you can filter to see "dedicated gluten-free" places, which is great, but these places are few and far between. What you really want to know are the "most celiac friendly" places, and that's where their Premium Subscription comes in.
For just $20/year, you can filter the restaurants on the map/list of Find Me Gluten Free by most celiac friendly. This means you won't have to waste time scrolling to try and find places that look decent, have multiple positive reviews, and can quickly see where other celiacs have eaten with success. The Premium subscription also comes with a what's open now filter (so you don't drive all the way to a bakery for breakfast and discover it's closed), and what's gluten-free in the direction you're headed. It's like Google Maps, but a gluten-free version. And no Ads!
I've been a FMGF user for over a decade, but I think their Premium version is much more effective at finding safe restaurants. You can take $5 off a Premium Subscription with the code THENOMADICFITZ to try it yourself!
The Importance Of Using Gluten Allergy In Restaurants
As I recommend to all of my clients for dining out with celiac, you want to make sure to clarify what gluten-free means when you order.
Unfortunately, due to the presence of fad dieters, gluten-friendly and gluten sensitive menus, people with celiac disease struggle to be taken seriously when dining in restaurants. If you've ever dealt with this before, you are not alone, and I totally understand your frustration.
Based on my 13 years with celiac disease and 4 restaurant allergen trainings (ServSafe, Always Food Safe, FARE, and GREAT Training) I suggest using the words "severe gluten allergy" when dining out, and then clarifying celiac disease. This will usually trigger protocols to help prevent cross-contact from happening.
To be honest, celiac disease gets a very tiny mention in most restaurant allergen trainings. So to be better understood, we have to speak language the restaurant may be familiar with. That is using the word allergy.
While celiac disease is not a true food allergy, but an autoimmune condition, we have to speak their language so we can avoid getting sick. If you struggle with what to say when communicating with servers about cross-contact, check out my Restaurant Masterclass, where I teach you my 3-step strategy for avoiding gluten exposures when dining out.
Validated Gluten-Free Safe Spots
Did you know the Gluten Intolerance Group trains certain restaurant chains for celiac safety measures?
Yep, that's right! The Gluten Intolerance Group's Gluten-Free Food Service (GFFS) Program independently validates restaurants for for celiac safety. You might even see them listed on Find Me Gluten Free with the "Validated Safe Spot" symbol listed above on the right (they recently updated their logos). Though the list of these places is small (hopefully it will grow in the future), this is definitely a great option where you know celiac safety measures are in place and training has been done. These are definitely some of your best options if you are looking for a restaurant chain that has knowledge of celiac disease and gluten-free food.
Some of the GFFS Validated Safe Spot Restaurants Include:
But please be advised: A validation from the Gluten Intolerance Group does not automatically mean a restaurant will be 100% free of gluten or risk. According to their website:
"The GFFS program provides a set of standards and procedures that food service establishments follow to provide safe food handling practices for gluten-free food production and service. Implementation of the GFFS program does not guarantee safe gluten-free food products. The standards and strategies provided are designed as Best Practices for food service providers. Food service providers who meet these strict standards are able to document knowledge, training, and processes that will provide customer confidence that the establishment understands their needs and has the ability to prepare safe meals for them."
So will these restaurants be a guarantee of 100% safety? No.
But have these restaurants gone through extensive training for celiac disease and serving celiac customers? YES! And that's not something you see in most restaurants.
3 Things To Consider Before Dining Out With Celiac
Before I dive into the fast food chains and restaurant chains I frequently rely on with celiac disease, it's important to note that dining out with celiac disease is not a walk in the park.
It's mentally taxing, and requires you to bring your A game. ESPECIALLY at many of the places listed here. So if you aren't at your best, it can be even more difficult, or lead to complications, or worse, gluten exposures.
And I don't want that to happen to you.
So before you decide to eat at celiac-friendly restaurants, or frankly, dine out anywhere with celiac disease, take a moment to consider these 3 things:
Number 1: Am I hangry, or just hungry?
Hanger can turn us into ravenous monsters, incapable of thinking clearly or being patient. If you are so hungry you are at the point of hanger, you might lower your standards, or say "It's fine" to things that really aren't. That's why it's always a good idea to check-in with yourself beforehand.
Number 2: Do I have the mental capacity for this right now?
Dining out with celiac disease requires us to be the center of attention in front of others, to ask questions when other people may be waiting, to stand out, and for our brains to be turned 'ON'. You can't just "wing it" and hope for the best - while of course, that would be amazing. But unfortunately, it's not the reality we have to deal with in this restaurant system that is clearly not built for us.
Make sure you have the mental strength and capacity for dining out, because it can quickly exhaust us if we are already feeling overwhelmed.
Number 3: Who can support me with dining out at this restaurant?
We know dining out is a lot - and support is KEY to making sure things go smoothly! While there will of course be circumstances where you are dining out alone, that doesn't mean you can't have a friend, partner, or family member on standby cheering you on, or helping you through it. This could be asking someone to speak up on your behalf, call a restaurant or ask questions if you aren't up to it, or to have someone to decompress with afterward.
Celiac disease is a lot - and the more support we can have in our most difficult situations, the less weight there is for us to carry.
My Go To Celiac Friendly Restaurants
These are the restaurants & fast casual places that I frequent when traveling or when I'm on the road. They are the places where I know gluten-free options are on the menu and I'm comfortable going through my questions & procedures to verify safety and cross-contact. Remember, these are places that can be an option for you, but aren't a guarantee for safety.
Celiac Friendly Fast Food/Fast Casual Chains
Chick-Fil-A
Read my entire detailed blog post for dining at Chick-Fil-A with celiac here.
Chick-Fil-A, while not exactly popular in many political groups, is a popular choice for many celiacs due to their large number of gluten-free options. Chick-Fil-A is one of the most common fast food restaurants and has locations in 49 US states.
Here's a direct link to the post from Chick-Fil-A which outlines exactly what is gluten-free at their restaurants.
And while of course, they have a disclaimer in there that they cannot guarantee that anything will be completely free of gluten due to the nature of their restaurants being, well, full of gluten-containing items, there are still many items on the menu that are gluten-free, and some that are specifically labeled as safe from cross-contact as they arrive sealed to Chick-Fil-A restaurants.
These sealed gluten-free items include:
Gluten-free bun. The Chick-Fil-A gluten-free bun is made from sorghum, amaranth, millet, quinoa, and teff. They have a disclaimer listed about the buns that while the bun itself is gluten-free, sandwich fillings are still subject to potential cross-contact. Personally, I've never found the GF Buns offered at my local Chick-Fil-A. Maybe this is because the only Chick-Fil-A near me in the Boston area is inside of a mall, but if you've found them, let me know what you think of the bun in the comments! This is a great option to assemble your own sandwich.
Drinks: Honest Kids Appley Ever After Organic Juice Drink, Milk, Simply Orange Orange Juice
Snacks: Cinnamon Apple Sauce (Buddy Fruits), Waffle Potato Chips
The following items at the Chick-Fil-A restaurants are listed as free of gluten, but you would need to clarify about cross-contact & preparation.
Breakfast Items
Hash Browns, Hash Browns Bowls with Grilled Fillet or Sausage
Fruit Cup
Greek Yogurt Parfait (The granola is not specifically listed as gluten-free, and does contain oats, so this would be potentially unsafe).
Lunch and Dinner
Chicken: Grilled Chicken filet (no bun or sub gluten-free bun) or grilled nuggets (8 or 12 count), grilled nugget kid's meal
Salads: Market Salad, Cobb Salad, or Spicy Southwest Salad with Grilled Nuggets, Grilled Fillet, or no chicken
Side Salad or Kale Crunch Side
Waffle Potato Fries (Yes, the beloved waffle fries of Chick-Fil-A are listed as gluten-free as they typically have a dedicated fryer only for fries. But remember to double check this, especially in smaller restaurant spaces like malls or airports!
All of the sauces, dressing, and dipping sauces at Chick-Fil-A are listed as gluten-free EXCEPT for their Sweet & Spicy Siracha Sauce. All drinks at Chick-Fil-A are listed as gluten-free.
What I Order: I usually order a market salad and a large fries with a side of buttermilk ranch to dip the fries into. Once in a while I'll get the grilled nuggets, but I prefer their salads and find them more filling.
Questions you might want to ask at Chick-Fil-A could include:
(Please note, this is not a comprehensive list)
Are your fries fried in a dedicated fryer?
Can you change your gloves before preparing my meal?
Can this be prepared in a separate area?
For more information about allergens & ingredients at Chick-Fil-A, you can reference their entire allergen menu here.
In-N-Out Burger
If you live on the west coast, I'm very jealous! In-N-Out Burger is a fast-food chain that is one of the most beloved in the United States. But unfortunately, they are only west coast based.
In-N-Out Burger is the #1 stop I make when ever I visit the west coast. The company is committed to serving fresh ingredients without additives or fillers, and refuses to establish a new franchise in a location that would require them to sacrifice on quality. I applaud them for it, but also, I secretly (okay, openly) wish they would open an In-N-Out here in Boston.
And this is why:
In-N-Out Burger has a very small menu (I'm not talking about the secret menu, just the regular menu). And they serve a total of about 4 things:
Burgers
Fries
Shakes
Beverages
That's it. Because of this small menu, they do a really great job at it, and are able to quickly and easily implement protocols to prevent cross-contact as food preparation is happening. And since the burgers are the only thing oging on the cooktop, that also eliminate a point of cross-contact. In-N-Out has allergen protocols in place which they should call out when you alert them of your severe gluten allergy.
Burgers: The burger patties are gluten-free, but the buns are not. Order your burger protein-style, which means it will be wrapped in lettuce, not on a bun. In-N-Out also has a special sauce "In-N-Out sauce", which is also gluten-free.
Fries: The only thing going into the fryers at In-N-Out is potatoes. And they use 100% sunflower oil and fresh potatoes.
Shakes: All of the shakes are gluten-free at In-N-Out. All of the beverages are also gluten-free.
What I Order: Double Double, Protein Style, with a side of fries. Perfection.
Questions you might want to ask at In-N-Out could include:
(Please note, this is not a comprehensive list)
Can you please note I have a severe gluten allergy on my ticket?
Can you please prepare my burger protein style with fresh, untouched lettuce and tomato?
Can you change your gloves before preparing my meal?
Here is the allergen chart/menu from In-N-Out Burger. They specifically note that their food does not contain peanuts, treenuts, sesame, shellfish, or fish. Also, their fries are fried in 100% sunflower oil.
Five Guys
Read my entire guide to dining out with celiac at Five Guys here.
While in my opinion not as good as In-N-Out, Five Guys still makes a decent burger and is the east coast alternative I have to settle for (sigh). They are a chain restaurant located in 49/50 US states as well as DC making burgers, fries, and hot dogs. Like In-N-Out, because they stick to a smaller menu and are only cooking burgers, hot dog, and bacon on their cooktops, this reduces the points of cross-contact concern.
Believe it or not, the first time I had Five Guys was actually in Hong Kong during my 6-month backpacking trip in 2019. Hong Kong was extremely expensive to visit, so we only spent five days there, but finding gluten-free food options were very minimal. So when I found a fast food chain I knew had lettuce wrapped burgers AND my server spoke good English, it was a win! And while I don't visit Five Guys very often, it's good to know it's an option, like these other places as well.
Five Guys is also committed to fresh ingredients and making a few things very well. They make burgers, hot dogs, fries, and milkshakes, and almost everything on their menu is gluten-free except for a few items. And like In-N-Out burger, they also have allergen protocols and can prepare burgers on a lettuce wrap rather than a bun. But of course, you need to clarify those steps with them, and double check on using fresh toppings and changing gloves. Keep a eye on what they are doing and who is preparing your food, so you can clarify if something is not done correctly.
Meats: Both the burgers and hot dogs are gluten-free, as well as the bacon. The buns, obviously, are not.
Fries: The fries are gluten-free and cooked in 100% peanut oil. Please be aware they also have loose peanuts around so if you have a peanut allergy, this may not be a good place for you for both of those reasons!
Sauces/Toppings: All of the sauces and toppings at Five Guys are gluten-free, except for the malt vinegar (malt is derived from barley, which contains gluten.)
Milkshakes: The cherry and malted milk flavorings are not gluten-free. And similarly, the oreo cookies are not gluten-free. If you are ordering a millkshake, you'll want to be sure to ask about cross-contact prevention, such as asking for the blender to be freshly cleaned with soap and water before making your shake.
What I Order: A cheeseburger wrapped in lettuce with a side of fries.
Questions you might want to ask at Five Guys could include:
(Please note, this is not a comprehensive list)
Can you please note I have a severe gluten allergy on my ticket?
Can you please prepare my burger with a lettuce wrap?
Can you change your gloves before preparing my meal?
Can you please use fresh, untouched lettuce and tomato for my burger?
Here's a link to the nutrition and allergen guide at Five Guys.
Jersey Mike's
Read my entire detailed blog post for dining at Jersey Mike's with celiac here.
Subs and sandwiches used to be a thing of the past if you have celiac disease. Jersey Mike's is a Northeast based restaurant chain in 27 US states. And if you have a Jersey Mike's nearby, that dream could be a reality once again, provided you order carefully, as there are many potential points of cross-contact here.
Jersey Mike's has offered Udi's gluten-free sub rolls available nationwide since 2017. However, the safety of how your sub is prepared on this gluten-free roll has been subject to much debate in the celiac community. I myself was even singled out when sharing an Instagram video about traveling with celiac disease, and got heat for ordering a sub here, despite preventing cross-contact at every step and having zero problems with my meal.
According to the Jersey Mike's website, all of their hot and cold subs can be made gluten-free. I checked each one for ingredients, and the only "wheat" containing ingredient was the white bread. You can double check any menu item for allergens and ingredients right here.
Now, depending on the Jersey Mike's you go to, you may see an entirely separate station that is specifically dedicated for the creation of gluten-free subs. Sometimes this station is used as a second sandwich prep area when they are busy, so always ask to be sure.
Jersey Mike's also has these signs hanging in their stores, to help their staff know what to do when preparing a gluten-free sub.
And while these are all important steps, there's also more cross-contact prevention that needs to take place, such as ensuring they are using fresh toppings that have not been touched for lettuce, tomato, or onion, and changing gloves again at any step when they touch something besides the sub (For example, using the oregano container (if not dedicated GF) to sprinkle onto your gluten-free sandwich, which would have been previously touched by other workers while handling a regular sub. The worker would need to change gloves again before touching your sub to cut it to ensure no cross-contact.)
You will need to watch them like a hawk and make sure that every single step of your sub preparation is done correctly. As I said before, ordering at a place like this takes serious skill, because you have to be comfortable telling them "Can you please change your gloves again before you cut my sandwich?" or "I'm sorry, you just used the regular knife for my sandwich, I can't eat that now." You need to be able to overcome that social anxiety, accept that you may have people behind you wondering why your order is taking longer than usual (They can WAIT!), and be comfortable having these conversations.
What I Order: Build Your Own Sub with Turkey, American Cheese, Lettuce, Tomato, Oil & Vinegar, Salt, Pepper, Oregano. They also often have Udi's gluten-free cookies available for purchase, which is a nice treat, and I will sometimes get.
Questions you might want to ask at Jersey Mike's could include:
(Please note, this is not a comprehensive list)
Can you please walk me through every step of preparing my sub?
Can you use fresh meats, cheeses, and toppings that haven't been touched?
Can you please change your gloves after every step?
You can read Jersey Mike's Allergen and Nutrition guide for their menu here.
Other Celiac Friendly Fast Casual Places
These are the celiac friendly restaurant chains that I usually go for quick, meal options when I'm traveling, on the road, or just need something fast. I don't eat at these places on a regular basis, and are more a special treat or once in a while food.
Of course, there are other fast food chains that advertise gluten-free options and could potentially be celiac friendly restaurants to visit in the US. These include Chipotle, Red Robin, Sweetgreen, Boston Market, and Shake Shack. Please remember to do your due diligence with choosing to eat in a fast food restaurant with celiac disease and that cross-contact will be a very big factor and something you need to avoid. Remember, the decision is yours to make based on your needs and what you are comfortable with.
Chipotle is the only other fast casual restaurant I eat in when traveling or if I need a quick meal. More often, I just get chips and guacamole, but if I really need a meal, I'll also do a rice bowl.
Chipotle's ingredients are all listed as gluten-free, except for their flour tortillas. Cross-contact is still a concern here, so I always try and go early in the day, and ask for any items that are touched by hand (Lettuce, cheese, etc.) to be pulled from fresh tubs in the back. I also ask them to change gloves, wipe down the counter, and also use clean spoons when serving me.
What I Order: White Rice Bowl with Chicken, Lettuce, Cheese, and Side of Sour Cream. Usually with chips and guacamole on the side.
You can read more about Chipotle's allergens and menu here.
The other restaurants listed above are places that I have not personally visited, and can't speak to their food. You can click on each of the restaurant links here to be taken to their allergen menus to read more about their offerings: Red Robin, Sweetgreen, Boston Market, and Shake Shack.
My Go-To Celiac Friendly Sit-Down Restaurants
Now, if you are looking for a sit-down restaurant, and not a fast-food or fast-casual place where you eat and go or grab takeout, these are the restaurant chains I frequent. Please note, since I live on the east coast, most of the restaurants I go to will also be concentrated here.
PF Chang's
PF Chang's was one of the first celiac friendly restaurants to offer gluten-free options when I was first diagnosed with celiac disease in 2009. Upon moving to Boston in 2012, I had found a restaurant where I could dine at where my food was prepared separately and I could order more than a side salad or a baked potato, and that was BIG, especially since 10+ years ago gluten-free was not as mainstream as it is now.
While I no longer dine at PF Chang's very often as the one closest to us closed down many years ago (And now the closest restaurant is a good 40 minute drive away), this is still a restaurant I'll stop and eat in if it's nearby. PF Chang's has locations in over 40 US States an entire gluten-free menu along with gluten-free soy sauce for their dishes, plus a separate preparation area for gluten-free food. Gluten-free dishes also come out on a different color or shaped plate. They have protocols and they usually stick to them, but it's always important to alert them of your needs and double check.
From the PF Chang's website:
"We have had a separate gluten-free menu for nearly a decade. Those with a gluten allergy or intolerance can order P.F. Chang's favorites like Chang's Lettuce Wraps and Chang's Spicy Chicken knowing their food will be made completely free of gluten."
"Our chefs use a designated gluten-free cooking area with gluten-free woks and cooking utensils. Many of our restaurants use designated gluten-free plates as an extra step to ensure your meal is gluten free."
"Always alert your server when ordering gluten free."
What I Order: Chicken Lettuce Wraps for an Appetizer, Chicken Fried Rice or GF Chang's Spicy Chicken
Questions you might want to ask at PF Chang's could include:
I have a severe gluten allergy. How will my (insert dish) be prepared?
Do you have a separate station utensils to prepare my gluten-free meal?
Can you make sure to use gluten-free soy sauce for my dish?
You can view the entire PF Chang's gluten-free menu here. You can also view their Allergen Menu Matrix here.
Mission BBQ
Mission BBQ is a fast casual barbecue chain located along the east coast and midwestern states. They serve your typical barbecue fare, including meats, sides, and drinks, with the option for takeout or sitting down and enjoying your meal at a table. They have gluten-free items labeled and allergen protocols in place.
Dylan and I have visited this restaurant multiple times when road tripping up and down the east coast. We've visited in different states and still had positive experiences both times.
Here is what can be found on their gluten-free menu (you can also click here to view the PDF on their website directly).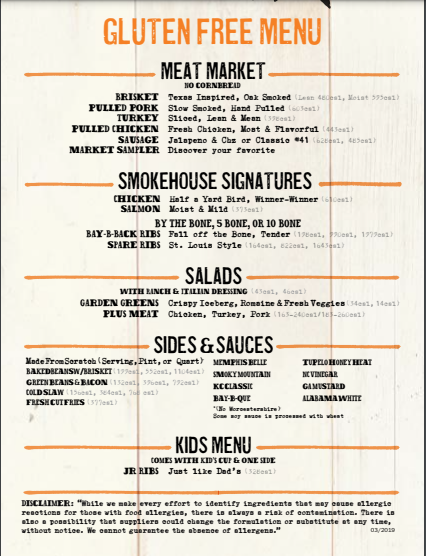 It's important to note that their menus may vary slightly by location, but in general, they are typically similar. Of course, at a place like this, you'll still need to ask about cross-contact protocols, changing gloves, and stating your allergy. While they cannot guarantee anything is 100% free of allergens, this is a disclaimer most restaurants have to cover their butts in case of a lawsuit, because they are not a dedicated gluten-free facility.
Meats: Brisket, Pulled Pork, Pulled Chicken, Turkey, Sausage, Salmon, or Ribs (no sandwich) and without cornbread
Salads: Garden Greens with Italian or Ranch Dressing
Sides: Fries, Beans, Green Beans, and Coleslaw
Sauces: Memphis Belle, Smoky Mountain, KC Classic, Bay-B-Que, Tupelo Honey Heat, NC Vinegar, GA Mustard, Alabama White
What I Order: Pulled Pork with Fries. I also love the KC Classic sauce on the pulled pork. Sometimes I've even been tempted to get this to-go and turn it into my own pulled pork sandwich with an Udi's or Canyon Bakehouse Roll.
Questions you might want to ask at Mission BBQ could include:
I have a severe gluten allergy. Can you please change your gloves before preparing my meal?
Are your fries made in a dedicated gluten-free frier?
Can you please alert the kitchen that my meal is for an allergy?
You can read Mission BBQ's full allergen menu here. Please note items marked with an orange star are gluten-free, as indicated in the key on the bottom of each page.
Burtons Grill & Bar
Oh, how I love Burtons Grill! I even interviewed their VP of Dining here on the blog to talk about their commitment to serving celiacs safely. And if you didn't know, the founder of this east coast restaurant chain has celiac disease, which means they absolutely get it, and also earn my #1 spot as the most celiac friendly restaurant, because everything on their menu except 1 item can be made gluten-free.
Burtons has locations in Massachusetts, New Hampshire, Connecticut, Maryland, Virginia, North Carolina, South Carolina, and Florida. Burtons has even been ranked #1 as the Most Allergy Friendly Restaurant from 2017-2020 by Allergy Eats. They also are a peanut-free restaurant that go above and beyond for any guest with celiac or a dietary restriction, because they understand cross-contact.
There's so much I could say and brag about Burtons, but to be honest, you really should read this interview with their VP of Culinary to learn just how fantastic they are at serving celiac customers. With their enormous menu, dedicated fryers, extensive staff training, and delicious food options, you won't be disappointed here.
Burtons Grill, and their sister restaurant, Red Heat Tavern, source the majority of their ingredients to be gluten-free except their bread and pasta. By doing this, they cut down on possible cross-contact because they are for the most part, using gluten-free ingredients in their preparation.
Here's what she had to say about how food is prepared:
When your servers are made aware that a guest has a food allergy, what happens next? Can you detail the process?
"When a server finds out they then ring in the food with all the allergens attached to the ticket. They then go to the expo area and check-in with the expeditor to verify that the order was rung correctly and if there are any ingredient concerns. Once that is verified the expo communicates with the kitchen on any modifications needed to the preparation process.
We use Kitchen display systems that can highlight in bold colors the allergens so the Kitchen can see them right away. The food is presented on a different color plate than all other food and is brought to the table by a manager or the server of that table."
They also use colored cutting boards, knives, and utensils when preparing a meal, and all of their fryers are gluten-free!
What I Usually Order: Anything that has fries! I especially love their spinach artichoke dip with tortilla chips, and their chocolate cake dessert.
Questions you might want to ask at Burtons Grill could include:
I have a severe gluten allergy/celiac disease, can you make note of that please?
I'm new to visiting Burtons - if I ordered the ____, how would that be prepared?
Burtons is setting a HIGH standard for other celiac-friendly restaurants to follow. Now if only the rest of the restaurant world could get on their level, that would be...amazing!
You can read their specific menu options here.
Final Thoughts On Celiac Friendly Restaurants
Whew, what a long post!
But I felt it was important to share with you a lot of detail and information for what celiac-friendly restaurants could be an option for you, and why they can be so difficult. When dining out with celiac, you really need to be educated in cross-contact prevention, prepared to speak up, and have the mental capacity for it.
Cross-contact is a huge fear and concern for celiacs, especially in a fast food restaurant or where chances of something going wrong can be high. It's up to you to speak up, know how to prevent this from happening, and be comfortable owning your gluten-free diet around others.
It's my hope that in the future, we can see more restaurant chains setting higher standards for food allergies, and celiac disease, and dining out won't have to be so stressful.
If you're looking for additional help in dining out with celiac disease, check out my Restaurant Masterclass for my 3-step strategy to avoid gluten exposures in restaurants.
Looking for more blog posts on living with celiac?
Avoid these five mistakes when dining out with celiac disease!
Flying somewhere and worried you'll be starving in an airport? Read this post on flying with celiac disease from start to finish.
Do you have celiac AND IBS? I do too. Here's how I manage both when traveling.
Get my gluten-free travel guides to Boston, New York, Madrid, Buenos Aires (plus many more) here! Or browse over 100 gluten-free recipes here.
Have you eaten at any of these chains or restaurants?
Let me know in the comments below.
Please note, any comments that are inappropriate will be automatically deleted.