This collection of gluten-free game day recipes is perfect for watching the Superbowl! There are over 25 gluten-free recipes here from my favorite celiac & gluten-free food bloggers to help you plan an epic feast for game day!
This post may contain affiliate links. Please see my disclosure page for more information. Thanks!
About This Gluten-Free Recipe Roundup
Everyone loves watching the Superbowl when food is involved! Whether you're in it to cheer for your team, to watch the funny commercials, or to check out whoever is performing at half time, it's a great opportunity to spend time with family or friends and enjoy some yummy dishes.
Inside this gluten-free game day recipe roundup, there are appetizers, main courses, sides, snacks, dips, and sweets - all gluten-free and scrumptious.
And that's why whether you're hosting a superbowl party, attending one, or just making some snacks to watch the game at home, you'll have something delicious and safe to eat!
Tips For Attending A Superbowl Party With Celiac Disease
If you're hosting a Superbowl party, you'll have a lot more control over the food and whether or not it's gluten-free.
But if you are planning to attend a superbowl party with celiac disease, it can get a bit tricky.
So here are some tips to help you enjoy yourself, feel included, and avoid getting accidentally glutened:
Speak to your host so you can chat about the menu beforehand. The more you know, the less anxious you'll feel because you can anticipate what to expect.
If you're bringing a dish to share, set some aside for you in a separate container, away from other people's forks, spoons, or fingers. And then you know you have something safe!
Cross-contact can be prominent in a Superbowl party or game day celebration, especially with finger food, dips, and chips. Ask the host to set some food aside for you, or see if you can be served first.
If you find going to parties & events scary, and aren't sure what to say when eating around other people, the Celiac's Guide to Social Events walks you through saying YES to these invitations with pre-written scripts! Learn more here.
And now, let's get to the recipes!
For each of these recipes, you can click on the photo of the recipe or the red box that says "Get the recipe" to be taken directly to the recipe page.
Gluten-Free Game Day Appetizers
Appetizers are everyone's favorite game-day foods! Sometimes just snacking can be the best part of a Superbowl party or watching the big game.
Gluten-Free Pigs in a Blanket
One of the easiest appetizers with just 3 ingredients! It all comes down to finding Schar's gluten-free puff pastry in your supermarket. Check their Store Locator on their website and call your store before going, so you don't end up empty-handed! These go great dipped in ketchup or mustard!
Gluten-Free Chex Mix
Katie from Wheat by the Wayside has a recipe for that childhood classic - Chex Mix! And since thankfully Chex cereal is gluten-free, you can make a gluten-free version with your favorite crunchy cereal, pretzels, crackers, and a yummy sauce that brings it all together.
Gluten-Free Buffalo Wings
Because it wouldn't be game day without wings, right? Whether you like flats or drums, this recipe uses spices to roast the chicken wings in the oven and then toss them in buffalo sauce and butter at the end. Frank's is gluten-free, by the way! Serve them with ranch or blue cheese and a side of carrots, or maybe some celery.
And if you don't like chicken, you can substitute cauliflower here and make buffalo cauliflower bites, which are equally delicious, and go wonderfully in tacos too!
Gluten-Free Jalapeño Poppers
Have you ever tried jalapeño poppers? They aren't as spicy as you think, especially when stuffed with cream cheese, cheddar cheese, and breadcrumbs! My husband came up with this recipe and it's safe to say they are addicting! Definitely a popular appetizer to serve for any game day celebration!
Gluten-Free Onion Rings With Aioli Sauce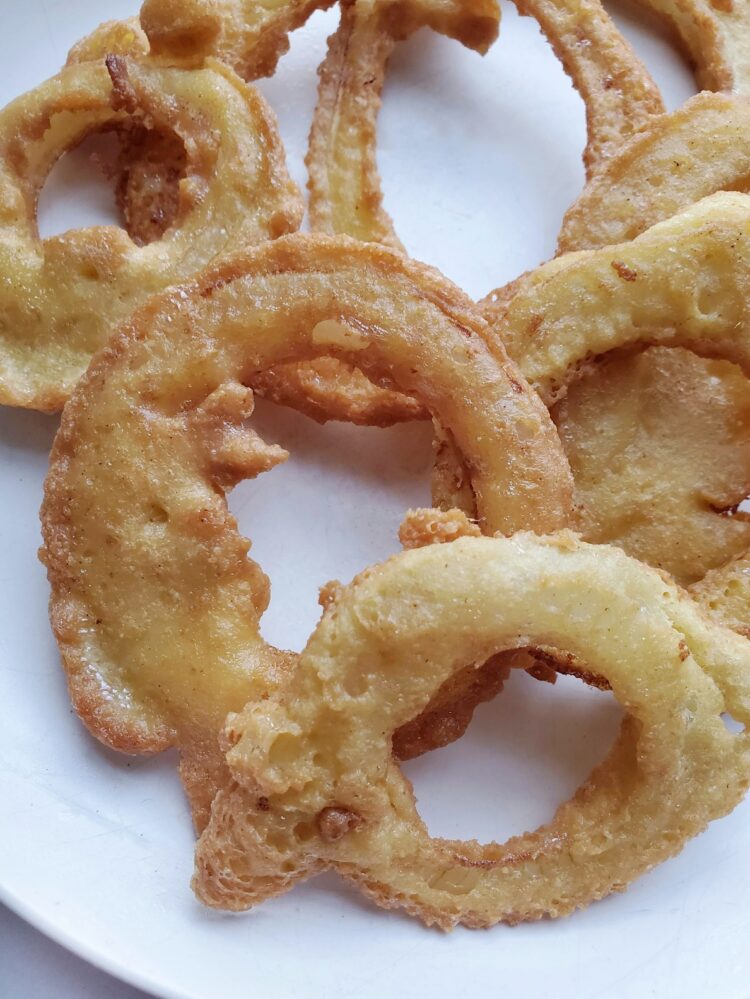 These onion rings are actually gluten-free, dairy-free, and grain-free! So if you've been missing out on your favorite fried foods, Debby of Thriving Gluten-Free is giving that back to you with this recipe. Don't forget the aioli dipping sauce to dunk them into!
Gluten-Free Loaded Nachos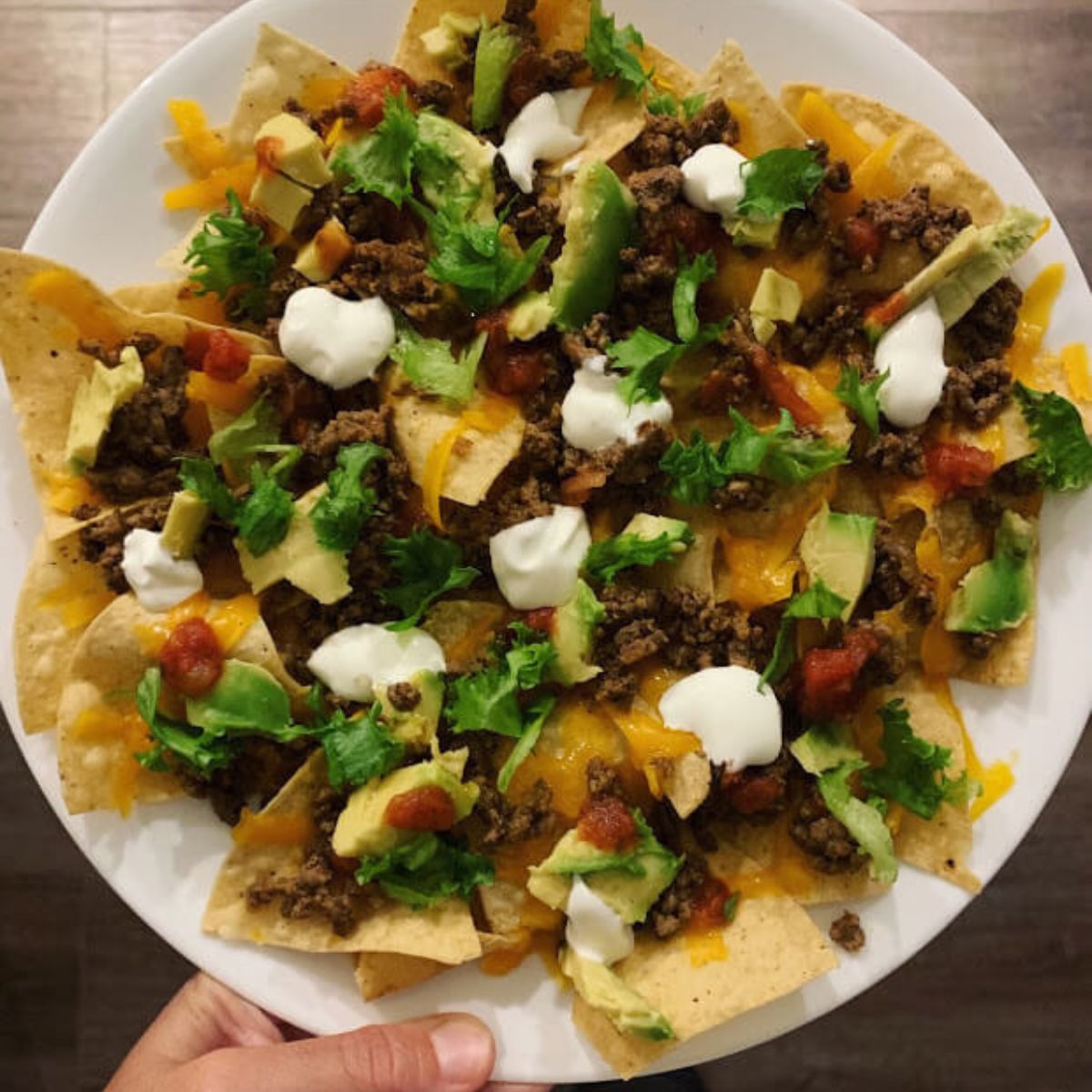 Oooh, how can you go wrong with loaded nachos? This recipe walks you through making ground beef with homemade taco seasoning and ALL the fixings on top so you can enjoy an individual plate of nachos while you watch the game. Sharing is not required.
Gluten-Free Cheeseburger Tots
Have you ever seen such a cute appetizer? With a twist on hamburgers using tater tots, Liz of Gluten-Free Mom Colorado shows us how a deconstructed cheeseburger can be a bite-sized snack! Tater tots have never looked so good!
Loaded Baked Potato Skins
The potato is truly a celiac's best friend. And these gluten-free loaded potato skins from Debby of Thriving Gluten-Free are filled with bacon, cheese, sour cream,, and scallions, and topped with a butter garlic sauce!
Gluten-Free Game Day Dips
It's all about the DIPS in this gluten-free game day recipe roundup! We've got guac, warm dips, cold dips, and veggie dips, all to dunk your favorite vessels into, whether it's a tortilla chip, potato chip, vegetable, or something else.
Easy Gluten-Free Guacamole
The simplest, easiest guacamole with just a few ingredients added to freshly mashed avocados. Serve it with some tortilla chips and watch it disappear!
Gluten-Free Onion Chip Dip
If you remember having onion dip from a seasoning packet with sour cream, I do too. But most of the time those contain gluten, so Katie of Wheat By The Wayside has a gluten-free version! It's easy and takes 5 minutes to make!
Gluten-Free Spinach Dip
Liz of Gluten-Free Mom Colorado shares a family favorite for entertaining - spinach dip! Spinach, sour cream, green onions, and red peppers combine for a perfect dip that you can dunk lots of veggies right into.
Gluten-Free Warm 7-Layer Mexican Dip
This dip is the warm cozy cheesy dip everyone will be raving about! Cheese, beans, taco seasoning, green onions, tomatoes, and avocado combine in this 7-layer Dip from Healthy Gluten-Free Family.
Gluten-Free Baked Reuben Dip
Everything you love about a Reuben sandwich - in dip form! Debby of Thriving Gluten-Free has created this dip with sauerkraut, corned beef, swiss cheese, and Thousand Island dressing so you can dip crackers or chips right into it!
Gluten-Free Ranch Dip
Another homemade dip from Katie of Wheat by the Wayside - and this time, it's ranch! Ranch is an easy dip to make yourself, and everyone's favorite for dipping crunchy veggies.
Gluten-Free Game Day Drinks
While everyone is focused on the food, don't forget about the gluten-free game day drink recipes! These two cocktails are easy to make and can make great additions to your menu.
Gluten-Free Raspberry Mojito
If you like mojitos, have ever made one with mulled raspberries on the bottom? It adds a sweet layer of fruity flavor to this cocktail. Throw some fresh mint and ice cubes in there and it will be a refreshing compliment to your snacks!
Gluten-Free Pineapple Jalapeno Margarita
Sweet and spicy, all mixed together! This margarita with pineapple juice, jalapenos, lime, and tequila makes an exciting cocktail. This recipe is from Liz of Gluten-Free Mom Colorado and would definitely make a great crowd-pleaser for game day!
Gluten-Free Game Day Main Courses
If you're looking for something more filling than just gluten-free snacks and appetizers, check out these main courses and hearty comfort foods that can feed a crowd or just yourself.
Gluten-Free Chili With Beef and Beans
Nothing like a hearty bowl of chili for winter football! This recipe from Katie of Wheat by the Wayside can be made on the stovetop or the slow cooker and combines veggies, beans, and ground beef!
Gluten-Free Vegetarian Chili
If you're looking for a no-meat option - this gluten-free veggie chili doubles up on the vegetables! It substitutes butternut squash and only one can of black beans for a hearty slow-cooked meal that's gluten-free, dairy-free, and vegetarian too.
Gluten-Free Barbecue Pulled Pork Pizza
Pulled pork, barbecue sauce, banana peppers, and cheese combine for a twist on a plain pizza! Since pulled pork is already a beloved game day food, change it up and turn it into a pizza with a pre-made gluten-free crust in this recipe from Gluten-Free Mom Colorado.
Gluten-Free Stuffed Peppers
Bell peppers with a rice, tomato, and ground beef mixture, topped with breadcrumbs until they get nice and golden brown and crispy? Sign me up. These gluten-free stuffed peppers take time to prepare, but are worth the effort in the end as they are super filling and so good!
Gluten-Free Crockpot Pulled Pork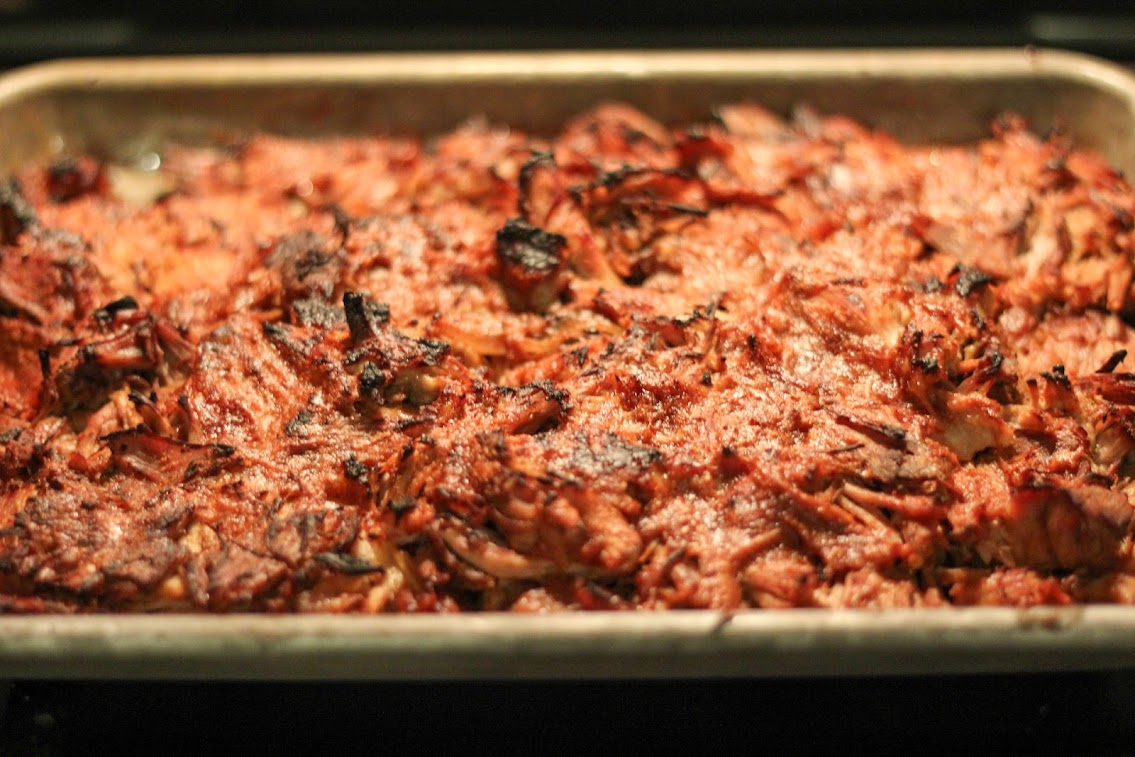 My husband Dylan's pulled pork recipe - made in the crockpot! He uses a homemade sauce with ingredients you probably already have in your refrigerator and spice cabinet. On top of a pork shoulder cooked low and slow...it becomes mouthwateringly tender. Great on sandwiches, in tacos, or just eaten with a fork with some extra sauce on top.
Gluten-Free Baked Macaroni and Cheese
Gimme that mac and cheese! This is no boxed macaroni and cheese here, but a homemade version with your favorite gluten-free macaroni, roux, and fresh cheeses, baked in the oven with breadcrumbs. Add bacon if you really want to impress the other game-day folks!
Gluten-Free Game Day Desserts
Don't forget the dessert! There's always room for some gluten-free desserts inside this recipe round-up!
Gluten & Dairy-Free Oreo Cheesecake Brownies
Ready for the dessert that will knock your socks off? This is it. Gluten AND dairy-free Oreo cheesecake brownies. Fair warning - you can't have just one!
Gluten-Free Chocolate Covered Strawberry Footballs
How fun and FESTIVE are these strawberries from Healthy Gluten-Free Family? A twist on chocolate-covered strawberries but with a little extra chocolate, they look like footballs! Perfect for the big game!
Gluten-Free Double Chocolate Chip Cookies
Don't these just look fudgy, gooey, and absolutely perfect? Double chocolate chip cookies from Wheat by the Wayside are bound to be a welcome sweet treat at your game day celebration!
Gluten-Free Loaded Apple Nachos
For a twist on dessert and something great for kids - try apple nachos! This recipe from Thriving Gluten-Free is a fruity spin on nachos that you can customize with your favorite toppings.
Gluten-Free Almond Flour Chocolate Chip Cookie Skillet
Liz of Gluten-Free Mom Colorado took her cookie recipe with almond flour and turned it into a skillet! This is a yummy way to serve a crowd at a gluten-free gathering and everyone can just grab a spoon and dig in. Don't forget the ice cream on top!
Final Thoughts: Gluten-Free Game Day Recipes
No matter how you're planning to watch the big game, and maybe it's not football but another sport you follow...these gluten-free game day recipes are guaranteed to help you feel included in the celebration and enjoy this type of social event!
The gluten-free game day recipes inside this round-up are a collection of my recipes here on The Nomadic Fitzpatricks, along with recipes from:
Healthy Gluten-Free Family or follow Karen on Instagram
Thriving Gluten-Free or follow Debby on Instagram
Wheat by the Wayside or follow Katie on Instagram
Gluten-Free Mom Colorado or follow Liz on Instagram
Looking for more delicious gluten-free recipes?
Check out these gluten-free croissants (YES, they are real!)
Get inspired by traveling with this gluten-free pad thai recipe.
Go for something easy - like these no bake peanut butter cups.
Still want some more comfort food? This hearty gluten-free chicken noodle soup cooks in 30 minutes - and has a secret ingredient for flavor.
Check out over 100+ gluten-free recipes on the blog right here.
What's your favorite food to eat while watching the game?
Do you have any favorite gluten-free game day recipes?
Let me know in the comments below!